Everton Heritage Society to hold Remembrance Day Service at Park End plaque
Service will commemorate Everton and CD Everton players who have fallen in wartime conflict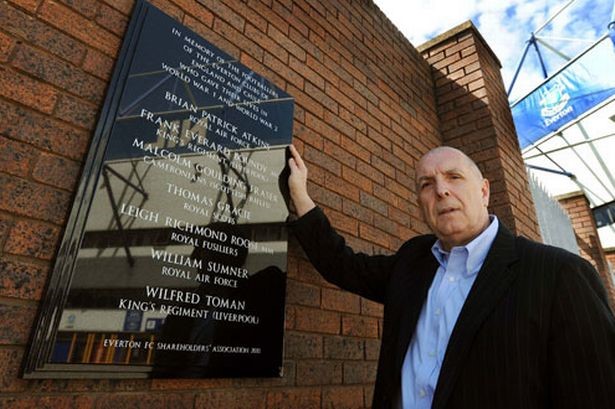 David France with the memorial plaque to Everton's war heroes
Evertonians and other football fans will gather at Goodison Park on Wednesday to pay respects to players who lost their lives during wartime conflict.
A remembrance service, organised by the EFC Heritage Society, will be staged at the plaque based at the Park End that commemorates those who have fallen.
The service, which begins at 10.50am, will be conducted by the Reverend Harry Ross, with all welcome to attend.
Eight wreaths will be laid, one each for Everton Football Club, Dr and Mrs France (The Everton Collection), Everton Shareholder's Association, Everton in the Community, Past Players' Foundation, Everton Free School – who will have teachers and more than 40 students in attendance – the Ruleteros Society and the EFC Heritage Society.
A piper will play "The Flower of the Forest" during the wreath laying and singer Annita Davies who will sing "Amazing Grace" unaccompanied.
There will also be a talk on 1914-15 championship winner George Harrison, who later served in the First World War.
Five players lost their lives in the two World Wars while on the books of Everton.
Brian Atkins was an airman and gunner killed on duty in 1944.
Thomas Gracie, who also played for Liverpool, fought with the Royal Scots, while Leigh Richmond Roose was a charismatic goalkeeper killed on the Western front in 1917.
Bill Sumner, a winger and pilot, died in an accident in India in 1944, while Wilfred Toman died fighting with the King's regiment on the Western Front.
Also commemorated on the plaque are Frank Boundy and Malcolm Fraser, who were founder members of Everton Chile in 1909 and had