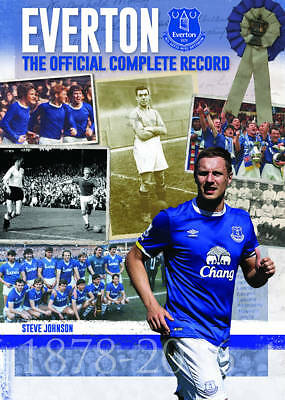 Everton: The Official Complete Record is the definitive account of one of Europe's most distinguished clubs. With nine league titles, five FA Cups and a rich club lore that boasts names such as Dixie Dean, Alex Young, Alan Ball and more recent heroes like Tim Cahill and Romelu Lukaku, theirs is a history replete with success and high drama. Boasting one of the most passionate and knowledgeable sets of fans, Everton are justifiably known as 'The People s Club'.
Nearly 140 years after Everton's humble birth as a church team, Steve Johnson has painstakingly trawled through the archives to provide for details of every game, line up, goalscorer, attendance and result, as well a plethora of other facts and figures. This officially endorsed record of one of English football's great names includes season-by-season accounts of every campaign since the onset of league football, more than 100 player profiles and a foreword by the Club's captain, Phil Jagielka. Fully revised and updated since its sell-out first edition from 2010, the new book includes details of the club's friendly and wartime matches; making it an indispensable addition to every Evertonian's library.
Review
"Outstanding – sad stattos like myself will spend hours poring over and, no doubt, using as research – it really is an impressive piece of work." — Dave Prentice, Liverpool Echo
"Evertonians never forget their heroes and I am sure they'll love reading about them in this book. I find it amazing that every result and every team line-up is featured – I've never seen a history book in so much detail. Everton supporters of all ages will treasure it. Everton supporters of all ages will treasure it." — Mikel Arteta
"Fantastic – absolutely priceless for anyone undertaking any research about the Blues." — When Skies Are Grey fanzine
About the Author
Steve Johnson was born in Birkenhead in 1961. A lifelong Evertonian and member of the EFC Heritage Society, he has studied, lived and worked – and followed the club home-and-away – from places as varied as Ellesmere Port, Sheffield, Bristol, Epsom and central London. In 2006 he combined a passion for statistics and all things Everton and launched the popular website evertonresults.com. He now lives in Buckinghamshire with his wife and two children. This book is the second edition of Johnson's seminal work.