Evertonians can be accused of harking back to an illustrious past rather than thinking forward to securing a glorious future. There may be some merit in that argument but, on the other hand, the standards set in the past should be used to inspire us going forward, in the spirit of the club's motto.
The bar has never been set higher than in the glorious 1927-28 title-winning season, when William Ralph "Dixie" Dean (just plain "Bill" to his friends) achieved the mind-bending feat of scoring 60 league goals (in all he scored 63 league and cup goals in 41 club appearances). To celebrate the 90th anniversary of the last-day feat of scoring a hat-trick against Arsenal to reach the landmark figure, Blues of all ages gathered at the People's Club Lounge in Park End stand (the end at which Dixie grabbed his 60th goal – typically a header from a corner).
The event was the brainchild of EFC Heritage Society member, and former Liverpool Echo Sports Editor, Ken Rogers who acted as a superb MC. He was ably assisted in planning and executing this night to remember by other Society members. After an introduction from EFC Heritage Society chairman, Bren Connolly, the assembled audience was treated to a performance by Gerry Murphy of his composition, "The Ballad of Dixie Dean". It may have been my imagination but I think I saw a few watery eyes in the house as the poignant lyrics sank in.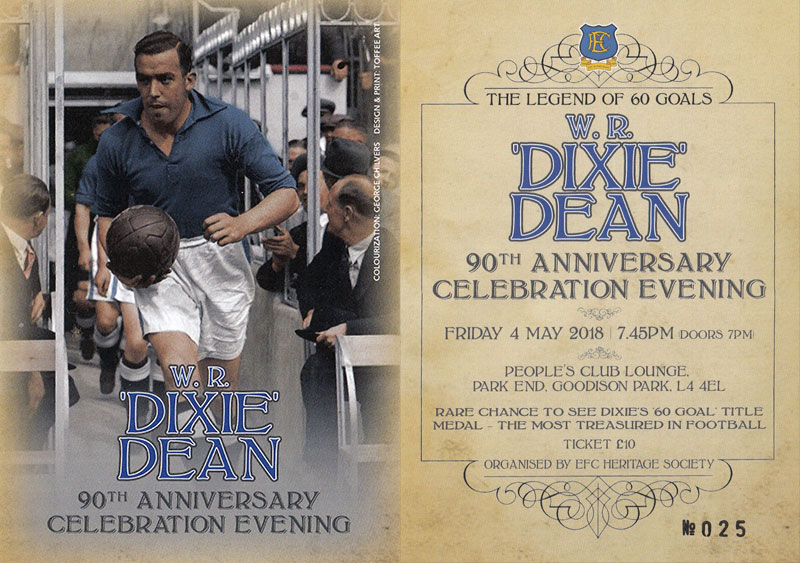 Front and back of the ticket for the evening with "retro" design by Thomas Regan of ToffeeArt fame
Anecdotes from Dixie's life and times were shared by Ken – including a hilarious one involving a dispute about the size of ball to be used in a tour match in Dresden (suffice to say that Dixie won the argument ). Then there was the race against time, with Dixie's goal tally at 57 goals, to be for fit for the Arsenal game. Club trainer, Harry Cooke, moved in with the Deans to administer treatment to the damaged thigh muscle, day and night. The hard work paid off when Dixie declared himself fit on the morning of the match.
Three generations of the Dean family were present as honoured guests: Bill's daughter, Barbara, his granddaughter, Melanie and great-grandchildren Scarlett and Daniel. All four took to the stage emphasise their pride at being related to the great man. At 91 years young, Billy Ingham (of Barclays TV advert fame) was the sole attendee to have first-hand recollections of watching the King of Goal Scorers play for the Blues. He was spotted having an in-depth chat with Barbara during the interval.

Billy Ingham of the Barclays ad fame and first-hand witness to Dean's greatness, chats with the goalscoring legend's daughter, Barbara and his great-grandson, Daniel; Ken Rogers on stage with Barbara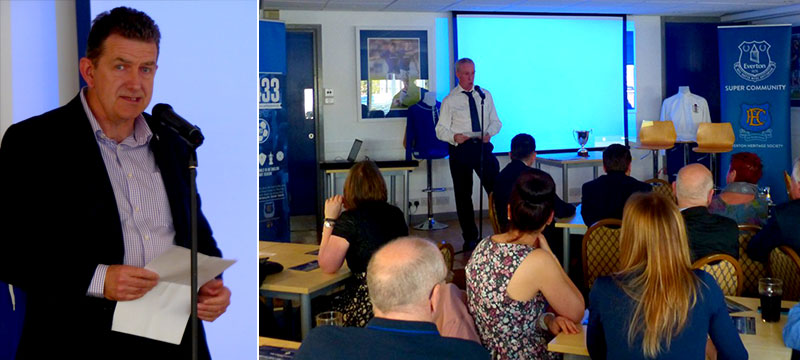 Liverpool Echo Sport Editor, David Prentice; Everton Heritage Society chairman, Bren Connolly
The Dixie Dean Memorial Award trophy (in recognition of services to football in the finest tradition) was presented by Dave Prentice to Graeme Sharp (the second time that he has been a recipient). Sharp, Derek Mountfield, Mike Lyons and Ronny Goodlass all told the audience what Everton, and Dixie Dean, meant to them.
To round off the evening, Gordon Wallis, who had been tracked down by "Blue Bloodhound", Ken Rogers gave an address about his life as a sports memorabilia collector. He brought with him Dixie's 1927-28 Championship medal, which he purchased for a record sum at auction in 1991. He hinted that this jewel in the crown of Evertonia could return to Merseyside on a more permanent basis – if Everton are able to deliver a fitting home for it in the shape of a museum in the new stadium development. He also implored the club the strain every sinew to secure some of Joe Mercer's artefacts when they come up for auction shortly. The evening ended with people crowding round to be photographed holding the treasured 1927-28 medal.
More photographs on Mike Royden's website