Everton legend Derek Temple was finally been presented with a League title medal, 53 years after helping the Blues lift the trophy.
Temple had played in five games for Everton in the Championship winning side of 1963, but at the time that wasn't enough to be presented with a title winner's medal.
However, in the years since then, rules have changed and today Leicester's Mark Schwarzer will collect his second successive title medal despite having not played for either of his clubs.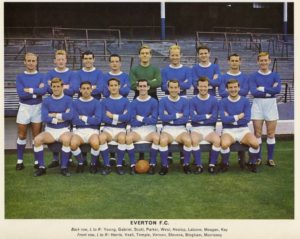 So, the Everton FC Heritage Society set about the task of asking the FA to make sure Temple was rewarded for his part in Everton's title winning season in the 60's, and last night, at a gala dinner to celebrate the 50th anniversary of his winning goal at Wembley in the FA Cup final, he was presented with his medal.
Dr David France proudly handed Derek his medal in a packed Devonshire House Hotel, surrounded by Everton legends including Mike Trebilcock who had flown back from Australia to celebrate Derek's achievements.
The night was organised by former Everton winger Ronny Goodlass for his Health Through Sport charity and was attended by over 400 Evertonians.