DR JAMES CLEMENT BAXTER
Previously there has been a concerted effort by the Everton Shareholders Association and particularly by one fellow Evertonian Paul Wharton to endorse our song "And if you know your history". Paul has been dubbed the Everton Sherlock Holmes. He has been driven to find out the true story behind our clubs formation and the founder fathers who delivered to us this fantastic club. When I read about our clubs past it really does make your heart go whoohhoo!
It is now generally accepted that the following gentleman were the driving force in forming and making Everton. Ben Swift Chambers, John Houlding, James Baxter, George Mahon, John McKenna and Will Cuff all read from the same prayer book about football on Merseyside in its infancy.
Paul arranged fantastic nights for the story of George Mahon and then Will Cuff to be told but our education of Everton would not be complete without an in depth story of a man who stood as tall as the previous gentleman in our past, Dr James Clement Baxter.
The venue was the People's Lounge in the Park End. This location was again our schoolroom for the night. At the teachers desk there was portraits of these great men newly painted as a result of these nights and to be shown to Merseyside again in the museum after original were lost or never commissioned. A great bonus to us all.
Once again our adopted Scouser Peter Lupton, the Norwich fan, gave an emotional heartfelt speech about a man who was part of my Holy Trinity of our forefathers. Like I have said if Peter had of been my teacher in school I would be a brain surgeon now or a nuclear physic, he has a almost hypnotic effect on you the way he talks. Come to think of it I was twenty pounds light from my pocket after his oration with no explanation.
Dr James Clememt Baxter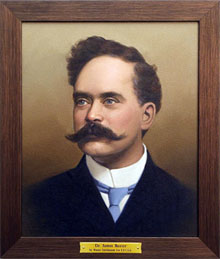 Dr James Clement Baxter, 1857-1928
£1000 LOAN TO EVERTON
Everton had the formidable task of turning Mere Green Field into a proper football ground in time for the start of the 1892-3 season. Time was limited and building costs were worryingly high. Most of the money could be raised from shares, savings and compensation for the fittings left behind at Anfield but there was still a crucial shortfall that threatened to jeopardise the entire project. Things would undoubtedly have ground to an immediate halt but for the intervention of one of their directors, Dr James Clement Baxter.
Concerned at the club's desperate plight Baxter unhesitatingly offered a loan of £1,000 interest-free and without security. At the time it would have practically paid the wages of the entire 1st team for a year. (When Nick Ross was signed from PNE in 1888 his wages were £10 per month. He was the club's highest earner.) It was a magnanimous gesture and it secured Goodison Park as the new home base. For this act of generosity alone Baxter was certain of his place in Everton's history although, as we'll find out, his service to the club extended far beyond this.
BIRTH (1857) AND LOCALITY
James Clement Baxter was the son of chemist William Baxter and was born at Great Homer Street, Liverpool, in 1857. The area was fertile soil for the production of future giants of EFC. George Mahon was born at nearby Birkett Street off St Anne Street in 1853 and in 1861 Alfred Riley Wade (also born 1857) lived even nearer at Great Nelson Street (which has since disappeared under the Wallasey Tunnel).
OUR LADY IMMACULATE (1857) & ROMAN CATHOLIC CATHEDRAL
Coincidentally, 1857 was also the year when the Roman Catholic Church of Our Lady Immaculate in St Domingo Road was opened as a place of worship. This was significant because Baxter was to become one of the most prominent and respected Catholics in Liverpool and Our Lady's was the place where he worshipped and where his funeral was to take place.
As a point of interest, this church was originally intended to be the Lady Chapel of the new Roman Catholic cathedral, the building of which was started in 1853. When the Lady Chapel was finished in 1857 it was felt that continuing to spend money on a grand cathedral could not be justified at a time when poverty, squalor and disease were major afflictions of thousands of Liverpool residents. Building work stopped when the Lady Chapel was completed. The chapel was consecrated as a parish church.
ST DOMINGO HOUSE AND LAND
It's interesting to know why this site in St Domingo Road was chosen for the new cathedral as there is an unexpected link with Everton's history. The name of the road is a clue. It derived its name from an impressive villa that stood in the road called St Domingo House which had been built in 1757 by a wealthy Liverpool merchant, George Campbell, from the spoils of a French ship he had captured off the island of Santo Domingo (now the Dominican Republic). He named his villa and its 53-acre estate after the island to commemorate his great prize. In time, the name was adopted by local streets and eventually a political ward. Two of these streets, St Domingo Vale and St Domingo Grove, gave their name to St Domingo Chapel which was built between them. This chapel was, of course, the cradle of EFC.
St Domingo House and land were eventually bought by the Roman Catholic Church in 1842 as a seminary for the training of priests and renamed St Edward's College. Shortly after this, the land next to the College was chosen as the site of the proposed new cathedral. Incidentally, when the priests relocated to Up Holland, the building was used as a boys' school but kept the name St Edward's College. In time, this school relocated to West Derby.
WORK AS A DOCTOR
After his education at St Francis Xavier College, a respected Roman Catholic school in the city, he proceeded to the King and Queen's College of Physicians of Ireland in Dublin to train as a doctor. On graduation he returned to Liverpool to practise with his uncle in Great Homer Street before eventually setting up on his own in Robson Street, Everton.
Baxter's care for his patients, most of whom were from poor Catholic families, became legendary. He had literally hundreds on his books and he worked long hours tending to their needs. One of his great qualities of character was remarkable generosity. As well as tending to the medical needs of the poor, he also gave liberally from his own pocket to make their lives easier.
Such was his dedication that when he became too ill to walk to his surgery at the very end of his life, he insisted on being helped there.
But his work as a doctor extended beyond Robson Street. He was medical officer at Beacon Lane Orphanage for 30 years and he served as doctor to St Edward's College for many years. (At that time it was a seminary for the training of Roman Catholic priests.) Baxter's sound medical knowledge was also much in demand from insurance companies who trusted his judgements implicitly.
And, of course, he was doctor to Everton Football Club.
SERVICE TO EVERTON AND FOOTBALL
Baxter gave loyal and devoted service to Everton from the moment he was elected to the board of directors in 1889 until his death 39 years later in 1928. In the course of those 39 years he served as director, chairman and club doctor. As Everton chairman Baxter was respected for his tact and control at committee meetings. Even in the most heated debates his tranquil spirit had a calming effect on those present and he could easily bring a meeting to order in a quiet, unostentatious manner. He also had the advantage of great charm and a sunny smile.
As a director of Everton he worked hard to ensure that players felt properly valued. When The Football Association introduced the maximum wage of £4 per week in 1901, Everton, like most clubs, chose to pay this amount only to their very best players. Baxter became increasingly unhappy with this state of affairs. He felt strongly that all members of the first team should be treated equally. After all, they had to pull together on the pitch and work as one if they were to achieve a result. He made this an issue at the management committee meeting of 1 December 1903. As the following minutes record, he managed to persuade his fellow directors that equal pay was the right policy for the club:
Dr Baxter proposed and after discussion it was resolved that, as an experiment and in order to further stimulate the enthusiasm of the younger players if possible, a uniform maximum wage of four pounds should be paid to the eleven players who shall actually play in the remaining League matches and English Cup ties.
Although Baxter was fully aware that this would increase the weekly wages bill, he felt that good morale among the players was a much more important consideration.
His love for football was boundless, not merely confined to the professional game. He gave much encouragement and support to junior clubs and was actively involved with several as president or patron.
Baxter rarely took holidays, being content to travel with the Everton team to away matches or to travel to meetings of the Football Association and the Football League. He did, however, have a love for the cinema, even to the extent of some business involvement.
LIBERAL COUNCILLOR 1906-1920
In addition to his medical work and his involvement with Everton, Baxter also took an active part in local politics. In 1906 he was elected Liberal Councillor for the St Anne's ward, serving there until 1920. His main concerns as a member of the City Council were housing, energy and public transport and he sat on committees relating to these. Possibly his interest in public transport stemmed from his dissatisfaction with the inadequate tram services provided on match days for the thousands of Everton and Liverpool supporters travelling to Goodison or Anfield. The club minutes of 11 August 1903 certainly point to this:
Resolved that Messrs Baxter, Davies & the Secretary be appointed to act with the L'pool F.C. as a deputation to the Tramways Manager with a view to obtaining a better service of trams on the occasion of our matches.
This was the first recorded act of co-operation between EFC/LFC following Houlding's funeral in 1902.
DEATH AND ONGOING FAMILY LINK WITH EVERTON
After a lifetime of dedicated service to his community, Dr Baxter died at his home 110 Robson Street on 27 January 1928 at the age of 71. A Requiem Mass was said for him at the Church of Our Lady Immaculate in St Domingo Road, followed by interment at Anfield Cemetery. It was a very sad day for his wife, Eugenie, their two sons, Reginald and Cecil (both doctors) and their daughter, Evelyn. The family endowed a stained glass window at the Church of Our Lady Immaculate in his memory and it was unveiled on 1 July 1928. His younger son, Cecil, succeeded him on the board of directors and as club doctor at Everton, serving the club faithfully until his own death in 1954. This represented an unbroken link of 65 years between the family and the club.
CATHOLIC/PROTESTANT HARMONY AT EVERTON
It has often been assumed that Dr Baxter's deep faith as a Roman Catholic and his close ties with Catholic organisations confirm that Everton is a Catholic club. This is a mistake. The chapel where Everton was born has nothing to do with Catholicism despite the Latin-sounding ring to its name 'St Domingo'. Equally, the presence of a Catholic on the Everton committee was merely a coincidence. Everton remained a Methodist club with continuing strong ties with St Domingo's. However, Dr Baxter was totally accepted by his Methodist colleagues at Everton. There were no signs here of the Catholic-Protestant division that was evident in Liverpool at the time. The minutes of 13 October 1903 clearly reveal this. When the club arranged a friendly match with Stonyhurst College, the famous Catholic school near Clitheroe in Lancashire, Dr Baxter was invited to pick the Everton team.
FORGIVENESS AND RECONCILIATION WITH LIVERPOOL
Baxter was an embodiment of the true Christian spirit of unconditional love, accepting people for what they were. Nowhere was this was more evident than at John Houlding's funeral in 1902 where he was one of 2 Everton directors representing the Blues (the other was J. Coates). This was a remarkable gesture of forgiveness and reconciliation. Baxter and Houlding were on opposite sides during the Split, they were of different political persuasions (Baxter was a Liberal, Houlding a Conservative) and Houlding was a prominent member of the Orange Order. Baxter had a big heart and an open mind.
Love your enemies, it takes a hell of a man to do this and James Clement Baxter was. Towards the end of his Life Baxter fell ill and could hardly walk, local people would call for him at his home and carry this exceptional man to his office such was the high respect and love for him he did so much for others in his lifetime it was a small payback.
So there it is another in depth story of one of our main forefathers on an amazing man who sits in the pantheon of Everton greats. I'd like to thank Paul Wharton for compiling the definitive stories of these great men so we can look back and remind ourselves who were our main players in creating this club we call Everton so endeared to our hearts for well over a century.
At the end of Peters speech Paul invited Peter into the Everton Heritage society as thanks for all his hard work and the commitment he has shown over these talks to tell thee men's stories with such vigour and passion.
I wonder if it's too late for me to join Peters school classes over the water?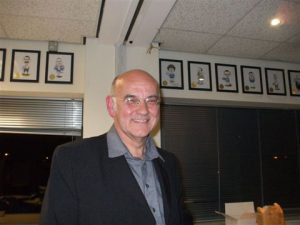 Peter Lupson
After a short break Paul had invited a Brighton and Hove fan, Spencer Vines, to talk about his book 'Lost in France'. No it was not about Bonnie Tyler but a past forgotten footballer who was the first kind of Georgie Best, a playboy who was an entertainer both on and off the field and a real character. His name was Leigh Roose a former Everton player and this is his colourful lost story.
LEIGH ROOSE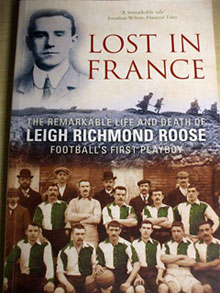 Leigh Roose was born in a small village called Holt which lies just on the Welsh side of the border between England and Wales a few miles outside Wrexham. As a youngster he took to goalkeeping like a duck to water, perfecting his art during kick-abouts in Holt and while at university in Aberystwyth where he went to do a science degree. While he was in Aberystwyth he also played for the top local side, Aberystwyth Town, with who he won a Welsh Cup winners medal and his very first international cap playing for Wales, against Ireland in Llandudno. But by 1900 he had become what you might call a big fish in a small pond, and so he did what many a young provincial twenty something in search of fame and fortune has done – he moved to London, where he worked as a hospital assistant during the week and played football on weekends for a team called London Welsh, though London Welsh didn't last long as by now dozens of top clubs were all desperate for him to play for them.
Over the next decade Leigh established himself as the best goalkeeper in Britain by a distance, playing first for Stoke, then Everton, then Stoke again before moving on to Sunderland – and incredibly he did it all as an amateur player, working during the week in the hospitals of London and travelling on Saturdays from the capital to wherever his team of the moment happened to be playing. When Wales won their first ever Home Nations Championship in 1907 Leigh was the rock on which the team was built. When the Daily Mail came up with its world eleven to take on a team from another planet, Leigh Roose was the first name on its team sheet. Along the way he developed quite a reputation as a showman. While he was at Stoke he would hire a hansom carriage to take him from the railway station to the ground, insisting on driving the thing himself at speed through the city streets with groups of supporters chasing after him. During lulls in matches he would regularly do gymnastics on his crossbar and tell jokes to the crowd.
He was also an exceptional practical joker. There was one time when Wales were playing in Ireland and Leigh turned up in Liverpool to catch the boat with his hand heavily bandaged. He told everyone 'Don't worry, it's only a couple of broken bones, I'll be able to play'. Those who knew him were a bit suspicious and, sure enough, that night a couple of his teammates peeped through the keyhole to his room and saw him take off the bandage and exercise the fingers. The following day, the day or the game, he appeared again with the bandage on and the telegraph wires began to hum with news that the Welsh goalkeeper was going to play with two broken fingers. Of course once play had started he calmly unwound the bandage and went on to play a blinder.
Leigh played for Everton for just the one season, the 1904/05 campaign. That was the season when Everton looked as though they were going to achieve a league and cup double, only to suffer double disappointment by losing in the semi-final of the FA Cup and suffering the mother of all blowouts in the league. In January they were top. With six games to go they were still top. However, their final three games had to be played in the space of just four days and the task proved too much. They lost two of the three and ended up finishing runners-up to Newcastle after which Leigh had a minor falling out with manager William Cuff and ended up going back to Stoke City.
Leigh's glory days as a player continued right up until 1911 when he broke his arm badly during a Sunderland versus Newcastle match. He recovered to play again but many felt he was no longer the player that he had been, that maybe the bottle and courage that had helped make him the outstanding goalkeeper he was had been knocked out of him. Sunderland clearly felt so because he never played for them again, although he did keep goal for both Aston Villa and then Arsenal during the 1911/1912 season before finally retiring from top class football.
Of course I don't need to tell you that in 1914 war broke out between Britain and Germany. Because of his medical background Leigh joined the Royal Army Medical Corps and was sent to work in a makeshift hospital in France which formed part of what was known as the casualty evacuation chain, treating the injured before arranging for their evacuation back to Britain. He stayed in northern France until March 1915 before being recalled to England in readiness for another foreign tour of duty, this time at Gallipoli in Turkey. I don't know how much you know about what happened on the Gallipoli Peninsula but it pretty much all boiled down to this – Britain thought that picking a fight against the Turks would open up an eastern front to the war breaking the stalemate that had built up on the western front in northern Europe. Now the generals expected the Turks to turn and run at the first sight of a British battleship. Of course the Turks didn't do that and fighting got bogged down at Gallipoli where it went on for eight horrible months before the Allies were forced to evacuate. Once again Leigh was part of the casualty evacuation chain taking the injured away from the Peninsula to places like Egypt.
By early 1916 Leigh's regular stream of letters home had dried up and his family began to fear the worst. They made enquiries and it appeared that Leigh was in fact missing presumed dead. Nobody however, not even the Royal Army Medical Corps, seemed to know whether he had gone missing before, during or after the evacuation of the Gallipoli Peninsula, yet as the weeks turned to months, and there was still no word, that became immaterial. It seemed as though Leigh wasn't coming back.
And that appeared to be that as far as the Leigh Roose story was concerned….until four years later that is, when Leigh's sister Helena and her husband John, a former Welsh rugby international, were having dinner one evening at Twickenham after an England v Wales international. They were sitting round the table talking with various people including a famous cartoonist of the time from the Daily Mail called Tom Webster. At some point Leigh's name came up in the conversation and Helena said how sad it was about what had happened to him at Gallipoli, at which point Tom Webster said that Leigh couldn't have died at Gallipoli because he'd played cricket with him in Cairo after the evacuation. This revelation was a real bombshell for Leigh's family and it got them thinking. Had he died afterwards? Maybe he was still alive?
So what really happened to Leigh Roose after Gallipoli? Well nobody ever really knew until a few years ago when, without wanting to sound like I'm blowing my own trumpet, I managed to find out while doing my research for this book. Leigh DID in fact join the Royal Fusiliers after the evacuation of Gallipoli. However, due to a clerical error when he joined up, it seems that Leigh's surname was miss-spelled so it became ROUSE instead of ROOSE. That meant the name ROUSE appeared on all military paperwork relating to him from then on. It didn't matter how hard Helena Roose searched for Leigh ROOSE. She was always going to come up against a brick wall because that name never existed in the records.
Leigh ended up returning to France in July 1916 to fight with the Royal Fusiliers at the Battle of the Somme. He fought throughout the summer of 1916 into the autumn, winning a Military Medal for his actions during one skirmish in which he bravely kept on fighting – without a gun – despite his clothes having been burned by German flamethrowers. His presence in the trenches by all accounts created quite a stir – imagine being called up for action and finding yourself standing shoulder to shoulder with Gary Lineker and Andy Gray, or other larger than life sportsman such as Andrew 'Freddie' Flintoff or Ian Botham.
Leigh was 38 when he went to the Western Front so he came to be regarded as something of a father figure by many of those around him who were young enough to be his son. He was also something of a welcome distraction from the daily grind of what was going on all around, giving talks to groups of soldiers during breaks from the front about his life and playing career not to mention the behind-closed-doors activities of one Marie Lloyd. This is what one soldier, Second Lieutenant Gerald Bungey, wrote in his personal diary after meeting Leigh – "Had tea today with none other than Leigh Roose. An immense and extremely funny man. Told him I had seen him play against The Arsenal in 1910 and that he should have prevented the first goal. With a smile he pretended to draw a pistol and, in effect, shoot me!"
Leigh himself was killed at some point on Saturday 7 October 1916 during an Allied attack on German lines near a little village called Gueudecourt. No body was ever found – it was either blown to smithereens or sank in the mud where he fell – and it's because no body was ever found that he is commemorated on the Thiepval Memorial in northern France which, as some of you may know, is a huge war memorial baring the names of 72,000 British and South African soldiers who have no known grave. Except of course that the name on the memorial isn't Leigh ROOSE – it's Leigh ROUSE! Now as a result of my book plus several letters written by other admirers of Leigh, the Commonwealth War Graves Commission, which is the organisation which looks after Allied graves, has now agreed to change the spelling of the name on the Thiepval Memorial. The catch is that they're only going to do it when the panel on which Leigh's name is inscribed becomes worn and needs replacing. I was out at Thiepval three years ago and the panel looked fine to me then, so it could be many more years before Leigh ROUSE becomes Leigh ROOSE, and I think that's a crying shame. Many of those who would like to see the spelling changed aren't exactly getting any younger – in fact Leigh's nephew Dick died only last year aged 103. It would have been nice if the spelling had been changed in his lifetime, but unfortunately it wasn't to be.
So why has Leigh Roose remained forgotten for so long? Well the confusion surrounding the spelling of his name obviously has something to do with it, as does the fact he was just one of I think around 900,000 British and Commonwealth soldiers who died in World War One. Why mourn a footballer you admire from afar when your father, or brother, or brothers, weren't coming home? Of course there was no Sky TV or Match of the Day in Leigh's time, so there's ALMOST nothing in the way of moving pictures to remember him by – I say 'almost' because one piece of film featuring Leigh does remain, taken at a Wales versus Ireland game at the Racecourse Ground in Wrexham in 1906, and that's believed to be the oldest surviving film anywhere in the world of an international football match.
I hope that by writing the book I've helped put Leigh back on the map over 90 years after his death. One thing I am glad about is that his family now know what happened to him. Apparently Dick Jenkins, Leigh's nephew, spent his last few days on planet earth in bed having extracts of the book read to him by his son. As far as I'm concerned that alone made all the time and effort I spent researching and writing the book worthwhile.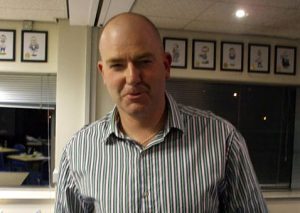 Spencer Vines
I bought Spencer's book on Leigh, it was a great read I laughed a lot but also soul searched about the era the man was born and died in. With Remberance Sunday on my mind lest we forget those people who gave so much so that we could survive.
Spencer is a free lance reporter for the likes of the Observer, Guardian and the Daily Mail so he writes no fairy stories. Eight years ago Spencer never knew who Leigh was but was asked to find out about this lost man who had played in the 'no mans land 'football game between the Allied forces and the Germans at Christmas 1914.Fellow Blue by all accounts Paul McCartney recorded the song Pipes of Peace to celebrate this remarkable event. After the game was played the generals and majors were outraged that it took place and never allowed it to happen again. It says more about the futile of war or the love of our game.
Ian Macdonald
PS For reference of these fantastic nights here are the following links now thanks to the likes of Paul we really do know our history.
www.toffeeweb.com/season/08-09/comment/fan/article.asp?submissionID=10928
www.toffeeweb.com/season/09-10/comment/fan/article.asp?submissionID=10231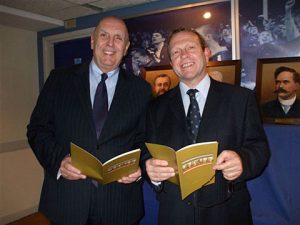 Dr David France and Paul Wharton