The Merseyside Derby Game
The people of the Merseyside "turn in on themselves" today as their two vintage football clubs line up to face each other for the 194th time. No other City in England can claim to have staged more local Derby games, at the top level of English football, than Liverpool. The atmosphere will be electric yet when these two deadly rivals first locked horns with each other it was on a football pitch that has long since faded in to local folklore.
The date was April 1893 and the occasion was the final of Liverpool Senior Cup which took place, in front of 10,000 people, on the present home of Bootle Cricket Club at Wadham Road. The encounter was settled by a single goal, that was scored, in favour of Liverpool, by Scotsman Tom Wylie who had once played for Everton but, following the acrimonious "split" had chosen to remain at Anfield. His new club nevertheless, were members of the Lancashire League so Wylie was not present when the two sides first met in a Football League match at today's location. The date was the 13th of October, 1894.
The occasion captured the imagination of the indigenous population and over 44,000 of them packed in to Goodison Park. It was to date the largest crowd to watch a Football League match in England while the gate receipts of £1,026, also broke the previous record. The game had been progress for ten minutes when Tom McIness headed himself in to the records books by becoming the first man to score a goal in Merseyside Derby game. Born in Glasgow, he had joined Everton from Third Lanark and would leave the club at the end of the season for Luton Town. Two second half goals, scored by Bell and Latta, saw the home side win the historical encounter to victory by 3 goals 0. Further records were recorded when the two sides met in the return game at Anfield five weeks later.
Merseyside Derby game. Hannah then redeemed himself by becoming the first Liverpool player to score against Everton when he equalised mid-way through the second half. A goal scored by Latta looked to have won the game for the visitors but a late penalty was converted by Jimmy Ross and the game ended in 2-2 draw. The Anfield club had to wait until the 25th of September 1897 to secure a win over the team who host their visit today.
Tony Onslow.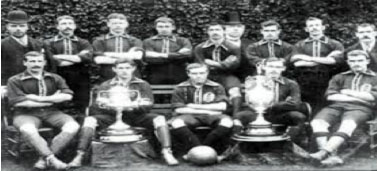 Bob Kelso (player) standing far left, Alex Latta sitting far left.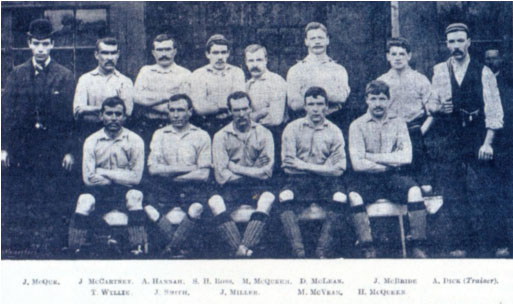 Liverpool 1892