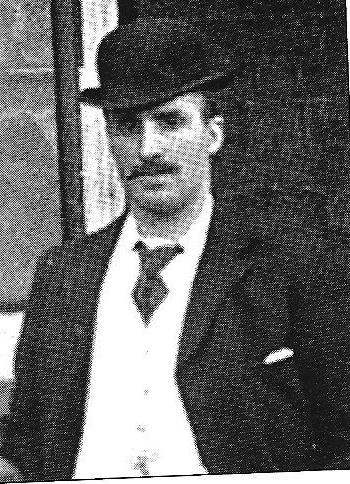 When Everton began their first season at Goodison Park they needed cover in the position of Goalkeeper due to the tragic loss of John Angus following their Championship success at Anfield. Overtures were made to the currant Scottish International Jim Wilson, but he could not be lured away from his position at Vale of Leven, so Everton invited Stoke player William Rowley to join them on a visit to Scotland.
Born November 1865 in the Potteries town of Hanley, he was the child of Charles, a Clarke, and his Wife Sarah. However, by 1871, Sarah is no longer living and William, along with his Father, is living at the home of his Grandparents in Hanley. By 1881 he is living with his Auntie and his cousins and has begun to work as a Potter. Around 1884 he joined Burslam Port Vale and was quickly chosen to play representative matches for Staffordshire. Next season he took part in the clubs inaugural FA Cup campaign which saw them having to withdraw when faced with an expensive replayed game against Essex based Brentwood. Rowley then caused a controversy when, unbeknown to the Burslam side, he joined neighbours Stoke which resulted in court case and in his new club having pay a fine which amounted to £5. Both sidesnext applied for membership of the Football League, but it was Stoke who were successful.
On the 8th of September 1888, Bill Rowley took part in the first league game played on the Victoria Ground as Stoke were beaten 2-0 by Staffordshire neighbours, West Bromwich Albion. On the 12th of January 1889 he appeared at Anfield where the visitors lost 2-1. The return game, however, was to prove most unusual.
The Victoria ground was shrouded in thick fog when the play commenced in front of 2,000 spectators. As the game progressed darkness began to draw in and the referee, with the score standing at 0-0, blew his whistle and ended the game after 75 minutes. He later explained "he did so because he could distinguish all aspects of play". The match was never replayed. Stoke continued to struggle in the Football League but the excellent goalkeeping shown by Rowley resulted in him being selected to play for England. The game took placeon the 9th of March at Anfield and Ireland were the visitors. It was the second time the national side had appeared in Liverpool and over 6,000 people attended the match. Rowley had an easy debut as England won by 6 goals to 1. His next visit to Anfield however, was to prove most painful experience. The Potters were again propping up the table when they arrived in Liverpool on the 2nd of November 1889 to play an Everton side that had now been re-enforced with imported players from Scotland. Stoke lost the game 8-0. However, Bill Rowley and his team mates later knocked Everton out of the FA in what was to be their high spot of the season as they again finished bottom of the table. On the 10th of September 1892, William Rowley made a guest appearance for Evertonagainst Heart of Midlothian at Tynecastle Park. The warm sunny evening incited a crowd of around 10.000 people to attend the match that Everton won by 3 goals to 0. There is no record – at this moment in time – of Everton then attempting to sign Rowley but gave instead an unsuccessful trail to Henry Jardine who was the younger brother of the present goalkeeper David. They next tried several other players in this position before finally settling on Richard Williams.
Billy Rowley meanwhile completed the season with Stoke and made one more appearance for England. During the summer he married Ellen Rhodes and the couple set up home at Longton where they started to raise a family. Everton, meanwhile, attempted to sign him for – on the 16th of May 1894 – the following statement was entered in the club minute book. "W Rowley to be engaged, provided he passes our Doctor,for 2 years at 70 shillings per week". This transaction did not take place and, the following October, the club signed the Stoke reserve team goalkeeper, Thomas Cain.
William Rowley never declared himself to be a full-time professional footballer and, throughout his life, always claimed to be working in the Pottery Industry. He went on make 124 appearances for Stoke and had become club secretary when he negotiated the terms of his own transfer to Football League Division 2 side Leicester Fosse in 1896. Rowley had played one game for his new club, claiming to be an amateur, when theFA committee, who did not take kindly to the transfer arrangements,suspended him from the game for one season. The 1911 census finds the family still living at their original address in Longton, but Ellen diedlater that year. William Rowley lived as a Widower until his death, at Stoke-on-Trent, in March 1934.