Arriving through the double doors of The People's Club Lounge at Goodison Park, I was greeted by the ever-friendly face of David Starsky. It's always great seeing David. I do enjoy his zest for life. We were present for the rather special occasion that was the unveiling of a quite amazing piece of artwork by Chris Wilson, this being an exceptional, life-like portrait of Mr Everton,  a man whose achievements are difficult to be tailored into words… one Will Cuff.
As ever with such events organized by the Everton Heritage Society, and in particular Paul Wharton, the evening was informative, educational, interesting and superbly organized. I'm just disappointed there isn't more of them.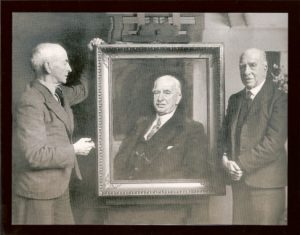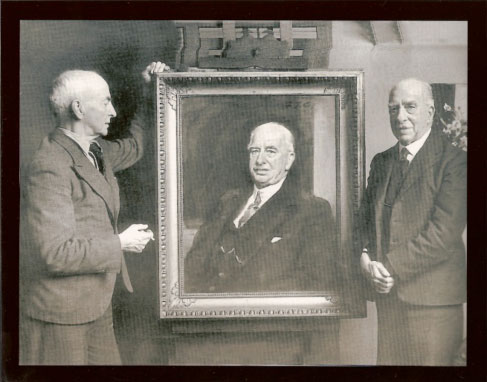 Paul Wharton began proceedings with a short introduction explaining a little about Will Cuff and the significance of the portrait. You see the original portrait (above) was created by Frank Copnall, a local artist who completed a good 800 portraits back then. One of those was of Will Cuff. Mr Cuff adored the painting. Indeed it was Will Cuff's will that the painting was to hang upon Everton FC's Boardroom wall once he passed away. Sadly, the painting has never been recovered. On Saturday 19 November 2011, 63 years since his passing, his wish is to be granted.
Via ToffeeWeb, Paul Wharton recruited Chris Wilson to recreate the portrait. It was officially unveiled by Ray Hall and Lord Grantchester. I hope my photography can go some way to doing it justice. It is truly magnificent and was greeted with enthusiastic applause all round.

Following the unveiling Peter Lupson, ever the great speaker, took to the stage to talk about Will Cuff's influences, his background and to explain more about the man. His grandfather sold ginger beer. His father, for some unknown reason, moved from London to Liverpool and opened his own business as a pork butcher. His mother hailed from the Welsh market town of Pwllheli and was a strong Welsh speaker. Moreover, Will was quite surrounded by Welsh speakers, as his father employed two Welsh speaking servants and had his grandparents staying at his home No.34 Spellow Lane.
Sadly this house no longer exists. If you go to Spellow Lane you will see that the right hand side is still standing. The left has now gone. He had big Welsh influences in his early life, as epitomized by his achievement of finishing runner-up at the Welsh Cultural event of Eisteddfod when he was a member of the St. Domingo's Choir aged twenty-one.
So why Everton?  His father Henry Cuff was a trustee of St. Domingo's and was seen as the right-hand man to Reverend Ben Swift Chambers. Henry Cuff was a man of great presence and statute, though was also well known for his generous hospitality. Reverend Chambers indeed stayed at 34 Spellow Lane whilst Will Cuff was fourteen years of age. Will was also a strong Christian, strongly opposed to alcohol and gambling (in later years he opposed it rigorously as he felt it would be the first steps towards match fixing!!!). The three main characteristics which formed his character were his family upbringing, Welsh heritage and his religious beliefs.
At just ten years of age, in 1878, he was a member of St. Domingo's. How so at such a young age? Peter explained nicely. You see, we look at football back then differently to how we do now. Teams in that era, as Peter discovered, researching into the original QPR team formed in 1882 (by the name of St. Judes) were generally made up of a mix of different age groups. That was just the way it was back then. The rest, as they say, is history.
In 1890 he became a member. In 1892 (the year of 'the split') he was appointed secretary of Everton FC. His awesome presence and very deep voice contributing to his outstanding authority. He was proud to see Everton win their first FA Cup in 1906. He organized the first ever tour by any English team to South America. He witnessed the Football League title in the 1914-15 season. He founded the Central League for reserve players so they were fit and ready to come in and play when required.
In 1918 he stood down as Secretary. In 1921, he returned as Chairman. He never wanted to settle for second best, always striving to sign players of quality, such as Dixie Dean and Tommy Lawton – what an era that must have been for Evertonians! He left Everton in 1938, following quite a fall-out with the Board regarding a change to the voting system, taking up the role as Chairman of the Football League. He passed away in Parkgate, Wirral in 1949; his funeral was at Fairfield Presbyterian Church and he is buried in Anfield Cemetery.
Peter concluded by explaining that Will Cuff would be very proud now to know that Everton are the fourth most successful club in England even if it may not feel like it at the moment. The fourth most successful club. Some achievement, eh? If you're ever feeling down about Everton (well, when don't you?) then try and attend an event from the Everton FC Heritage Society. It really does help you remember what a huge club we are and leaves you feeling very proud.
Paul Wharton then thanked a few members of the St Domingo's Church members who were present before plugging Peter's new book, The Inspirational William McGregor. The book commemorates 100 years since the passing of William McGregor. He was the key founder of the Football League. Everton actually have a lot to thank him for as when he was forming the league Bootle FC also applied though McGregor thankfully chose Everton, citing that he felt they would achieve greater attendances than Bootle. Phew!
Ray Hall was invited on stage to say a few words and did a great job. He discussed his pride in that, even though its 100 years since the Central League was founded, Everton are still creating great players at international level, referring to Jack Rodwell's performances for England this last week of course. He spoke of how humble and lucky he feels to have worked for Everton FC for so long, and that the Youth System is very much alive at Everton. It has to be due to the finances… He mentioned how he feels the importance of a 'local flavour' in Youth Teams is important and is bred from the systems created by Will Cuff, citing Jack Rodwell, Ross Barkley, Wayne Rooney, Francis Jeffers, etc, etc. The objective of the youth set-up is to have one player from the system make his debut in the first team every season, this one being the 17th consecutive season where this has been the case. Some achievement I'm sure everyone will agree. He tried to leave a few seasons ago, but whilst he left his usual position within the Youth Acadamy, Everton won't let him go, and he continues to represent the club at events such as this.
Twisting the subject slightly, and not for the better unfortunately, the magnificent artwork from Chris Wilson ensures Will Cuff will ALWAYS be celebrated as Mr. Everton. At the unveiling, I noticed the absence of a very special Blue: Dr Everton, who established the EFC Heritage Society in 2008, was absent. David France was also missing from the Remembrance Day event at Goodison Park, when the magnificent marble plaque he designed and commissioned, and his wife paid for, was unveiled. It truly is something to make all Blues proud.
I discovered from those better connected to the Goodison grapevine that he was caring for his other half, or as he would tell you, 'better half', who is currently of ill-health in the United States. After emailing Dr Everton to send on my best wishes, David confirmed that Elizabeth is currently suffering of an as yet undiagnosed condition, the problem being that she loses consciousness from time to time and is unable to stand up on her feet. It's typical of her great nature that she has herself labeled the condition the 'Luis Suarez Syndrome.'
David told me: "She has undergone intensive daily physical therapy during the past two weeks and is scheduled for an MRI this week. Her illness means that there are now three sickies in the France family – David, Elizabeth and Everton Football Club. It's bad timing because we had planned to attend the unveiling of the memorial plaque and the equally magnificent portrait. I must add that the idea of Mr Everton, one of the most respected men in the history of English football, is looking over the shoulders of the current directors from the boardroom wall is rather apt."
Evertonians don't need bad news – we get enough of it on Saturdays, but this is particularly sad. Those privileged enough to have met Elizabeth know what a charming, good natured lady she is. I can only hope that everything gets back to normal in the near future. David and Elizabeth have contributed so much to the well-being of Everton Football Club during the past 15 years. I encourage all Evertonians to use this comments section to pass on their best wishes to a much deserving Toffee Lady.