Matt Woods
(1 November 1931 – 26 September 2014)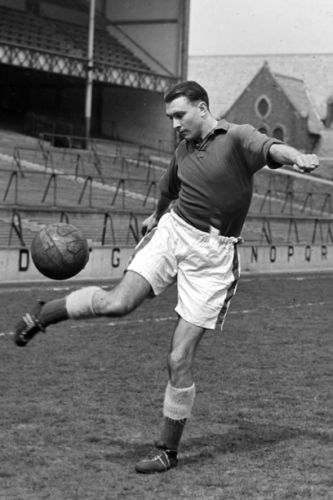 Skelmersdale-born Maurice 'Matt' Woods, a centre-half on Everton's books in the 1950s, passed away on 26 September aged eighty-two. He had been playing as a wing-half in the Wigan Sunday League, when his uncle wrote to Everton requesting a trial for his nephew. Having impressed in the B team, he signed amateur forms at fifteen, and by the 1949-50 season he was a regular in the Reserves – alongside the likes of Don Donovan, Tommy Clinton, Wally 'Nobby' Fielding, Jimmy O'Neill and Harry Catterick. An early Reserves appearance brought praise in the Evening Express on 24 December 1949,
Everton Reserves 'Derby' Victory

Blues' Juniors Clever

Another of Everton's younger players who showed up well was right half Matt Woods, who comes from Skelmersdale. Possibly a little slow on occasion, Woods at the same time proved that he realises the requirement of the complete wing-half and his use of the ball was always judicious.
Having been demobbed from National Service in January 1952, Matt found his club languishing in the Second Division. Things turned sour once Matt turned pro, as he later recounted to journalist and author Mark Metcalf: "I soon discovered that the manager, Cliff Britton, hated me. And I hated him."
Jimmy Harris, who appeared alongside Matt in the Reserves and first team, recalls:
I did play with Matt a few times. He was a good footballer with two good feet and good in the air. He was big and he had a galloping stride with a jerk. He didn't have great pace but that 'yard' didn't seem to come into it very much. He used to come to work with Nobby Fielding and Jack Anderton, they used to catch the train and get off at Kirkdale every morning and then walk up to the ground.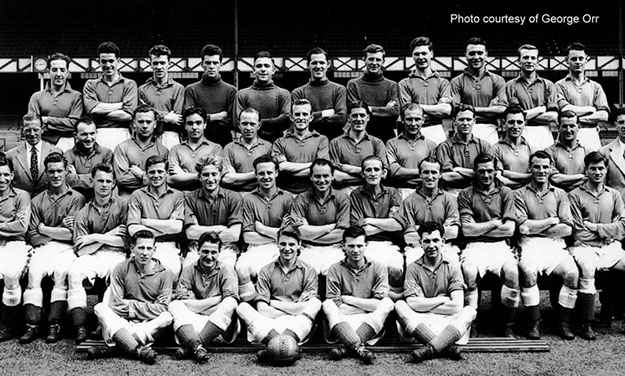 Everton squad, 1953-54. (Matt Woods back row, third from the right)
Despite the antipathy with Britton, Matt was eventually handed a first-team debut when Everton hosted Fulham on 25 March 1953. Matt wore № 5 – the centre-half's shirt – with Tommy Jones moving to right-back. The match started in sober mood after the passing of Queen Mary. Ranger in the Liverpool Echo recounted:
The teams, wearing black armlets, marched out from the players' tunnel at a slow pace, side-by-side, to the centre circle, where they lined up while the crowd stood in silence for the playing of a verse of 'Abide with Me'. Spectators next stood bare-headed in the spring sunshine in a minute's silence, after which 'God Save the Queen' was played.
This mournful entrance would have done little to settle Matt's nerves and he would endure a torrid time in the 3-3 draw – up against the magnificently named Bedford Jezzard (Jezzard went on to represent England on two occasions). Leslie Edwards wrote in the Daily Post: "Jezzard had too many tricks for Woods, whose main fault… was that he was not always alert enough to 'read' the play."
Matt was unlucky to contribute to a goal by future Everton inside-forward Dennis Stevens, as Ranger reported:
The ball ran on to Stevens who hit it first time with terrific force… en route, it struck the foot of Woods and was deflected yards out of the Everton keeper's reach. Woods could not help himself but he put his hands to his head to express his disappointment.
The Echo reported:
It was not a happy debut for Maurice Woods. Woods is nicely built for the pivotal job but on this showing he is lacking somewhat in craft and positional sense. This will doubtless come with added experience. He should not be depressed by yesterday's experience – many a star of later years has had a similar disappointing debut.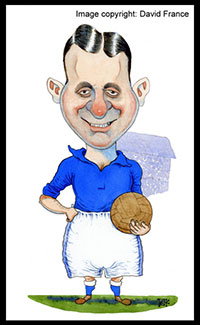 Sadly for Matt, the 'added experience' at senior level would not be forthcoming for over two years – his next action would be in April 1955. In October of that year, Matt was called up to the first XI for a three-match unbeaten run – of which the first fixture saw him come up against the Cannonball Kid. Jimmy Harris recalls: "He played at centre-half against Dave Hickson when he came back with Aston Villa and he did well – he didn't give Dave a kick that day." In the third match, Matt scored from the spot as Huddersfield were humbled 5-2. Britton then unceremoniously dropped Matt; he could only smile inwardly as Everton lost at Cardiff in the next fixture.
Everton historian David France recalls the test of patience that Matt endured:
I remember Brian Labone telling me that Matt was frustrated as an understudy to centre-half and captain Tommy Jones, who was the first name on the team-sheet. As a result, he made only a handful of first-team appearances. When competition, in the shape of a young Labone, appeared on the scene, Matt knew that he had to move on. He must have regretted his time playing Central League football because he was a top defender at the club at the wrong time.
In the days before freedom of contract, clubs had the right to retain a player's services every season. Matt was effectively held at Goodison Park against his will, in spite of not being first-choice centre-half at the club. He recalled to the Lancashire Telegraph in 2010:
I was trying to get away from Everton for a long time but they would just not let me go. You signed a contract for 12 months every season and that was binding for life. If the club you played for wanted to keep you, there was nothing you could do.  Everton would just price me out of the market. One of the officials at Everton said to me: "When we let you go, you will pay for the floodlights."  I was on top money at Everton, well top money for those days, but that didn't matter a jot to me. I just wanted to play football – it is all I ever wanted to do.  Quite a few clubs were interested… but Everton kept pricing me out of the market.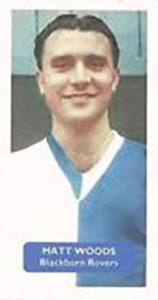 Enquiries from Bury and Bristol City came to nought (Everton demanded £8,000 from the latter) but, with Cliff Britton departed, Everton eventually sanctioned Matt's exit. After a final first-team appearance on 27 August 1956 – a 5-2 defeat to Blackpool – the move was made to Johnny Carey's Blackburn Rovers three months later. The fee agreed was £5,250, split into November and April instalments .
The switch to Ewood Park was the making of Matt. In over 300 Rovers appearances, he helped the club to promotion to the First Division in 1957-58 and featured in the team which reached the 1960 FA Cup Final.
David France recalls:
I remember Matt playing for Blackburn alongside the great Ronnie Clayton (someone Everton had tried to sign) and the equally great Mike England (someone Everton tried to sign on more than one occasion) at Goodison. He was a top quality. Tremendous in the air, his efforts were applauded by the home fans. At that time, Matt was the best local player – perhaps the only local player – to leave Everton and make a name for himself elsewhere.

Such was Matt's form at Rovers that he could consider himself very unlucky not to receive an international call-up – recognition was restricted to a solitary selection for a representative Football League XI which faced a League of Ireland XI in September 1960 at Dallymont Park. Mark Metcalf was told by Matt that whilst waiting at the airport for the flight to Dublin, he was advised by an FA Council member that he had been overlooked by the England team selectors as they had forgotten about him on one occasion! So angered was Matt at this revelation that his teammates had to dissuade him from leaving the airport and heading home.
Blackburn teammate Bryan Woods told the Lancashire Telegraph:
When it came to England, he was unfortunate as, first of all, we had Billy Wright and then we had players from Tottenham who were more in the picture because of the London press. But I'll put it this way: if he had played for his country, he certainly wouldn't have let us down. He was a very, very good player.
In 1963, aged thirty-one, with his best days behind him, Matt followed a path trodden by several ex-Evertonians in migrating to Australia. Here he was player-coach at Hakoah in the New South Wales First Division and he also turned out for Hellas and Sydney Olympic. The ill health of a family member cut short his antipodean adventure but not before he had represented New South Wales in a fixture against his former club, Everton, in May 1964. Everton ran out 5-2 winners.
Back in the UK, Matt made thirty-four appearances for Luton Town in the 1965-66 season. A move from the Bedfordshire Hatters to their Cheshire nick-namesakes followed. By now, Matt was a 35-year-old veteran but Stockport County's manager, Eddie Quigley, who knew Matt of old, believed that he could form a formidable defensive partnership with Eddie Stuart. Quigley was vindicated as Matt led his new team to the Fourth Division championship in his first season at Edgeley Park. He remains the last County captain to lift Football League silverware.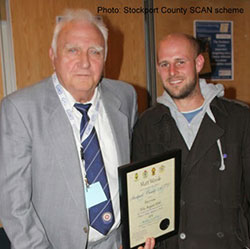 Matt Woods receiving his Stockport County appearance certificate in 2010
In his second season, he was increasingly troubled by a cyst on his knee cartilage and, after ninety-four appearances, he was released. A four-month coda with Irish club Drumcondra in 1968 brought his playing career to a close. After a brief period in the dug-out at Altrincham Town, he returned to Stockport County in 1969 as chief coach – with a remit to develop young talent. However, the sacking of Walter Galbraith in April 1970 saw Matt elevated to the hot-seat, initially in a caretaker capacity. His Hatters tenure lasted twenty months – ending after a FA Cup defeat to non-league Blyth Spartans.
Turning away from football, after a period coaching at Preston North End, Southport and Bobby Charlton's Soccer School, Matt ran a small road haulage business in the Stockport area. He was held in high esteem by supporters at all the clubs he represented.
Sources and acknowledgements
David France
Jimmy Harris
Marcus Heap and Ian Watts (SCFC historical advisors)
George Orr
Everton – The Official Complete Record (Steve Johnson)
Blue Correspondent website
Everton Collection website
Blackburn Rovers website
Mark Metcalf (writemark.blogspot.co.uk)
gogogocounty.org
hedgegrower.blogspot.co.uk