When Thomas Chadwick married Susanna Pilkington in 1865 at St Peter's church in Blackburn, both their families had a firm foundation in the grocery trade which enabled them to set up their own local outlet at 66 Darwen Street. It was here that their first child, Albert Llewelyn, was born 1 August 1867. The family then moved to a terraced house on New Park Street – while the business was expanded elsewhere – and it was here that a second child, Edgar Wallace, was born 14 June 1869. He was destined to become an early legend at Everton Football Club.

The 1881 census found the family business operating at 115 King William Street, where Albert was already learning to bake bread and serve behind the grocery counter. Three years later, his name began to appear on the team sheet of the 1883 FA Cup winners Blackburn Olympic at their home at Hole-in-the Wall. He quickly established himself as a defender, but the popularity of the "Light Blues" was surpassed by their local rivals and three-time FA Cup winners, Blackburn Rovers. Albert, nevertheless, was joined by his younger brother Edgar, and they were first seen together in Liverpool 26 April 1887 when Everton defeated Olympic 2-0 at Anfield. The Chadwick brothers then signed amateur forms with the Rovers, remaining under contract until the end of the season. It was reported that both brothers had promised to sign again for the forthcoming season but on 9 July 1888 they agreed terms with Everton.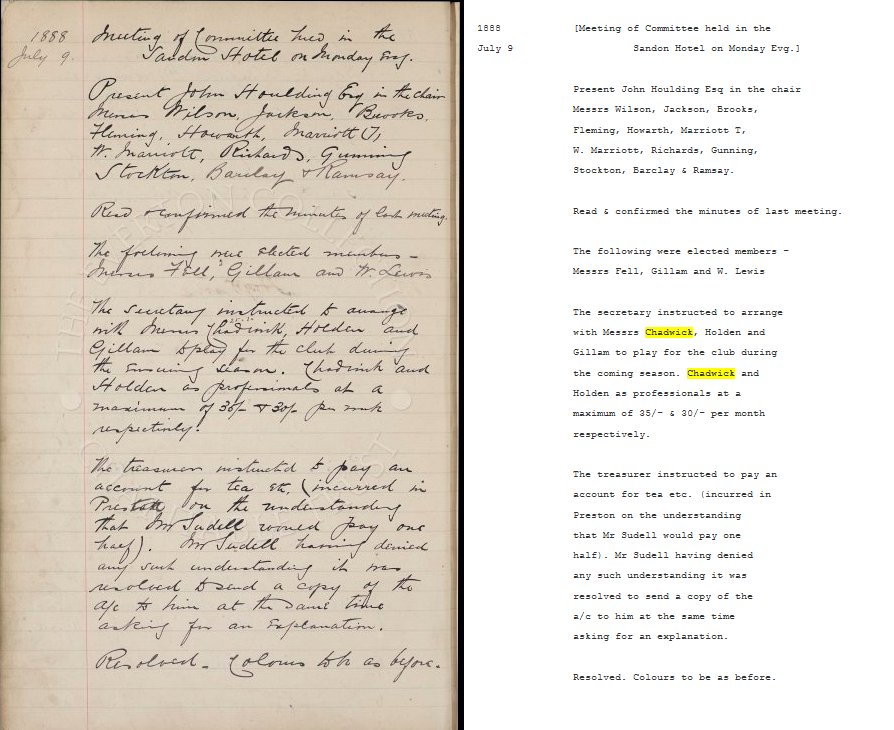 The club minute book states that Edgar was to be registered as a professional player for a wage of thirty-five shillings per week, while Albert would receive a payment of five shillings per match as a reserve team player. The Chadwick brothers first appeared for Everton on 8 September 1888. Edgar, playing in the forward line, made his Football League debut against Accrington at Anfield, while Albert – playing at full back – did so for the Second XI against Spring Branch Rovers at Ince, near Wigan. The following Monday, Edgar witnessed the marriage of Albert to Matilda Hargreaves at the church of St Paul in Blackburn, and celebrated by scoring his first goal for Everton the Saturday after, as they beat Notts County at Anfield by two goals to one. Edgar quickly found a regular place in the Everton forward line, but Albert had to wait until 1 December to make his Football League debut in the most unfortunate of circumstances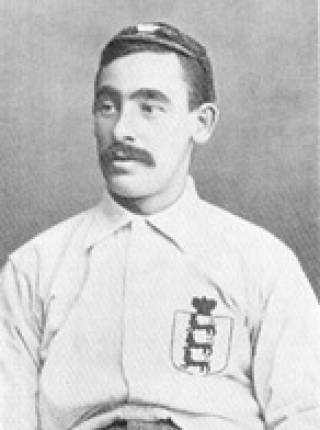 The game was against West Bromwich Albion on what was then their home turf at Stoney Lane. Nick Ross and John Holt were absent from the side having been chosen to represent Lancashire against the East of Scotland in Edinburgh. The Everton side was further weakened by an illness to Sandy Dick, so Albert partnered veteran George Dobson at full back. Jimmy Costley, a former teammate from Blackburn Olympic made his Football League debut for Everton but was reported to be 'blowing like a porpoise' after fifteen minutes. Nevertheless, Edgar gave Everton an early lead but by half-time they were trailing by three goals to one. Second half injuries to Costley and Sugg then reduced the visitors to nine men and they lost the game 4-1. Albert then returned to reserve XI duty before making a second Football League appearance against Wolverhampton Wanderers at Anfield on 9 February.
Nick Ross and John Holt were again absent on 'Red Rose duty' so Albert was placed in the half-back line alongside the veteran George Farmer and debutant, Isaac Roberts. Edgar gave Everton the lead, but the visitors hit back to win the game 2-1. Albert later played in the Lancashire Cup defeat by Higher Walton and took part in the tour game against Ulster, in Belfast, before the season came to an end. With Nick Ross set for a return to Preston and Sandy Dick near to retirement, it is safe to assume that Albert was hopeful of staying with Edgar at Everton. However, he was not retained and accepted an offer to join Halliwell.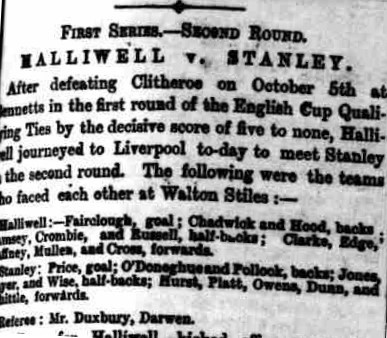 He took part in the Bolton-based club's FA Cup campaign which saw him quickly return to Merseyside as they beat Liverpool Stanley 2-0 at Walton Stiles in round two. All hopes of an extended "cup run" were then brought to an abrupt end by a 2 -0 home defeat by Darwen. Next season Halliwell became founder members of the Lancashire Combination but ran into financial trouble and could not complete their list of fixtures. On 23 February 1891, Albert Chadwick signed a two-year contract with Everton, to commence from the start of the following season, that would begin with an "all year" wage of 30 shillings per week (= £1.50 – around £200 a week, today).
He recommenced his service 2 September 1891, as Everton defeated Chester St Oswald's 1-0 at Exton Park. From then on, Albert became a regular member of the reserve side who were now members of the Combination and assisted them in winning the title. He was also awarded a gold medal for taking part in the Liverpool Senior Cup Final where Everton beat Southport Central 2-1 at Hawthorne Road, Bootle.
The next season – with Everton now relocated at Goodison Park – he again took his place in the Combination side and was recalled to first team duty 5 November 1892 as Everton recorded their largest win of the season by beating Derby County 6-1 at the Baseball Ground. The next week he took part in a 2-2 home draw with Stoke and the made his fifth and final Football League appearance when Everton were beaten 5-3 by Sheffield Wednesday at Goodison Park.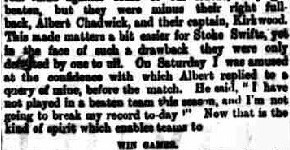 He saw out the season with an Everton Combination side who again won the title by scoring no fewer than 107 goals in twenty-two matches. On 23 April 1893, Albert Chadwick took part in the first game to be played between Everton and their new neighbours Liverpool. The occasion was the local Senior Cup Final and it took place in front of 10,000 people at the home of Bootle at Hawthorne Road. Everton lost 1-0. Albert Chadwick made his final appearance for Everton when – as a last-minute replacement – he took part in the game against Celtic in Glasgow where Everton lost 2-0. He then announced his retirement from the game.
The 1891 census records Albert still working in the family business in King William Street, but had secured his own home at 6 Fawcett Street in Blackburn with his two daughters Maud and Maria. The number of children had risen to three by the time of the 1901 census, which indicated that Edgar had now married and was lodging in Southampton, while his wife and daughter lived two doors from Albert at number ten. Albert Chadwick lived at this address until his death 16 February 1935. He was then a widower and left over £1,800 to be divided equally between his daughter Maud and his brother Edgar.