writes Fred Harvey, with Rob Sawyer
John Everton, aged 75, had a distinguished career as a match official, which included service as a linesman for the Football League between 1984 and 1992. Six of those seasons saw him refereeing Conference (now the National League) games and in the 'Pontins' Central League when clubs fielded reserve sides.
To cap it all, John Everton is an Evertonian! He reckons that he has trodden the hallowed Goodison Park turf on twelve occasions, three as a referee.
What's in a name?
Research into the Everton family tree shows an 800-year progression from Northern France, via Leicestershire, to Liverpool. John's grandfather, John Henry Everton, and father John Alfred Everton lived and worked in the port city. Future referee John Frederick was born in 1947 on Merseyside, but swiftly relocated to Wrexham, thence to Sale. He was brought up on tales of William Ralph Dean, whose 58th, 59th and 60th goals of the 1927-28 season were observed by John (the middle) from the Gwladys Street Boys' Pen on his father's twelfth birthday (5 May 1928).
After observing a couple of games at Wrexham's Racecourse ground, young John was taken by his father to his first Everton game on Saturday, 11 September 1954. The newly promoted Blues played out a 2-2 draw against Leicester City before a crowd of 49,684. The home side lined up: Jimmy O'Neill; Eric Moore, Don Donovan; Peter Farrell, Tommy Jones, Cyril Lello; Tony McNamara, Wally Fielding, Dave Hickson, Gwyn Lewis and Tommy Eglington.
Notable names in the visiting line-up were Colin Appleton, Stan Milburn, Matt Gillies and Arthur Rowley. After a 3:15pm kick-off the scorers for the Toffees were Lewis and Hickson. Everton slipped from sixth to seventh after the draw, eventually ending their first season back in the top flight in eleventh position.
A travelling Blue
From 1956, for nine years, John lived some thirty-five miles east of Toffeeopolis in the leafy Manchester suburb of Sale, noted for its Rugby Union club. He attended many games in the Buchan, Carey and Catterick eras, which included a League Championship in 1963 (captured against Fulham, 4-1), the famous Wembley win in 1966 against Sheffield Wednesday (3-2), disappointment two years later v. WBA (0-1), then another wonderful League Championship in 1970 (revenge was achieved at Goodison against the Albion after an Easter Monday win at Stoke). John was present at them all.
By now, he had qualified in Oxford, not only as a primary school teacher, but as a referee, and was making his way up the ladder via games in the Altrincham area, and at county level, in the Mid-Cheshire League.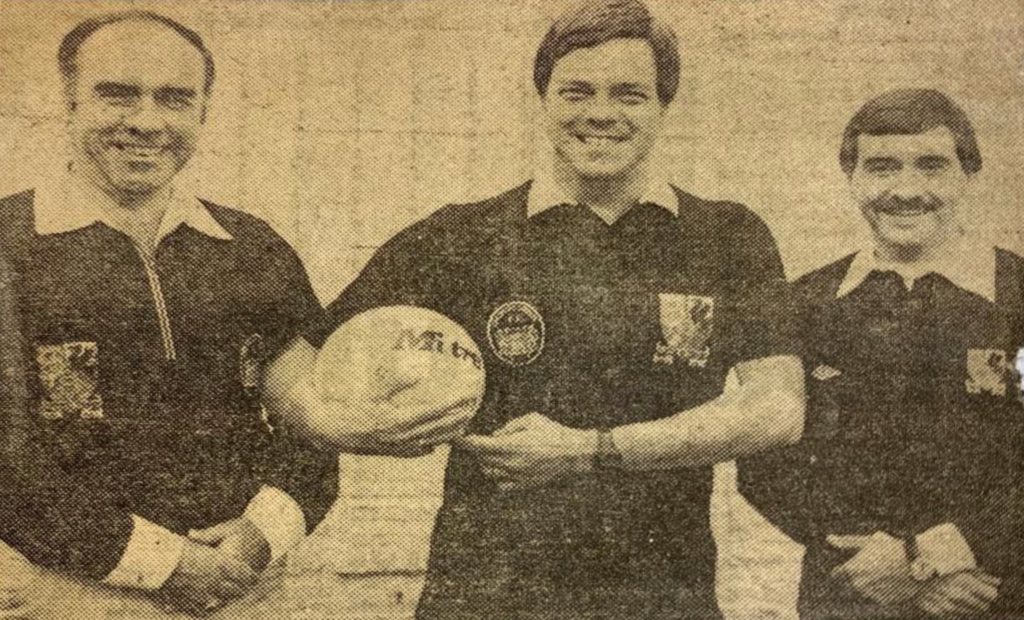 When Schools' FA matches were important stepping stones
Giving up free time to referee schools' football proved fruitful for John, with a line appointment at Goodison on Tuesday 20 March 1973 for the ESFA Under-15 semi-final between Liverpool Boys and Barnsley attracting the attention of his local Press, the Sale Guardian. 'Everton goes to Goodison' was a headline that must have taken a while to compose! The scribe reveals that "Schoolteacher John will achieve a lifetime ambition somewhat sooner than anticipated." Within ten years, he was back in postcode L4 4EL to referee when Merseyside Schools under-15 faced Lancashire. In the meantime, international honours provided further reward for services rendered to the schoolboy game: on the line for England v. Holland (Under-15) at Wembley in 1975, followed by a line at Maine Road (England v. Ireland, Under-15), back to Wembley as 4th Official for England v. Germany (Under-15) in 1981, and the middle at Ewood Park for England v. Holland (Under-18) seven years later.
A letter from Lytham arrives!
Whilst basking in the glory of Everton's FA Cup success against Watford in 1984, after ten years' service to the Cheshire County League (later North West Counties' League), including the award as 'Referee of the Year' in 1978, John was invited to be a member of the Football League match officials' panel. "It had taken eighteen years, and I was honoured," he explains. "Understandably, there was banter about my surname, but it wasn't unique for a linesman to have the same name as a team: probably just a more famous one!" There was never any suggestion of any bias being shown: in fact, John was probably ultra-hard on his school teams, in an effort to be seen to be impartial. "The only advice from senior colleagues was not to make any Pools forecasts games in which you were involved," he reveals. Not an issue for John, who didn't do the Pools, anyway.
His opening line appointment was Wigan Athletic v. Bradford City on 1 September 1984, and he gained experience through the divisions. His first appointment in the top rung should have been at Sheffield Wednesday in February 1985, but a Cheshire County FA Cup appointment took precedence, admittedly to his great chagrin.
A first line in Division One finally materialised on Saturday 20 April 1985, 'across Stanley Park' with Newcastle United the losing visitors, 3-1. As often happens, a much-anticipated appointment was 'over in a flash' and featured on Match of the Day. Nothing contentious occurred, but John was surprised at Chris Waddle's turn of speed prior to the consolation Magpies goal.
Good advice from colleagues Gilbert Napthine and Paul Harrison was: "If coming round for corners at The Kop end, don't stand still!"
Further promotion
In 1985, aged 39, John was invited to become a Panel referee, making him one of a group handling games in the Conference, under its various sponsorship titles, and the Pontins League. John had six seasons reffing at the fifth tier in the domestic game, whilst continuing on the Football League (pre-Premier League) line.
First Division appointments for John continued to be at Hillsborough or Anfield until 1 April 1986. Linesman Everton was back at Goodison, keeping up with the speedy Gary Lineker for one half, but it was Peter Reid who scored the game's only goal before a crowd of 33,178 to leave the reigning Champions top of the table.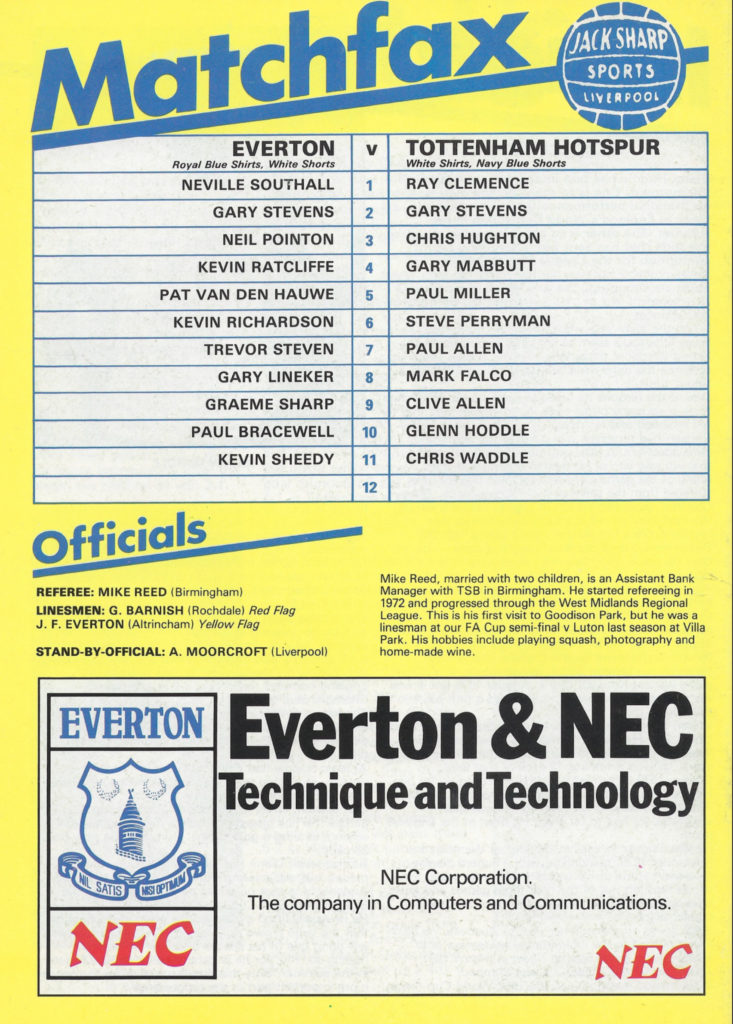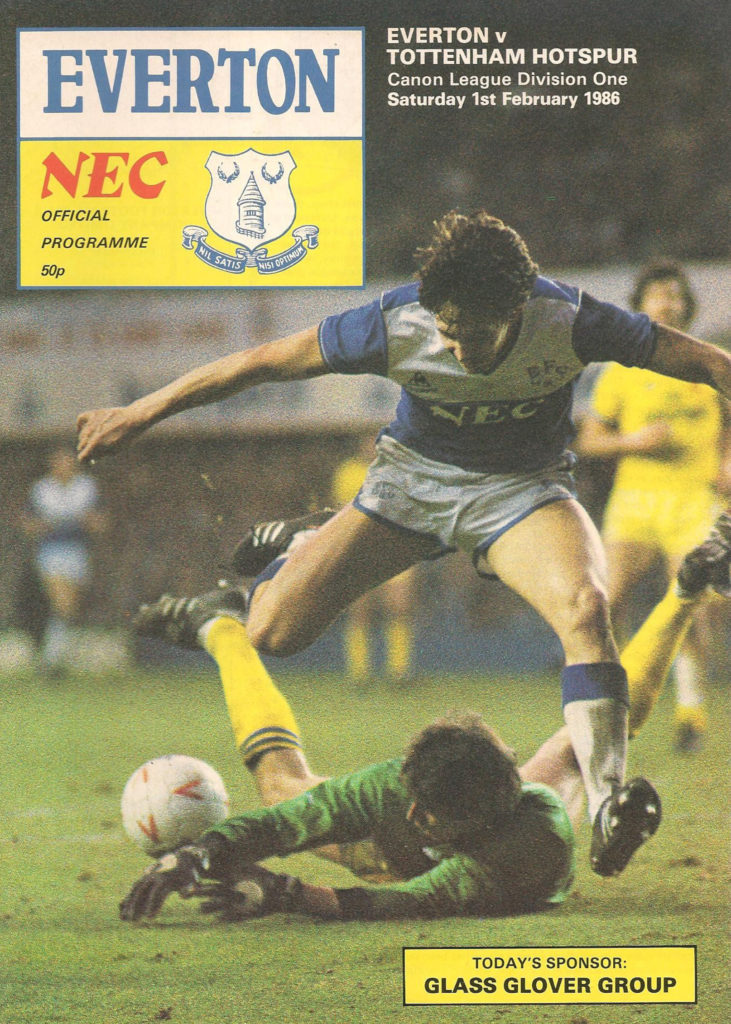 Goodison memories
Matchday hospitality at Goodison was always up with the best, largely due to the great job done by host and former fellow-official Gerry Jones from Wirral. Across from the referees' dressing room was a hospitality suite where match officials' guests were made welcome.
John was in the middle for two reserve games during his six-year spell as a Panel referee, and the records show that he patrolled the touchline, flag in hand, at these first team games, following that victory against Spurs:
20 Dec 86 Wimbledon 3-0 Steven, Sheedy, Heath 25,553
16 Feb 88 Luton Town (Simod Cup) 1-2 Power 5,204
1 Jan 90 Luton Town 2-1 Whiteside, Sharp 21,743
3 Nov 90 QPR 3-0 Newell, Nevin, McDonald 22,352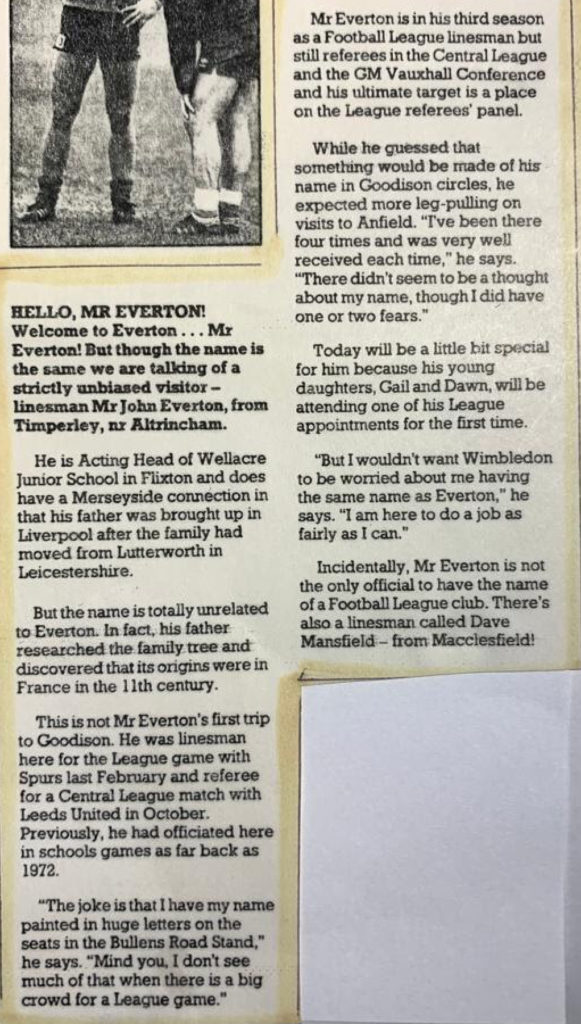 Everton's historians will know that the last fixture was caretaker manager Jimmy Gabriel's sole game in charge. John never officiated Everton away.
John remarks: "Looking back, those attendances seem so low. I've been back many times since retiring, and tickets are at a premium. Perhaps I was so busy, that I didn't fully appreciate the difficult economic situation in the Eighties."
Was concern ever expressed about his surname? "Only once," he replies. "A Southern manager, with a Cockney accent, commented about 'Not being too happy about the liner'. I didn't take it personally after I learned that he moaned about more or less everybody – whatever their name!"
Time to stop?
"I was granted an extension season, which would have taken me to age 45," John recalls, "but I suffered injury and fitness issues. So, gracefully – and gratefully – I retired just before Christmas with some terrific memories.
"It was time to step down and afford up-and-coming colleagues the valuable experiences that top line involvement in professional sport can provide. I became an assessor for the Northern Premier League for a while. I also helped a young Altrincham referee called Anthony Taylor in the late nineties, but it was obvious he had the ability and ambition to go much further in the refereeing world than I ever had! My involvement in sport saw me ending up as a the 'Media Man' in Premiership Rugby with Sale Sharks. At 72, I retired…again!"
Dedicated to John Alfred Everton, who passed away in 2018, at the grand age of 101.