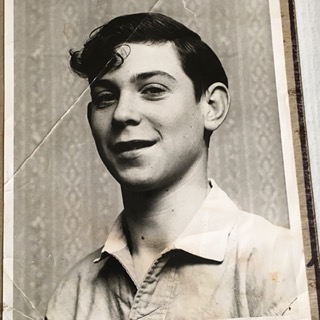 Barry Rees was a bright young lad who originated from Rhyl in North Wales. An excellent footballer from an early age, he caught the eye of an Everton scout. Having represented his county of Flintshire, he eventually made the grade as a professional footballer.
Barry impressed his manager sufficiently to feature in four first team games, netting twice, before being sold to Brighton and Hove Albion. Barry died in tragic circumstances at the age of 21 and I am indebted to Barry's brother Geraint for sharing Barry's all too short career with me.
Barry was a bit of a home boy and he was forever coming back to Rhyl and staying at home, which manager Harry Catterick didn't like, preferring his players to stay local around the Liverpool area. That may be what brought things to a head between Barry and Mr. Catterick. I don't think they really saw eye to eye.


Barry was discovered by Everton's North Wales region scout, Fred Bennett, in Flint. Barry played representative schoolfootball and went on to play for Wales schoolboys. He was playing for Rhyl in the Cheshire League, before joining Everton at the age of 17 and serving an apprenticeship as a plumber, as many did at that time. Everton even bought his plumbing tools for him.
Barry represented the Everton A & B teams before progressing through the reserves into the first team. His debut came in a 4-2 defeat by West Ham United in October 1963, in which Barry scored. He made his home debut against Birmingham City five months later, when he found the net again in a 3-2 victory. He played his last game that season four days later at Bramall Lane, Sheffield in a 0-0 draw and had also played in the infamous game against Leeds United in November 1964. He was a half back as they were called in those days, but the games he played for Everton were mainly as centre forward. Barry was very versatile and could also play left back or left half. He was two footed, a strength which allowed him to play anywhere really.
Barry, Colin Harvey and Roy Parnell were the trio of young players who travelled to Inter Milan in September 1964. They knew one of them was going to play in that game but didn't know who. It was announced later that Colin Harvey was the lucky lad to be selected.
He was also part of a 15-man squad that toured Australia in 1964 as manager Harry Catterick stayed at home, with Ron Lewin managing the touring party.

Barry was good friends with Gerry Humphreys, another North Wales lad and they travelled in together by train until they had to find digs in Liverpool. He was also friendly with Colin Harvey who once came to our house.
In January 1965, Barry moved to Brighton & Hove Albion,who were then in the 4th tier of English football. Barry was 20and a strong and enthusiastic attacking wing- half who had twice been called up for Welsh Under-23 squad. He was also versatile having played full back and centre forward in his four games in Division One. Albion had been watching him for some months. "We should have liked to have had further reports on him, but other clubs are interested, and we shall have to move in quickly" said Archie Macauley. "Now if he wants to come, we shall sign him"
Barry did want to move to the Goldstone Ground and signed on Friday, 8th January 1965, for £8,000 – a sizeable outlay for Albion in the 1960's – but with an "add-on" clause that would net Everton another £2,000 if the player won a full cap or was sold on for more than £8,000.
On 4th February 1965, Barry celebrated his 21st birthday and aweek later was called up as a reserve for the Welsh under-23's to play Northern Ireland in Cardiff but couldn't travel because of a cold and an upset stomach.
Generally, though the young Welshman was settling well into life at the Goldstone and was becoming a crowd favourite for his attacking style of play. Quiet off the pitch, Rees loved ten-pin bowling; and to get him back to his parents in Rhyl, he bought a Mini off his colleague Bobby Baxter.
A contented Archie Macauley had said of his newest player; "Barry will have to subdue himself a wee bit. But I like to see a player with a bit of spirit. More of that in the past and Brighton would have never fallen into the Fourth Division"
Perhaps the manager saw something of himself in his latest acquisition. Rees scored his first Albion goal in perhaps the most thrilling game of the season, a 4-4 draw with Chester at the Goldstone. John Vinicombe, in the Evening Argus, called it "a feast of football skill".
He was looking forward to a celebratory family reunion as an uncle had scooped £28,000 (worth £428,000 today) on a football pools coupon. The night before setting off on his homeward journey to Rhyl, Barry returned to his digs to make sure he had enough sleep before making the 289-mile trip. At 8.45am, Barry's car collided with a lorry on the A5 between Ashby and Nuneaton. He was taken to the Manor hospital where, tragically, he died not long after.
Barry was laid to rest in Rhyl cemetery on Dyserth Road.
Acknowledgements to Geraint Rees (Brother) and April Rathbone (sister) and Tim Carder from Brighton & Hove Albion (Historian) for their invaluable help.