The Wirral has a proud tradition of producing high-calibre footballers who have graced stadia on Merseyside and beyond. For a period in the first half of the 20th century Tranmere Rovers became something of a centre-forward factory, producing some of the finest striking talent in the land. There was, of course, William Ralph "Dixie" Dean, but also Tom "Pongo" Waring, Bill "Nibbler" Ridding and Robert "Bunny" Bell (it appears that nicknames were mandatory in this era). The latter wrote himself into the record books by scoring a triple-hat-trick on Boxing Day 1935. More of which later…
Bob, as he preferred to be known, was born on 10 April 1911, the son of Robert and Alice Letitia of 54 Woodchurch Road, Birkenhead. One of five brothers, Bob attended Temple Road School, a stone's throw from Prenton Park (Jimmy Harris is another former Temple Road pupil). When the school-master was not looking, Bob's gaze would be drawn towards Tranmere players training outside – sparking his desire to play for the Rovers. Playing for local youth club, Carlton Athletic (and Birkenhead Schoolboys) as an inside-left, he was switched to centre-forward when his talent for scoring became apparent (he would score 100 goals over two seasons for Carlton). Stick-thin but reasonably tall (5'10" in adult life), Bob possessed pace to burn and decent heading ability – presumably this is why the nickname "Bunny" was coined by school friends.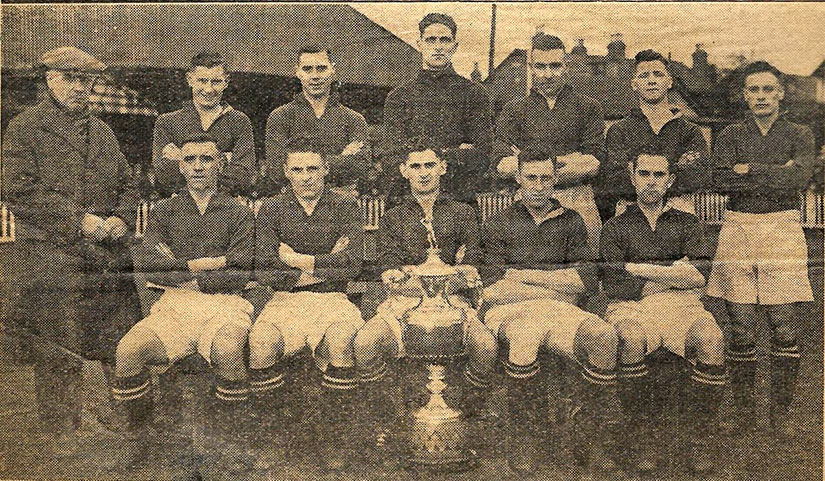 Tranmere-Rovers, Liverpool Senior-Cup winners. Bob Bell seated with trophy
His performances caught the attention of Bert Cooke, Secretary-Manager of Tranmere Rovers, who signed the eighteen year-old on amateur forms. Bob would combine work as a clerk with Fletcher and Co. (shipping agents) with turning out for the Rovers, initially at reserve team level. After an impressive scoring run of 14 goals in 3 games for the reserves, Bob's debut came in the Third Division North on 21 February 1932. On his subsequent home debut, in March, he scored two goals and had a hand in three others. The reporter 'Rover' was impressed with the rookie: 'He was a marked success: distributing the ball well, showed craft and speed in solo runs and deadly marksmanship.' Later that year Bob switched from amateur to semi-pro status but resisted the temptation to commit to football full-time. In spite of his goal-scoring feats some Rovers fans complained that Bob, fair-minded by nature, lacked the devilment required of a centre-forward. He was certainly brave, however, and suffered his fair share of injuries. In September 1934 he collided with the Halifax Town goalkeeper, fracturing his jaw. He returned to action five weeks later but subsequently broke a collar bone after landing awkwardly in a cup-tie against Crewe.
The event for which Bob is best remembered occurred in the winter of 1935 when Oldham Athletic and Tranmere staged a festive double-header. On Christmas Day, Tranmere lost 4-1 at Boundary Park; the very next day they hosted the Latics on a quagmire of a Prenton Park pitch. Suspicions that some Oldham players had enjoyed too much Christmas cheer arose when Rovers hit six goals within the first 19 minutes of play – Bob notching a hat-trick in the process. Bob added to his personal tally twice more before the interval, with the score reaching 8-1. A seventh Bell goal followed on 68 minutes. When a penalty was awarded to Rovers in the 73rd minute Bob had a gilt-edged chance to break the record for goals by a player in one match (seven), jointly held by Albert Whitehurst (for Bradford City against Tranmere) and Ted Drake (for Arsenal). Bob contrived to miss from the penalty spot but, with three minutes remaining, he coolly beat the Oldham keeper in a one-on-one to reach the landmark figure of eight. Then, in the dying moments he nodded home a cross to complete the triple-hat-trick. Hats were thrown in the air and, when the full-time whistle blew, members of the 11,500-strong crowd spilled from the terraces and chaired Bob off the pitch. Whilst he was subsequently changing, the exultant fans remained outside, chanting: 'We want Bell!' Incredibly, within months Joe Payne of Luton scored ten goals in a match¹ to eclipse Bob's record but the 17 goals (13-4) scored in that Boxing Day bonanza, has remained a Football League record to this day.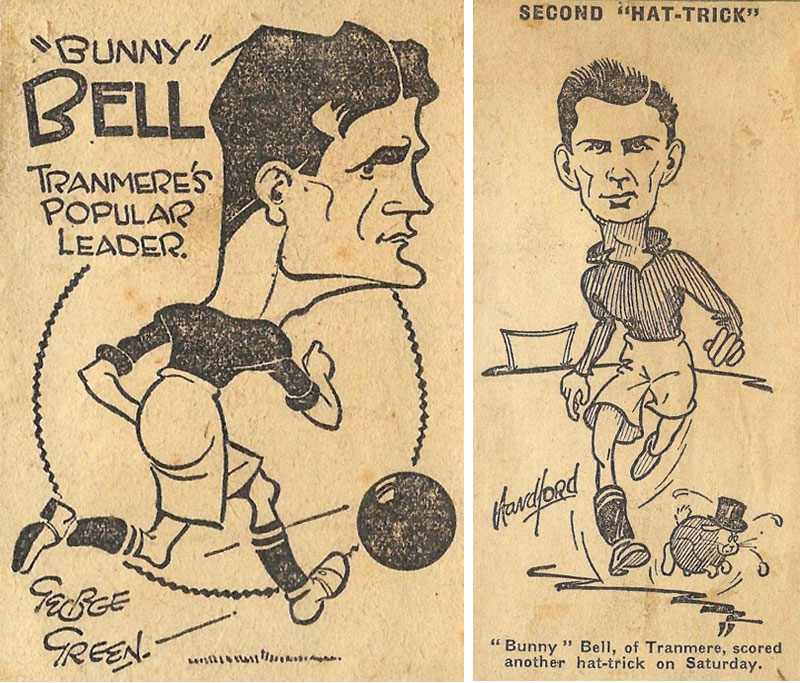 Four weeks later, a civic reception was held at Birkenhead Town Hall at which Bob was presented with the match ball, signed by players from both teams. The remarkable scoring feat brought a level of fame and ever closer attentions of centre-halves. It also put Bob firmly on the radar of bigger clubs. With Dixie Dean increasingly troubled by injuries, Everton brought in Bob as cover on 13 March 1936. Everton's board minutes reveal that the club had been keeping tabs on the striker as far back as April 1932 although scouting reports had been mixed – thus delaying any bid. In the end, it was a part-exchange deal with Archie Clark and £1,400 crossing the Mersey in the opposite direction. Bob was torn about whether to go full-time pro and accept Everton's offer as one commentator noted: 'He was loath to give up his amateur status but finally left the "city".' I well remember his signing in the Exchange Hotel, Liverpool. He required a lot of coaxing and seemed in doubt as to whether he had done the right thing immediately he had put pen to paper. He seemed very dubious when I spoke to him.' Bob may have departed Tranmere Rovers with a heavy heart but he left a fine legacy of 102 goals in 114 League games (116 goals in 130 appearances in all competitions, including 13 hat-tricks). He sits third in the ranking of Tranmere's highest scorers and shares the club record of 40 goals in a season with John Aldridge.
Bee of the Liverpool Echo wrote of Everton's new acquisition:
'"Bunny" is still a mere stripling, so far as build is concerned; indeed, he has come to be known as the "invisible man" – so easily does he slip through defences! While he played with Tranmere, there were many followers of the club who could not take kindly to his style of play. He kept the line moving well, was less of an individualist than most "star" centres, and relied upon the half-chance for most of his goals. His heading is one of his strongest "lines" and he has scored many goals in this way. As an onlooker of most of Bell's League football, I should say that he will need building up for the onerous duties of leadership in first class football. He suffered two severe injuries in a short space of time, having his cheek and collar-bone broken. There can be no pluckier forward in football. He has taken hard knocks and come back for more in a way that shows his heart is in the right place'.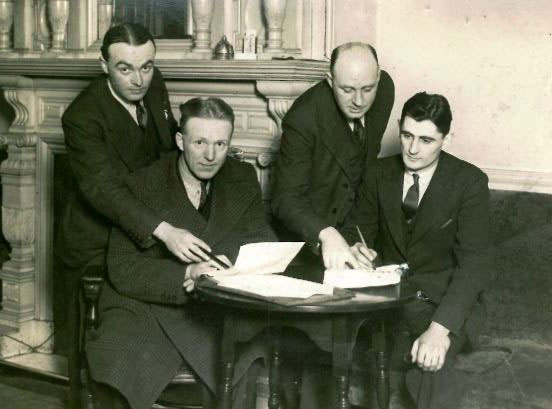 Bob Bell signs for Everton in 1936
Three days after his arrival at Goodison Park, Bob debuted in the reserve team – fittingly against Oldham Athletic. He was joined in the line-up by fellow Toffees new boy, T G Jones plus experienced campaigners in Cliff Britton and Jackie Coulter. Oldham exacted some revenge for their first team's capitulation three months previously by winning 2-1. Bob was shackled by George Milligan, who would subsequently sign for Everton in 1938. In his third reserve team outing, Bob hit form and knocked three past Birmingham City. A first-team debut followed on 18 April – in for the injured Dean. Unsurprisingly, Bob was on the mark – taking a Jock Thomson pass and slotting past the keeper. He would also hit the woodwork but Everton went down 3-1 to Leeds. Pilot, reporting for the Liverpool Evening Express, commented on a favourable senior debut: 'Bell has reason to be satisfied with his debut. His goal was excellently taken and he showed a fine body swerve and good ball-control. He suffered through lack of support'. At season's end, Bob was part of the Everton touring party which travelled to Germany – he contributed a headed hat-trick against Hamburg.
Although Bob provided able back-up for Dixie Dean, the Everton directorate sought a powerful spearhead to fill the legend's boots on a long-term basis. He duly arrived in January 1937, in the shape of Tommy Lawton. The teenager pushed Bob down the first-team pecking-order and the Everton board agreed to sell him if an offer of £2,000 was received. Although Reading made an enquiry, nothing transpired and Bob remained at Goodison Park. At reserve team level, he was customarily prolific (38 goals in 31 Central League appearances in 1937-38 and 16 in 26 in 1938-39). In the Championship-winning 1938-39 season, Bob made four first-team appearances, netting three times (bringing his Everton career total to 7 goals in 14 appearances). He went on the newly crowned club's celebratory trip to Morecambe – the seating plan for the dinner shows him sat with his wife, Dinah. Little over a month after this outing to the Lancashire coast, the outbreak of war effectively ended Bob's professional football career.
Bob would deputise for Tommy Lawton in the 1939-40 wartime season, when the England striker was unavailable due to Army Physical Training Instructor duties. Memorably, after a run of matches for Everton, Bob was allowed to guest for his former club, when the Blues crossed the Mersey to Prenton Park on 23 December. Everton, fielding a virtually full-strength side, were too good for Rovers. Stork in the Echo reported: 'Bell was keen to get a goal against his colleagues but he found the Everton defence too good for him, although his ideas, had they fructified, would have been decidedly useful.' In fact Bob did bag a brace against his parent club but the Toffees netted nine times in reply. A few weeks later, Bob was back for the Toffees and scoring against Tranmere – such was the nature of wartime football.
Bob made a handful of appearances for Everton in the 1940-41 season but was not seen on the pitch again until the summer of 1945. Away from football, he was employed on war work in a ship repair yard. The family, including daughter Barbara (born in 1938), moved from 77 Rosslyn Drive in Wallasey to Queenswood Avenue, Bebington, thinking that it would be slightly safer from bombing. Sheltering in the air-raid shelter situated in the house, due to flooding of the one in the garden, the family resurfaced to find the house completely destroyed along with the two next to it. The family subsequently moved into a house further down the same road. Bob served in the Home Guard in his spare time which, perhaps, explains his absence from the Everton and Tranmere teams. He resurfaced on 1 September 1945 in the Everton reserve team at centre-forward (this was the final season of the wartime league) but, after that, converted himself into a centre-half – perhaps to allow for diminishing pace. Lining up for the first team against Liverpool in the 'pivot' position he impressed Pilot of the Evening Express:
'Bell revealed potentialities as a centre-half and Everton need worry about untrusting this erstwhile centre-forward with the pivotal task, for Bob knows the safety way.' Ranger, in the same newspaper, echoed the sentiments: Considering Bob Bell has been out of first-class first football for so long I reckon he put up a great show.'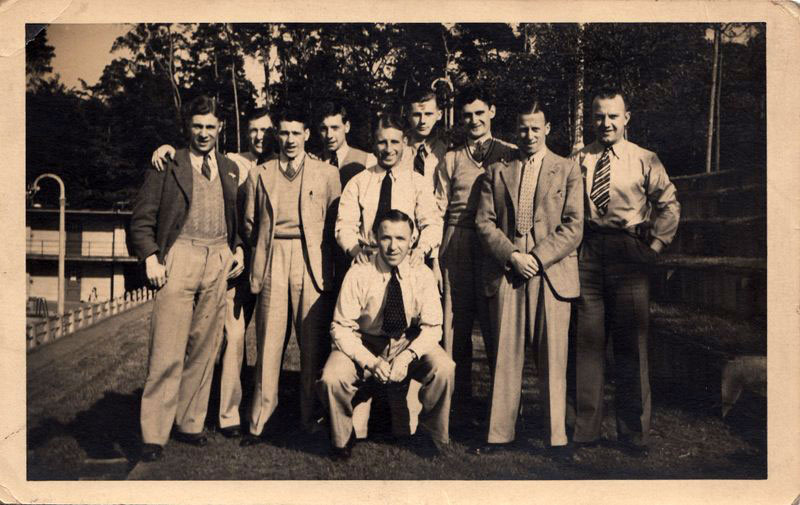 Bob Bell on tour with Everton in Germany, 1936
Back at centre-forward in a defeat of Manchester City in February 1946 (his penultimate first-team appearance), Bob scored twice and was hailed by Bee (Daily Post) for his application: 'Bell always willing to tilt himself against all pivots, showed his brain was still functioning if his feet did not keep time with his thoughts. He is always getting goals. Not a showman; he just delivers the goods when Catterick is absent through illness. Can a centre do more?'Pilot, in the Evening Express, wrote: 'The days of the "one-man-team" have passed for ever at Goodison Park. They are club men. Take Bob Bell as an example. Bob was called on at a late hour to take the place of flu victim Catterick and, although he has not been playing centre-forward much of late. He dropped into the scheme of things magnificently, and not only led the line splendidly, but banged a couple of goals.'
Days later, Bob was lining up for Tranmere again at centre-half against Everton in the semi-final of the Liverpool Senior Cup at Prenton Park. Although Tommy Lawton had departed for Chelsea, Harry Catterick, eight years Bob's junior, was the new regular choice at centre-forward. It was no surprise, therefore, that Bob was released at the end of the 1945-46 season, along with fellow former first teamers "Nat" Cunliffe and Douglas Trentham. Ranger, reporting on the departures, wrote: 'The best known of course, is Bob Bell, who joined Everton from Tranmere Rovers in March, 1936, but has been unfortunate in having to play second fiddle to Dean, Lawton, and Catterick during most of his play at Goodison, though he has done the club good service in the Central League side.'
Post-war, Bob worked for Grayson, Rollo and Co. (later taken over by Cammell Laird). After leaving Everton he played for three years in his spare time at centre-half for Hoylake Athletic of the West Cheshire League. Having been made redundant in 1971, Bob spent six years leading up to retirement working as a porter in the x-ray department at Birkenhead Hospital. On his final day, a farewell party was held at the Kingsland Restaurant, attended by former teammates from Tranmere (Harry Pearson) and Everton (Ted Sagar, Norman Greenhalgh and Eddie Wainwright). In addition to retirement gifts of a transistor radio and a watch, Bob was given a 'This Is Your Life' style tribute and was presented with a commemorative scrapbook (containing congratulatory letters and team photos from his former clubs in addition to Liverpool and Oldham Athletic who had, one presumes, got over being hit for thirteen).
With the golden anniversary of the nine-goal haul approaching, Peter Bishop, Tranmere Rovers' programme editor went to meet Bob with a view to marking the occasion in fitting fashion. Bob confided in Bob that he regretted donating the triple hat-trick football to a charity raffle some years previously, such was its sentimental value. Bishop turned detective to try to reunite ball with scorer. His diligent work to locate the raffle winner paid dividends: "Eventually I got a name and then tried about ten people in the phone book before found the recipient. He confessed that the ball was still in his loft and never been looked at since he won it. When I explained that I wanted to return the ball to Bunny, he happily handed it over. When I took it round to Bunny, he was overcome with emotion – as was I. It was lovely to have done that for him.'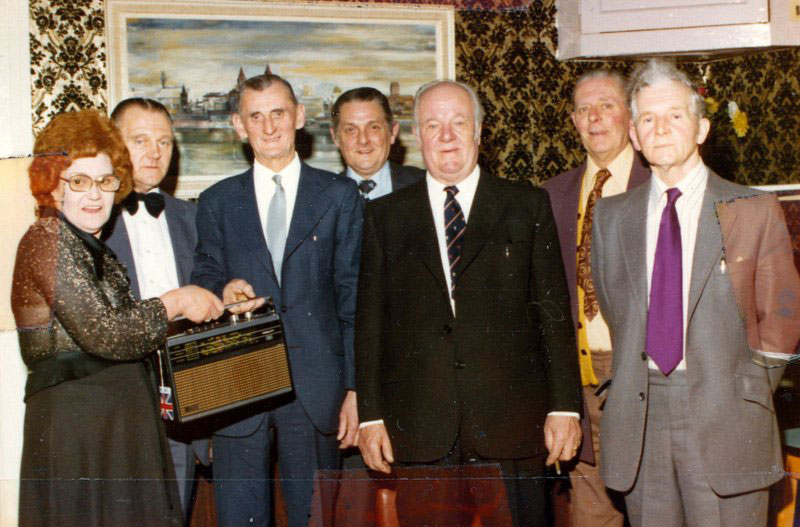 Bob Bell retirement presentation with his former team-mates, 1977
Subsequently Bob was guest of honour when Tranmere Rovers took on Burnley on Boxing Day 1985. After some persuasion from Peter Bishop, the shy and retiring 74-year-old came onto the pitch to hold the ball aloft for the crowd and receive an engraved silver salver from Tranmere's manager, Frank Worthington. Bob was also made an honorary vice-president of the club. In a commemorative programme interview, Bob was typically modest about his feat: 'I owe a lot to the unselfishness of my team mates that day – but it should have been ten because I hit the bar and missed a penalty.'
Bob had been widowed in 1969 and subsequently lived alone in Bebington. He rarely watched football although he followed the fortunes of his two former clubs. His sporting passion became bowls – he was a founder member and former Secretary of the Kings Hotel Bowls Club. As his health began to deteriorate (he had a form of leukaemia), Bob moved in with his daughter and family in Calderdale. Over the festive period in 1988 he was taken ill with pneumonia and passed away on Boxing Day – 53 years to the day after he shook the football world. His funeral was held at Landican Cemetery in Birkenhead. Rover's players, Steve Mungall, Steve Vickers, Ronnie Moore and Jim Harvey acted as pall-bearers. Norman Wilson, Secretary of Tranmere Rovers paid tribute: "Mr Bell's death is a great loss to the club. This club had produced some great centre-forwards over the years and he must rank among the best."
Bob's family remain proud of this remarkable goal-scorer who, away from football, was a quiet, unassuming man. The Merseyside connections remain in Bob's family. Two great-grandsons support Everton and attend matches from time to time. The ball which was put past the Oldham Athletic goalkeeper thirteen times in 1935, now sits proudly in the Bunny Bell suite at Prenton Park.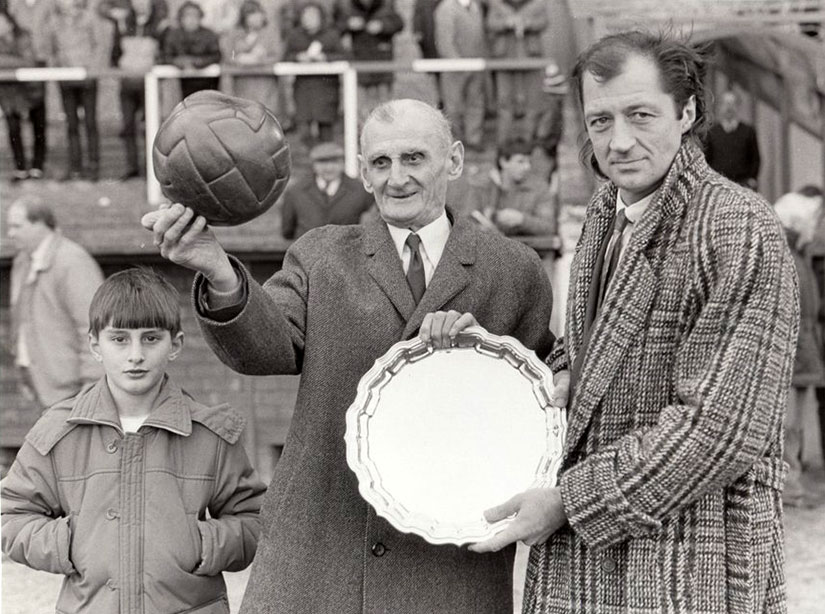 Bob with his grandson and Frank Worthington, 1985 at Prenton Park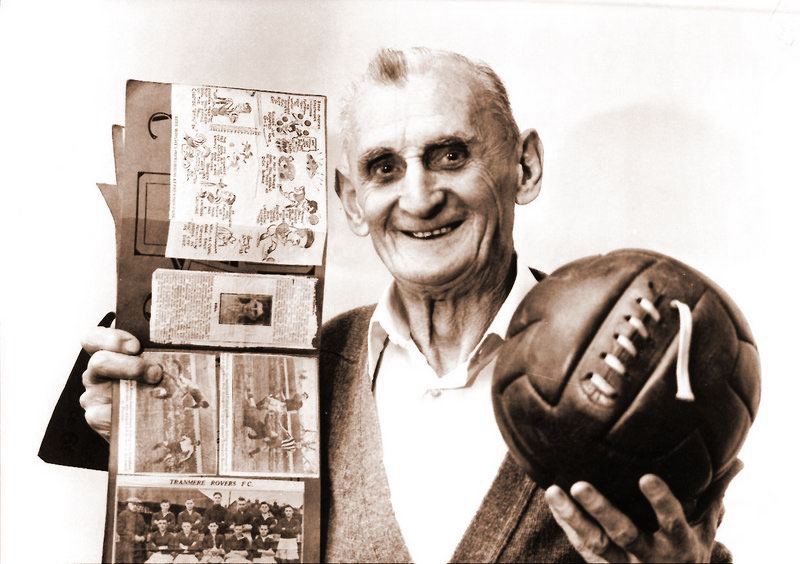 Footnote:
¹ Joe Payne's record-breaking 10 goals in 63 minutes came on Easter Monday 1936 for Luton in a Third Division South fixture against Bristol Rovers. Payne was a wing-half by trade but was called up to the first team at centre-forward due to an injury crisis. At half-time Payne was on three goals and changing room talk turned to Bob Bell's recently-set record. After the break, teammates saw to it that Payne saw plenty of the ball. Seven goals followed for Payne to reach double-figures and set a new record. The sixth goal was debatable, however. Payne was given credit for a goal which, seemingly had a last touch off a teammate. Has Bob been unfairly deprived of his place in history?
Acknowledgements and thanks:
The family of Bob Bell
Peter Bishop
Gil Upton
Bren Connolly
Liverpool Echo, Daily Post and Evening Express
Blue Correspondent website (Billy Smith)
Everton: The Official Complete Record by Steve Johnson (de Coubertin)
Tranmere Rovers: The Complete Record  by Peter Bishop, Gilbert Upton and Steve Wilson (Breedon)
Football's Strangest Matches by Andrew Ward (Portico)
Planet Prentonia (Ryan Ferguson article)
Lutontown.co.uk

Follow @robsawyer70