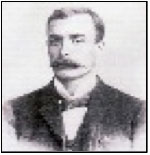 The name of Everton forward Francis Edward Brettell first appeared on the Liverpool census in 1871 when he was reported as living at No 5 house, Court 13, on Boundary Street. His Father, William Brettell, listed his occupation as that of a nut and bolt maker, and gave his birthplace as West Bromwich in Staffordshire. His wife Harriet, the mother of Frank, was  born in Devonshire. Nine year old Frank, born at Smethwick in Staffordshire, was the eldest of her three children.
The premature death of Harriet, in 1881, saw Frank, along with rest of the family, move in with his father's brother at 62 Aughton Street off Netherfield Road, Liverpool. It was around this time that he was first reported to be playing football for Everton. The match, against Birkenhead in January 1880 took place on St Anne's field where Everton lost by two goals to nil.
Frank Brettell became a regular feature of the Everton forward line during the early years of their existence but never appeared regularly on the score sheet.  In 1881 he was still living in Aughton Street, but his occupation was now that of a Pupil Teacher. On the 17 April 1882, Frank, who was by then living at 46 Westbourne Street, married Lavinia Spearman at the nearby Anglican church of St Augustine on Shaw Street in Everton. The church marriage record revealed that Lavina has been at Stoke Dameral, Devon before her relocation to Tennyson Street in Toxteth Park, Liverpool.
Brettell, when the 1882-83 football season commenced, took over the role of club secretary, having previously been a member of the committee, and was instrumental in formation of Liverpool & District FA later that year. In October 1883, Brettell played possible his finest game for Everton when he kept goal for the in Lancashire Cup tie against the all-conquering, Blackburn Rovers. Although beaten eight times, he made a string of excellent saves which caused one local Lancashire journalist to comment that "no one ever kept goal better than Frank Brettell".
The game however, proved to be zenith of his Everton playing career and, next season, Frank soon found himself playing football with the club second eleven. On the 26 April 1884, while playing for the reserves, Brettell broke his leg at Anfield and was admitted to the Royal Infirmary. The injury caused him to relinquish his duties as club secretary. Later that year Brettell, along with his wife and son, took up residence at 26 Faraday Street in Everton where he became the next door neighbour of his Everton team mate, Tom Evans.
By 1891 the Brettell family – now with three children – had moved to 20 Hughes Street, Frank still working as a Schoolteacher. In 1892 he chose not join Everton on their trek across Stanley Park, but remained at Anfield where he performed some semi-official secretarial duties for the new occupiers of the ground. He was also supplementing his income by working as a sports journalist with a Liverpool newspaper.
In the summer of 1896, Frank Brettell applied for the vacant position as Manager/Secretary of Bolton Wanderers, and was offered the post out of eighty applicants. He was then interviewed by a local journalist, who wrote under the nom-de-plume of The Pilgrim, who found Frank Brettell to be willing to talk, but rather loath to be dragged into conversation which might savour of blowing his own trumpet with unnecessary force. When pressed for his early memories Brettell stated that… my first connection with association football came in 1878 when the game was first played in Liverpool, by the old Everton club on Stanley Park. (No mention of St Domingo's).  I was, of course, quite a youth at the time, the club being run by a lot of young fellows for their own amusement.
(The Cricket and Football Field, 1 August 1896.)
Brettell remained with the Bolton club until March 1898, and then made a surprise move to take over the managerial duties at Tottenham Hotspur. The club directors had employed him in the hope he could break the stranglehold held by Southampton over the Southern League. Brettell immediately returned to Liverpool, where he signed John Cameron from Everton. He then took the London club on an extended FA Cup run. They eliminated both Newton Heath and Sunderland to reach the last eight of the competition, where a game with Stoke awaited them. Frank Brettell, before the tie could be played, then promptly left Spurs and joined the new Southern League club that was beginning to take shape at Portsmouth
Local folklore has it that a large increase in salary induced Brettell to leave the North London club, where his place was taken by the former Everton man, John Cameron. The dockyard town had formerly been represented by the men stationed at the local Royal Artillery depot but they had now withdrawn from the Southern League. Frank Brettell again returned to Liverpool where he gained the signature of Harold Clarke from Everton. The new Portsmouth club became an immediate force within the Southern League where Frank Brettell narrowly out on the championship when his side finished in second place behind the team he previously managed, Tottenham Hotspur.
The census of 1901 recorded the Brettell family – now expanded to five children, all born in Liverpool – living in Portsmouth at 100 Jubilee Road.  The demands of his job were clear – no time for schoolteaching, as he stated his occupation as Manager of a Professional Football Club. However,  Brettell remained at Portsmouth for just three more months, as he left the club when his contract expired in June 1901.
In 1903 Plymouth Argyle made a successful application to join the Southern League, and appointed Frank Brettell to manager their affairs. He immediately signed several well-seasoned professionals who were now playing in the Southern League. He then returned to Everton and secured the signature of Charlie Clerk. The team Brettell assembled survived their first season and finished ninth in the Southern League.
He remained in charge at Plymouth for one more season before retiring from the game. The 1911 census records the Brettell family – now with their sixth child Rose, born in Portsmouth –  living at 12 Princess Street in Plymouth.  The Brettells later moved to Dartford in Kent.
Frank Brettell, a founder member of Everton Football Club, died in 1936 and was buried at St Paulinus' churchyard in Crayford.