The original History of the Everton Football Club, by Thomas Keates, published in 1928, tells us that James Clement Baxter, who was reported to have loaned them £1,000 [worth around £135,000 today] was the man credited with financing their move away from Anfield and over to Goodison Park. This alas, according the Liverpool newspapers, does not appear to be the case. The good Doctor did indeed make a generous donation to aid their departure but he was not alone in doing so. Several other people, some prominent local businessmen amongst them, were also credited with giving the club their support.These individuals, not all of them Everton football fans, had various reasons for doing so and their names first became known at a meeting that was held on 15 March 1892, at the Royal Street Presbyterian School in Liverpool. Mr George Mahon, who took the chair, described:
…that he had in his hand a guarantee fund which contained the names of Gentleman from in and outside the club and he had been astonished to find the sympathy of those outside. Every Gentleman who had put his name to that list was not going to charge a penny of interest and was not going to look to the members for the money if he never saw it again.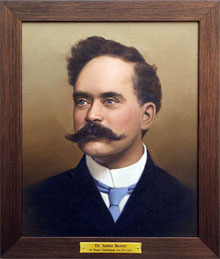 The name of Dr Baxter, who donated £200 [worth around £27,000 today], came as no shock to those assembled, and they greeted the news with cheers because his devotion to Everton Football Club could be questioned by no man.
Dr James Clement Baxter (left)

The next name to be mentioned, which surprised most people, was that of William Pickles Hartley a wealthy philanthropist who was, at that time, living on Long Lane in Fazakerley.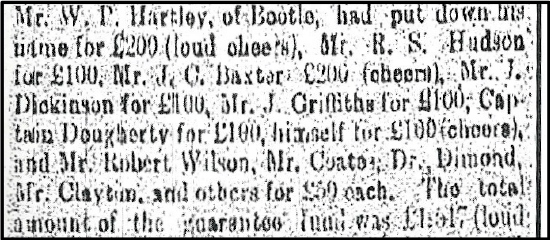 Born in 1846 at Colne, Hartley was brought up to be a Primitive Methodist and remained faithful to this religion for the rest of his days. He was just 16 years old when he first opened a jam and preserve factory, near his home town, before, in 1874, moving his business to Bootle where it continued to flourish. In 1888 he built a much larger factory at Aintree alongside which he placed a model village for the benefit of his workforce, many of whom were young women. He later added an institute and social club to the location but forbade the consumption of intoxicating liquor on the premises.
It was around this time that he decided to support the breakaway group of directors at Everton Football Club who were looking for financial backing to aid them in their move to the other side of Stanley Park. William P Hartley, the only other man to do so, donated £200. He later became a J.P. and was elected to the Walton School Board. In 1909, he was awarded for his services to the local community with a much deserved knighthood. Sir William Pickles Hartley, who helped to fund the building of Goodison Park, died at Birkdale in 1922 and was buried, near to his birthplace, at Trawden in Lancashire.
George Mahon then read out the names of five people, which included his good self, who had contributed the sum of £100. The name of Mr R S Hudson was first put forward but the money, as it later turned out, had in fact been pledged by his son William.
Robert Spear Hudson, the son of a congregational minister, had opened a small soap works in Staffordshire where he later became the leading pioneer in the manufacture and distribution of dry soap that was sold in a cardboard box. In 1875, as demand for his product increase, he moved his factory to Bank Hall in Bootle where he, eventually, employed over 1,000 people. He kept strong his congregational faith and encouraged his work force to refrain from the consumption of strong drink. In 1884, during a visit to Scarborough, Robert Hudson suddenly died and his business was taken over by his son William, who, in deference to his Father, financially backed the Everton move from Anfield to Goodison Park. In 1908 William sold his business to Lever Brothers and retired to private life.
The next name to be cheered was that of James Griffiths, a colliery proprietor, who lived at 132 Anfield Road. He was the owner of a local coal distribution business which he supplied from his two coal mines near Skelmersdale. The other two men, who pledged £100, are difficult to ascertain. One of them, it would appear, was a local solicitor named James Dickenson who later became and Everton director while the fifth, and final benefactor, was a Scottish sea captain whose name was James Dougherty.
Mr Mahon then moved on to the list of names, beginning with William J Clayton, who was willing to provide the Everton club with the sum of £50. Mr Clayton was, at this time, living on Dacy Road in Walton and earned a living as a book keeper. He later occupied the position of shipbroker and spent much of his time away at sea. William Clayton, along with George Mahon, was an active member of the local Liberal Party. He was also a fierce opponent of strong drink and his views frequently brought him into conflict with the members of the Everton board who were loyal to John Houlding. He prospered by his employment and this enabled him to move, along with his family to a house named 'Avalon' in Formby, where he lectured to the members of the local Congregational community on the evils of strong drink. William J Clayton later returned to the Walton area of Liverpool where he died in 1941.
Abraham J Coates was born in Ireland; in 1892, he was living on Rocky Lane in the Tuebrook area of Liverpool. In 1887 he was a witness at the wedding of his daughter to Robert Wilson where he gives his occupation as that of surveyor and is employed by Her Majesty's Custom House in Liverpool. Robert Wilson, on the wedding certificate, lists his occupation as that of book keeper. Both men were present at the Royal Street meeting and they both pledged £50 to help Everton build a new ground on the other side of Stanley Park. Both men were later elected the club board and resigned together in 1895. Robert Wilson later became a stockbroker and took up residence in St Domingo Grove. Abraham J Coates also set up home on St Domingo Grove and lived there until his death in 1920.
John Elliott Dimond was one of two Irish-born doctors who put £50 forward to help Everton finance their move away from the turbulent situation that had, in 1891, developed at Anfield. He came to Liverpool (date unknown) and set up a practice at 157 Breckfield Road North and lived there with his wife and family. Doctor Dimond was a committed member of the Liberal Party and supported his leader, William Ewart Gladstone, on his Home Rule policy for his native Ireland. He later became a director of Everton Football Club and ran his practice until his death in August 1915.
William W Whitford, who was born in County Armagh, came to Liverpool to set up a medical practice at 37 Shaw Street in the heart of Everton. He later qualified as a surgeon and moved his home to number 47 Shaw Street. He was a committed member of the Liberal Party and also supported the policy of  Home Rule for his native Ireland. He later retired to the Wirral where he died at Sandymount Drive in Wallasey.
The name of William Whitford thus concluded the list of Everton benefactors which allowed Mr Mahon to inform the meeting that the grand sum of the guarantee fund now amounted £1,517 [around £205,000 today]. He also informed those assembled that the teams dressing rooms, unlike those at Anfield, would be sited inside the new enclosure at Goodison Park. The location would also contain a cocoa room, but no facilities would be made for sale of alcoholic drink.
[The complete article, in the Liverpool Football Echo dated 19 April 1892, may be read at the Liverpool Record Office.)