Introduction
When you read this article, it might make you think that parishioners of St Saviour's were more instrumental in the formation of Everton than those of St Domingo's. It's true that the Cuffs and the Wades were members of the Methodist chapel but Tom Evans, who I believe was an experienced footballer, could well have been the main driving force behind Everton on the football field. Tom Evans, I believe, was a friend of William J Clarke and both men once lived on the Derbyshire/Nottinghamshire border. Both men are the same age. It is Clarke's father, who also came from this area, who in 1880 was the Landlord of Queens Head in Everton.
This article, I hope, could provoke some debate amongst the members who, no doubt, will have their own opinion on the subject.
Tony
[Since this article was written, a debate regarding the Queen's Head has taken place, and it is now believed that the landlord of the was the younger 26-years-old John William Clarke, and not his father – see this article on the excavations of the site;   Queen's Head Hotel Archaeological Excavations. ]

Thomas Evans
The Rugby code of football still  held sway in Liverpool, when in the summer of 1878, the first Australian touring side arrived to play a cricket match against the Stanley club on their home at Mere Green field in Walton. The home side had not enough quality cricketers, from amongst their membership to seriously challenge the men from down under, so several guest players were invited to take part in the match. One of them was an all-round sportsman from Derbyshire.
Thomas Evans, born 1857, was the son of tenant Farmer, who worked 117 acres on the Codnor Park estate in Derbyshire. His birth registration is held at Basford, Nottingham. His father must have been wealthy enough to put Tom through school for the 1871 census revealed that he was an 18 year-old accountant. It is around this time that he took up employment with Midland Railway Company, who transferred him to one of their three large goods warehouses in Liverpool. Before he moved, Tom took time out to marry Sarah Anne Unwin, at Chesterfield, before, according to the 1881 census, they had taken up residence in 28 Faraday Street in Everton.  By then they also had a new son, Henry, christened at St Saviour's church which, before its demolition, stood on Breckfield Road North. It is quite possible that Tom Evans, along with his fellow parishioners, began playing association football,  and the following article, which appeared in a Liverpool newspaper, seems to support this theory.
The article tells of a meeting that was called by a clergyman, Canon Trench, requesting that all those local people interested in association football to assemble at St George's School in Everton. The date is 28 August 1879. The reverend gentleman, who chaired the meeting, told his audience that it was his intention to set up a football club, similar to the one that had been in existence for some time at St Saviours, which would be called "Everton United Church Club". The club, as we now know, only existed for a short while but it is the reference, made by Canon Trench, to an already established football club at St Saviour's which makes one wonder, just how long had it actually been in existence?
Proposed church club for Everton
Liverpool Mercury, 29 August 29, 1879

A meeting of person interest in the establishment of a church club for Everton was held last evening, in St. George's schools, Northumberland –Terrrace, the Rev. Cannon Trench presiding. There was a good attendance. The chairman stated that the object of the proposed club was to afford an opportunity for Social intercourse amongst its members, and to establish a centre of usefulness in connection with the Church of England in Everton.
A club has been in existence for some time at St. Saviours and one on a small scale at St. George's but it was proposed to form the club, to be called "Everton United Church Club" for all the churches in the neighbourhood. A provisional committee which had been appointed had taken the premises 129, Heyworth-Street, for the purpose of the club, and had secured the necessary funds for finishing. The new asked to the co-operation of the Churchmen of the district to make the undertaking a success. Mr. J.A. Smith, honorary secretary described the accommodation provided at the club-rooms.
For literary purposes, rooms had been furnished and would supplied with newspapers periodicals, writing materials, &c., and arrangement were being made to hold a literacy Society in connection with his branch. For Social purposes, three rooms had been set apart for smoking, billiards, chess, draughts and other games –on the motion of Mr. Clarke Aspinall, seconded by the Rev R. D. Baron, a resolution that by the provisional committee for their efforts in forming the club was unanimously carried. A considerable number of members were afterwards enrolled. The club of which the Rev Canon Trench has been appointed president, will be opened on Monday Next.
It is almost certain that Tom Evans is linked to the setting up of the new Everton Church football team because he was an industrious and temperate man. It is also quite possible that the football-loving parishioners of St Saviour's now joined forces with those at St Domingo's, (the two churches were only yards apart) to form Everton Football Club. Thomas Keates, the first club historian, tells us that Tom Evans, along with Tom Marriott, Bill Parry and Mike Higgins, joined Everton from United Church but makes no reference to St Saviour's. Mr Keates also mentions that Everton played several of their early matches against local church sides, St Mary's and St Peter's amongst them, but there is no mention of games being played against St Saviour's. Could it be that the members of this congregation, Tom Evans amongst them, were now playing their football with Everton?
Mr Keates however, does acknowledge that, on 10 February 1880, Everton met a team of players who were destined to become their deadly rivals and, for the first time, force the local football fans to divide their loyalties and support whichever side they favoured.  A newspaper report of the game, seen here below, clearly depicts Thomas Evans playing at full back for Everton.  St John's Bootle won the game by 2 goals to 0.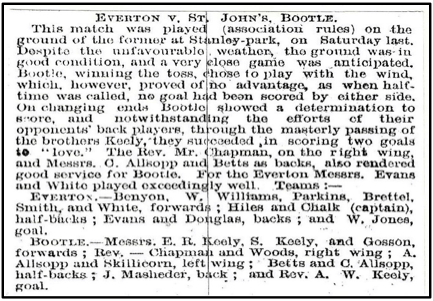 A news report on the St. John's Bootle's game showing Tom Evans in the line-up
Tom Evans played football for Everton during their formative years and shared the role of club captain with Jack McGill who arrived in Liverpool during the summer of 1880. Tom was enthusiastic about the game and shared the club's secretarial duties with his good friend John W Clarke, who was the son of the landlord at the Queens Hotel on Village Street, Everton. On the 18 March 1882, Tom Evans put to-gather a charity eleven to raise money for Stanley Hospital. The event took place on Stanley Park against a side that had been raised by Robert Sloane of Bootle and a collection was taken at the match.
Tom Evans played football for Everton until the summer of 1882, and also acted as the Honourable Secretary of Liverpool & District FA. One of his final actions was to arrange a special Gala Charity Football Match between two sides of guest players that was played on Stanley Park, with all the proceeds, once again, going to Stanley Hospital. Evans was supposed to play in the match, but withdrew at the last minute through injury. He then retired from competitive football and became on eminent referee and umpire. He did however; continue playing cricket.
Tom Evans demonstrated his all-round sporting abilities by playing two first class cricket matches for his native county of Derbyshire. On 9 July 1883, now aged 30, he was selected to play for them against the MCC on the County Ground at Derby. The game ended in a draw. Three weeks later, on the same venue, he again represented Derbyshire as they were beaten by Sussex. Meanwhile, back home in Liverpool, Tom Evans had joined Sefton Cricket Club where he remained for the duration of his time in Liverpool.
In 1886, Tom Evans was selected to represent a Liverpool & District XI against the Australian touring side on the Liverpool Cricket Ground at Aigburth. In 1889 he played his fourth and final first-class cricket match when he again represented the Liverpool & District XI against Nottinghamshire, again at Aigburth.
Around 1886, the Evans family had taken up residence at 22 Argyle Road in the Garston area of Liverpool. The new house was larger than their previous one for they then had five children. The move coincided with Tom's promotion to Chief Goods Clerk at the local station that was owned by The Midland Railway Company. He continued to rise through the ranks and, eventually, left Liverpool and never returned.
The 1901 census revealed that the Evans family were living at 56 Highfield Street in Leicester and Tom held the position, within the Midland Railway Company, of Goods Agent. He was then moved back north and was promoted to position of District Goods Manager. This was one of the top jobs within the company and it made him responsible for all the freight traffic between Liverpool and Manchester.
By 1911 Tom and Sarah were living in 'Wilford' in Clifton Road, Heaton Moor, Stockport. Four of the children were married but one daughter, Jane Annie, was still living at home. Thomas Evans spent the remainder of his life at this address until he died, aged 64, on 2 December 1916.
This former Everton player, a foundation stone of the club, was buried at Willow Grove Cemetery in Stockport.