It has now been a long-accepted fact that George Dobson and George Farmer were the first two players to be employed as professional footballers by Everton Football Club. However, it is quite possible to believe that the same terms offered to these two players might well have extended to a third man. His name was Job Wilding and he came from Wrexham.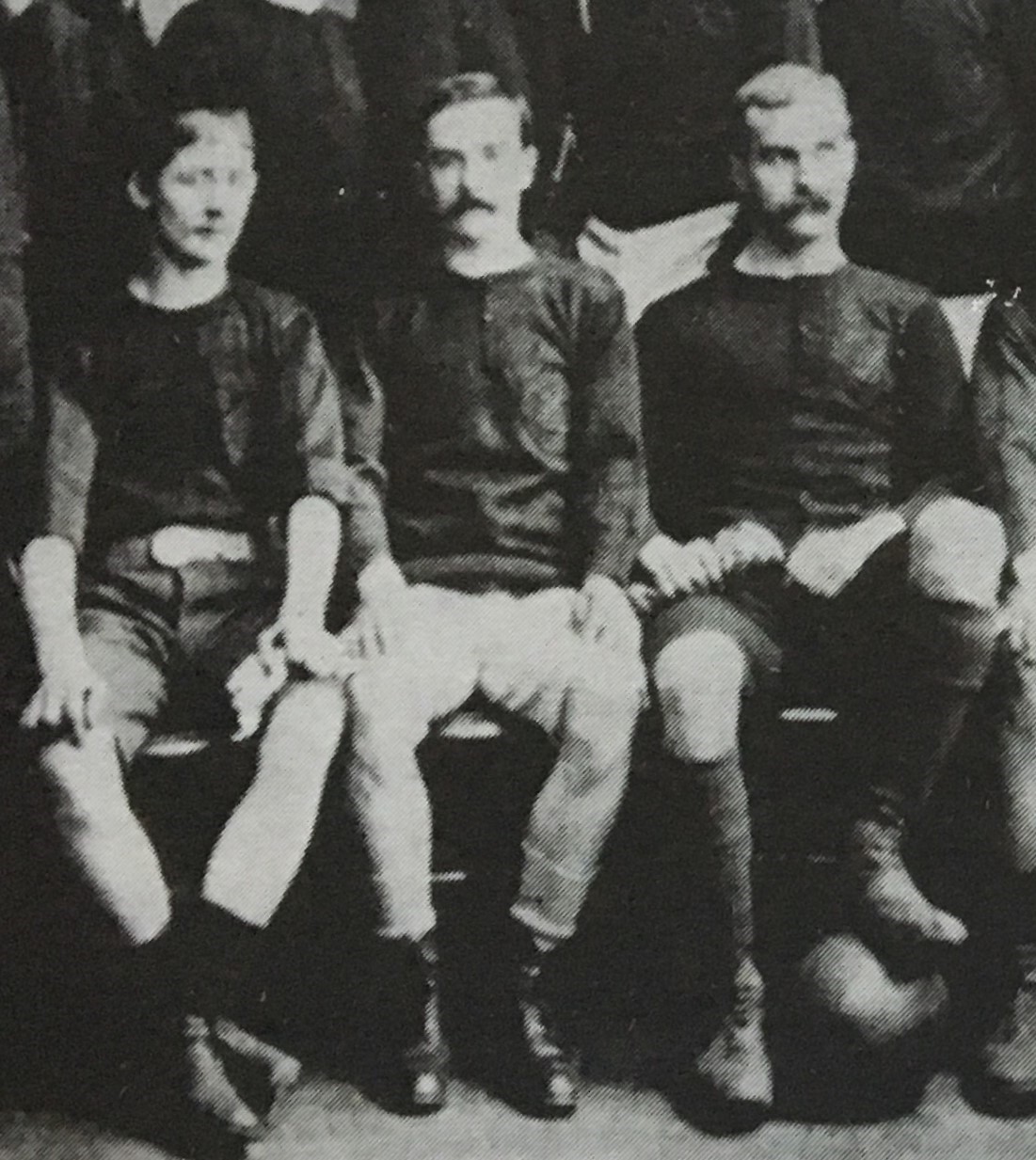 Job Wilding (far left)
Both Dobson and Farmer first came to Liverpool during Easter of 1885 and, having had a trial period with Everton, were invited to return to the club the following season. Dobson returned alone and took up residence, but Farmer almost certainly arrived back on Merseyside accompanied by Job Wilding. In course of the previous season, both men had played international football for Wales.
Wilding and Farmer had made their international debut on 14 March 1885 against England in a match that was played on the Leamington Ground in Blackburn. The visitors proved a match for the home side and earned a creditable 1-1 draw with a goal that was scored by Job Wilding. One week later, both players again represented Wales, this time against Scotland, on the Racecourse Ground in Wrexham. The Scots won the game by eight goals to one. Following this disastrous defeat, Farmer was dropped from the Welsh side, but Wilding retained his place for the forthcoming game with Ireland that took place 11 April 1885 in Belfast. The visitors won the game by eight goals to two. It is certain that both players were watched by a representative from Everton Football Club and it is almost impossible to imagine that the same professional terms offered to George Farmer, were not also extended to include the man from Wrexham.
Job Wilding had been born in 1862 in the North Wales coalfield where after leaving school he began serving an apprenticeship in a local foundry. It was during these formative years that he began playing football for the local Crown FC before moving on to his home town's leading side, Wrexham Olympic. It was from here, when his apprenticeship was complete, that Wilding accepted an offer to play football for Everton. He acquired a job with the Liverpool Corporation and moved to Merseyside.
Playing alongside Dobson and Farmer, Wilding made his Everton debut against Darwen at Anfield at the beginning of the new season. All three players quickly became a regular feature on the Everton team sheet but, as records reveal, it was Wilding and not Farmer who kept favour with the Welsh selectors.
On 27 February 1886 he became the first Everton player to win an international cap when he was selected to represent Wales against Ireland at Wrexham and scored one of the goals in 5-0 victory. Wilding then won his fourth Wales cap when he played against England, 29 March 1886, at Wrexham. The visitors won the game by three goals to one. He continued to play his part with Everton and scored the single goal that gave them victory against Bootle in the 1886 Liverpool Senior Cup Final that was played at Walton Stiles.
All three players, it would appear, were then asked if they would like to return to Everton for the next season and they accepted. Dobson and Farmer continued as normal but something, clearly, was about to unsettle Wilding. Whether or not the club executive stopped paying him is not clear, but he was certainly in the Everton side when they opened the season in earnest with a home game against Bolton Wanderers. He played several more games for the club but then, having been selected, failed to turn up for an Everton home game against Astley Bridge. His actions caused a Lancashire Sports paper to  remark that:
Everton started the game with nine men Fleming and Wilding being absent the absence of the latter was much commented on, it being known that he intended to assist Oakfield Rovers against the second eleven of Blackburn Rovers. (Football Field, 11 September 1886.)
These observations are a clear indication that all was not well between Everton and the Welshman, who had clearly left the football club in the lurch. Nevertheless, he reappeared the following Saturday in the Everton line up against Derby County and then represented them against both Rossendale and South Shore. However, following those games, Job Wilding never played football for Everton again. The news of his whereabouts later appeared in a local newspaper:
Fayer, late of Everton, assisted Stanley against Oakfield Rovers who were assisted by Wilding, late of Everton and now a Bootle player. (Liverpool Mercury, 18 October 1886.)
It is difficult to ascertain the exact movements of Wilding because no official records of Bootle Football Club still exist. He must have signed amateur forms with the Hawthorne Road outfit because he also appeared that season in the ranks of Oakfield Rovers. This club had been formed by members of a local Sunday school and they played their matches on Breck Park. In the meantime, Wilding settled in at Bootle where he scored on a regular basis. His form did not go unnoticed by with the selectors who again chose him to represent Wales, against England, in a match that was played 26 February 1887 at the Oval Cricket Ground in London. The home side won the game 4-0. Wilding had, however, chosen to represent Oakfield Rovers, and not Bootle, in the Liverpool knockout and helped them to reach the final tie against his former teammates at Everton. The junior side, hopelessly outclassed, were beaten by five goals to nil. The next season, Wilding again signed for Bootle.
It is quite safe to assume that he was now getting a regular income from a Bootle club who were now about to have one of their most successful seasons. They were stronger than they had ever been and were in position to challenge Everton for membership of the new Football League that was about to formed by the leading professional clubs of England. Wilding took part in the notoriously rough Liverpool Cup tie, which was played at Anfield, against Everton. The game was won by Everton and almost certainly secured their inclusion, instead of Bootle, in the new venture.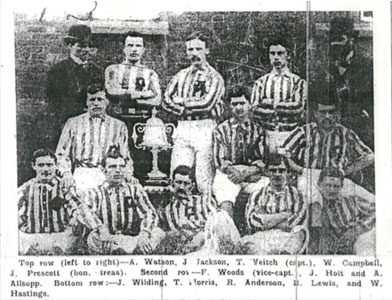 The 1888 Bootle side with the Liverpool Senior Cup
.The Welshman later took part in the first FA Cup tie to be played by a Merseyside club in London where Bootle, playing at The Oval, were beaten 2-0 by the Old Carthusians. He was again selected to represent Wales against Scotland in a game that was played 3 March 1888 at Easter Road in Edinburgh. Scotland won the game 5-1. One week later, Wilding again played for his country and scored twice as they routed Ireland 11-0 at Wrexham. The Welshman next won a second gold medal when he was part of the Bootle side that won the 1889 Liverpool Senior Cup in what turned out to be his last match of the campaign. The following season, he returned to his native Wrexham. Wilding immediately started playing football again for Wrexham, but left them after one season to join a team of local coal miners with the name of Westminster Rovers. He left the Colliers after one season and signed again for Wrexham. He then won his ninth and final international cap when he was selected to represent Wales, 26 March 1892, against Scotland at Tynecastle Park in Edinburgh. The home side won by six goals to one.
Following his retirement from playing the game, Wilding remained active by becoming a football referee and keeping wicket for his local cricket club. He later moved with his wife and family to Chester, where he ended his working days in a local foundry. Job Wilding, who almost certainly played professional football for Everton, passed away on 15 March 1947 while living at 35 Hamilton Street, in Hoole Village, Chester. He was laid to rest in Overleigh New Cemetery in Overleigh Road, Handbridge (plot SEC.B R258).