Rain was falling heavily as I left the train at New Brighton railway station in search of a former Everton captain who I had discovered was buried in Rake Lane cemetery, Wallasey. The person, whose last resting place I was searching for, was George Dobson. I knew he had died in 1941 but, as I had no grave number, I searched for over an hour without success before, wet through, I started to head for home.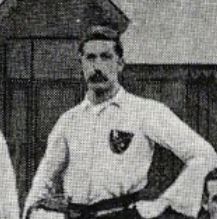 However, as I passed through the main gate, I noticed the resident stonemason's office and knocked at the door. My luck was in. I was greeted by a man  named Alan who turned out to be an Everton season ticket holder. I told him why I was there and who I was looking for, and he did all in his power to assist. Having found the information I required, he then took me by car to the area where George was buried. Unfortunately, when Alan identified the plot, we were disappointed to find that no headstone marked the last resting place of this former captain of Everton Football Club. I thanked Alan for his help and, with my research now complete, I returned home.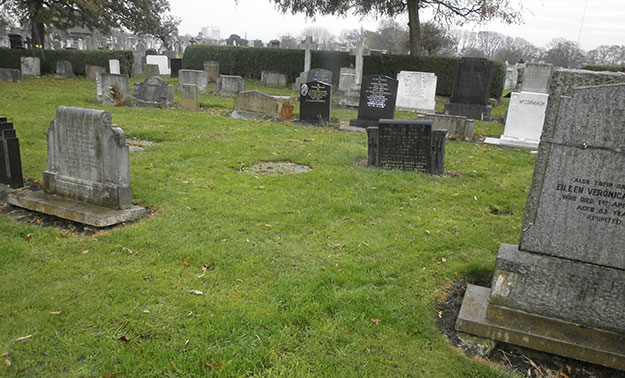 The resting place of George Dobson
---
George Dobson was born April 1863 in Bolton. He was third child born to cotton mill worker Francis Dobson and his wife Elizabeth. The 1871 census found him as a nine-year-old living at 32 Lupson Street in Bolton, while the 1881 census confirmed that George, still in the same house with his parents, was now working as a piecer in a local cotton mill. It is around this time that he began playing association football.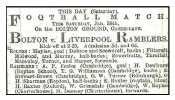 George Dobson was first mentioned in the Liverpool newspapers when he appeared for a side which played under the name of the Bolton Association against Liverpool Ramblers on the home of Bolton Cricket Club at Green Lane. The game was played in a downpour, until the referee, as the pitch filled with water, called an early end to the proceedings with the score standing at two goals each. The following season, Dobson signed for Bolton Wanderers and was first seen at Anfield on 22 October 1884, when he played for the club's Second XI against Everton.
The local press hinted at the possibly of the Bolton committee sending along their First XI to fulfill the fixture but, as Everton were considered, by the Lancashire FA, to be of  'junior status', they decided that their Second XI would be competent enough to compete against this still developing young club. This decision proved to be a disappointment for the 3,000 or so fans who paid for admission to the Anfield enclosure. Nevertheless, they were treated to fine game of football that ended in a 2-2 draw. George Dobson, it must be assumed, caught the eye of the Everton executive who offered him the position of club professional. He accepted the terms and joined Everton before the close of the season.
Dobson made his Everton debut on Easter Monday 1885 against Blackburn Olympic and made several more appearances before the season ended. During the summer he came to live close to the Everton ground at 37 Blessington Road and he also became the local agent for a Bolton-based sports company.
In the opening game of the 1885-86 season, Dobson took up a position at right-back against Burnley, where he was partnered by local-born player, Tom Marriott. He was then joined at Everton by George Farmer and Job Wilding from North Wales. The ex-Bolton man spent an unremarkable first season with Everton that ended with them winning the Liverpool Cup Final that was played against Bootle at Walton Stiles. After the game, the trophy was presented to Dobson who then boarded a horse-drawn carriage to be transported, amid cheers from the crowd, back to the Everton headquarters at the Sandon Hotel.
Next season, 1886-87, with Dobson as their captain, Everton strengthened their side by bringing in Sandy Dick and Andy Gibson, both Scots from Kilmarnock, and Tommy Costley from Blackburn Olympic. They again won the Liverpool Cup but failed to make any headway against the leading clubs of East Lancashire such as the FA Cup holders at the time, Blackburn Rovers. The Everton executive, anxious to address this problem, recruited from north of the border.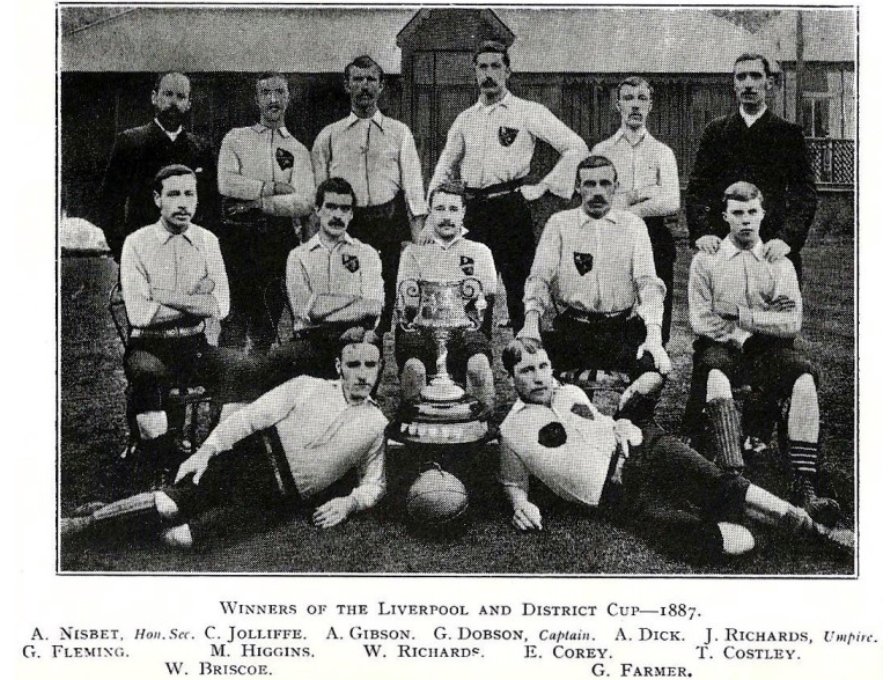 Into the 1887-88 season and George Dobson now found himself leading a team of Everton players who were, almost certainly, being rewarded for their services. He captained them through the infamous FA Cup tie against his old club Bolton Wanderers on 19 November 1887 (below), which led to them being fined for 'professionalism' and banned from playing for a period of one month [indicated by the last line in the newspaper report below]. Nevertheless, the attendance at the two ties played at Anfield was nearly double the number that had attended the two corresponding matches at Bolton and this fact, no doubt, went some way to convincing the authorities that Everton were a suitable candidate to become a founder member of the new Football League. Their decision must have given George Dobson a great sense of satisfaction because he had been instrumental, since his arrival in Liverpool, in moving the Everton club forward to this position of strength. He was, however, about to be replaced as club captain.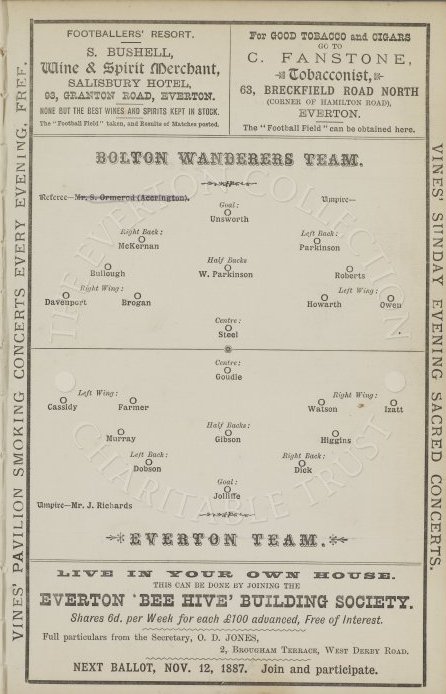 Everton v Bolton, 19 November 1887 (2-1)
(The Everton Collection)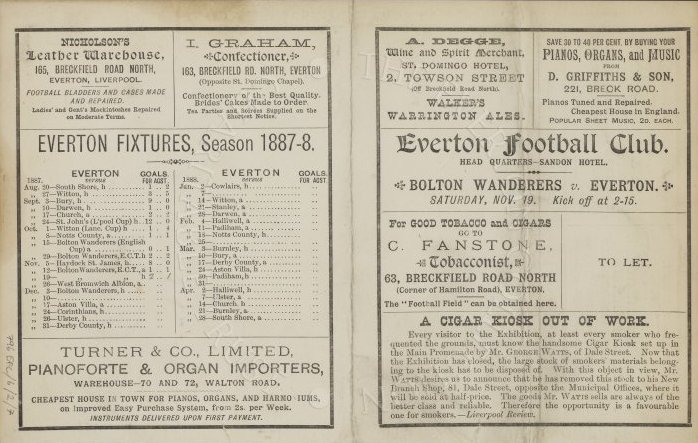 EVERTON REVIEW
November 21, 1887. The Liverpool Mercury
With this tableau the curtain drops on the first act of the National Cup play, and in a little while at will perhaps be possible for clubs to conform to some extent to their list of fixtures. The repeated drawn games between these two clubs have had advantages. Whilst a considerable amount of inconvience has been occasioned to clubs through the derangement of their programmes, there can be no doubt that the now historic battle has increased the reputation of the Everton, in addition to which both organisations have benefit financially. On Saturday the early hour of commencement in no way affected the attendance, as when Struthers opened hostilities the ground was filled to repletion, the covered stand being as well packed as the unreserved spots were. The ground of course was rendered treacherous through frost, but, under the circumstances, it could hardly have been improved; and so the play was on the whole of high order –conspicuous more for kicking than dribbling and passing tactics. Everton got both their goals somewhat easily, and within five minutes of the kick-off, but they otherwise more shots at goal in the first half than the Wanderers. Soon after changing ends, Bolton were seen to great advantage, and attacked hard for a time, during which Davenport scored, and they certainty looked sure at one time if not of winning, of making the record even. Everton withstood this trying time with credit, and having once cleared the air play became less interesting, the locals, content with a majority of points, putting themselves in a defensive attitude, with the result that there were many delays through kicking out. For the winners, Smalley made no mistake; Gibson played magnificently, whilst Dobson and Dick were better than Parkinson and McKernan. Higgins was rarely prominent, and Weir, though doing good work in the latter half, was tame earlier in the game; Farmer, Goudie, Watson, and Izatt played well together, but Briscoe cannot be considered a success. Struthers (about whom all these renewed fights had been rendered necessary) was the weak spot of the Wanderers, and it is evident his day has passed. Nothing unforeseen occurring, Everton will meet Preston North End next Saturday, though it is stated that a protest has been lodged against Weir and Smalley's qualifications.
Still anxious to progress further, the Everton executive then brought in Nick Ross – who was reputed to be the highest paid football player in the land – from Preston North End and handed him the captaincy. Partnered by Sandy Dick, he took over the right-back position from the former club captain. Still considered a valuable asset, George Dobson was pushed forward into the half-back line for opening game of the campaign against Accrington.
However, due to a lack of firepower, Ross was later ordered in to the forward line and Dobson regained his old position at right-back. It proved to a somewhat disappointing inaugural season for Everton who, having fielded more players than any other of the new members, had finished in bottom half of the table. George Dobson had taken part in eighteen of the twenty-two football league matches played by Everton but, as the club had recently signed two Scottish international full-backs, he was not offered an extension of his contract and left at the end of season. However, his football days were, as of yet, far from over.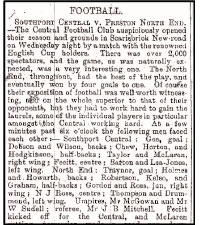 George Dobson was now approached by the directors of the newly-formed Southport Central Football Club who were now about to become founder members of the new Lancashire League. The seaside club had just moved to new ground and Preston North End, the FA Cup holders at that time, arrived to help them celebrate the occasion. George Dobson took part in the game and was opposed by the man who had replaced him as Everton captain, Nick Ross. He remained at the Southport club for one season and helped them to finish sixth in a table that included such teams as Blackpool and Bury. George Dobson then made a surprise return to Everton.
The reason why the Everton executive approached George Dobson was because, it would appear, they needed someone they could rely on to captain the club's second eleven. The team were not part of any league set-up and were intent on fulfilling the list of fixtures that had been compiled for them by the club secretary, Richard Molyneux. The line-up included Pat Gordon (Renton) and John Murray (Rangers) who had recently joined Everton on a trial period from Scotland. George Dobson took part in the first game of the season, against the Second XI of Bootle and played his last game for the club on 24 April 1892, against Rawtenstall. He then retired from the game.
George Dobson then became a general clerk in the local council offices, and appeared on the 1891 census as a lodger at the home of Mrs Irene Cox in Bradford Street, Seacombe.  In 1899 he married Adelaide Lathom and was living with her and his stepson, Herbert at 33 Belmont Road, in New Brighton.  Adelaide had been widowed on 8 October 1898 on the death of her husband George Lathom. Although they had previously lived in 27 Belmont Road, New Brighton in the early 1890s, by the time of his death, George Lathom had become a publican of an alehouse in Fontenoy Street in Liverpool.
The 1905 street directory stated the Dobsons were living at 4 Latham Avenue, Liscard, rented in the name of George's mother, Lizzie Dobson.   During the First World War, their son, Herbert, who served as Gunner 362295 Herbert Walter Latham in the Lancashire and Cheshire Territorial Force of the Royal Garrison Artillery (247th Siege Battery), was killed in action on 15 Jun 1918 in Northern Italy and was buried in Granezza British Cemetery.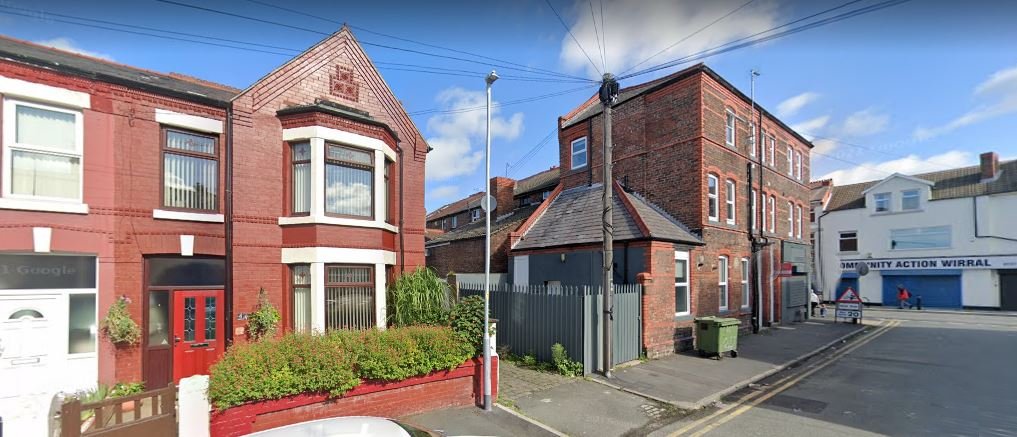 The Dobson family home – 4 Latham Avenue, Liscard, Wallasey (red door)
George and Adelaide lived in 4 Latham Avenue until their passing, Adelaide on 20 September 1935, and George on 16 October 1941 at Victoria Hospital aged seventy-nine. They were buried together in the same plot in Rake Lane cemetery. His estate, which amounted to £2,800 (worth £150,000 today), was left in the care of his solicitors.
George Dobson, a former captain of Everton FC, was laid to rest in an unmarked grave, seemingly forgotten.
Acknowledgements
bluecorrespondent.co.uk – Liverpool Mercury transcription
The Everton Collection
Edited by Fran Hickey
Revised with additional research by Mike Royden (April 2022)