When the Austro-Hungarian Empire declared war on Serbia, her ally Germany immediately closed her borders to prevent all British nationals from leaving the country. The date was 28 June 1914. They were then rounded up and placed in a civilian internment camp at Ruhleben race course on the outskirts of Berlin.
Amongst them were several former professional footballers who, prior to the outbreak of war, had been helping to improve the standard of play at several German football clubs. Three of these individuals had once played football with Everton before accepting a coaching position in Germany. There was however, a fourth who, unlike his former teammates, was the holder of a Football League Championship winners' medal.
Perhaps the two most noted of the footballers held at Ruhleben, were England internationals Steve Bloomer and Fred Spikesley. The latter had won a Football League championship medal with the Wednesday club of Sheffield. The three former Everton players confined with them were John Cameron, John Brearley and Fred Wolstoneholme.
These individuals, to make the best of their imprisonment, helped to organise football matches amongst the 3,000 or so civilian prisoners held inside the camp until early one morning, their numbers increased considerably when a train carrying some 1,400 British merchant seaman arrived at the local railway station. Amongst them was a certain Walter Campbell.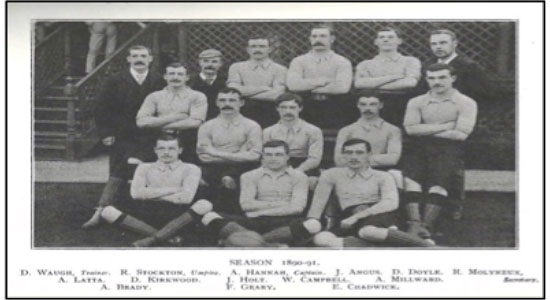 Born 1869 in the Dumfriesshire town of Moffat, 'Wattie' Campbell began his football career with Moffat Swifts before moving with the rest of his family to settle in 26 Clare Road in Bootle. He first had a trail period with Everton, which proved unsuccessful, before signing for his local football club at their home in Hawthorne Road. 'Wattie' soon became a permanent member of the Bootle half back line, and helped to win the Liverpool Senior Cup in both 1888 and 1889. Everton however, having been expelled in 1888, then refused to take part in the 1889 tournament, so the two sides, to decide local bragging rights, agreed to meet at Anfield on 5 April, 1890. Bootle surprised their Football League neighbours and beat them by two goals to one. Wattie, having given an MotM performance, was later persuaded to join Everton in time for the new season.
Walter Campbell made his Everton debut on 6 September 1890, and scored one of the goals in a 4-1 victory over West Bromwich Albion at the Hawthorns. During the course of the season, he took part in thirteen of the twenty-two Football League games played by Everton, as they went on to win the championship. To celebrate this historical occasion, the club decided to strike a gold medal for each of the players, and Campbell was one of the recipients.
He was back in the Everton side at the beginning of the following season, where he was pressed in to the left back position by the untimely departure of Danny Doyle. Walter Campbell made four appearances in this position until a knee injury, received against Preston NE, put a premature end to his football career. He then opted for a life in the Merchant Navy and began work his way up through the ranks.
He took up residence 131 Chatsworth Avenue, Walton, and it was from here, in June 1914, that Wattie, now a chief engineer, left home to set sail from Liverpool aboard the SS Zealand. He would not see his home again for nearly four years.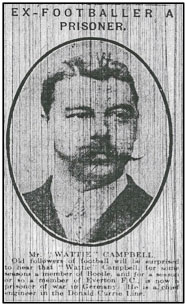 The SS Zealand, on the day war was declared, was docked in the German port of Hamburg. The vessel was seized by the German Government and its crew taken into captivity. The same treatment was imposed upon all British sailors, and those of her Empire, berthed at a port in Germany.
The men of the British Mercantile Marine after being collected together, were then incarcerated in the bowels of the infamous prison hulks that were, at the time, moored on the banks of the River Elbe. There is, to date, no other record of any other former British professional footballer being treated in this manner. (No chance of  'Escape to Victory' here). The eldest British seaman held with Wattie was sixty-nine while the youngest just fourteen years of age.
Nevertheless, these British subjects were held in these terrible conditions for five months, before they were put aboard a railway train, and sent eastwards to Berlin. They arrived at Ruhleben, rather ironically, in the early hours of the 11 November, where each man was given a soup bowl, a towel, and a sack, which when filled with straw, was to serve as his mattress. Horse boxes were first used as billets, where the men slept in groups of four, until wooden barrack blocks, eventually, were constructed. This setting would be home to Walter Campbell for the next three and a half years.
There does exist, in the camp archives, a football handbook which proves that Wattie became involved with the organising and possibly taking part in, association football matches during the time of his confinement. This activity, no doubt, helped him to survive this ordeal until his release from Ruhleben on the 6 March 1918.
Walter Campbell was taken by train to the border town of Gogh where, after medical examination, he was allowed to cross the border in to neutral Holland. He was then taken by train to the port of Flushing where he boarded a ship that took him back to England and home to Liverpool.
This diehard wee laddie later returned to the sea until affected by ill health. He was admitted to hospital and eventually died there on 12 June 1930. Wattie, in the latter part of his life, was cared for by his sisters, Margaret and Mary. This former championship-winning Everton player, the forgotten footballer of Ruhleben, was laid to rest at St Luke's churchyard in Crosby.