By Tony I'Anson 10/05/2016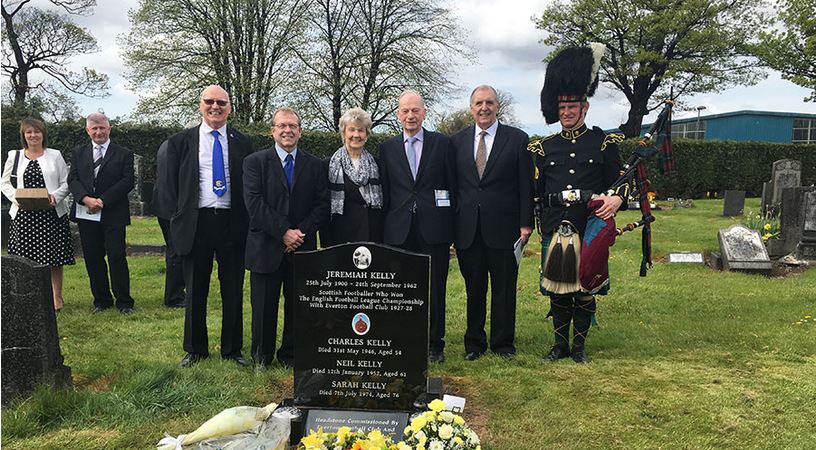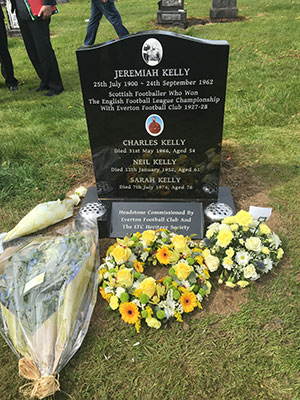 The Everton Heritage Society does a fantastic job uncovering and preserving the history that we Evertonians hold dear. So I was delighted last Friday 6 May 2016, to once again have the opportunity to lend some support to their work in Scotland by joining Paul Wharton at the unveiling of a gravestone commissioned by the Everton Heritage society to honour Jeremiah ('Jerry') Kelly, a member of Everton's championship winning team of 1927-28 season.
The ceremony at St Peter's cemetery, just along the road from Celtic Park, also marked a personal reunion with members of the Kelly family. About 18 months ago, following the unveiling of Alex 'Sandy' Young's gravestone in Edinburgh, I had given a lift to Cathy and Jerry Kelly, the children of Jeremiah, to the reception at Easter Road.
This day was quite different from the Alex Young affair. There weren't any traditional media outlets in attendance at the graveside that I could see, although Gary Ralston had done a nice column in the Daily Record (albeit next to the Kloppite report from the previous night). However, the Kelly family were represented in abundance, coming from as far away for the gathering as Spain and the USA.
Jerry had played for a number of clubs including Ayr United and Carlisle who had both sent representatives to say a few words about him during his time at their clubs, which I've recorded and sent to Paul. The key message I took from these thoughtful words was that football then was a very different game than the one today. It was a much more physical sport, played for the love of the game, rather than the financial riches available today. Jerry left Carlisle after one season as they didn't pay wages in the summer!
Paul talked about Jerry's time at Everton and his role in that League Championship winning side, and had to bring Everton's legendary Dixie Dean into the talk and his 60 goals that season. There were a few quiet "aahs" from the audience, who I feel again have really enjoyed the day.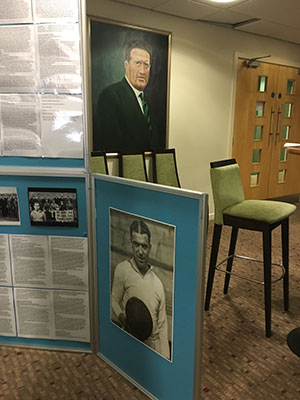 The fact that there's a bunch of people from Merseyside who have been prepared to pay such an honour to one of their close family members after all this time, I do believe has struck a chord. And to think it all came about when Paul was on holiday in Spain with another big Evertonian, Ian MacDonald who said "Paul, you have to meet this lassie, her granddad played with Dixie Dean".   David France's words really were the icing on the cake (see video on YouTube [unfortunately now removed].
Jerry junior came up at the end to give a heartfelt thank you to the EFC Heritage Society for everything they had done, and encouraged distant family members to understand that they were an independent organisation that could only do this from donations from the Everton family. The generous contributions left in their envelopes showed that they had got the message.
The unveiling was followed by tea and nibbles in the Jock Stein suite at Celtic Park. Three charming ladies from the Kelly clan ended up hearing about Everton FC in my car for the short journey to Celtic Park, with one from Philadelphia learning that Everton was in Liverpool but Liverpool play in Everton's old ground.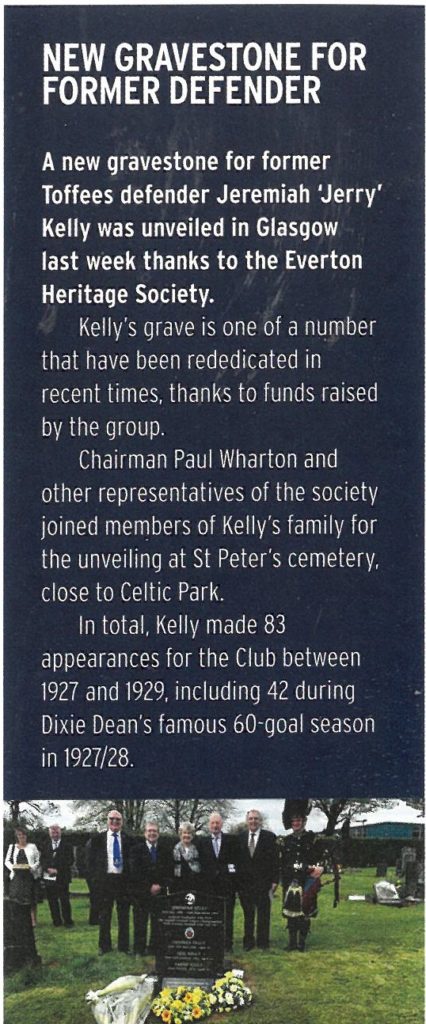 The Jock Stein suite at Celtic Park is a couple of flights of stairs up this very impressive venue. Walking up the three flights featuring legends of the past on the walls, for Celtic fans, it will stir the spirit as will walking into the Jock Stein lounge, featuring a painting the legendary Jock Stein that our own ToffeeArt artist would be proud of. Can anyone honestly say they have a picture of two legends from Everton and Celtic " our Dixie Dean and Jock Stein? Well we can now, thanks to Dixie's appearance at Celtic today (see photo).
On the presentation wall that the EFC Heritage Society had prepared, there were a few pictures of the old Goodison Avenue behind the Park End, and the league winning team and the family members admired them as they took it all in.
From a personal point of view, the thing I will remember over the passage of time, is whilst sitting down next to the piper (who managed to play "Banks of the Royal Blue Mersey" earlier on) was when David France came over to join us.
A big "thank you" is due to the Everton Heritage Society and to the Kelly clan for allowing me to experience their day. I left a bit early to beat the traffic, but got the sneaky suspicion that the day was just getting started for the Kelly clan, including their esteemed leaders, who were ready to take on a Friday night in Glasgow with a glint in their eye. I just hope Paul and his wife were able to keep up with the pace.
As a footnote, I have realised that my meetings with Paul are falling into a pattern.  We last met in late February on the same day it was announced that Farhad Moshiri had acquired his stake in Everton FC in a tiny old cemetery in Renton near Loch Lomond while he was doing a reccy for Alec Brady's gravestone.  Afterwards we capped a good afternoon watching Dumbarton beat Hibs 3-2 at "The Cheaper Insurance Direct Stadium".  I can but wonder how many more cemeteries, car shares and stadia are yet to come.
Written by Tony I'Anson
Edited by Mike Royden
This article first appeared on ToffeeWeb