Charlie Leyfield had a long association with Everton as a player and trainer. He also can claim the unique distinction of being trainer to both the England and Wales national teams.
Charlie was born on 30 October 1911, just south of the River Dee in Chester, the eldest of seven children. Attending Handbridge's St Mary's School, he excelled at football — initially as a centre-half and inside-forward but later as a fast, direct winger capable of going down the outside or cutting in. This led to selection for Chester Schoolboys representative team at the age of 13. Promoted to captain the following season, he was signed by leading local amateur side, Brickfield Athletic. Three appearances for, then, non league Chester FC followed, including in an FA Cup victory over Rhyl. Gifted with his hands, Charlie was a capable artist and, away from football, as apprenticed as a joiner to Cartmel Brothers in Willaston.
On the pitch he became the first junior player to represent his county at senior level, when Cheshire met Lancashire at Darwen in November 1930. With Chester failing to sign the young winger on professional forms, Football League clubs took notice. He was given a trial at Liverpool FC — making one A-team appearance but nothing transpired. At this point freshly relegated Everton made their move. Director J. McGill had noted Charlie's performance for Cheshire so he was invited to appear for Everton reserves against Preston North End in December 1930. The watching Theo Kelly was sufficiently impressed and, a few days later, Club Secretary Tom McIntosh called in at Charlie's home to get the professional contract signed. Brickfields were given a donation of £25 by Everton as a goodwill gesture.
An abundance of patience and determination was required as Charlie spent several seasons in the reserves. Over his years at Goodison Park he would be in competition with the likes of Jimmy Stein, Ted Critchley, Jackie Coulter, Albert Geldard and Torry Gillick for a first-team spot on the wing. Club-mate Tom Griffiths gave him sage advice: 'Take your time and don't be rushed. For a slow race is better than a fast one.' In the spring of 1933 there was debate within the club's directorate as to whether to renew Charlie's contract — in the end he was retained. In the spring of 1934 Charlie married Mary Forlow, who had moved to Chester from Scotland to work in service on a nearby estate. Charlie had spotted her whilst out for a walk and persuaded her to date him. The first team break-through for the newlywed came early in the 1934/35 season.
Having excelled in a pre-season first team (Blues) versus reserves (Whites) match, Charlie was called up for the second league fixture of the season. He debuted against Leicester at outside-right when Albert Geldard was deemed unfit. It could hardly have gone better. Providing a beautiful cross for Dean to steer home with his foot, he squeezed a shot under the body of goalkeeper McLaren when fed by Dean in the second period. Although the Foxes netted towards the end, Everton held on for a 2-1 win. In the subsequent match, Charlie retained his place as Everton lined up against a Preston side containing Bill Shankly and former Blue Ted Critchley. With Everton already a goal to the good, they were awarded a corner which Charlie took. Reporter Watcher described it thus:
So accurately did Leyfield place it that the ball curled under the cross bar between Holdcroft's outstretched hands. He added a second after the break, collecting an over-hit Stein cross he cut in and surprised the keeper with an early shot which rose into the roof of the net.
Charlie remained in the first eleven until late October, whereupon the similarly direct, Geldard was restored to the team. The Cestrian would only make one more senior appearance that season — scoring a brace in a 2-2 April draw with Manchester City. The journalist Stork reported in the Liverpool Echo:
Leyfield after a shaky start came along to become one of the bright lights of the Everton forward line. To him goes the credit for the two goals. His first was taken after Swift had pushed away a header by Dean; his second was due to himself alone. Barkas erred. Leyfield took full advantage of it and went forward to beat swift with a rocket shot.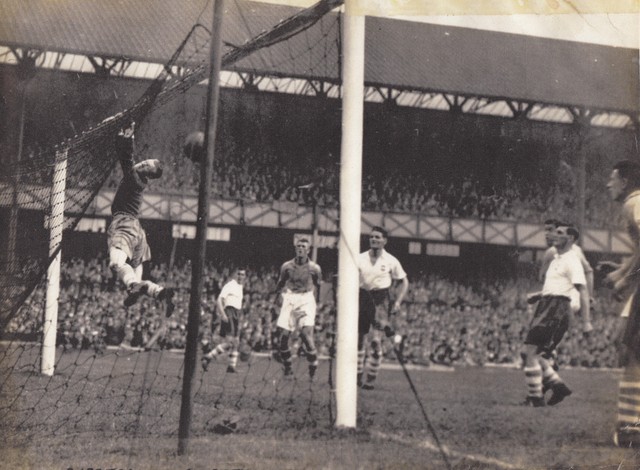 Charlie Leyfield scores against Preston direct from a corner kick, 1934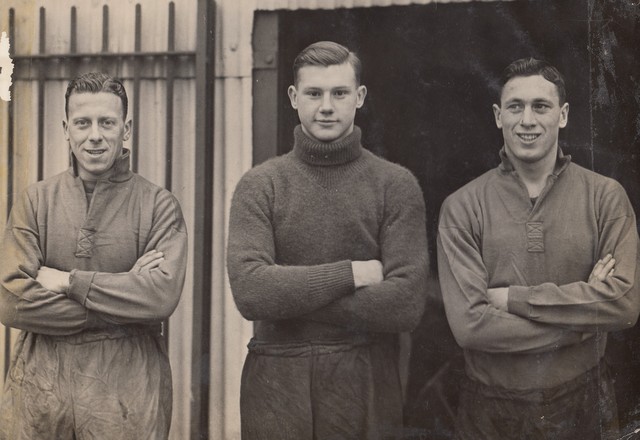 Charlie(left) pictured with Frank King and Joe Mercer, c1934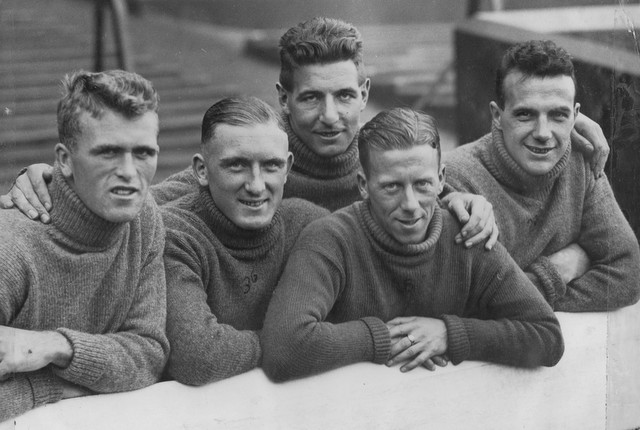 Cunliffe, Geldard, Thomson, Leyfield and Gee
In May 1935 Charlie was selected for a Football League XI which took on a combined Welsh/Irish team in a King George's Jubilee Trust match held at Goodison. The match, in which he scored in a 10-2 win, was notable for the experiment of having two referees. Pilot of the Evening Express was not convinced as to the success of the trial:
My personal opinion was that the match refereed itself and, so, was not a true test, but many mistakes arose, particularly in regard to offside decisions, and there seemed to be no understanding between the referees and the linesmen. Further, on one occasion a referee ran into the partner's half, and had to be reminded by the spectators. At the dinner, which followed Mr. W.C. Cuff, chairman of Everton, expressed the view that the responsibility of refereeing a match those days was too much for one man. The two-referee system made matches appear easy to control, and he hinted that, although no one had officially mooted the scheme, the question of goal judges would receive a favourable reception at headquarters. "With two referees in the field" he said, I am certain that we shall cut out a great deal of rough play. I consider the system is worthy of further exploitation."
With Jimmy Stein edged out from the first team picture and Jackie Coulter badly injured whilst on international duty, Charlie was the beneficiary in the following season — playing in a prolonged run of matches at outside-left. However, the mid-season arrival of Torry Gillick from Glasgow Rangers saw his opportunities once again restricted. In the 1936/37 season he would struggle to keep a regular starting place when up against Geldard, Gillick and the fit-again Coulter. His final appearance for the Blues came in a New Year's Day 2-2 draw with Preston. Having netted in the match he ended his Everton career with an impressive 13 goals in 38 senior appearances.
Back in the reserves, playing alongside the likes of Jock Thomson, T.G. Jones, Tommy Lawton and Robert Bell, Charlie attracted interest from Coventry City and Sheffield United. A £2,500 deal was agreed with the latter in April 1937 and, after some persuasion, Charlie consented to the switch. In his first full season in South Yorkshire his new club just missed out on promotion to Division One. On the field he had a creditable time with the Blades (scoring 14 times in 49 appearances from the wing) but, in truth, he never settled in the city and was keen for an exit, citing the effects of industrial pollution on his son Gordon as one reason. An escape route was offered by Doncaster Rovers in November 1938 who paid him £8 per week in winter and £6 in the summer. He finished as second-top scorer (11 goals) as Donny just missed out of promotion to the top-flight. The FA Cup tie in 1939 brought a reunion with his former Everton colleagues. Despite shining for Doncaster, Charlie could not prevent the champions-elect running out 8-0 winners.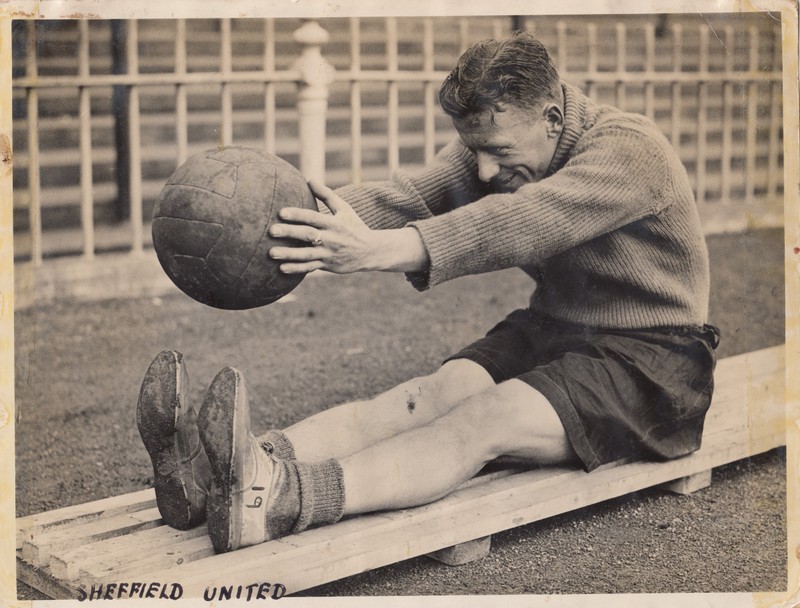 Charlie Leyfield training with a ball at Sheffield United, c1937
With the outbreak of war Charlie returned to Chester, working as a joiner. He guested for his hometown club, Chester, but suffered a broken ankle against Manchester City at Maine Road in December 1939 — putting him out of action for 18 months. Once recovered he served with the Royal Artillery as a physical training instructor (PTI) — playing football whenever possible. He represented England against Scotland in the Army International of 1944. It was whilst guesting for Fulham against Brentford in January 1945 that his football career was ended by a fractured knee-cap. Subsequent playing appearances would be limited to charity matches in the 1950s. He did re-unite with "Dixie" Dean on more than one occasion. He and the famous centre-forward appeared together with ex-Liverpool player Tom Gardner in a Licensee-selected XI facing an army team for the Army Benevolent Fund. Dean scored in customary fashion but, once again, broke a bone in his weakened ankle during the match. Then, in January 1950, he appeared under floodlights — a novelty at the time — alongside Dean, Albert Geldard, Ted Critchley, Cliff Britton et al in a veterans encounter with Liverpool. It was Charlie's cross which delivered the ball onto Dean's head —producing the goal which everyone had turned up at Holly Park hoping to see.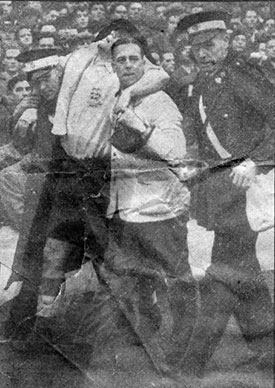 Leyfield helping Nat Lofthouse off the pitch after he was injured scoring against ireland on 11 November, 1953
Charlie would switch from playing to training when taken on by Wrexham in June 1946, in succession to former Everton stars, Joe Peacock and Tom Griffiths. His work for the Racecourse Ground club led to he being offered the post of trainer (and subsequently trainer-manager) of the Welsh national team. His Welsh reign got off to a flyer with a 3-1 defeat of England in October 1946 at the Racecourse Ground. He was well respected in the role with H. Powell, Secretary of the FAW, quoted as stating: "Leyfield has a pleasing personality. He maintains his popularity with the players under his control without sacrificing his authority or, in the least, relaxing his discipline."
After 16 internationals — including the nation's first European tour in 1949 — he was offered the chance to come "home" to Goodison Park. With Alex Stevenson stepping down as the Toffees' trainer in the summer of 1950, manager Cliff Britton turned to his old teammate and friend to fill the vacancy. Charlie would remain with the club in this capacity for 6 years, through difficult times (relegation) and happier periods (promotion in 1954 and a tour to North America in 1956). Cliff Britton's son, John, recalls Cliff and Charlie's close working relationship: 'I remember a number of times that dad drove us to Charlie's house for the two of them to talk football. My brother and I were dispatched to the other room to watch television until they had finished. We did a lot of waiting like that in our childhood!'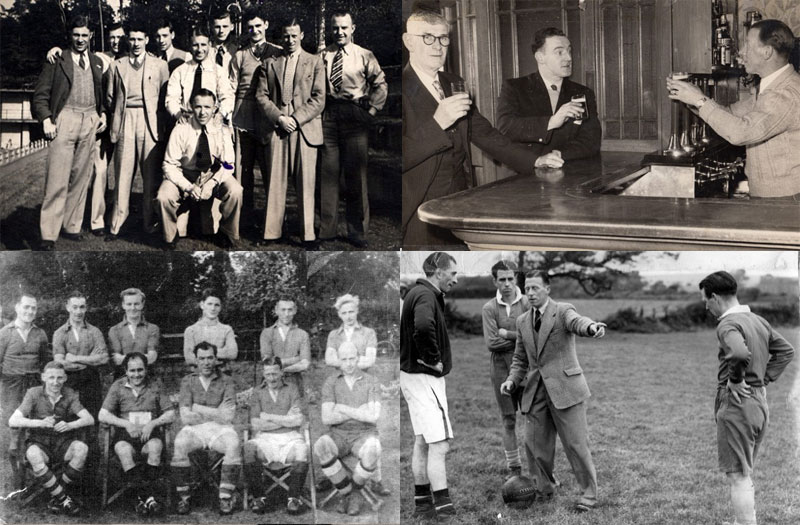 Clockwise from top left: EFC players in Frankfurt 1936 (Charlie second from left); Publican at the City Arms; Taking Welsh team training c1948; Charlie (front row 2nd from right) and William Dean in charity match team, c1949
In November 1953, Charlie was asked to be trainer for the England team when they took on Ireland in a Home Nations match at Goodison Park (which doubled as a World Cup qualifier). He would claim to be the only person to have acted in this capacity for England and Wales. England's 3-1 victory gave him a 100% win record in the post.
Charlie tendered his resignation at Everton in the autumn of 1956 (the club gave him a £350 ex-gratia payment as a token of appreciation for his work) and set out on a new career as a licensee. The first pub was the City Arms in Saltney. After a confrontation with a knife-wielding customer, Charlie gave Mary lessons in man-handling trouble-makers out of the pub — something she soon did with aplomb. After five years at the City Arms the Leyfields moved to The Bird in Hand in the leafier setting of Guilden Sutton. Charlie would not escape from football entirely, however. Cliff Britton recruited him as a scout for Preston North End and, subsequently, Hull City — a role requiring him to travel the length and breadth of the country.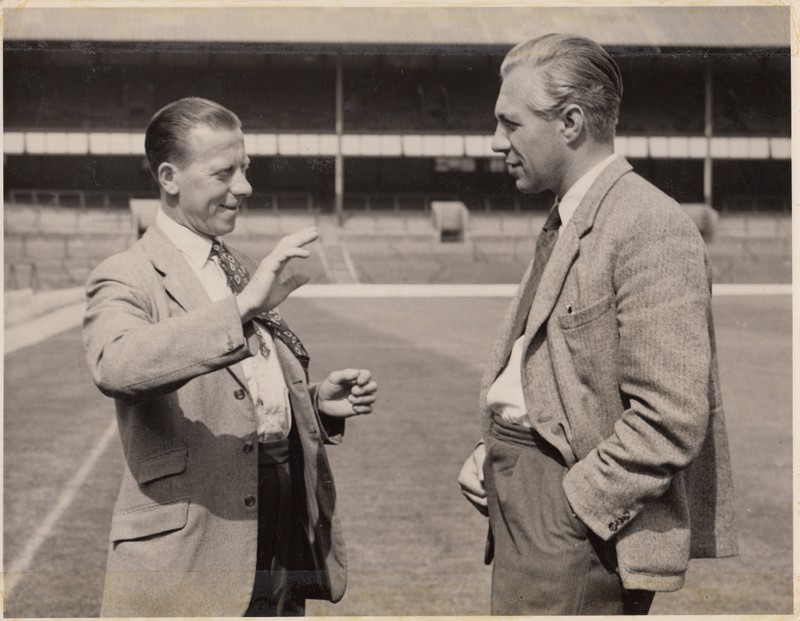 Charlie Leyfield and Cliff-Britton talk tactics at Goodison Park, 1950s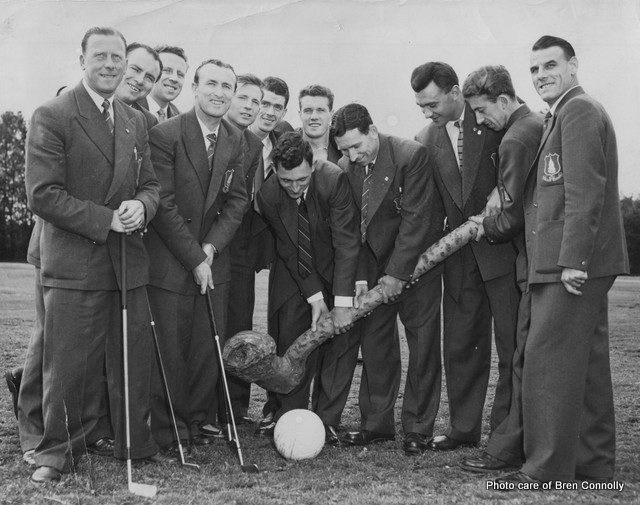 Soccer meets golf on a North American tour in 1956 (Charlie is far left)
He stepped down from the pub business in 1970 as the hours spent on his feet were causing pain in his battered legs. In retirement he would live at Redstone Cottage in Knockin Heath, Shropshire, before moving back to his birthplace of Handbridge. He enjoyed fishing and gardening and even supplied some local businesses with his home-grown fruit and veg. He passed away on 1 April 1982 after suffering a heart attack. In 2016 his daughter, Irene, attended Charlie's induction into Chester and Wirral Football League's Hall of Fame — apt recognition for one of the city's finest footballing sons.
Sources and acknowledgements:
Irene Davies
John Britton
Various national and local newspaper articles and match reports
Blue Correspondent website (Billy Smith)
Everton —The Complete Record (Steve Johnson)
David Evans – Chester and Wirral Football League
Brendan Connolly for use of 1956 tour photo
Follow @EvertonHeritage