Renowned for its mint cake and grey limestone buildings, the former Westmorland county town of Kendal – now part of Cumbria – was the location at which an Everton talent scout discovered a defender by the name of Edward Turner. Born 24 February 1874 in Lancaster, he was the second child of John, a cotton spinner, and his wife Mary. The 1881 census records the family living on Rigg Lane, but by 1891 they had moved to Penfold Lane where Edward had begun to learn the carpentry trade.
Around this time his name briefly appeared in the press while playing for the local Skerton club, but by 1896 he was reported to be representing Kendal in the Lancashire Junior Cup against Whiston. This club were also members of the Westmorland FA and played their home matches on a small enclosure known as Maud's Meadow. On 19 January 1898 Edward Turner accepted a trial period of one month with Everton, which proved successful, and was later engaged for a weekly wage of thirty shillings after agreeing to come and live In Liverpool. His former club were donated a sum of £15.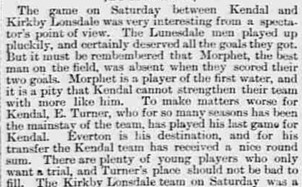 The new signing was introduced to his new teammates, 23 April 1898, when Everton accepted an invitation to provide the opposition for the opening of Queens Park Rangers' new home ground at the National Athletic Stadium, Kensal Rise in West London. Turner, who came in as late replacement for John Holt, had a relaxed debut as the visitors won 6-1 in front of a crowd of 7,000 spectators.
Next season he took his place in the Combination XI and was called on for first duty New Year's Day, when he replaced William Balmer for the visit of Sheffield United to Goodison Park. Everton won the game 1-0 but the performance of the former Kendal man was described as "none too safe". Turner made his second and final Football League appearance for Everton on 15 April at Goodison against an Aston Villa side who were vying for the title with Liverpool, and the occasion produced a crowd of over 20,000. The game ended 1-1 and the Midland side went on to claim the title. As the season was coming to an end, Turner was offered a new contract that paid a wage of £2 per week, but was persuaded to leave Lancashire when Frank Brettell arrived in Liverpool to plunder the Goodison Park playing staff. The former Everton man had just departed company with Tottenham Hotspur and was now charged with putting together a team of professional players to represent the dockyard town of Portsmouth. He offered favourable terms to Edward Turner who, along with Harold Clarke and Harry Stringfellow, left Everton to join the new club.
The South Coast town had previously been represented in the Southern League by a set of amateur football players from the local Royal Artillery barracks, but this team had now been dissolved. The new Portsmouth club would be classed as professional and play at the recently opened Fratton Park which was so called because of its proximity to a railway station of that name. Edward Turner remained two seasons with Portsmouth, playing in forty Southern League games and making one FA Cup appearance before signing with Luton Town for one season. He then moved on to Northampton and, after one season there, returned to Portsmouth before ending his professional career with Fulham. Turner was employed as a ship's carpenter when he married Ethel Gallop on the Isle of Wight in April 1910. The couple settled at 57 Gruneisen Road in Portsmouth where they raised a family. After losing Ethel in 1947, Edward lived at this address until his death in 1962, at the ripe old age of 87.
Acknowledgement, Paul Boynton, Portsmouth FC.