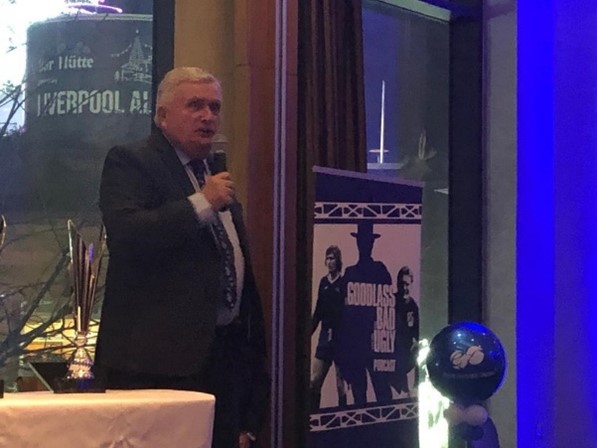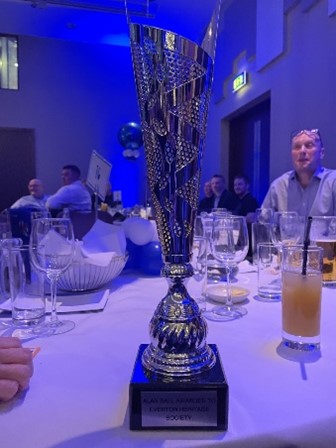 On Friday 25 November 2022, at the Hilton Hotel in Liverpool City Centre, the Everton FC Heritage Society were awarded the Ball of Fire Award by Ronny Goodlass and Health Through Sport.
During his illustrious career, Ronnie played for Everton FC, NAC Breda (Holland), ADO Den Haag (Holland), South China (Hong Kong), Tranmere Rovers FC, and Barrow FC. He was also an Everton Youth Coach when Joe Royle was manager. He now heads up Health Through Sport, a registered charity, which was founded in August 2005.       
According to the charity, the aim of the award, named in honour of Alan Ball,
'is to honour somebody recognised within a community as having outstanding qualities. Someone who set goals and strove to achieve them. Someone who was steadfast and loyal. Someone who cared for others and was loved in return. Someone for whom nothing was too much trouble. Someone who appreciated the value of working hard. Someone who could be called a friend by all who knew him.'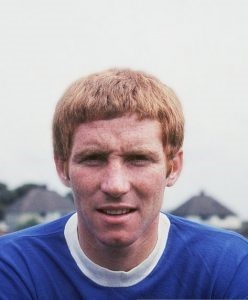 What Alan Ball lacked in height, he more than made up for in skill, determination, and stamina. This boundless energy and drive helped England in their 1966 World Cup triumph, and Everton in their rise towards becoming League Champions in 1970.
In his introduction to the presentation of the award Ronny said,
'For me, the Everton Heritage Society are worthy winners of the Alan Ball ' Ball of Fire Award' for a number of reasons, here are just a couple of them. Founded in 2008 by David France, they preserve the history and heritage of our beloved club for present and future supporters. They put on exhibitions that are displayed on matchdays at St Lukes, along with old programmes, books, and shirts, where supporters can walk around at their leisure to look at, or purchase. The away supporters are also invited to look around, which for me is unique. They have a website and social media presence to keep supporters informed on every aspect of the club, and any events the Society or the club are putting on. They research the history of ex-players, and for those who have passed and do not have a headstone, they proceeded to acquire one. They also do so much for the local community. Keep up your great work and long may it continue!'  
Former Everton manager and England centre-forward Joe Royle, was on hand to present the award Paul Kelly, Brendan Connolly, and Richie Gillham of the Everton FC Heritage Society.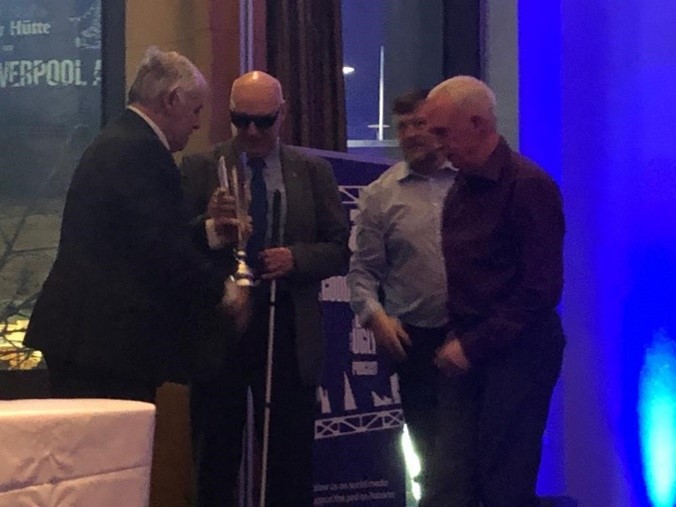 Paul thanked Ronny, Joe, and the audience, before telling them of the Society's work with the fans, and commemorating former players who were unfortunate enough to have been buried in paupers' graves. Paul was in fine form, cracking a few jokes, so much so, that he almost played himself into appearing at the next event as the resident comedian. 
Paul finished the acceptance speech by referring to the recent passing of Dr John Rowlands and his work with the Society, but most importantly regarding his research on the long term effects of heading the ball and dementia in football. Fittingly, Paul dedicated the award by saying 'This is for you John.'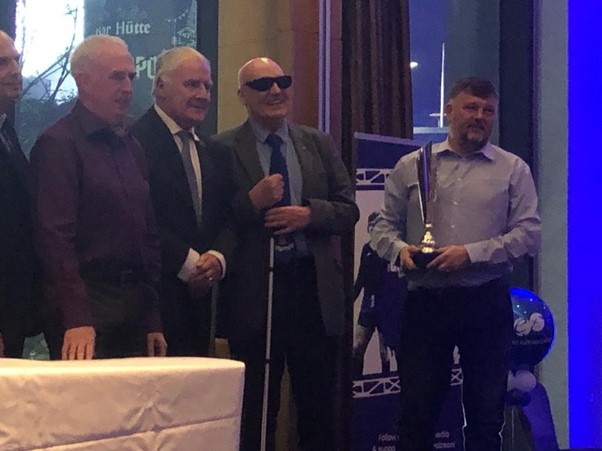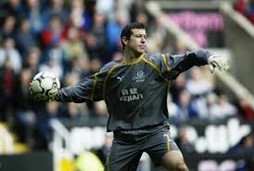 The event was held at the Hilton Hotel in Liverpool in honour of Nigel Martyn, one of the best goalkeepers to have graced Goodison Park. During his interview on stage he told the audience how he was indebted to the tea lady from Bristol Rovers, Val Harris, who spotted Nigel playing football whilst she was on holiday.     
Nigel then went on to describe his journey to Everton. In 1989, he became the first £1 million goalkeeper when he moved to Crystal Palace, then after 275 appearences, Leeds United paid £2.25 million for him, which at the time was the first £2 million plus transfer for a goalkeeper. He made twenty-three appearances for England, including the 2002 World Cup in South Korea and Japan. During 2003, Nigel was offered a move to Everton or Chelsea, of which he chose the former as back-up to Richard Wright. His wait however was short-lived, as just six james in, an injury to Wright handed an Everton debut to Martyn. Nigel remained Everton's first-choice goalkeeper, even after Wright returned from injury. His final appearance for Everton was his 100th game for the club against Chelsea in an FA Cup tie at Goodison Park, which ended 1–1.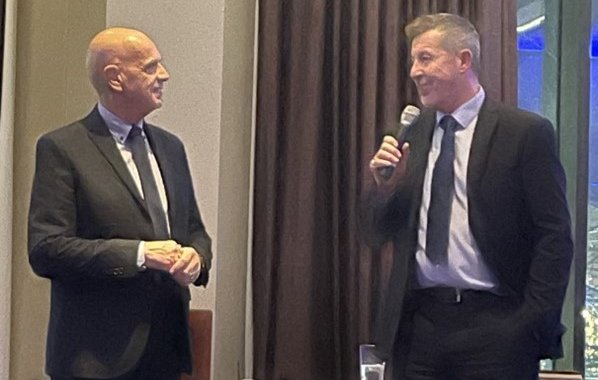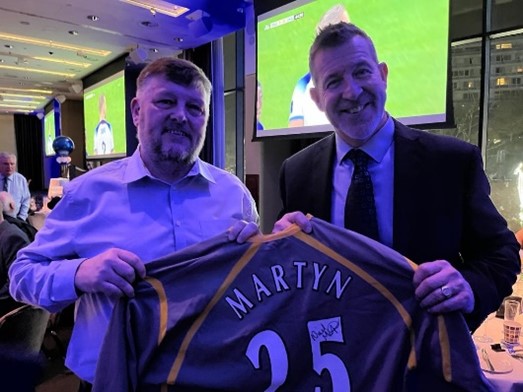 To the delight of the audience, Nigel was joined onstage by an array of former Everton stars – Ronny Goodlass, Joe Royle, Derek Temple, George Telfer, and Steve Sergeant.
With regard to the Ball of Fire Award, Derek Temple and George Telfer praised the Society, saying it was well deserved,and that they hoped to pay a return visit to St Lukes again soon.
This article and award is dedicated to the memory of Dr John Rowlands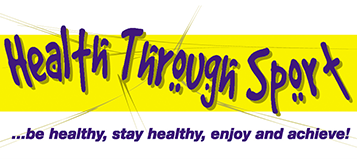 Edited by Mike Royden