Tammy Byrne (now Burgess) was one of the emerging talents in the Everton Ladies squad which won, to date, the club's only league title. Not a follower of a particular club, or football in general, as a child, the course of her life was changed by an encounter at Moss Farm in the mid-1990s. Here, Tammy describes the transformative impact on her of football and her Everton clubmates.
I had older brothers and played football in my area, Croxteth, with the likes of Francis Jeffers. I hadn't played football in a team, so I didn't actually know how good I was, but I knew I could compete with the boys in the street.  At 17, about to turn 18, I played five-a-side with a team run by a guy called Ronnie Brown, and he took me to a football tournament in Moss Farm. Having seen me, the Everton girls – who had just changed from being Leasowe Pacific – asked me to come along to their training on the Bill Shankly playing fields, just across the way from Bellefield. So, I went along on the Wednesday and signed for them on the Friday. It was just coincidence how it happened for me – right place, right time.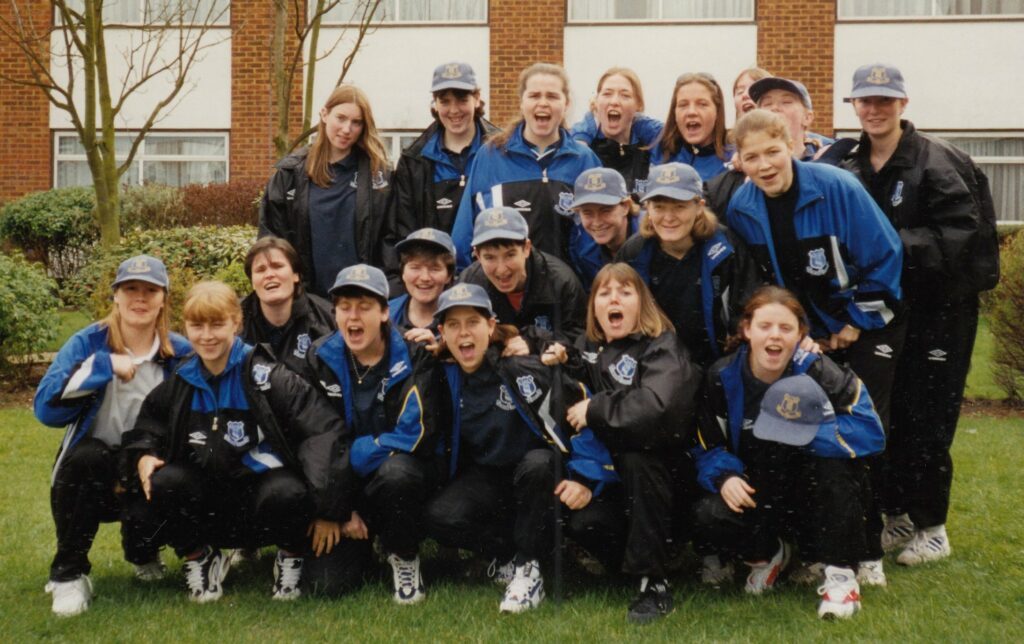 I was with the first team squad from the get-go but was still only young, so I wasn't a regular in the side. I genuinely hadn't realised that there was women's football and that it was as good as it was. I was getting to grips with understanding the game, having not been in a team before. Emma Wright and myself were young players breaking through together. I was a right-winger; I was quick, quite dynamic and raw – but ended up in central midfield. I also shared the wing-back role with Tina Mason.
They speak about role models; well, Joy 'Baz' McQuiggan was one. She'd do anything for the players coming through; she was older but wasn't afraid of the young ones – in fact, she inspired them. I was from a really poor area and Baz took me under her wing. My parents didn't drive, so Baz drove me everywhere. If it wasn't for her, I wouldn't have had a career in football. She went to meet my mum (who worked really hard doing three cleaning jobs). Mum wasn't too sure, at first, about me travelling across the county playing football as I hadn't left the Croxteth area before that. So, Baz reassured mum and said that I had talent that and she would keep me under her wing and support me.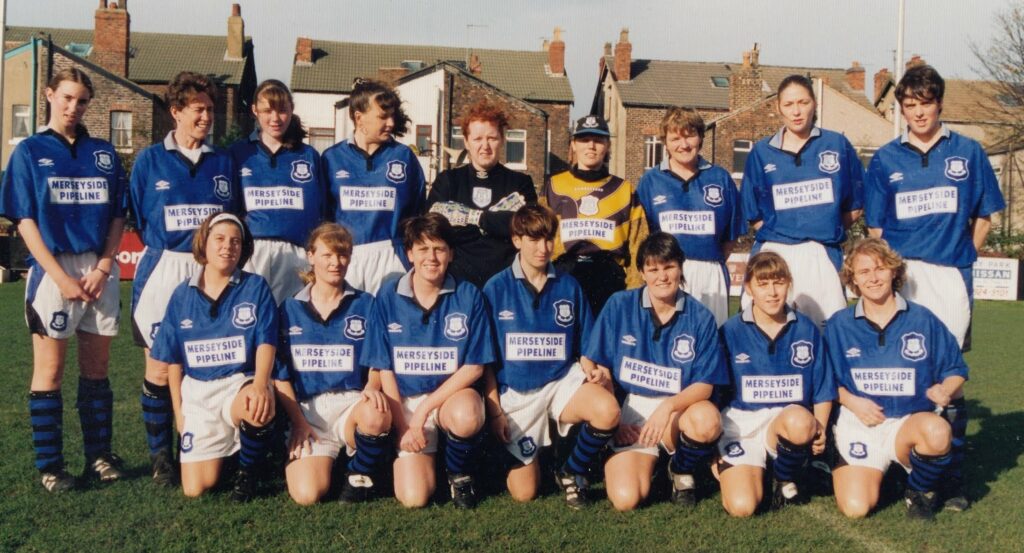 We used to train at Bellefield in winter months on a Friday evening and in other months on the Bill Shankly playing fields. Every pre-season was tough – but it got us as fit as we could be. I'm glad I don't play now when I think back to the pre-seasons! But training wasn't just about running us into the ground, it was quite tactical. Billy Jackson (our manager) could have been a coach and got all of the qualifications. We trained twice a week and played on Sunday, but the older players let us know that us young ones needed to do a bit more in their own time – like during lunchtimes – to compete with them. That gave us the right encouragement to put a bit extra in to be our best.
We played some good football and Billy was key to that. He listened to the older players and Lousie Thomas was integral to how we played – but it was not just 'route one and get it to Louise.' We played good football and competed with the best teams in the league. We were very bonded as a squad and the young ones weren't seen as different to the older ones – it was a joy to be around.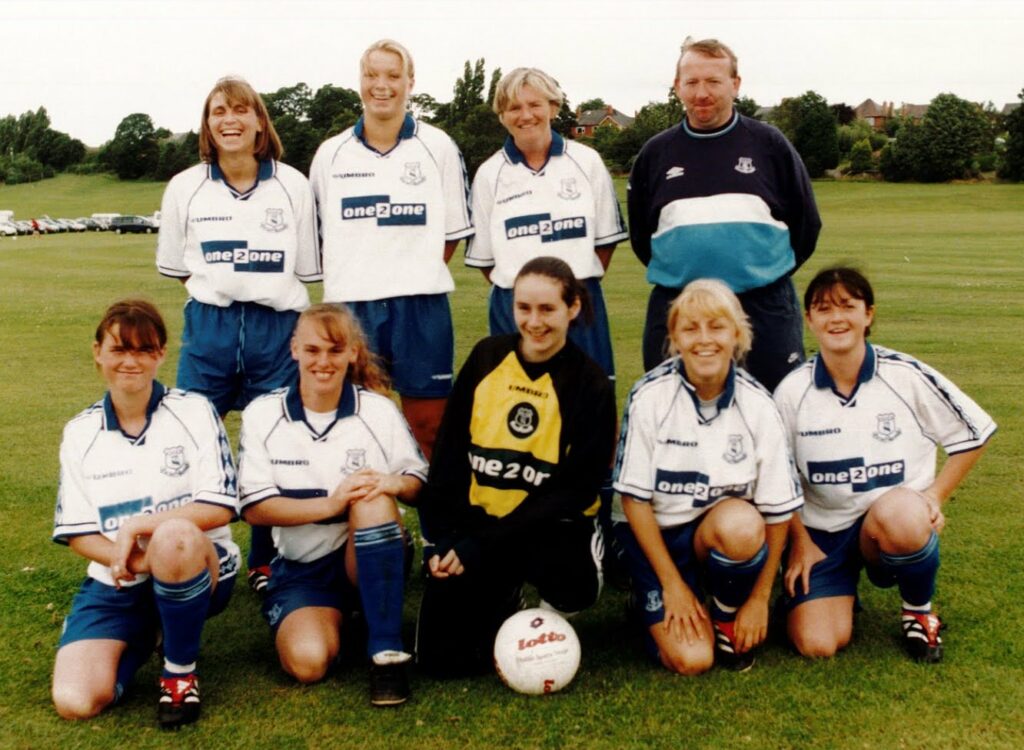 The success attracted other players like Becky Easton and Karen Burke, who were the best of the best. Kerry Halfpenny and Sarah 'Stick' Howden came over from Manchester because they could make an impact – and they did. Kerry was the glue in the squad: a funny, inclusive type of person who made sure everyone felt like that too. She had terrible luck with injuries but came and delivered what she needed to do. She came to work as a forward with Louise, who was a phenomenal player. I don't know how many caps Louise got for Wales but she was unplayable; there have not been many like her since. She could get goals with left and right feet and headers. She could do anything with the ball – a brilliant player.
Cathy Gore was a cracker. We were all quite scared of her, to be honest. She suffered no fools, and you had to gain her respect for her to engage with you. But it is not a bad thing to learn to respect those that have been doing it for years – she was making sure us young ones were kept in their place. In one game Billy shouted over to her: 'Cathy, where are you playing?' And she pointed at me and shouted back to him: 'Wherever she's not, because she's just running all over the place!' I was doing the legwork and Cathy was the brains – a fantastic player and a leader: stern but fair.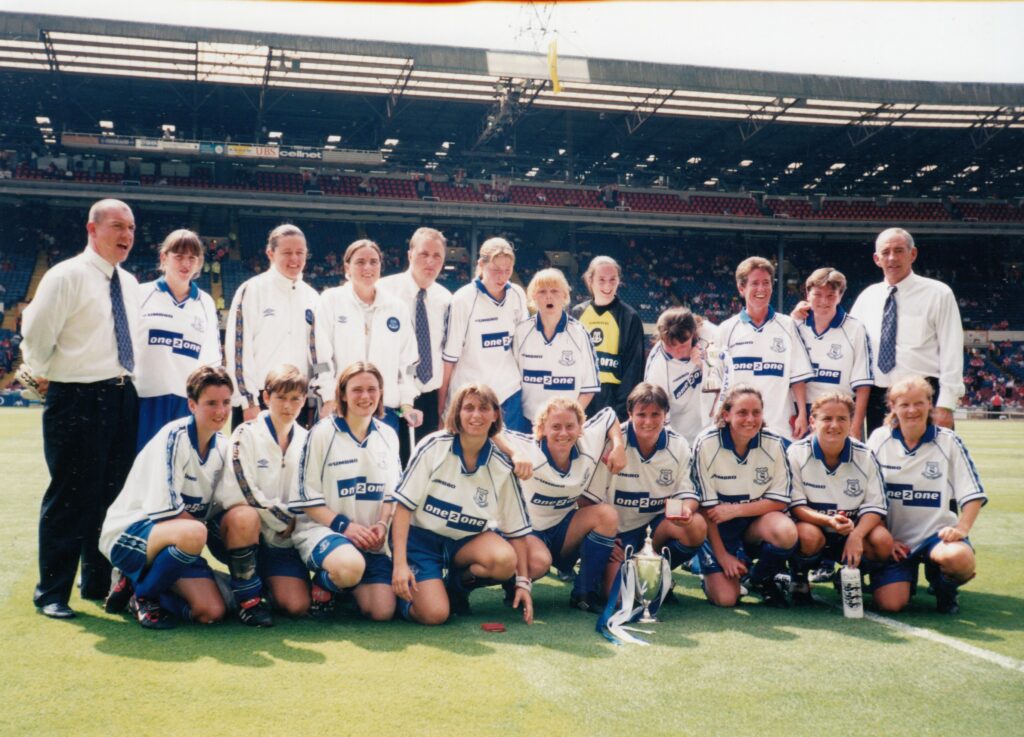 The championship-winning season, 1997/98, was fun but a bit of a blur for me. It is a cliché, but we were a team – no-one was above themselves. We were a collective – all in it together – and worked hard. Our core of experienced, inspirational players like Louise, Cathy, Mo Marley and Baz clicked with the youth – it was a joy to play football. On those long journeys to play down south, we were having fun on the way – and that is key as it allows you to express yourself at your best. My husband is Andy Burgess; he played for Luton Town and Mansfield, but he tells people that I'm the one who won a league title!
It was a massive change when Billy and Louise left the club (in 1998), but people like Mo wouldn't let it fall to pieces. We had such good characters, so we got over it and carried on. The transition from Leasowe to Everton Ladies had been massive, but Everton FC didn't really buy into us, back then. It was just dribs and drabs. But football was moving on and people were noticing women playing it.
I was at Everton for eleven years, in all. I went to play for Liverpool for two games and hated it and came back, it was an ego thing as I was young! Mo put me forward for England U18s and I was travelling around the world – it was bizarre for me. I was one of the first women players to have a baby, at twenty-three. There was no such thing as maternity rights in women's football, back then. I was playing when pregnant with Macy against Arsenal – I felt quite queasy and had to come off. I trained right through pregnancy – I didn't know if it was safe – and I was back in the Everton team six weeks after giving birth! Then I had my son, Jake. We started to get more professional athletes coming in like Rachel Unitt, and I knew that I had to get fitter to get back in the team – it was a bit of a struggle. Everton travelled to Canada on a tour, but I just couldn't do it. I had a frank conversation with Mo, explaining that I couldn't do it with my kids, and she was fine with it. It broke my heart to leave Everton, but I had to do it for my family.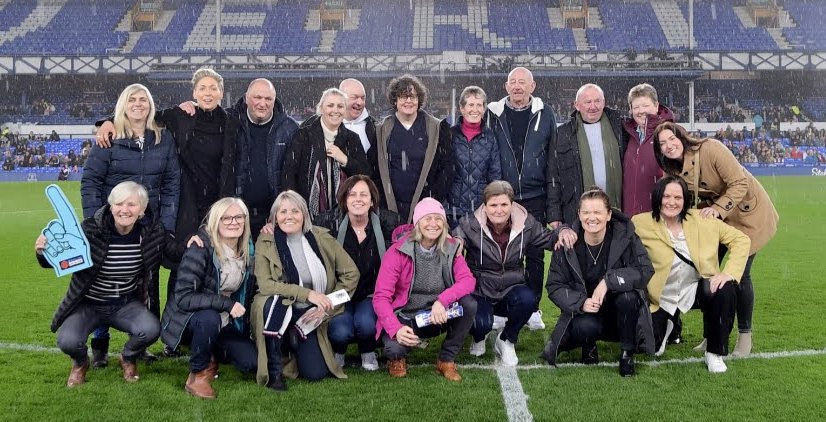 I joined Liverpool and won the second division with them – so we came up to the same league as Everton! I was at Liverpool for eight years and then with Blackburn Rovers and Nottingham Forest (juggling work, football and the kids), but my heart lies with Everton, I have never experienced the same camaraderie elsewhere. I now work with Chantelle Parry and we reminisce quite often about how good those times were. Everyone had your back, people encouraged you and wanted you to succeed. There was always a hug and a handshake – there was none of the hostility that goes with a professional environment.
Seeing women making a living out of football now is mind-blowing, but the likes of Mo and Keith Marley, Billy Jackson and Keith Cliffe shouldn't be forgotten – they did it all for nothing, with a love of the game and desire to move it forwards. Mo was the first person to bring academy football through at Everton, I can't praise her enough as a role model.
I wasn't the most academic kid at school – being a bit rough and ready around the edges, but at Everton I was surrounded inspirational women: occupational therapists, payroll officers, police officers. These were professional women playing in sport; they gave me a whole new outlook on life and steered me on a different path, having been living on a rough estate with a lot of worklessness. I can't overstate the impact it had on me. They inspired me to go to university, to get a degree in social services and get a profession. Now I'm a senior manager in a charity in Liverpool. Everton Ladies made me the person I am today, and I am very grateful.