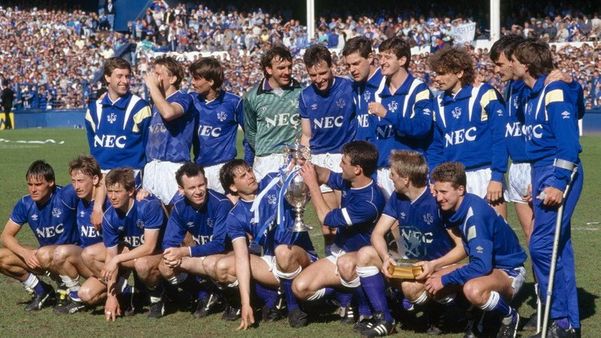 Everton started off the new campaign licking their wounds after conceding the league and FA Cup double to their rivals Liverpool the previous season. In came new signings Dave Watson who became Everton's record signing for £1m, also Paul Power, Kevin Langley and Neil Adams. Out went Gary Lineker as he left to join his new manager Terry Venables at Barcelona.
Everton started their campaign where they had become accustomed by playing at their 'second home' Wembley, in the charity shield against Liverpool. Like so many times before, the name of Ian Rush cursed Everton as he cancelled out Adrian Heath's 80th minute goal with an 88th minute equaliser as both clubs shared the shield.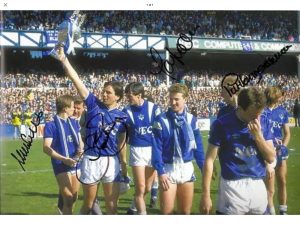 The league campaign began with a home game against Nottingham Forest with Kevin Sheedy netting a brace in front of 35,198 supporters.
Everton remained unbeaten for the rest of the month of August, with two away draws against Sheffield Wednesday and Coventry City respectively.
September  opened with a convincing 3-1 win over Jim Smith's Oxford United, with new signing Kevin Langley getting on the score sheet for the second time, adding to his first at Sheffield Wednesday on August Bank Holiday Monday. A 0-0 home draw with Queens Park Rangers and a 2-1 away win at Plough Lane Wimbledon kept Everton steady as the BBC cameras came to Goodison for the first time this season eight days later for a Sunday fixture against Manchester United. The Blues eased through with a 3-1 win.
Kevin Richardson left Everton to join Watford on 4 September for £225,000 after wearing the royal blue jersey 125 times in all competitions.
Everton surrendered in three consecutive league defeats as they travelled to White Hart Lane, sitting in 2nd position losing to London giants Tottenham 2-0. Everton's home record went as they suffered their first home loss in the month of October as another North London team Arsenal secured their victory with a solitary goal from Steve Williams. Everton finished the day dropping down to third in the league. Their third league defeat came at Selhurst Park as a Jim Melrose hat trick cancelled out a Kevin Sheedy double as Charlton Athletic grabbed all of the points.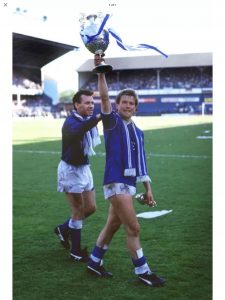 The month of October proved to be fruitful for Paul Wilkinson who netted 6 times in 6 games although a hat trick was scored as Everton defeated Newport County 5-1 and an aggregate score of 9-1 in the league cup followed by a brace. Margaret Thatcher officially opened the M25 motorway in this month, as the blues cruised into the next round of the league cup despatching Sheffield Wednesday in the third round with a memorable 4-0 victory.
November saw Everton win three of their six games in that calendar month as Paul Power who signed on a free by Howard Kendall scored his first goal for the club, which coincidentally was against his former club Manchester City, he even refused to celebrate his goal wanting to show respect to the set of supporters that idolised the man who had played so many games for them.
The month of November also saw the return of Neville Southall for the visit of Watford who returned after his horrific injury the previous season, injuring himself playing for Wales against the Republic of Ireland at Lansdowne Road.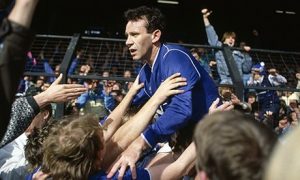 Everton started the month of December as six games faced them with some notable victories and performances to add, as Everton crushed Newcastle at St James Park with four goals on Boxing day, then another five goals two days later at home to Leicester City, who had suffered their second 5-1 defeat, as they had lost by the same score line to Watford at Vicarage Road only a month earlier.
So from the beginning of that month Everton had made good progress which saw them leap up two places from fourth to second and trailed leaders Arsenal by four points. Kevin Sheedy was the club's leading scorer with his contribution of 12 goals at this stage of the season.
Jackie Wilson's Reet Petite was the Christmas number 1 in the music charts.
Happy New Year, as Howard Kendall makes his first signing of 1987. Ian Snodin signs from Leeds United in a tug of war with their rivals Liverpool for £840,000. Aretha Franklin becomes the first woman inducted into the Rock and Roll hall of fame in this month too. So the Snodin signing was music to the ears of Evertonians, knowing they had won one over on their neighbours.
Everton faced Aston Villa on New Year's Day at Goodison Park as Kevin Sheedy continued to add to his tally by scoring in a 3-0 victory in front of 40,203, which was their second highest attendance of the season after playing Liverpool in the November.
Two days later the blues travelled to Loftus Road and finally managed to win their first ever game on the Astroturf on 66 minutes as Sharp scored in front of the army of travelling blues in the School lane end.
January also saw the Police arrest suspected 26 football hooligans across Britain after a mass operation to try and crack down on hooliganism.
Three cup games arrived in this month as Everton went through in the FA cup by defeating Southampton at home at the beginning of January and at the end Bradford City were beaten at home as Ian Snodin registered his first goal for the club with a wonderful diving header which was shown so many times at the introduction of Match of The day the following season. Snods made his league debut the week before as they lost to Nottingham Forest which was shown by ITV to a live TV audience. Dave Watson also registered his first goal for the blues with a 2-0 win over the Owls of Sheffield. Everton lost out to Liverpool in the quarter final stages of the Littlewoods cup.
For the first time this season Everton hit the summit after a comfortable 3-1 win against George Curtis's Coventry City. A rare Gary Stevens goal on the stroke of half time cancelled out the lead as Cyrille Regis had put the Sky Blues in front.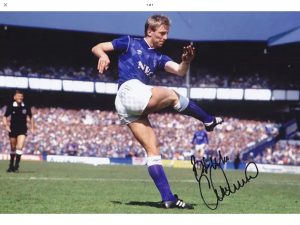 Paul Wilkinson found the net at the Manor Ground Oxford with two minutes left on the clock, as Everton salvaged a point after trailing to a John Trewick penalty on 25 minutes.
The BBC cameras were there to stage the FA cup tie at Wimbledon, who were always in contention of causing an upset. An upset is what they caused as Everton were not going to Wembley as they had done for the previous three consecutive years. Wilkinson found the net again as Everton took an early lead at the tiny Plough Lane but eventually lost the tie 3-1.
Everton were now out of both domestic cup completions with the league to play for. They travelled as leaders to mid table Manchester United and came away with a precious point in a 0-0 draw.
Going into March, Everton trailed neighbours Liverpool by three point's with a game in hand, with Arsenal behind in third place on 54 points. Tottenham Hotspur, Nottingham Forest and Luton Town were 4th, 5th and 6th respectively on 50 points.
Everton were knocked out of the Full Members cup by Charlton Athletic on Tuesday 3rd March, having lost 6-5 on penalties on a very cold night, as the fans decided to stay away as 7,914 spectators turned up.
Thirteen league games were left to play, and yet again Everton featured at Watford in front of the BBC cameras. Everton boss Howard Kendall added to his squad by purchasing Wayne Clarke and Stuart Storer for a combined fee of £300,000 from Birmingham City. This also proved to be Paul Wilkinson's last appearance in a blue shirt, before he departed Merseyside for Nottingham Forest.
Leaders Liverpool had beaten Luton Town the previous day 2-0 at Anfield which meant Everton had to keep up the pressure with the trailing Arsenal in third, also losing to London rivals Chelsea the day before.
The Watford game was to be remembered for the unveiling of a new stand which was named after Sir Stanley Rous.
Luther Blisset opened the scoring for the Hornets before Adrian Heath equalised in front of the home supporters. Everton suffered a cruel blow as former Spurs man Mark Falco hit home the winner with only 5 minutes remaining. This was not the result Everton needed.
Two successive home wins followed the defeat to Watford as Southampton and Charlton Athletic were brushed aside as the Toffees won 3-0 and 2-1 respectively. The win over Charlton proved to be important as leaders Liverpool were beaten at White Hart Lane 24 hours later. Six points separated the front two but Everton had two games in hand.
Everton's next three games came against London opposition with two away at Arsenal, then a trip to Stamford Bridge with a home fixture against West Ham United.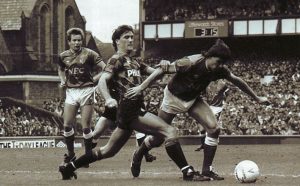 Everton's trip to Highbury was the big game of the day as the visitors were second in the table with the Gunners six points adrift in third. The weather was a mixture of bright sunshine and showers, but luckily for Everton the sun shone as Arsenal goalkeeper John Lukic made a hash of a clearance as he came just over the 18 yard line to half clear the ball which dropped into the path of Wayne Clarke to lob over Lukic into the net for his first Everton goal and what proved to be the winner.
The cheers from the "clock end" where the Everton fans were situated grew louder as news filtered through that league leaders Liverpool were trailing at their Anfield home to Wimbledon which ended up a defeat with Alan Cork netting the winner for the Wombles with 11 minutes left to play. Liverpool's loss was Everton's gain as the Toffees closed the gap to three points with two games in hand.
The following week Liverpool was having a break from the league as they faced Arsenal at Wembley in the league cup final.
Everton meanwhile returned to the capital for the second consecutive week for the first fixture in April. The pitch was very heavy as the rain lashed down. Everton took the lead on 23 minutes due to a fortuitous own goal from Chelsea defender John McLaughlin. Kerry Dixon who was Chelsea's leading scorer that season with 12 goals equalised on 72 minutes with Everton's versatile Alan Harper scoring a goal that Kerry Dixon would have been proud of 5 minutes later. The Toffees came away from Stamford Bridge with maximum points and going top of the league at the end of the day.
Back home on Merseyside, the 141st Grand National was won by Maori Venture at the odds of 28/1 ridden by Steve Knight.
West Ham arrived at Goodison the week later and were having a very indifferent season. A four goal rampage from the home side within the first 45 minutes gave them a 4-0 full time result.  On the same day the Canaries of Norwich silenced Liverpool with a 2-1 victory, a good day for the blue half of Merseyside.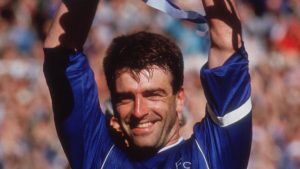 Easter had always proved to be a very important date on the football calendar as in so many times in previous years where the title has been won. Everton took an army of a reported 15,000 fans to Villa Park who was having a miserable season, and to cap it all were relegated that season. Former fans favourite Andy Gray was given a warm acknowledgement from his fans who adored him during their most successful season 2 year earlier. A wonder left foot strike burst the net in front of the hoards of travelling fans from Kevin Sheedy to win the game for the Toffees.
Two days later on Easter Monday, a Wayne Clarke hat trick with two goals coming in the last 8 minutes saw off Newcastle with a double over the Magpies with a 3-0 victory in front of a very healthy crowd of 43,576. Everton had won 7 consecutive games which the best run by any team that season.
Liverpool chasing in second place lost to their bitter rivals Manchester United 1-0 with Everton clear favourites for the title.
There were only 5 games remaining as the blues made the short journey across Stanley park as Everton lead this fixture 6 points to the good with a game in hand. It was a game that the visitors could afford to lose but there were still a thing called pride to play for. Tickets were changing hands for 20 times their face value outside the stadium.
Ex blue Steve McMahon put the hosts in front as early as nine minutes. Everton were awarded a free kick just outside the 18 yard box. A typical Kevin Sheedy free kick thundered into the top of the left hand corner of the net on 16 minutes to give debutant goalkeeper Mike Hooper no chance at the Kop end, to send a good number of Evertonians who were behind that goal delirious. Sheedy and Heath ran towards the Kop end showing a V sign which later resulted in an FA fine.  On the stroke of half time, Everton's curse Ian Rush haunted them once more to put the reds 2-1 up. Rush put the game to bed with an 84th minute goal to take all of the points as they won 3-1.
The following week saw two games over the May Bank Holiday weekend. Everton could only manage a goal less draw at home to Manchester City, who featured former Everton player Kevin Langley who had moved to Maine Road two months previous. A single point proved to be a bonus as neighbours Liverpool stumbled to a Nicky Pickering goal at Highfield Road which more or less ended their hopes of retaining their title.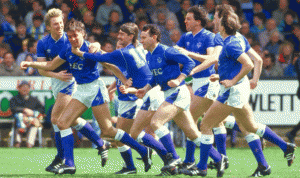 The stage was set at Carrow Road where an Everton win would give them their ninth league championship. Thousands of fans made the long trip to East Anglia. Celebrations started as early as 55 seconds through an unlikely source as Pat Van Den Hauwe with his right foot to smash home what was the winner.
Everton hung on and as the ball went out of play for a throw in, the referee clutched the ball and blew the full time whistle as the Everton players ran for the tunnel with the army of Everton fans who had already made their way onto the playing surface to start the championship party. Some of the players that couldn't make the tunnel were chaired off by their fans.
Everton's third highest attendance of the season, 44.092 turned up as the Hatters (Luton Town) took a 4th minute lead through Mark Stein. Two Trevor Steven penalties inside 3 second half minutes and a goal on the hour from Graeme Sharp led to a convincing 3-1 win. The league championship trophy was paraded around Goodison after the final whistle as all of the squad, including the injured players too were able to take part in the Goodison party.
Two days later Everton played their game in hand as FA cup finalists Tottenham Hotspur came to town and were very much under strength with a Wembley trip 6 days away. A Derek Mountfield effort on 80 minutes finished Everton's season off nicely in a 1-0 victory.
Everton had won the title with a nine point gap. Captain Kevin Ratcliffe was the clubs only ever present that season playing in all 42 league games with Trevor Steven and Adrian Heath both on 41 appearances. Trevor Steven pipped Kevin Sheedy to the top scorer by one goal with Tricky scoring 14. Adrian Heath came third with 11 goals.
Steve  Zocek