In January 1977,  Everton were only two matches away from their first Wembley final in the 17-year existence of the League Cup. Bolton Wanderers of the Second Division side stood between them and the Twin Towers. Everton had parted company with manager Billy Bingham just ten days before the first leg. With the search underway for Bingham's successor – Bobby Robson being the original preferred choice – Steve Burtenshaw took charge in a caretaker capacity.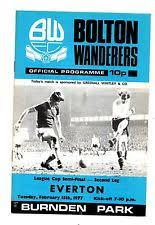 Everton's path to the semi-final commenced on August Bank Holiday Monday, with a comfortable 3-0 defeat of Cambridge United. A solitary Bob Latchford goal was
enough to ease past Stockport County at Edgeley Park in the next round, after which a home defeat of Coventry City set up a quarter final tie with Manchester United.
Everton silenced the 57,738 Old Trafford crowd, crushing the hosts 3-0. The Blues hosted the Trotters in the first semi-final leg with 54,032 fans inside
echoing, "Tell me ma, me ma; I don't want no tea, we're going to Wembley." Duncan McKenzie's headed goal on 33 minutes prompted the home fans to start making arrangements in their heads for the trip to the capital on 12 March.
These premature thoughts were swiftly halted when David Lawson was penalised for taking one step too many, which resulted with a free kick to the Trotters with two minutes remaining
on the clock. Mike Lyons, the Everton Captain, organised his defensive wall hoping that they could hold onto a precious one goal cushion for the second leg. Neil
Whatmore stepped up to drive home a thunderous free kick to level the tie, breaking the hearts of the home fans.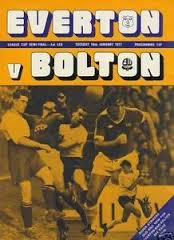 Gordon Lee had succeeded Billy Bingham as manager when the return leg was played at a sold-out Burnden Park four weeks later. Evertonians filled the Railway
Embankment vocally anticipating victory, whilst silently hoping to avoid becoming victims of a giant-killing. Mick Bernard was the only change to the Everton line up
from the first leg.
A corner was awarded to Everton on 24 minutes. Ronny Goodlass' exquisite cross was complimented by the well-timed header by Bob Latchford to rustle the net and
give the blues the advantage. A Duncan McKenzie penalty miss and a floodlight failure added to the tension but the Blue Gods must have been looking down on
Everton that night. The Blues ended the night triumphant to set up a final against Aston Villa. It would take two replays to settle the outcome, sadly not in Everton's
favour.