Gerry Mullan signed for Everton from Ballymena United in October 1980. To date he was the most expensive Irish league player at £30,000. Gerry failed to make a first team appearance for the Toffees but gained 4 caps for his country-Norther Ireland. Gerry is quite a private man, but was very helpful in assisting me with an insight to his time at Everton.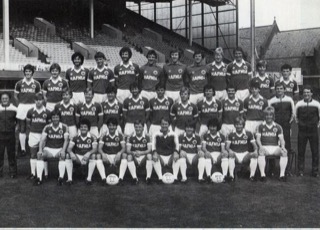 SIGNING FOR EVERTON
"After 4 reasonably good seasons at Ballymena, I trained really hard in my fifth season, trying to push myself to the limit. As well as Everton, a few clubs watching me, such as Celtic, Sunderland and Brighton. Ballymena played at Seaview against Crusaders and I managed to score two goals whilst Harry Cooke (Chief Scout at Everton) was watching. I think that game sealed the deal as I signed for Everton soon after."
KNOWLEDGE OF EVERTON/FIRST IMPRESSIONS
"Obviously with Everton being a very big club I was delighted to sign for them. Kendall, Harvey and Ball were names I would have associated with the club. They were all great players and household names of the sixties. Also, the great Dixie Dean who was the club's greatest ever striker.
The first thing that struck me was the levels of fitness, everyone was super fit. Training was normally a mixture of fitness work and 5-a-sides, but if the management thought you needed extra you would be called in for an afternoon session as well.
COLIN HARVEY
"Colin Harvey was the coach that I was under, a terrific man and a terrific coach. A very straight-talking man who let you know what was expected form you and would have let you know if you didn't do it! He had a great emphasis on one and two touch football and encouraged you to pass the ball early. I learned a lot from Colin, his encouragement was invaluable and his coaching was terrific for me. I was really glad to play under him."
STAND OUT PLAYERS
"Everton had some terrific young players such as Paul Lodge, Kevin Richardson and Joe McBride ready to make the breakthrough. Other standouts for me were Asa Hartford, Graeme Sharp, Kevin Ratcliffe, Neville Southall
KEVIN RATCLIFFE
"I had played with Kevin in the Reserve team; he was a terrific player and a really nice fella. I had moved to Birkenhead and got a lift with Kevin to training. We talked about football the entire way in, I always enjoyed those conversations. He always offered plenty of encouragement. His record at Everton speaks for itself, and is known as a legend at Everton.
NEVILLE SOUTHALL
"I played a few games with Neville in the Reserve team but it was very long until he went straight into the first team. Neville was a world class goalkeeper who now has legendary status at the club and rightly so."
ALAN IRVINE
"Alan Irvine was another talented player at the club. He was a great wide player who I got to know, he always offered sound advice. It was a great to see him involved with Everton during David Moyes' time.
CENTRAL LEAGUE
"The league involved clubs like Blackpool, Nottingham Forest, West Brom, Liverpool to name a few. At the start I found I was doing OK but maybe not scoring enough goals. I can recall playing against Forest Reserves and their team had a few of the European Cup Winning team as starters. Martin O'Neill and Larry Lloyd both featured for sure, which was a great test. I would have played the majority of my games alongside Graeme Sharp.
PROGRESSION
"Gordon Lee was the First Team Manager at the time I was signed and was replaced by Howard Kendall, who had his vision on how he could take Everton forward. With a lot of players coming and going I thought my first team opportunities would be limited. I played a few friendly and testimonial games which made up my involvement in first team action.
FRIENDSHIPS
"Gary Stanley and I normally met up to play snooker away from football and I would have met up with Graeme Sharp for a few drinks occasionally.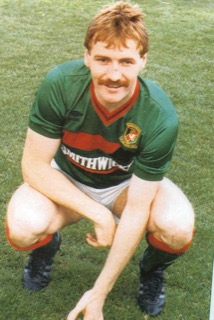 SIGNING FOR GLENTORAN
"My transfer to Glentoran happened really quickly. Ronnie McFall and Johnston Nelson came to Bellefield to sign me for the Glens. I was happy to make the move home which worked out well for me. I was really pleased to have made it to a club like Everton and to have spent some time there. I would still keep an eye out for the results and like to see them do well."