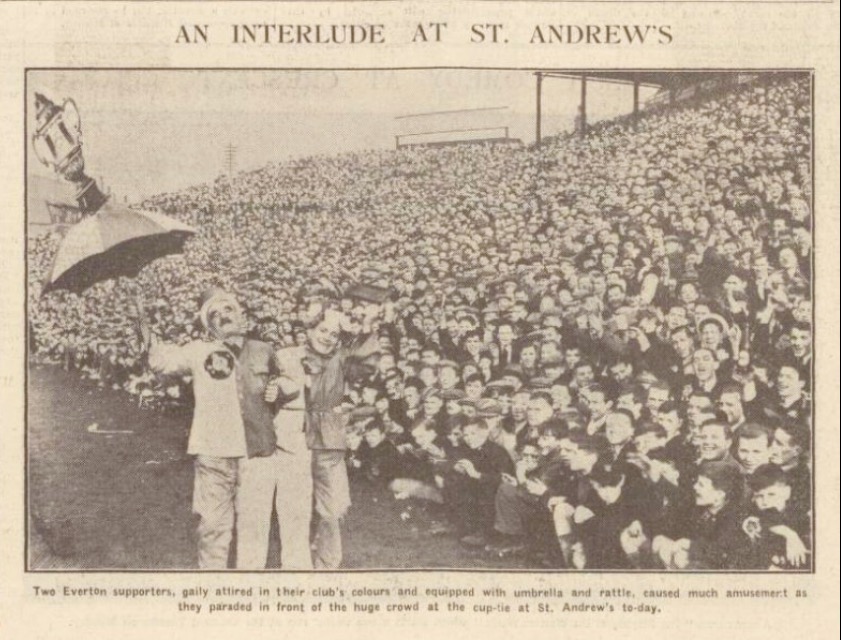 Aside from the iconic Toffee Lady, Everton supporters in the 1930s also possessed two unofficial mascots. Harry Williams of Westminster Road, Kirkdale, and his near neighbour, William Jones, would "play up" for Blues fans both home and away. Williams would wear his trademark mock policeman's uniform, decorated with the club colours whilst Jones would don a blue and white chess-board suit. In the days before fences and enclosures, the firm friends were often permitted to "conduct" the crowds from the cinder path bordering the pitch.
When Everton travelled to St Andrew's on 11 February 1939 for a FA Cup 5th round fixture against Birmingham City – the "blues brothers" were determined to entertain fellow fans and be entertained by the champions-elect. Press photographers captured Harry Williams in his trademark bobby outfit (with the number 9 emblazoned on the lapels) but, sadly, tragedy would strike. The Liverpool Evening Express described how 44-year-old Williams was walking with a crowd towards the stadium when a Birmingham supporter snatched his helmet from his head. Williams turned to give chase and, in doing so, was struck by a passing Birmingham Corporation bus. He was rushed to hospital but died a short time later.
William Jones was oblivious as to the fate that had befallen his pal until advised inside the ground. Nevertheless, he was urged by the crowd him to put aside his distress and perform, what the Evening Express described as, "his usual antics". This he duly did. "I shall give up at the end of the season," Jones told a reporter afterwards. The match itself ended in a 2-2 draw, with Everton's diddy men – Stevenson and Boyes – getting the goals for the visitors. The inquest into Williams' death was held the following Wednesday, the same day that Everton beat their opponents 2-1 in the Cup replay staged at Goodison Park.
In what must have been a poignant moment for Harry William's friends, Everton returned to the Midlands a few weeks later, for the Cup quarter final against Wolves. There would be no happy ending, however, as Stan Cullis and Co. won 2-0 on a muddy Molineux pitch.
With thanks to Billy Smith (Blue Correspondent) for the images and newspaper transcript.