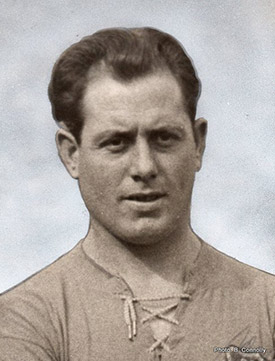 Relatively few Cornishmen have represented Everton but several have left their mark on Merseyside. Mike Trebilcock carved his name into FA Cup folk-lore whilst Nigel Martyn established himself as the finest Goodison goal-keeper since Neville Southall.  However, the most remarkable life story is that of Jack Cock: international footballer, team manager, war hero and star of stage and screen.
John Gilbert "Jack" Cock, the third child of James (an iron-trimmer) and Eliza, entered the world on 15 November 1893 in the Cornish village of Phillack, close to the port town of Hayle. By the time Jack was seven James had relocated the family from this bucolic setting to Fulham in West London. Jack would earn pocket money selling chocolates to spectators inside Craven Cottage and dream of becoming a footballer. Such hopes faded when James' work took the family to the footballing backwater of Camborne in Cornwall. Nevertheless Jack preserved and, according to a newspaper article he penned he: "soon had a reputation for being the "boy marvel" in the district."
When the family returned to Fulham,Jack helped to form West Kensington United, which played on the Wormwood Scrubs. Later he played a part in the founding of Castelnau United which was admitted to the Hammersmith League. Whilst working in a Lyons cafe his supervisor invited Jack for a trial with Forest Gate FC, with whom he went on to win the East Ham Charity Cup. After a period working at Gwynnes Ironworks at Hammersmith, Jack's Uncle introduced him to Old Kingstonians' officials. Having joined at Christmas, he claimed the centre-forward spot and won two trophies in the 1913/14 season. A work colleague at the foundry put Jack in touch with Brentford FC, for whom he signed amateur forms. His first team debut came about unexpectedly as he later explained in the Derby Daily Telegraph:
It all happened with terrible suddenness. I had gone down to Griffin Park with the idea of playing with Brentford Reserves. The first team was in South Wales, due to play Aberdare. Before realised what was happening a telegram had been thrust into my hand by my workman friend with the excited words, "Here you are, Cock — a chance of a lifetime." That telegram asked me to go to Wales immediately to play against Aberdare. It was still morning, and I had just half an hour in which to get to Paddington Station, and catch the train for Wales.
That was how I got my feet on the ladder of football fame, and I think, having risen to international fame and having won a reputation a goal-getter in the highest class of football, I can claim that I have never had it off since. But here's the point. I didn't stand in any waiting queue asking for a chance. I kept playing junior football, realising even in those early days of my life that if a lad has talent and the determination to keep on doing his best he will surely get his chance. That is why I give all juniors the advice. Stick in and do your best for your junior club, and never lose heart. The big clubs are too anxious not to miss clever young players ever to miss you have the talent.
Jack's rapid progress at Brentford came to the attention of Huddersfield Town of the Second Division and he was signed on professional forms by the Terriers in late 1914. Debuting in December 1914 he'd make nine appearances, scoring three goals before. The continuance of football through the 1914/15 season, in spite of the outbreak of war, had been controversial with public figures such as Arthur Conan Doyle exhorting sportsmen to enlist in the armed forces.
Jack signed up to the 17th Service Battalion of Middlesex Regiment (Duke of Cambridge's Own) which was better known as the 1st Footballer's Battalion. This "pals" battalion had been formed by William-Joynson Hick's MP at Fulham Town Hall in December 1914 and, as the name implied, consisted mainly of professional footballers.   Posted to the Western Front Jack was mentioned in dispatches for gallant conduct in April 1916 and awarded the Military Medal for bravery at the Somme later that year. At this time he held the rank of Lance Sergeant but rose to Sergeant Major.  At one stage his was reported as missing, presumed dead, before turning up safe and well. Others were less fortunate — including Richard McFadden, William Jonas and George Scott of Clapton Orient FC (the club had signed-up en-masse to the regiment). Away from the front line Jack would lead the line for the 17th Middlesex in divisional football tournaments — the advantage of being able to field professionals led to high scoring victories. On breaks from duty Jack resided at 81 Ansell Street, Fulham and guested on the pitch for Croydon Common and Brentford.
With peacetime football resuming in August 1919, Jack felt unsettled at Huddersfield, later claiming that the northern climes affected his wife's wellbeing (in fact he only married Gertrude Martin in 1924).  After Jack had hit six goals in nine appearances (including a four-goal haul against Bury) Chelsea offered an escape route back to London. A £2,650 transfer fee was agreed with the cash-strapped Yorkshire club.   Shortly before the deal was concluded Jack had earned his first England call-up, debuting in England's encounter with Ireland at Windsor Park. In a dream start he scored within 30 seconds — the joint fastest England goal on record.  His second, and final, cap saw him notch a brace in a 5-4 victory over Scotland at Hillsborough. Although never selected to play for his country again he did appear for a Football league select XI against their Scottish counterparts. Two years Jack's junior, his sibling Donald also carved out a successful football career at Fulham and Notts County before earning dream move to Arsenal. A broken leg suffered in only his second match effectively ended his time at Highbury and he wound down his career at Clapton Orient and Wolves.
Jack proved to be an instant hit at Stamford Bridge. He scored twice on his Bonfire Night debut and hit a further 19 league goals to banish the Pensioners' fears of relegation. He became a terrace idol in West London and cemented his reputation as a leading centre-forward of the era. It is said that 5'10"- tall Jack, was unusually skilful for a centre-forward, the result of hours spent perfecting his flicks and tricks on the training ground.
The England call-up and move back to London had bolstered the profile of a man who had ambitions beyond sport.  Always finely dressed and well-groomed with a luxuriant "bouffant", Jack was asked to appear in a 1920 film titled The Winning Game.  He would often make celebrity guest appearances, one example being refereeing a football match at Highbury between Irish and English jockeys held in aid of the St Dunstan's charity for blinded servicemen.  Possessing a fine voice he would habitually sing as he headed from the dressing room to the pitch on match days. In January 1922 he took to the stage for the first time, an event described in The Era:
Footballer Vocalist
There was something like a record crowd at the Granville, Walham Green, on Monday evening, at the debut on the variety stage of Jack Cock, the Chelsea International centre forward.  Mr. Cock is the possessor of a very pleasing baritone voice, which, combined with an easy and natural manner, stood him in good stead in a couple of ballads.  "Smiling Through", by Mr. Arthur A. Penn, and the ever-popular "Old Pat."  At the end there were curtain calls a-plenty.  The act, which is under the personal direction of Mr. Frank Rubens, is proceeded by a film showing Mr. Cock in training, signing a contract, and other incidents, which were eagerly followed by the audience.  He is also depicted visiting the publishing firm of B. Feldman & Company, who publish all the numbers used.  Mr. Jack, who is assisted at the piano by Mr. Don Hatton, was accorded a very hearty reception.
After this successful debut Jack would regularly appear on stage at the Granville and various music halls around the country. His celebrity status enabled him to endorse a variety of products including Phosferine, about which he extolled its purported curative powers:
I sometimes wonder whether those huge "gates" at the big cup finals realise the terrible mental and physical stress imposed on the players in these matches. Just as there is such a thing as stage-fright, I contend that there is such a thing as field-fright as I have experienced it…Both before and after the strain of a match I become a regular patient of Dr. Phosferine and to this I owe much of my success on the field.
Aided, or not, by Phosferine, Jacks goals continued to flow until the 1922/23 season when his form faltered. With this in mind Chelsea were swayed by a January 1923 bid of £2,000 from Everton. The Blues saw Jack as the solution to a goalscoring drought which had hampered them in post-war seasons. The Liverpool Daily Post and Mercury observed his scoring debut in a four-nil victory over Stoke:
Cock, without doing anything brilliant, was quite satisfactory. He frequently used his head effectively, and his experience in knowing where the place himself for a pass was of considerable help to the inside forwards. He made one splendid solo run in the second half, and instead of doing the obvious, shooting for goal; he placed the ball perfectly in the right wing.
Not a classic, physical centre-forward, Jack reflected on his role and his preference for service to feet in a syndicated newspaper column:
For my own part, I try to be a happy medium between the opportunist and the brilliant midfield player.  I like to be able to be of real use in engineering attacks, in opening up the game, and also in shooting goals.  This is the most difficult role to fill…I tell my readers quite frankly that there are times when midfield work takes too much out of a leader and spoils his shooting, and vice-versa.  The happy medium is extremely hard to alight upon.   Might I say just one thing more about the work of a centre forward?  He invariably comes in for a lot of hard knocks and much attention, and anything which helps him to have his task made easier should be done, for it has a great and good effect upon the side in general.  
Ground passes are the thing which a leader sighs for.  The half-back who sends the ball along in the air isn't helping much.  The centre-forward has to get the ball under control, waste time in getting away with it and as often as not finds the opposing centre half, who hasn't got his back to the goal he wants to get to, has all the advantages of the position.  Wingers who cross the ball sweet and low will find more goals coming from their passes than from those who send the ball hurtling through the air chest high.  
I know there are times innumerable when a ball has to be lofted over the heads of opposing defenders; that is O.K — the centre-forward has to take his chance with his head. But there are countless times when a slipped-through centre on the ground can be taken by the leader in his stride.  In fact, groundwork throughout is a great secret in football, and less air work would improve the standard of football considerably.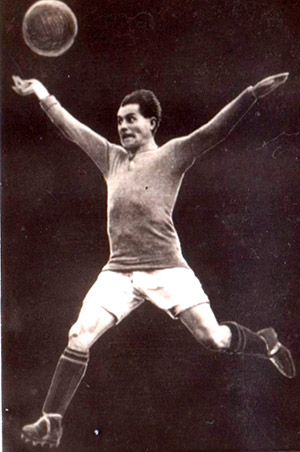 In between in football engagements he would continue to make music hall appearance around the country. Jack's reputation as a showman followed him north and Merseyside newspaper cartoons invariably focussed on his bouffant and sharp dressing. Perhaps suspicious of this "southern dandy" match reports seem to have been quite sparing in their praise for his performances.
In his first full season at Goodison (1923/24) Jack established himself as the first-choice centre-forward. Aided by service from wide-men Alec Troup and Sam Chedgzoy he rattled in 17 goals in 37 appearances. However Everton could only finish 7th with Jack's former club, Huddersfield, marching to the title. Despite continuing to hold down his first-team place in the following season the goals dried up. After a Christmas Day home defeat to Newcastle, Jack was dropped for the following day's return fixture and found himself relegated to the reserves. Recalled for a cup win over Sunderland in early February, his fate was sealed in the subsequent match — a Merseyside derby defeat to Liverpool in which he was reported to have twice missed open goals.  Back in the reserves, Jack was the subject of interest from Arsenal but Everton declined the Gunners' proposed part-exchange deal.  Weeks later a bid of £2100 was accepted from Plymouth Argyle, of Division Three South, for Jack and Fred Forbes. Whilst negotiations took place Everton were in talks with Tranmere Rovers over the transfer of a goalscoring prodigy.  Four days after Jack's departure for the south coast Everton announced the arrival of a certain William Ralph Dean. "Dixie" would make his first team bow just weeks later, and never looked back.
The Western Morning News trumpeted the "homecoming" of the Cornishman:
On his day Cock is one of the most dangerous forwards in the country. A dashing type, he loves individual effort, and is clever as well as thrustful.  Cock comes near to his home, as he was originally from Cornwall, being born at Hayle.  He is one of the most popular men in the game, being a perfectly clean player and an artist on and off the field. He is well known in the theatrical world, has a fine voice, and knows how to use it.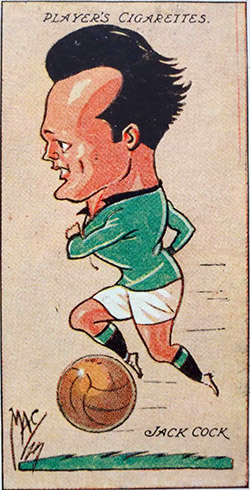 At the league lower level Jack was in prolific form, contributing 72 goals in 90 league appearances. Two and a half years after arriving at Home Park he returned to his spiritual home of London — this time with Millwall (also of Division Three South). The goals continued to flow (77 in 115 league appearances) before he was released and joined non- league with Folkestone FC in July 1931. Little over a year later he switched to amateur side Walton-on-Thames of the Surrey Senior League.
His second film role was in the 1931 Gaumont football-themed "talkie" The Great Game. However incidents suggest that, at this time, Jack was struggling to adjust to the decline in his footballing status.  In July 1931 he was summoned to Greenwich Police Court for failing to notify his change of address on a motor registration-book, failing to stop after colliding with a London County Council ambulance and for driving without due care and attention.   Having pleaded in his defence that he'd had an unblemished driving record for six years, he settled the 44s costs.
Just three months later the 38 year-old was back in court at Greenwich and fined twenty pounds for dangerous driving under the influence of drink in Blackheath on General Election night. Jack also had his driving licence rescinded — this was overturned on appeal with Jack arguing, successfully, that driving was essential to his role as an estate agent.  "'I think twenty pounds was a sufficiently heavy penalty but let this be a lesson to you,' the magistrate was reported to have said, to which Jack replied:  'It has been, sir!'"
Ironically, in light of the alcohol related driving indiscretion, Jack had embarked on a career as a publican and was living with Gertrude on the premises at The White Hart on New Cross Road in Deptford when war broke out in 1939.
In the autumn of 1944 he returned to football, managing his former club, Millwall for four years. His name still counted for something and he was reported to be the organiser of a 1948 golf tournament for football managers. In his later years Jack was an occasional visitor to Stamford Bridge where he was remembered fondly by the older supporters. He passed away on 19 April 1966, Gertrude having predeceased him.
In some respects Jack was the David Beckham of his age, but his off-field exploits and valiant military service should not deflect us from recording that he was a fine footballer.
Postcript
In 2010, a memorial to the two Footballers' Battalions, funded largely by football supporters, was unveiled In Longueval, France. The following year a memorial to the three Clapton Orient players killed at the Somme was unveiled in the village of Flers. Over 200 supporters of the club (now Leyton Orient) travelled over from England for the ceremony.
Sources:
Peter Jones, Brendan Connolly and Billy Smith (EFCHS)
Merseyside newspaper items on the Blue Correspondent website
Everton Encyclopedia — James Corbett
Gwladys Street's Blue Book (David France)
Derby Daily Telegraph articles (1924)
www.chelseafc.com
www.englandfootballonline.com
www.evertoncollection.org.uk
www.wikipedia.org
Big Brave Sid and his Football Battalion Pals (www.britishlegion.org.uk)
British Newspaper Archive
Find My Past