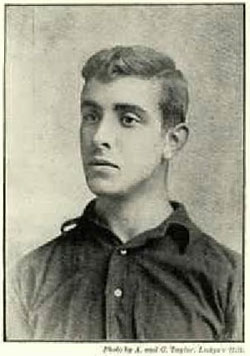 Martin John "Jack" Earp's Everton appearances only just made it into double-figures yet his tale is worth telling. Born into a Nottingham printing family on 6 September 1872; his early footballing experience was with small teams in England's lace capital. He went on to represent  Nottingham Forest as a 'gentleman amateur', signing on in September 1889 and debuting in January 1890 in an East Midlands derby against, naturally, Derby. He was also selected for the famous Corinthians when only 17 years-old. Jack's elder brother Fred would also represent Forest and later become the club's secretary manager (1909-1912).
In January 1891, Jack Earp was in the Forest XI which hit 14 goals without reply in a FA Cup tie against Clapham Orient, a record that stood for over one hundred years.  Having appeared in his habitual right full-back position for Forest against Sheffield Wednesday on 7 November 1891, he swapped the Midlands for Merseyside, the curious arrangement was explained in the Birmingham Daily Post:
Earp, the Nottingham Forest back, will play for Everton when not required by the Forest, who can rely on having first claim on his services, as Earp is an amateur who takes great interest in the fortunes of the "Reds". Everton defence is at present a great source of trouble to the club's managers and Earp's services should be very welcome.
On 2nd November the Everton committee minutes had recorded that Earp had been elected as a member of the Club and paid the 5/- "entrance fee" and 7/6 in subs. The Liverpool Mercury reported on his debut for the reigning, but somewhat ailing, league champions in a 1-3 defeat at Darwen's Barley Bank on 14 November:
Kent made a poor defender, and is responsible greatly for Everton's defeat. Earp, however, played a dashing, successful game in the open. He had mot much to test his tackling proclivities on Saturday, but if he is as effective in this line of defence as in using his legs he will be a great acquisition….. Everton were put on the defence with the consequence that the abilities of Earp were brought out, and they passed muster from the Liverpool contingent, his tackling and kicking holding his side in good stead.
The struggling team was then hammered 5-1 a week later at Molineux. The Mercury questioned whether Earp's move to Everton would benefit either party: Both Earp and McLean contributed bits of good back play, but neither inspired confidence. Mclean was best in tackling, his kicks not being hard enough to be uniformly useful. Earp uses his feet splendidly if he has plenty of room, but he was unstable when the pinch came at close quarters and it is yet problematic whether his inclusion will be to the advancement of his own reputation or that of the club whose cause he has espoused.
Earp's debut in the red of Everton at Anfield (hard to imagine now on both counts) saw a 5-1 victory over Aston Villa whilst revenge was exacted on Wolves with a 2-1 home victory which the Mercury reported on:
The play was give-and-take up till half-time, and no more scoring was done. Everton resumed with ten men, Earp having been injured, but he speedily returned, and then Everton began to pepper Rose in lively style.
A return to the West Midlands saw a reversal against Villa – a 3-4 thriller in which Earp was reported to have played his part: A hot scrimmage next took place in front of Williams. Earp, however, rushed to the rescue and came out of the ordeal with flying colours.
After a New Year's Day friendly against Kilmarnock before 5000 spectators, Everton's form remained patchy. In a 2-4 home defeat to Burnley Earp was reported as having: repelled the attackers half a dozen times. 
By the end of January, Earp was incapacitated with a leg injury, but it was off the field of play where the interest and intrigue lay – the schism was widening  which would lead to Everton decamping to Mere Green Field (the location which would become Goodison Park). The Mercury reported on the situation on 8 February; its points about the choice of name for the new club, and the future global marketing implications, would prove prophetic:
The spilt amongst the members of the Everton Club is more certain than ever, the breach being widened rather than yielded by the action of the rival sections during the past week. The time for reconciliation has apparently gone by, and yet the subject of disagreement seemed easy of adjustment by recourse to a third party.
Liverpoolians must be prepared, then, for two clubs, for notwithstanding the ruling of the English Association that they would, of course, only recognise the voice of the majority as that of the Everton Club, there is to be a club at the Anfield-road enclosure, which will be converted into one of the finest football grounds in the kingdom. Everton with their League status will remove to Goodison Road and will have the assistance of those players who have entered into engagements for next season, whilst those who are free will take their services to the most generous employers.
Can Liverpool support two high-class clubs? It ought to. But the League is the thing to conjure with, and the future promises to supply a keen competition for the privileges of Leaguers. The minority might drop the title of Everton without any more ado. They have the legal claim to it, having registered it at Somerset House, but since the Association Council will not affiliate them on the "Everton Club" the legal title is of no service. The more comprehensive name of "Liverpool" is much preferable, and, as they will have to make a name for themselves, step by step it will be more likely to be a far-reaching than a mere suburban appellation.
Earp returned to the Everton first team fold on 7 March 1892 but was clearly still struggling with injury as the Mercury noted when reporting on a narrow victory over Stoke:
Earp, with bandages still on his injured leg, reappeared after several weeks' absence. The teams were as follows:- Everton, Jardine goal, Earp, and Howarth backs, Kelso Jones, and Robertson half-backs, Latta (captain,) Wyllie, Maxwell, Chadwick and Milward, forwards.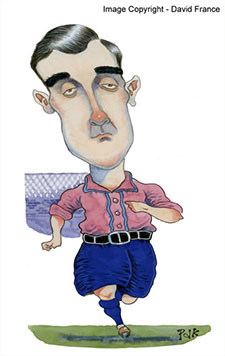 Earp's final appearance in an Everton shirt at was at 'Town Ground' (as was) in his home town, with Forest the opposition in a friendly match on 24 March – a 2-1 victory for the Merseysiders. At this juncture, Earp's Mersey sojourn ended and, having been released by Everton on 23 May, he returned to his mother club. Earp's Forest debut, on 3 September 1892 against his former team, was significant. It marked Forest's first foray into the Football League after being promoted from the Alliance; it was also the first competitive match ever held at Goodison Park.  
Over 12,000 spectators saw a 2-2 draw with the Mercury seeing fit to comment: Earp played much better than he had often done when with Everton last year.
Early in the following season he ventured north to join Sheffield Wednesday, debuting away at Stoke on 7 October 1893. He would represent the club – then based at Olive Grove and known by the nickname "The Blades" – as an amateur before finally embracing professionalism the following season. At this time he also took part, unsuccessfully, in an England team trial at Richmond prior to a fixture against Scotland. At 5 foot 10 and 11 stone 9, Earp was tall for his era and used his physicality well – Lloyds Weekly described him thus in 1895: With speed, dash, cleverness and the strength to kick powerfully, Earp is really a brilliant player – though he is sometimes daring almost to (the point of) rashness.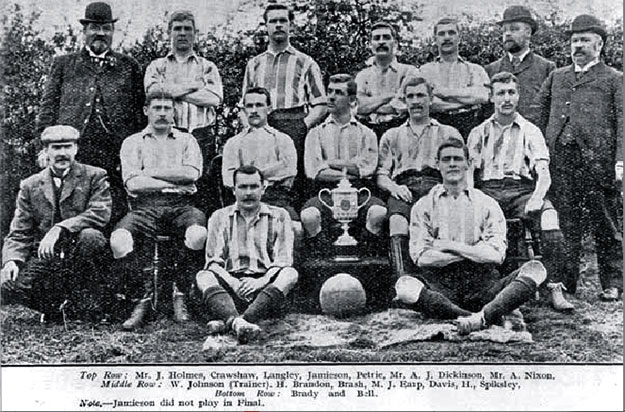 Sheffield Wednesday's 1896 FA Cup Winners (Jack Earp in the centre with the trophy)
Earp would become a mainstay of the side – becoming the first man to captain a Yorkshire team to FA Cup success. The Cup was secured in the 1896 final against Wolves, held at the Crystal Palace. The 2-1 victory was thanks to a Fred Spiksley brace – the second of which caused a 1966-style controversy as the ball hit the woodwork, bounced down and back into play. The referee judged to ball to have crossed the goal line.
Tennant, in goal for Wolves, had been concussed in the build up to the winning goal and was oblivious to it having been scored. At the final whistle, as the Wednesday team celebrated, Tennant apparently approached Earp and asked: "When's the replay?" Earp was recorded as having responded: "There is no replay old man! We won by two goals to one as you will see when we take the medals!". "But how, for only one shot passed me?!" replied Tennant.
Earp's good form finally received national recognition in 1897 when he was selected for the English League XI which demolished the Irish League team 8-1. However, by the turn of the century Wednesday's fortunes were on the wane and they suffered the ignominy of relegation to the Second Division in the 1898/99 season. Wednesday gained promotion the following season but a knee injury restricted the club captain to just 5 league appearances. Like some other leading sportsmen of the time, Earp indulged in other sporting pursuits. He reached the quarter-final of the 1898 Nottingham tennis tournament; the following year he fell in the second round.
In July 1900 the surprising news broke that Earp had signed for Stockport County. It transpired that he was unwilling to accede to the Wednesday directors' request for all players to live in Sheffield. Nonetheless the choice of Stockport, just admitted to the Second Division from the Lancashire League, seems a strange one for a 27 year-old. One reason given was that Earp had (unspecified) business interests in the area.
The Cheshire Daily Echo was gushing in its pen pictures of the new arrival, detailing how he also excelled at athletics, tennis, as an oarsman and a marksman (having been a "popular member" of the South Notts Yeomanry for three years). Earp was appointed captain and given some coaching duties – it was clear that the Hatters planned to shape their team around their star signing. In later years it was reported in the local press that, when in Stockport, Earp resided at a local hotel prior to matches (The George and The White Lion are both cited). He, apparently, also had the services of a batman and would make his way to and from  Edgeley Park  by horse-drawn hansom cab wearing a frock coat and tall hat. 
Debuting on 1 September 1900 at Leicester Fosse – a 2-2 draw – the right-back established himself as a regular first-teamer and on his fifteenth appearance, against Burslem on 2 December, he scored a rare goal. This would turn out to be his final match as a first class footballer.
After a heavy defeat on 12 January, the local press queried why Earp had apparently been rested for the fixture.  The truth emerged just days later when it was reported that Earp  – like his Wild West namesake, Wyatt, had become a lawman of sorts.  Whilst Stockport were toiling Earp was en-route to South Africa in order to join Robert Baden-Powell's South African Constabulary –  a paramilitary unit. The reasons for the abandonment of his football career and, presumably, other business interests were touched on in a piece in the Lincolnshire Echo:
When he got out of First Division football he lost some of his enthusiasm, and since the outbreak of war in South Africa he has always been anxious to go to the Cape. He has been a trooper in the South Notts Hussars for two or three years, and the experience he has gained in that smart yeomanry regiment should stand him in good stead in the more serious work that lies before him in South Africa.
Earp saw active service in the Second Boer War but it was disease, rather than enemy action, which posed the greatest danger to his life. The 16 December 1901 edition of the Cheshire Daily Echo reported that  Earp was lying dangerously ill with enteric fever in Bloemfontein. Curiously, the trail then goes cold with no mention of whether Earp pulled-through.  The fact that there is no record of his death in the UK suggests that either he succumbed to the illness or settled abroad.  The latter option is lent credence by a passenger manifest of the SS Walmer Castle, sailing from Southampton to the Cape on 6 January 1906, which  includes a Mr M.J. Earp. Furthermore, a Mrs M.J. Earp is listed on manifests of ships heading for New Zealand and Australia on several occasions in the 1910s and 1920s – perhaps she was alighting at The Cape or had the Earps relocated to Australia?
If anyone has any more information as to Jack Earp and his eventual fate please get in touch via the ToffeeWeb editors or EFC Heritage Society.
Thanks/sources:
Billy Smith (Blue Correspondent Website)

David France

Ian Watts (Stockport County Historical Advisor)

Steve Johnson (Everton – The Official Complete Record)

Owlstalk.co.uk

"Before the D" website (gottfriedfuchs.blogspot.co.uk)

Evertoncollection.org.uk

Ancestry.co.uk

Newspapers/Periodicals: Cheshire Daily Echo, Nottingham Post, Liverpool Mercury, Lloyds Weekly, Birmingham Daily Post