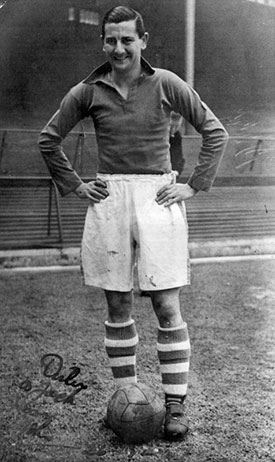 Tommy "T.G." Jones is rightly hailed as an Everton great yet, for the post-war phase of his 14-year association with the Blues, he frequently found himself relegated to reserve team football. Although club politics and injury problems played a role in this state of affairs, so too did the form of T.G.'s fellow Welsh centre-half, Jack Humphreys.
The son of the headmaster of Llandudno's Dyffryn Road Primary School, Jack (christened John Vaughan Humphreys) attended Friars School Grammar School in Bangor. As a teenager he played football for Llandudno Town in the Welsh League North. He became a student at Loughborough College, renowned as a centre of sporting excellence. Here he captained the university's Athletics Union and was selected for a Varsity representative football team. With the advent of the Second World War, Jack enlisted with the Army, seeing action as a bombardier in France. Whilst serving he made frequent appearances in Army football teams.
In 1942 Jack wrote to Everton requesting a trial. As a result, he was one of over 70 applicants put through their paces under the watchful eye of the Club Secretary, Theo Kelly. Don Kendall, writing as Pilot in the Evening Express on 20 August noted:
"Among these taking part were John Grant, an inside forward of High Spen, County Durham. He signed for Everton as an amateur before the war, but has never played for the Goodison Park club. He will, however, assist the club this season. Other amateurs who will assist the club are Humphreys a half back, who has represented Combined Universities in representative Red Cross games."
Less than a fortnight later, after he had "played a brilliant game", according to one newspaper report, for the reserves, 21 year-old Jack was called-up to the first team against Manchester United at Maine Road (Old Trafford being unavailable, having sustained bomb damage). With T.G. Jones and Joe Mercer unable to get leave from their military duties, Jack debuted at right-half in the Wartime League fixture. Pilot noted prior to the match that Theo Kelly "is convinced he will make the grade." Although Everton lost the match 2-1, Ranger, writing in the Liverpool Echo, noted that: "The amateur J.V. Humphreys made a splendid debut, for he tackled heartily and made good use of the ball."
In his home debut, a narrow win over Burnley, Jack received praise from observers. Pilot wrote in the Evening Express: "Humphreys certainly passed the test with honours. He took not the slightest risk, always accepting discretion as the better part of valour, and so we saw little of him as an attacker. But in defence he was grand, and his display must be a source of gratification to the Everton officials if that injury to Tom Jones is serious. Humphreys will prove a worthy deputy when needed."
Whereas T.G. Jones was a football purist's centre-half, being ice-cool in possession and adept and setting up attacks, Jack conformed to the centre-half template of the era. Big and strong, his focus was on protecting the back line through strong tackling and aerial dominance. It would be wrong, however, to view him merely as a typical hatchet-man.
Jack's wartime appearances would be restricted by his army duties and he would sometimes appear as a guest for Chelsea and Crystal Palace when billeted in the south of England.
Post-war, with a discontented T.G. Jones struggling with a recurring ankle complaint and seeking a transfer away from Goodison, Jack was often the preferred choice as Everton's centre-half. Over the course of four seasons, with Everton's fortunes nose-diving, both Welsh centre-halves would get prolonged runs, at the other's expense, in the first team. Jack was rewarded for his consistency when called up, in place of his injured club-mate, for his country's fixture against Ireland in April 1947. Lining up for the opposition at Windsor Park were fellow Evertonians Alex Stevenson, Peter Farrell and Tommy Eglington. In the summer months, Jack, an able cricketer, regularly appeared for Llandudno and Conwy. He is also understood to have had a trial with Lancashire C.C.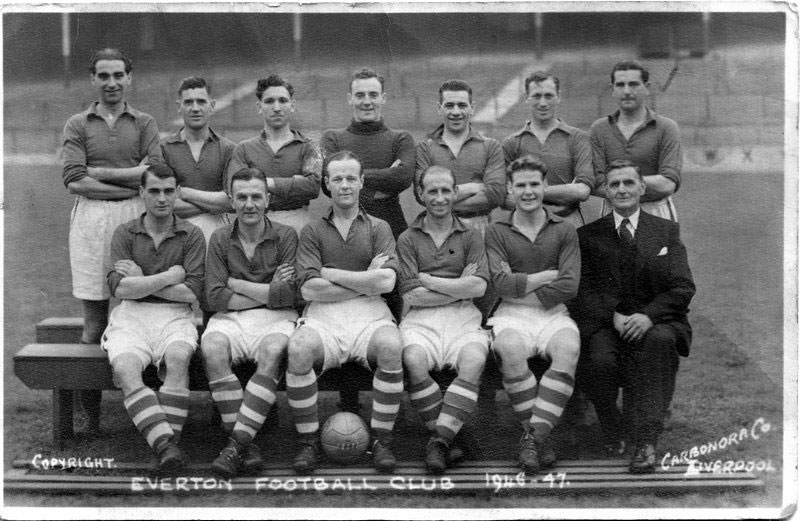 With T.G. Jones back in the team, and awarded the club captaincy for the 1949/50 season, Jack's thoughts turned to leaving Everton in pursuit of regular first-team football (the club rebuffed a £12,000 offer from Plymouth Argyle). It was Jack's misfortune that when T.G. Jones fell out of favour irrevocably with Cliff Britton, during the festive season he was struggling with a leg injury. Ted Falder claimed the number 5 shirt, instead.
That summer Jack passed up on the opportunity to join the ranks of British footballers plying their trade in Columbia's non-FIFA sanctioned league. The Millonarios club of Bogota offered a £4,000 signing-on fee and £100 a month but Jack was not tempted. The following season, with T.G. Jones departed for Pwllheli, competition for the centre-back berth was between Ted Falder, Jack and another Tommy Jones — T.E. Jones. With Jones injured the previous week, Jack was called up for his first appearance of the season in the Merseyside derby — it would prove to be his 61st and final peacetime Everton appearance. The 3-1 defeat to the neighbours was not a happy occasion for player or club. Pilot, in the Evening Express, pointed to rustiness on Jack's part:
"It was unfortunate for Jack Humphreys that he should be recalled to face such a live effective attacking force as that of the Stubbins-moulded Liverpool line, but that is the luck of the game. Grant and Farrell covered a lot of ground in chasing the Liverpool shadows, and did well, but the defence never revolved efficiently around a Humphreys who, I thought, gave Stubbins a little too much room (or did Stubbins take it?)."
Jack was dropped in favour of Ted Falder for the next fixture and after that acted either as 12th man for the first team (in an era before substitutes) or played for the Central League side. Everton board minutes in October 1950 recorded that Jack was suffering from influenza but, perhaps, this was an early indication of the onset of tuberculosis which would ultimately claim his life. He was released by Everton at the end of the 1950/51 season and re-signed with Llandudno Town (Everton retained Jack's Football League registration, so as to collect a transfer fee if Jack ever returned to the English game). At Llandudno Jack would come up against T.G. Jones in matches against Pwllheli FC. Later he would briefly manage Colywn Bay before ill-health forced him to step-down.
In spite of his condition, Jack insisted on being present at Maine Road to cheer on Everton when his former club took on Bolton Wanderers in the 1953 FA Cup semi-final. That year he was sent to convalesce at a sanatorium near Caernarfon. Leading up to Christmas he was visited there by former Everton teammates, including captain Peter Farrell. Farrell would later recall that one of Jack's main concerns when they met was Everton's chances of gaining promotion back to the First Division. Before the Blues played their promotion-clinching game against Oldham at the 1953/54 season's climax, Jack sent the following telegram message to his former brothers in arms: "Get back where you belong tonight."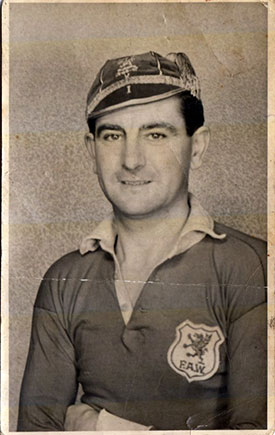 Jack would ultimately lose his fight against tuberculosis, passing away on 21 September 1954, aged just 34. Peter Farrell, in his Liverpool Echo column described the sadness felt at Jack's former club by his passing:
"At lunch time last Tuesday, as the Everton players were having their mid-day meal; Trainer Harry Cooke gave us the tragic news that Jack Humphreys had just died. The reaction on those of us who were former team mates of his and those who were not was that of silence and obvious sorrow for a moment or two, before audibly expressing our regret of the untimely passing of our old friend, Jack. He was very popular among the players and staff at Goodison Park and was a great Evertonian…To his widow, mother and relatives from all Evertonians, our very deepest sympathy on your loss of a really great guy."
Jack was laid to rest at St Tudno's Church cemetery on the Great Orme. Everton's directorate sanctioned a £50 donation to help his widow, Blodwen, cope with the financial hardship her husband's passing had brought-on. The club also gave its endorsement to the consideration of a grant by the Football League Jubilee Benevolent Fund for former players (and their dependents). Three years later Blodwen approached the Jubilee Fund again for assistance. Everton's board minutes record that the then-Head Coach, Ian Buchan, was instructed to check on her circumstances. With that done, the club, once more, petitioned the Fund on her behalf.
Jack's step-son, Gerry, would follow in his step-father's footsteps to Goodison — joining as an apprentice in 1961. In spite of scoring a memorable goal against Leicester City, the winger was restricted by the likes of Jimmy Husband to just 14 first-team starts, including two in the 1969/70 championship season. In 1970 he joined Crystal Palace before returning north a year later to Crewe Alexandra. He subsequently wound down his career at Rhyl FC. Gerry remains an Evertonian and follows the Toffees' fortunes closely.

Playing Career:
Everton: 61 peacetime and 50 wartime appearances
Crystal Palace: 25 wartime appearances
Chelsea — 1 wartime appearance
Acknowledgements:
Gerry Humphreys
Billy Smith (www.bluecorrespondent.co.uk)
Who's Who of Welsh International Soccer Players by Gareth M. Davies and Ian Garland (Bridge Books)
Liverpool Echo
Liverpool Evening Express
Everton Board Minutes