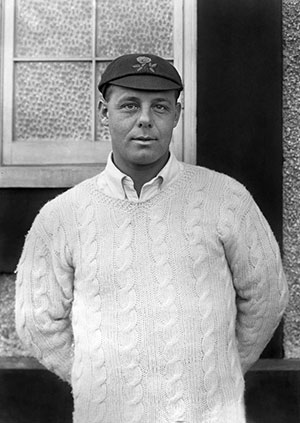 Jack Sharp sits in exalted company as one of England's few dual cricket and football internationals. To Evertonians he is much more than that – an iconic player, captain, FA Cup winner, club director and founder of Liverpool's best known sports outfitters.
Born on 15 February in Everton's founding year, Jack (christened John) was the youngest child of Charles and Annie Sharp who resided at 8 Eign Street in Hereford. Dorking-born Charles was a butcher with other business interests in the town, whilst Annie hailed from County Meath in Ireland.
Jack and elder brother Bertram (Bert) grew up playing football and cricket. Jack broke scoring records at centre-forward for Hereford Thistle whilst Bert performed capably at full-back. Matches were played at The Barracks ground on Harold Street, The Grapes Tavern (which Charles had a stake in) doubled as the team's HQ. With 17 year-old Jack in the ranks, the team won the Bristol League, progressing to the Birmingham and District League. His displays piqued the interest of Aston Villa, who fielded a reserve team in the same competition. On the cricket front Jack had been engaged by Liverpool Cricket Club at Aigburth for the 1895 season but by 1897 he was engaged by Leyland – the Lancastrian club being one of the country's top outfits at that time. The Villa directors had to catch a train up to Preston in order to open negotiations with him. They were successful in their overtures and both Jack and Bert joined the reigning FA Cup and Football League champions in 1897.
In his first season at Villa Park Jack was not a regular pick at centre-forward but during the following campaign an injury to Charlie Athersmith gave him an opportunity on the right wing. Compact at 5'6", strong, brave, fast, direct and possessing a strong shot (later earning the nickname "Pocket Hercules"), Jack impressed in this new wide position. However, the return to fitness of Athersmith saw his deputy consigned back to the second string. Jack and Bert came to the conclusion that they would need to live The Villains in order to advance their careers. Several clubs were linked with the pair; Jack's personal preference was to link up with England striker, Steve Bloomer at Derby County. With the transfer on the verge of completion an Everton delegation consisting of E.A. Bainbridge and R. Molyneux rushed to Birmingham, determined to get their men. They held a trump card which sealed the deal – Everton's geographical location. Jack later recalled to the Athletic News: "I had cricket in view as well. I had made up my mind to qualify for Lancashire. But for this cricket ambition I should have joined Derby County."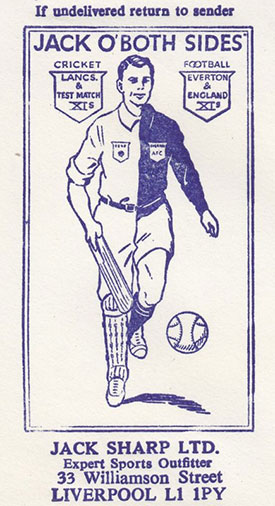 Joining the Toffees in April 1899 for a £450 fee, the pair would make their debuts the following season. Bert failed to establish himself as first choice right-back and departed for Southampton in 1902 after 10 Blues appearances. Jack found himself in a strong forward line which boasted two other new signings – Walter Abbot from Small Heath (later to become Birmingham City) and Jimmy Settle of Bury. Abbott would fail to impress at inside-forward but successfully reinvented himself as a left-half. Settle, boasting similar pace and stature to Jack, established himself as an international class inside-forward. In an early outing, reporters noted the blossoming understanding between the diminutive duo: Sharp and Settle repeatedly put in good work and it was unfortunate that after one of the movements in which the pair played a prominent part. However, with a number of new faces in the team, the 1899-1900 was a transitional one. Jack's 5 goals in 29 appearances contributing to an 11th place finish in the league. Away from football, Jack wed Mary Annette Scott, a Stopfordian, at St Bride's Church, Old Trafford, in April 1902. The couple went on to have three children (Jack Jr., Madeleine and Geoffrey).
Jack would be the automatic pick on the right wing for almost the entire duration of his 11 year engagement by Everton. He clocked up a remarkable 342 appearances in all competitions, contributing 76 goals. Yet, sadly, it was often a case of so near yet so far. Everton finished runners-up in the league on no fewer than three occasions (and finished third, twice) during his time there. The closest shave came in 1905 when the team lost out by a solitary point to Newcastle United. Things might have been so different had a match they were comfortably winning against Woolwich Arsenal not been abandoned due to the weather conditions with 15 minutes left on the clock. The Blues lost the replayed fixture in the penultimate match of the season.
An international call-up came about in a 1903 Home International match against Ireland at Molineux. A day short of his 25th birthday, Jack was drafted into the side at inside-right when William Garraty was deemed unfit. Partnering him in the forward line was club-mate Jimmy Settle, in his sixth, and final, international appearance. In spite of scoring a goal in a comfortable 4-0 win it would be just over two years before his next selection – a defeat of Scotland. It was his run and cross which fed Joe Bache for the game's only goal. The closest Jack came to a third cap was when he was 12th man for a 1909 encounter with Scotland.
Jack's sole silverware came to him a year later when the Blues lifted the 1906 FA Cup. The semi-final that season was a Merseyside derby, played at Jack's old stomping ground of Villa Park. Two second half goals secured passage to a final tie against Newcastle United. By now Jack had been joined in the Everton ranks by another sporting all-rounder in Harry Makepeace, the right-half would also become famous as a Lancashire and England cricketer. Outside-left in that team was Harold Hardman, an amateur who would win gold for Great Britain in Olympic football in 1908 and later become a director of Manchester United. The cup final was staged at Crystal Palace on a gloomy April day, the wind whipping around the ground making playing conditions difficult. Jack's wing play conjured up a number of inviting opportunities which his fellow-forwards spurned. Finally, the breakthrough came. The Liverpool Courier gave the lion's share of credit to Jack:
Then to the intense delight of the Everton supporters, Young defeated Lawrence. Although the point must be credited to Young, it was really Sharp's goal. The speedy winger evaded both McWilliams and Carr, and centring accurately – Young had only to tip the ball into the net.
The Liverpool Echo, meanwhile, described the decisive action of the match thus:
There was a pretty exchange in midfield between Taylor and Settle, and the little man passed along smartly to Sharp, who resisted the attentions of McWilliams, and dashing along centred like a flash clean into the goal mouth where Young, smartly following after the leather, finished up by doing the trick in fine style.
Everton's 1906 FA Cup winning squad
Sandy Young's goal was enough the settle the final in Everton's favour and Jack's long wait for honours had finally ended. The following season, Jack scored in the cup semi-final to help the Blues to a 2-1 victory over West Bromwich Albion and secure a return trip to the Crystal Place stadium. This time the opposition was Sheffield Wednesday. Jack was Everton's best player on the day; his fine goal, capitalising on an error by Burton, ensured that the sides went in level at the interval, but the Yorkshiremen scored the winning goal in the second period.
At the end of the season Jack, still shy of his 30th birthday, seriously considered walking away from Everton. Perhaps he was disheartened by the cup defeat and the surprise dropping of George Wilson for non-footballing reasons on the eve of the match. There were also tensions between Jack and directorate over his request to be excused from some training sessions to fulfil his cricketing obligations. Moreover he had business interests to take care of (more of which later). Oldham's Boundary Park was reported to be a likely destination but, in early May Jack committed himself to another season at Goodison.
As the 1909/10 season approached its end, Jack notified the club's directorate that he would be retiring from the sport as he was now a veteran and losing some of his love for the winter game. The deciding factor seems to have been the enforced retirement from football of teammate Jack Taylor (Taylor had who suffered a debilitating injury to his larynx in a match). Having injured thigh muscles towards the season's end, he recovered just in time to captain the team on the final day of the season. The Liverpool Courier commented on his play in the 0-2 defeat at Bradford City's Valley Parade:
"It was the last, which Jack Sharp will participate in for Everton as a professional. The famous cricketer was responsible for two or three dashing runs along the wing, but naturally he was not inclined to take any risks in his finishing efforts."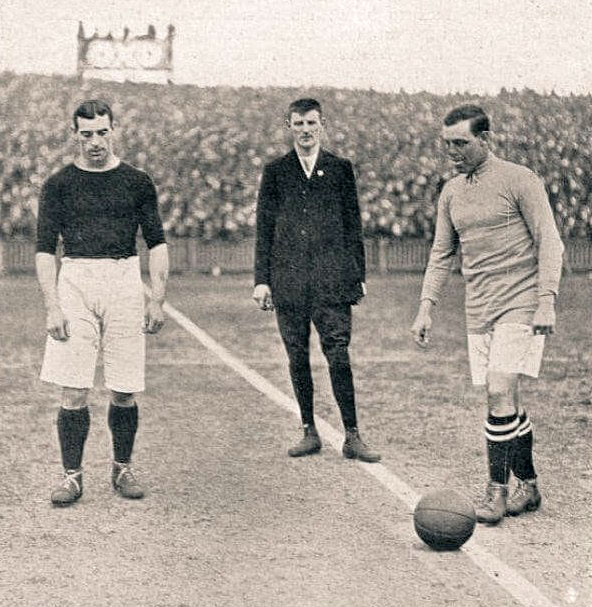 Jack Sharp against Barnsley in the 1910 FA Cup semi-final
Jack ended his career having been featured 14 times in cigarette card collections – the best way of measuring a player's status in that era. Jack Pickford, an Everton chronicler at the time, was moved to write:
"No player's brilliance on the field was more vividly impressed on the minds of Everton fans than Jack Sharp."
It appears that he subsequently missed playing as, a year later, he indicated his willingness to return to Everton as an amateur. The club was equally keen but the idea seems to have fallen foul of the football authorities' dim views on switching status.
The retirement from football allowed Jack to focus on his eponymous business which he had founded in 1903. Like Frank Sugg, another former Everton footballer-cum-cricketer, Jack had entered into the burgeoning sports outfitting and equipment sector.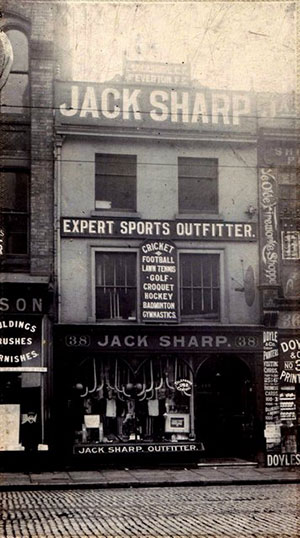 Jack Sharp's sports shop at Whitechapel in Liverpool
The Jack Sharp Sports store at 36-38 Whitechapel, became the go-to sporting emporium in Liverpool. It featured, as its logo, a sportsman clad half-and-half in cricket whites and Everton colours. The motto to accompany it was Jack 'O Both Sides – a nod to his parallel top-class sporting careers. As well as negotiating deals to supply the Merseyside football clubs (and many others) with kit and equipment, Jack's business was given unique rights to sell Everton match day tickets in the city centre – in the 1940s and 1950s huge queues would snake along the Whitechapel pavement in advance of the biggest matches.
Whilst his football career was over in 1910, Jack's cricketing one was still near its zenith. His Lancashire debut had come in 1899 but he would wait for a call-up to the national side. It came in the 1909 Ashes series and in his third, and final, test appearance Jack he scored a century whilst also claiming three Australian wickets. It seems remarkable that he would not appear for the national team again but according to his grandson, Jack spurned the opportunity to go on the subsequent tour to the West Indies, preferring to attend to his sportswear business.
On September 15, 1910, a few months after his retirement from football, The Evening Express reported on Jack's continued good form at the crease:
One is delighted to see Jack Sharp still making runs. At the Oval yesterday the ex-Everton captain was seen at his best when he complied a fine 103 not out for the Rest of England versus champion county, Kent. He knocked up 50 in the first innings, so that he has wound up the season in brilliant style. He played splendid cricket throughout his innings. Sharp appears to have a great liking for the Oval…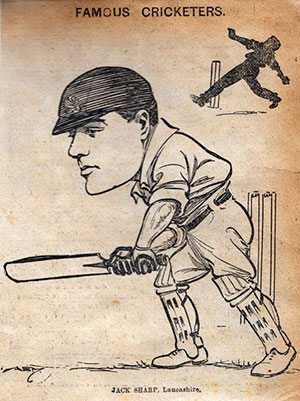 After the First World War Jack switched from professional to amateur cricketing status and continued for represent his adopted county. In 1923, at 45 years of age, he was selected as county captain – the oldest in the club's history. He combined this in with the role of England selector in 1924. By now age was finally catching up with him. Having gained a few pounds of weight and lost some agility, he dropped a routine catching opportunity off the first ball of a Middlesex innings in 1925. Barracked by some members of the Old Trafford crowd for his mistake, he had to be dissuaded from retiring from cricket there and then. However, at the end of the season he called time on his brilliant cricketing career. He was given a life membership of Lancashire CCC in recognition of a county career reaping 22,015 runs and 434 wickets in 418 appearances.
Jack's association with Everton was not over, however. In August 1922 he was co-opted onto the Goodison board (he had demurred when approached a year previously). He would be re-united at the club with Harry Makepeace, who was now on the coaching staff. Jack was living on Queens Drive, a short distance from Makepeace's home, when he died on January 28 1938. He had gone down with bronchitis whilst on holiday in Harrogate; the ensuing cardiac asthma cost eventually him his life at the age of 59. Jack's contribution to the boardroom had been significant as he possessed business acumen and an ex-player's eye for footballing talent. Nearly every major signing made during his tenure on the board followed his scouting assignments – one of the later ones was to cast an eye over a young T.G. Jones at Wrexham in 1936. His emphatic recommendation ensured that a deal was pushed through for the prodigiously talented teenage centre-half.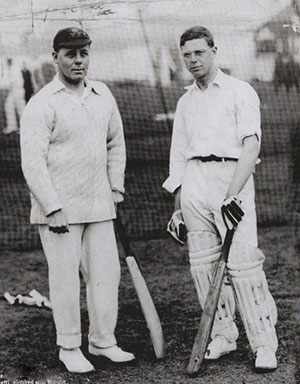 Jack Sharp (left) with his son Jack Jr.
The Sharp family connection with Everton was been re-established in 1946 when Jack's eldest son, Jack Jr. was elected to the board. During the war, whilst serving as a Major, he had spotted Wally Fielding and recommended him to the club. A cricketer and rugby player in his youth jack Jr. went on to become captain of Woolton Golf Club in the 1950s. After Jack Sr.'s death his three children served as directors of the family business. Jack Jr. took on the day to day running of the shop on Whitechapel. In the 1960s, if Everton had won on the Saturday he would often be visited, on returning to the store from his Monday lunch, by the likes of Roy Vernon and Alex Young who were out on the town. He was Everton's chairman when Harry Catterick's side lifted the 1969/70 League Championship trophy. His passing, in the spring of 1979, brought to end nearly 60 years of Sharp family service to the club. Philip Carter sounded out Jack Sr.'s grandson, David Dunkley about joining the Toffees' board but he was already fully committed to administrative duties with Lancashire CCC. David and his daughter, Louise, continue to attend Goodison Park regularly, occupying the same season ticket seats in the Upper Bullens Stand that Jack Jr. held.
After Jack Jr.'s death, the retail business remained in the family, operating from shops in Liverpool and Runcorn, until a takeover offer from JJB was accepted in the 1988. After a few years the brand was retired by JJB and the iconic Jack Sharp football logo disappeared from the back page of Everton match day programmes.
Jack Sharp is a strong contender for the title of Everton's finest outside-right. An inaugural inductee into Gwladys Street's Hall of Fame, his contribution to his beloved club was also recognised in January 2000 when he was selected by a panel as the Everton Giant of the first decade of the 20th Century – his grandsons accepted the award on the Goodison pitch. Jack is not forgotten in Hereford either; in 2013 a plaque was erected at Eign Gate in honour of one of the town's greatest sporting sons.

Acknowledgements / Sources
Special thanks to David Dunkley and Roy Cavanagh M.B.E. for their assistance.
Newspaper reports from the Blue Correspondent website (curated by Billy Smith)
Hereford Times
The Everton board minutes (Everton Collection website)
Two Men for All Seasons (The story of Harry Makepeace and Jack Sharp) by Roy Cavanagh
Everton – The Official Complete Record by Steve Johnson
The Everton Encyclopedia by James Corbett
Goodison Glory by Ken Rogers
englandfootballonline.com
ESPNcricinfo.com

Follow @Robsawyer70