Jack Search was born in 1915 above his father's jewellers shop number at 87 Wavertree Road. He attended Brae Street School before heading to Liverpool Institute. In 1932, Jack left Liverpool Institute to further his studies at Liverpool Technical College where he did an engineering course for another 4 years. Jack was always a keen footballer since playing at school. His senior career began in 1933 when he played for Collegiate Old Boys. He was also a member of the old Liobians team at Liverpool Institute. Jack went on to represent Cheshire and he started attracting interest from other teams.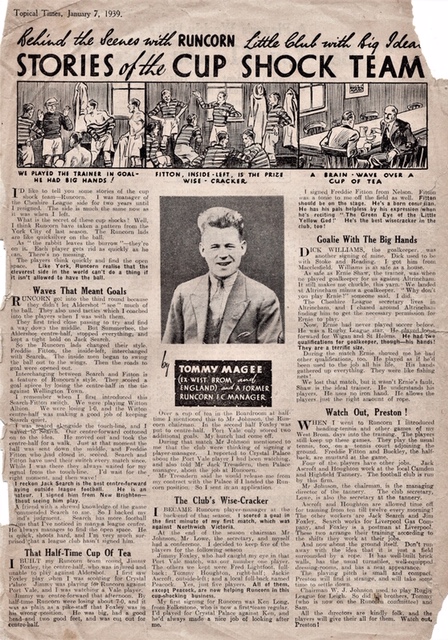 He signed and played for Liverpool FC. After nearly two seasons in Liverpool "A" team with one game in the first team Jack moved briefly to Lucem AFC, then for six months with New Brighton. His next port of call in his football career was to join Runcorn FC in 1935 where he spent a staggering 15 seasons, finally hanging up his boots after his last game on the 10th September1949. Jack, a strapping 6' 4" centre forward hit the net 70 times in the 1936/37 season, made up of an amazing 56 goals in the league, 10 in cup competitions, and the remaining 4 coming in non-competitive or unrecorded cup competitions.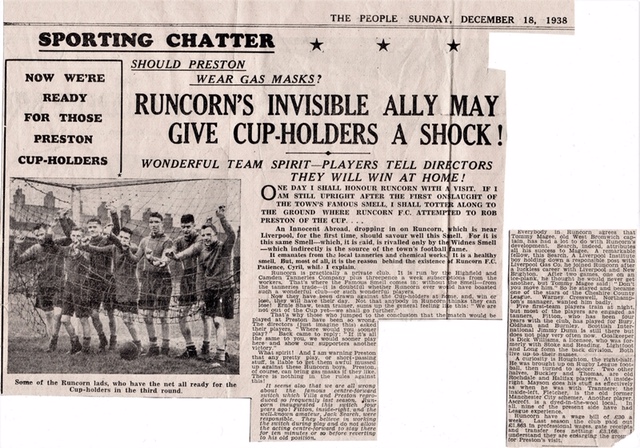 He was known as Big Jack, Gentleman Jack, or The Gentleman Giant. An interesting fact too was that Syd Chedgzoy the son of former Everton player Sam was Runcorn's third highest scorer that season, and closely behind was former Evertonian Jimmy Dunn an FA cup winner with Everton fourth in the scoring charts with 25 goals. In his time Jack helped Runcorn to win the Cheshire League twice, the Cheshire Challenge Cup, and the Senior Bowl.
Runcorn's greatest achievement whilst Jack was playing was their 1939 run to the third round of the FA Cup where having beaten Third Division Champions Aldershot in the second round they came up against the star-studded cup holders Preston North End which included the great Bill Shankly. Runcorn lost 4-2 but Bill always said Preston were quite fortunate that day. The Liverpool Football Echo once said that Jack was one of the best centre forwards never to play for England. Jack was resolutely amateur throughout his career despite tempting offers from a number of professional clubs, including turning down £7000 to sign for Arsenal – a huge sum in those days.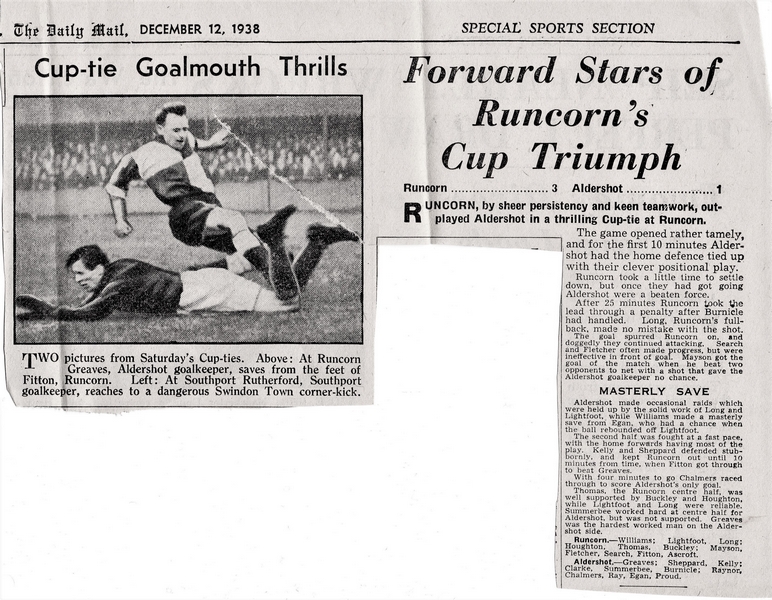 When he retired local press labelled him 'the last of the great Corinthians'. His love for the Linnets and their love for him were demonstrated when after retiring as a player he was invited to join the board as Chairman where he served for 2 years. In 2019 Runcorn named a road after him, Jack Search Way, just in front of the new Linnets ground. Jack's football career was interrupted by the war. Jack volunteered to join the army in 1939.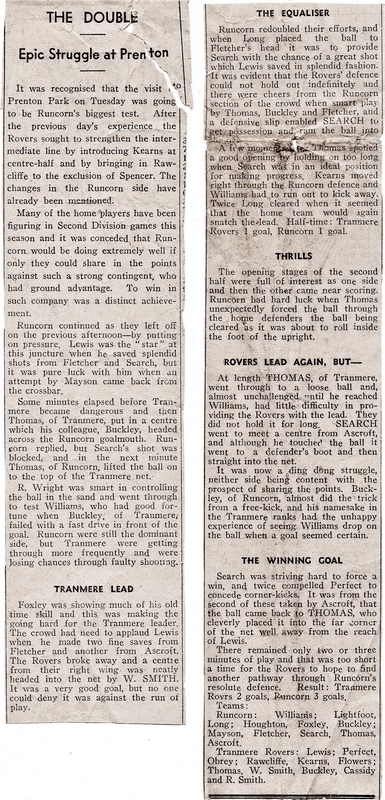 He served in North Africa before moving on to Sicily where he was awarded the George Medal for "an action of great heroism" in Syracuse in 1943 – leading his team by example to clear stocks of ammunition from the path of a raging fire on the docks alongside moored ammunition ships. Without Jack's prompt action, the whole of Syracuse harbour would probably have blown up. Jack received third degree burns over most of his body. He was presented with his medal in January 1948 from his Majesty the King at Buckingham Palace.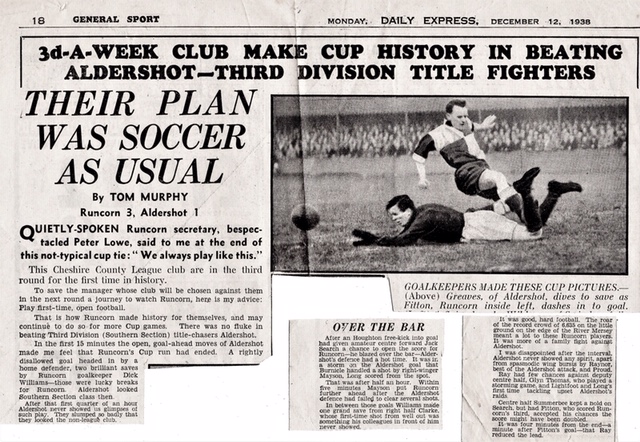 After convalescing Jack served in Italy and then on to Austria, where the army kept him on until 1946 to help with the reconstruction of Vienna. At the end of the war Jack played football for the army alongside many well-known names such as Joe Mercer. After being demobbed Jack worked in management for the Gas Board and later British Lead Mills. He held a very important role as a senior representative for the Liverpool County FA. He later became a director of Everton Football Club from 1977-1988. Jack started going to Goodison to watch his beloved Everton in the late 1950's and early 1960's.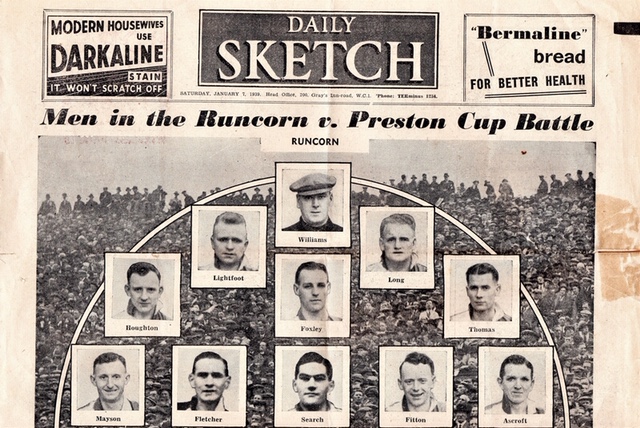 Jack had an incredible knowledge of football and had many great friendships in footballing circles, from those he played against like Bill Shankly, to those he played with Like Joe Mercer, and those he met in the course of his footballing career, like Jock Stein and Harry Catterick. He was very close friends with Everton Director Jack Sharp after they met in the war. Their friendship took them onto the golf course of Woolton Golf Club where they played most weekends. Jack Search was captain of Woolton Golf Club in 1960 and President from 1980 to 1983; he was then awarded honorary life-membership. Jack was also a good cricketer and no mean tennis player.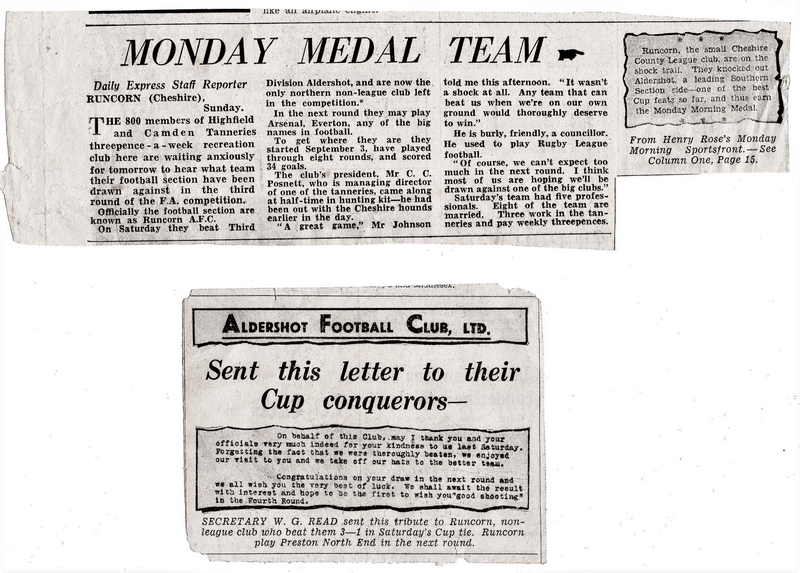 Jack Sharp propositioned Jack Search early on with an offer of joining the Everton boardroom which Jack courteously declined, though he and his wife continued as regular guests in the Everton Directors' box and his opinion was sought on a regular basis. Some years later "Mr Everton" Sir John Moores retired from the board and Jack was persuaded to take his place, the clincher being the offer of a role working with the late Ray Minshull the Everton development officer developing with the youth team at Everton. He revelled in the job. Jack was an admirer too of the managers who were at the helm, in particular Gordon Lee and Howard Kendall who did things differently in his opinion. Jack never really selected a favourite Everton player, although he adored Brain Labone.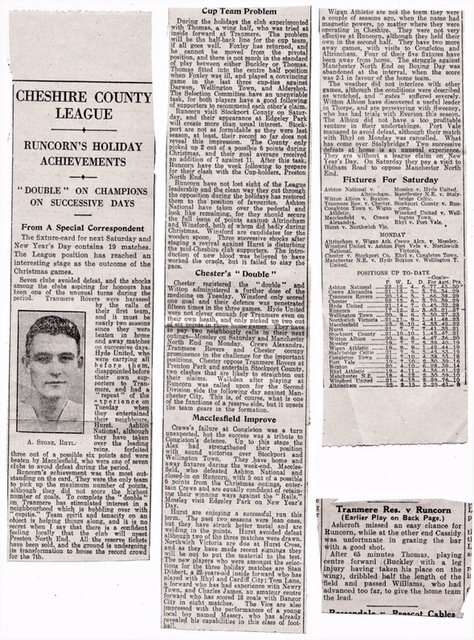 His love was for each and every one of them and he admired their enthusiasm on the pitch. The love for his players was mutual, and on the day of his funeral it was originally the Everton youth team that were due to carry the great Jack's coffin, but there was a change of plan when the senior players pulled rank and six internationals took over, including now former players Graeme Sharp, Neville Southall and Mick Lyons. It was quite poignant that Jack's funeral was on the 18th March with the Merseyside Derby at Goodison 2 days later. In the match programme for the Liverpool game, there was an obituary which read; "It is with deep regret that we announce the death of one of Everton's most respected Directors, Mr. Jack Search.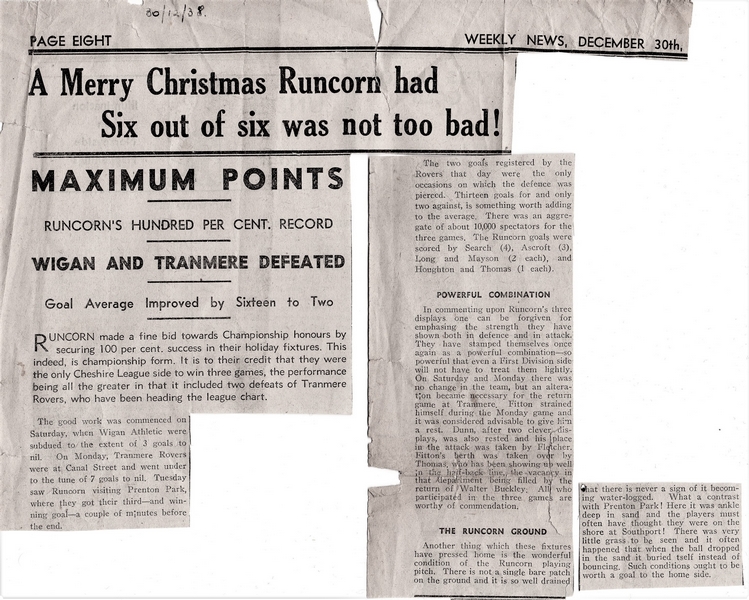 Mr. Search had been a Director of Everton for 11 years with special responsibilities for the development of our youth policy. He brought to the club a wealth of business and footballing experience combined with a genuine love for the sport and the people in it. His enthusiasm, involvement and positive support will be sadly missed by all who knew him. His many friends in the game will, I know want to be associated with the Directors and the management, Staff, Players and fans in sending their deepest sympathy to his wife Irene, his son John and his daughter Jean. We are all richer for having known a man of his integrity, compassion and humanity. May he rest in peace. Philip Carter." Jack loved being in the company of people including among his friends Bill Shankly, Joe Mercer, Matt Busby and indeed Harry Catterick. He loved his sport, and most of all Everton.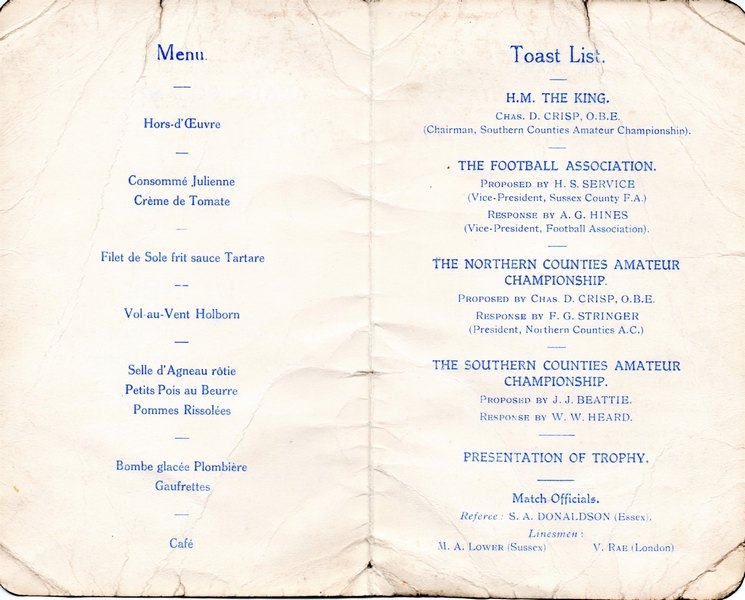 Whatever Jack applied himself to, he took it on full board, no half measures at all. One of his first tasks when eventually being part of the Everton set up was to be involved with the undersoil heating, and another act of Jack's kindness was to donate a mini bus to one of the local charities with the help of other colleagues. Jack was a person that always wanted to help people. He was a modest man who took no credit upon himself – he did unsung work for numerous charities like the Boys Clubs but never spoke of his efforts or his achievements. The numbers paying their respects at his funeral meant the police had to erect crash barriers – that says it all.