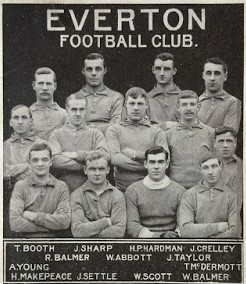 When Everton reached the FA Cup Final in 1906 their opponents, Newcastle United, had previously done a 'league double' over them and were favourites to lift the trophy. The Merseyside club had reached this stage of the competition twice before and had been beaten on both occasions. This time, however, it was to be 'third time lucky' as the trophy found its way to Goodison Park. Playing for Everton that day at left-back was a man who, in many ways, epitomised the type of individual who shaped the development of Victorian Liverpool. His name was John Crelley and he was descended from a family of seafarers.
His grandfather, also named John, had moved to Liverpool from Wigtownshire in Scotland where he married Kilmarnock-born Margaret Clerk at the church of St John the Baptist in Toxteth. The year was 1846. The couple first set up home in nearby Grafton Street before moving to 5 Pluto Street in Kirkdale. They were living at this address when the 1871 census was taken and it revealed that the their third child John, then fifteen years of age, was serving an apprenticeship to be a marine engineer.  It was four years later that the head of the household died of pneumonia while bound for New York, and this obituary appeared in a local newspaper:
December the 2ND, at sea, 55 years old, John Crelley Boatswain of the Royal Mail Ship, Bothnia, and for 30 years a faithfully and esteemed servant of the Cunard Company. Deeply regretted by all who knew him. (Liverpool Mercury 7 December 1875.)
John quickly followed his late father into the Mercantile Marine and was aboard the SS Istrian, out of Liverpool and bound for Boston, when the 1881 census was taken and recorded by the First Officer on 3 April. These records revealed that he was by then a married man. On 20 June 1880 John Crelley had married Elizabeth Hall, also of Scottish descent, at the Presbyterian church of St Peter in Liverpool. The couple then went to live with Andrew Hall, the widowed father of the bride, at Chepstow Street, Walton on the Hill. It was here, on 24 September 1881, that their son John was born.
He must have had close connections with the Scottish community in Liverpool, for he began his football career, playing the Liverpool & District Amateur League with a Kirkdale-based side who played under the banner of Liverpool Celtic from where he accepted an invitation to play for Everton, as a last-minute replacement for Dave Storrier, at Northwich. The game against a local select XI was arranged with the object of raising funds for the Northwich Infirmary. Around 3,000 people watched the match which was played on the home of Northwich Victoria. Everton won by four goals to two.
On 27 October 1898, he officially signed for Everton, on a wage of £1 per week, and spent two seasons playing in the club's Lancashire Combination XI before, following an increase in pay, he became a full-time professional.
Jack (as he was commonly called) Crelley made his debut Football League debut on 31 March 1900, in a 0-0 draw with Blackburn Rovers at Goodison Park and made a second appearance in a 2-1 away win against Liverpool on 20 September 1901. He then returned to the Second XI. The following spring, he signed on loan for Southern League side Millwall Athletic where he made two First XI appearances, against Wellingborough and Tottenham Hotspur respectively, before returning to Everton at the end of the season. During the1903-04 season he established himself as first-choice left-back where he partnered fellow Liverpudlian Robert Balmer.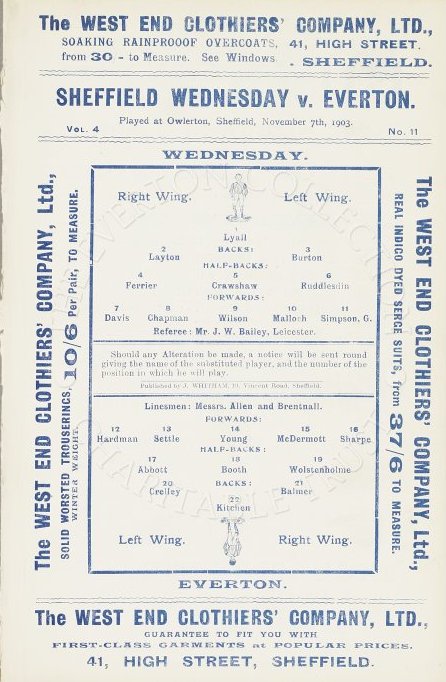 Jack Crelley lining up against Sheffield Wednesday (away), 7 November 1903 (The Everton Collection)
The 1901 census found him to be living with his mother at 27 Stewart Street and by then he had begun serving an apprenticeship in the engineering trade. On 1 June 1904, Crelley married Mary Hunt, the daughter of a customs officer, at the church of St Mary in Kirkdale. Parish records revealed that the groom, who listed his occupation as a professional footballer, was residing with his parents at 25 Newark Street while the bride lived at 1 Kirkdale Vale. The couple later set up home at Firdale Road in Walton.
During the season that followed, Everton were unlucky to have missed out on winning the league championship as a result of a defeat in a re-arranged away fixture with Woolwich Arsenal, and were beaten in the FA Cup semi-final by Aston Villa. Crelley, who made thirty-two appearances, was included in the end-of-season tour that was to take Everton to mainland Europe for the first time.
Along with Tottenham Hotspur, they went at the invitation of First Vienna Football Club to play a couple of exhibition games that were designed to try and make the association game more popular within the Austro-Hungarian Empire. The party left from Liverpool Exchange Railway Station on 27 April and the train took them to Harwich from where they reached the continent by overnight ferry to the Hook of Holland. They first made their way to Budapest where they beat a local select XI by eleven goals to two. Jack Crelley and his team mates then travelled on to Austrian capital, where they linked up with Tottenham Hotspur, and both sides were greeted by the representatives of the Vienna Club. The hosts, the oldest football club in Austria, had been formed in 1894 by Manxman William Beale and his fellow workers who were employed on the large estate that was owned by the wealthy banker, Nathan Rothschild. The team wore their employers' racing colours, primrose and blue, while at the centre of the club badge, was the triskelion emblem of the Isle of Man. The match was played within the grounds of the Rothschild estate and 3,000 people watched Everton win 4-2. On 7 May 1905 the crowd had doubled in number when Everton and Tottenham Hotspur met for an exhibition game at the same location. In this encounter, the Merseyside club won by two goals to nil. The two English clubs then travelled on to Prague where they played another exhibition game, again won by Everton, before returning to the Hook of Holland where they embarked for England and arrived back in Liverpool on 20 May.
The following season, Crelley again signed for Everton and played a prominent role in an FA Cup run that saw Everton through to the final. In the days leading up to the game, there was much speculation as to who would occupy the left-back position. On the eve of the game, it was announced that the role would be filled by Jack Crelley.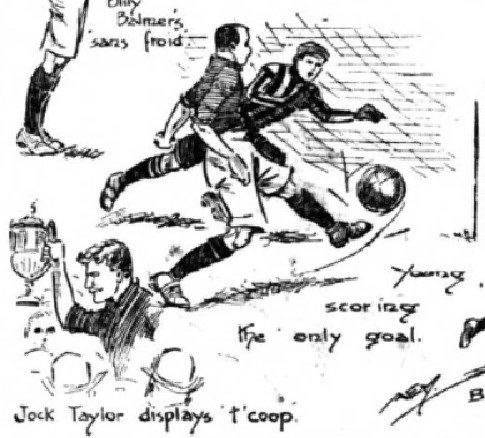 It was a happy time in Crelley household because Mary had recently given birth to their first child whom they named John Godfrey. The final tie, which took place at the Crystal Palace, saw Everton win courtesy of a single goal that was scored by Sandy Young. Jack Crelley went on to make 127 Football League appearances for Everton, without finding the net, before making a surprise move to the south west of England.
In August 1908, he joined an Exeter City side who, having recently turned professional, had just been elected as members of the Southern League Division One. The possible explanation for his sudden departure is best explained by the following newspaper article:
It was generally understood that Crelley was not too satisfied with the arrangements his club had made in respect to his benefit match, and it comes as no surprise to those who followed the movements of first class men that he has left Everton (Western News 14  August 1908.)
The man behind the move was Arthur Chadwick, who was the Exeter player/manager. Born in Blackburn, he was the cousin of Edgar Chadwick who had previously played for Everton. The family of Jack Crelley remained in Liverpool, and this fact was confirmed when a local newspaper report stated he had returned home for a short time, following the birth of his twin sons, Dominic and James on 16 September 1908. He spent two seasons with the Devonshire club before ending his football career with Lancashire Combination side, St Helens Recreation.
The 1911 census found the Crelley family living in and running a tobacconist shop located at 152 County Road in Walton (now a Chinese take-away next to Romley Street).  During the First World War, Crelley served with the Merchant Navy and on 4 September 1919 he was summoned to his local Mercantile Marine office at Canning Place in Liverpool, where he was awarded his two service medals.  The Crelley family continued to live on County Road until the death of Mary in September 1940 and she was buried at Anfield Cemetery.
Jack Crelley was running a herbalist business in the shadow of Goodison Park at 55 Spellow Lane when he passed away on 11 October 1946 and was survived by three of his sons. The acknowledgement of his death, shown above, confirms that the cortege left from the home of his eldest son in Great Crosby before Crelley was buried at Anfield Cemetery.
Acknowledgement:
Dave Sullivan, author of numerous books about Millwall Football Club.
Tony Onslow 20 July 2018.