The second player to come to Everton from the King's Park club in Stirling, John Donaldson arrived in Liverpool at the commencement of the 1904/05 football season, along with fellow Scotsmen William Black and John Hannan. The move, however, would also to impact upon the rest of his family.
John Donaldson was born on 25 July 1885 at Beith in Ayrshire and was the third child born to Thomas – a cabinetmaker – and his wife, Margaret. The 1891 census revealed that the family had by then relocated to Falkirk, which was the birthplace of Thomas, and living at a location known as Pleasance Gardens. The next census in 1901, found the family had moved to Dalry Road in Edinburgh, where John has followed his father into the cabinetmaking trade. He had also started playing football at junior level for King's Park.
Based in Stirling, this club was a member of the County FA and took part in all the local competitions at this level. Donaldson spent two seasons playing for Thistle, before accepting the offer to step up to senior level with Scottish Central League club, King's Park, where he played on the left of the half-back line. He joined this club based at Forthbank, Stirling, in January 1905 and left them the following April to sign forms with Everton. There was no fee involved. The King's Park secretary wrote to his Everton counterpart asking for a donation, but there is no record of his wish being granted.
Donaldson took part in the pre-season practice and was first seen in the colours of his new club when they took on leading amateur side, Northern Nomads. The game took place at New Brighton Tower and Everton lost 2-0. The Scot then featured regularly in the Second XI, and was first called up for first team duty on 10 February against Sheffield United at Goodison Park. His performance was described as acceptable as Everton won 3-2. Donaldson made his second, and final, Football League appearance for Everton in a home game against Manchester City – which they lost 3-1 – as the executive rested several players in preparation for their FA Cup final game against Newcastle United.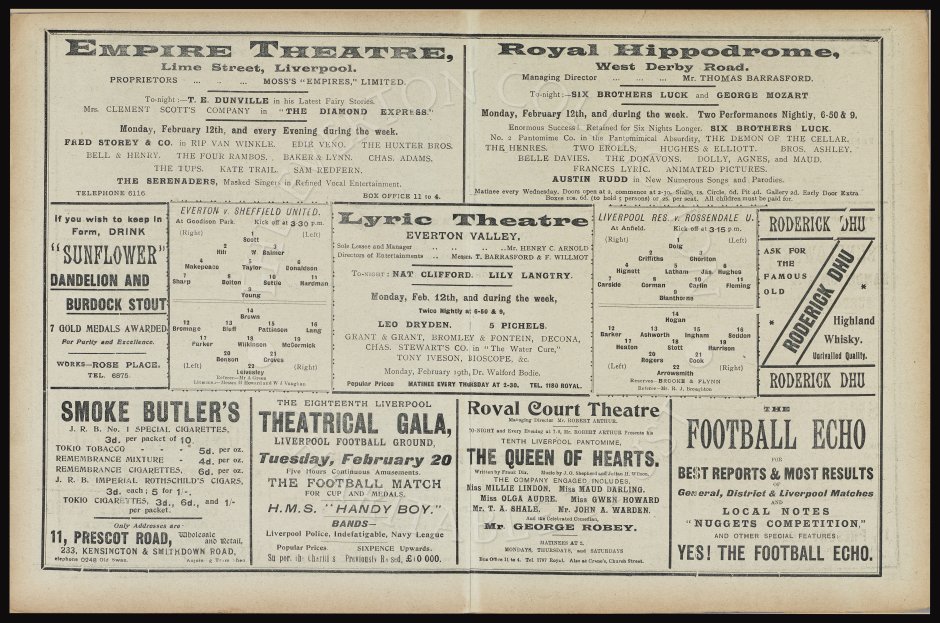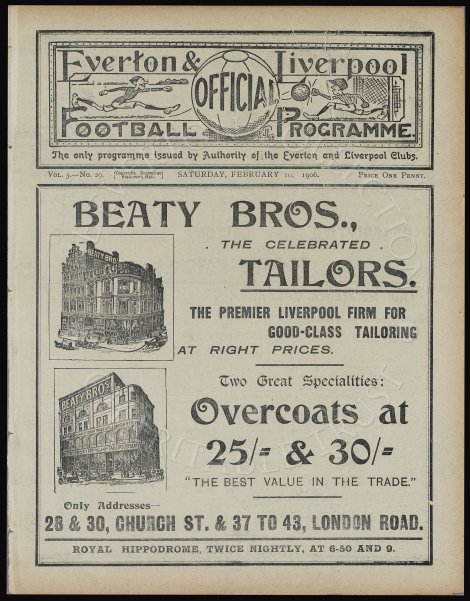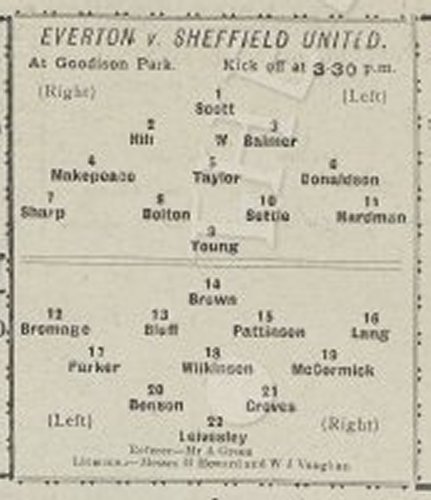 Apologies for poor resolution, but Donaldson can just be made out as number 6, in his only appearance in the Everton match day programme
The following season he was retained by Everton, but only appeared in the Lancashire Combination side before leaving Goodison Park on 24 May 1907 to sign for Preston North End. His connection to the area remained intact, however, because his immediate family were living in the shadow of Goodison Park at 46 Eton Street.
Donaldson spent one season at Deepdale before moving to Bradford Park Avenue who had recently become members of the Football League Division Two. He made seven First XI appearances for the Yorkshire club, before returning to Scotland after just one season.
On 2 September 1909, John Donaldson received a warm welcome when he turned out for King's Park in their Central League match played at Forthbank against East Fife. The game ended in a 1-1 draw. He played for the side on a regular basis before making his final appearance against Stenhousemuir on 3 January 1910. That evening a great crowd gathered at a local tavern to wish him 'Bon Voyage' because the next day he was sailing to a new life in South Africa. In fact, he failed to settle in his new location and returned to Stirling the following September, where he renewed his amateur status with King's Park. The next year he returned to the family home because romance was in the air.
Records reveal that John MacDiarmid Donald was married in October 1911 at West Derby Registry Office to close neighbour Helen Westhead – known affectionally as Nellie – who was  living at that time at 6 Andrew Street. The following year, after the birth of their first child, Alexander, the family emigrated to Australia where a second child, Jean Westhead Donaldson, was born before the family returned to live in the Walton area of Liverpool.
Initially, the family settled at Imrie Street, before moving to a larger property that overlooked Walton Hall Park, at 18 Woolhope Road. John Donaldson spent the remaining years of his life at this address until his sudden death on 2 October 1943, leaving Nellie a widow. Her son Alex,  along with his wife and two children,  accompanied her at the funeral service which took place at the parish church of St Mary, before her husband was buried in Anfield Cemetery.