KitAid, founded in 1998, donates used and new (surplus) shirts to teams in various parts of the world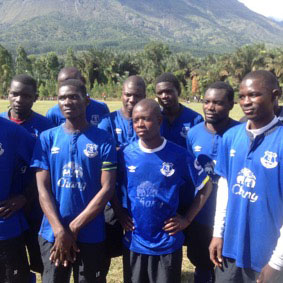 Kit Aid shirts in Malawi Everton's links to KitAid date back to 2014 with the passing of John Mulcahy, a lifelong Blue, at the age of 47. John's parents kindly gifted his collection of 23 Everton shirts to KitAid (www.kitaid.net). This charity, founded in 1998, donates used and new (surplus) shirts to teams in various parts of the world – each year recycling approximately 15 tonnes of unwanted kit which would otherwise might have gone to landfill. John's shirts went to a group of young men in Malawi who renamed their team as Mulcahy's Young Soccer in his honour.
When Denise Barrett-Baxendale became aware of the gesture she put the Mulcahy family in touch with EFC Heritage Society. Consequently a donation station was set up at the Society's exhibition space, upstairs at St Luke's Church Hall, before Everton's home games. With support from Everton in the Community and the marketing team at Everton, donations came flooding in. To date the 'Everton Family' has donated over 10,000 pieces of kit. John's legacy lives on — this year Everton FC donated a full squad kit to Malawian team bearing his name. Representatives from KitAid attended St Luke's for the final home game of the 2018/19 season to receive the kits from Graeme Sharp.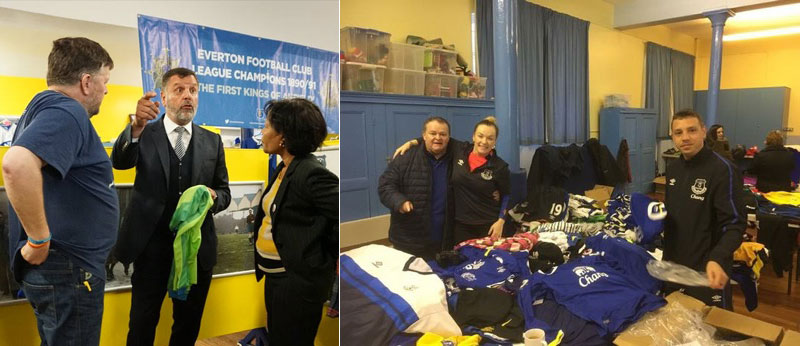 Thank you for your magnificent support, to date, on match days. Whether it be donating to KitAid, Everton in the Community Fans Supporting Foodbanks point — our Toffees fans have been second to none.
You can continue to support KitAid by dropping of your unwanted football shirts, shorts, socks and boots at St Luke's (they don't have to be Everton items!).
Clarification: At certain home matches Everton team up with SportPesa to support Kits For Africa — this is a separate scheme to KitAid but with similar charitable aims.