Jamie Yates
Scouring old newspaper reports, statutory records, census returns and history books, while working through and cross-checking the relevant dates and stories of the men who played for Everton in years gone by, turns up all sorts of interesting events, tangents and curiosities. The full names of a number of those who turned out in the early colours and patterns of Everton jersey on the various strips of grass that the club called home, and several who ran out in blue in the first half century or so at Goodison Park, really stand out;
Benjamin Howard-Baker
Samuel Bolton Ashworth
John Arthur Eyton-Jones
John James Blacklaw Borthwick
Cuthbert Tatters
Robert Percy DePledge
Thomas Horn Fayer
Alexander Giffen Provan
Joseph Edward Sowerbutts
Charles Samuel Twemlow
Arthur Albert Dominy
Stanley Nicholas Fazackerley
James Bolcherson Payne
Names which, when read in full, conjure images of heroes of old fashioned novels, or adventure stories. Indeed, many of the true stories of these and many other Everton old boys are stranger than fiction at times, when you delve a little deeper.
Did you know that Everton once employed a player with the Christian name of a mythical legend?
Lancelot Johnston was born on 2 October 1893 in the Jarrow area and played in his teens for Cambois United, before joining Blyth Spartans, making his debut in an F.A. Cup tie at Spartans' Croft Park ground on 12 May 1912, against another local club, South Shields. Six months later, and after only seven appearances for Blyth, Everton signed him for a fee of £100, on 23 November. Twenty-five pounds of the fee went to Cambois United, as recompense for their development of the player. At Goodison, Johnston joined Alan Grenyer, a stalwart in the Toffee's first team for over a decade either side of WWI and a North Shields native. Bob Thompson, a Geordie and future Everton captain would arrive within a year.
The north-east was proving a conveyer belt of talent for Everton, one which would continue to serve the club well, with the likes of Warney Cresswell, Harry Catterick and Howard Kendall also treading the path from historic County Durham to stardom in Liverpool 4.
After twelve months spent making his way in the reserve team, Lance Johnston made his Everton debut on 18 October 1913, in a 4-1 defeat at Sheffield United. He marked the occasion by scoring Everton's goal to give them a chance at 2-1. Appearing at inside-left in the next six league fixtures, he scored his second goal for the club in another 4-1 reverse, at White Hart Lane versus Spurs on 22 November. After missing four games, Johnston returned for the Christmas Day fixture at Old Trafford. Everton won the match 1-0, but Johnston was carried off with a compound fracture of his right leg after thirty-five minutes.
A few newspaper snippets from Johnston's career in the Everton first team had hinted that he was highly regarded by the Everton selectors. A week after his Everton debut in October 1913, the Morpeth Herald, (a paper from his home in the north-east), reported that 'Lance Johnston is spoken of as being a permanent member of the Everton forward line,' while another north-east publication, The Blyth News, stated on 3 November 1913, 'Lance Johnston has got his chance for Everton, and he is making sound use of it. The Athletic News, speaking of his performance against Bradford City, said, 'The best of the line was Johnston, whose skillful touches to the players on either side of him were most judiciously executed.' Just a week after the leg break which would end his career, a line in the Football News of 3 January 1914 stated, 'Everton regarded Lance Johnston, their reserve inside left, who broke a left leg at Old Trafford, as their most promising young forward.'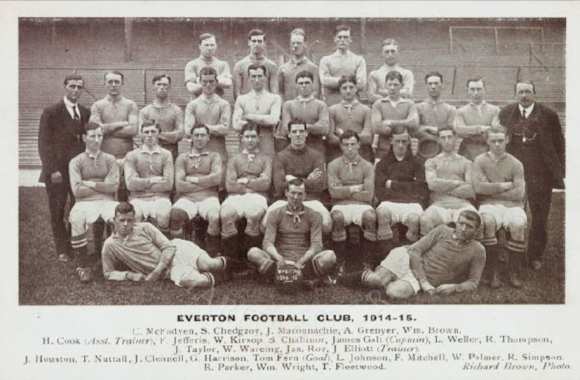 ​In the aftermath of the injury, according to the Everton F.C. minute books, the board of directors agreed that the club would 'pay £1 per week towards Johnston's maintenance' during his stay at Manchester Royal Infirmary. They had also increased his salary by ten shillings per week until further notice, the extra payment ended in March 1914, and an invoice was paid by the club to the hospital. On 14 July 1914, the Everton club secretary read a letter to the directors, from Johnston, which reported 'steady progress.' Without the benefit of modern-day treatment, we can only guess as to what state his leg was in and how likely his recovery was a full one. Nevertheless, his rehabilitation took almost a year, when he was deemed fit enough by November 1915 to be tried out in an Everton A team at New Brighton;
LANCE JOHNSTON'S RETURN
Lance Johnston, the Everton forward who had the misfortune to break his leg last season, will turn out for the first time since his injury with the "A" team on Saturday against Harrowby at New Brighton Tower Grounds. It will be remembered that Johnston and Chedgzoy were hurt within a short time of each other last year, and Chedgzoy after a remarkable recovery is playing capital football. It is hoped that Johnston will make an equally successful re-reappearance. Kick-off 2.45. The Everton "A" team to face Harrowby is as follows; Mitchell; Page, and Calley; Johnston, Harding and Fare; Derbyshire, Baine, Johnson and Barber.

Liverpool Evening Express, 19 November 1914
Of course, by this time the country was at war, having entered the conflict on 4 August 1914. Conscription was yet to take place and under the 'Lord Derby football census' held at Everton matches during the 1914 Christmas holidays, when players and spectators were invited to sign cards showing their willingness to join the army when called upon to do so, the following players promised to join;- Makepeace, Parker, Galt, Fern, Mitchell, Chedgzoy, Nuttall, Houston, Weller, Roy and Lancelot Johnson.
The following article gives one view of the context behind the census,
FOOTBALL AND THE WAR
Lord Derby was not amongst those who deprecated the attendance at Association football matches as a retarding influence in regard to recruiting. He has done splendid work in Liverpool, Manchester, and the Lancashire and Cheshire areas generally on behalf of the new armies. It was to induce a response from the football-going public that he instituted a census with the view discovering the feelings of the people regard recruiting. The result has proved, on his own admission, disappointing.

For the test, the Christmas holiday matches at the Liverpool and Everton grounds were chosen, and cards were issued to all attending the matches, which they were asked sign and return, saying whether they would enlist. In all 16,450 cards were issued, of which 10,375, were at the Everton ground, and the rest the Liverpool ground. Of the former, 1,034 were returned to Lord Derby, the poor return being direct proof of the lack of appreciation of the Empire's position, this being a point that has been contended all along in regard to football in war-time, for it is shown in the vast centre of population on Merseyside to afford an interest beside which the country's crisis is looked upon with large, if not complete, indifference. Of the 1,034 Everton spectators who did Lord Derby the courtesy of signing and returning his card, 206 were willing to enlist, 31 had already enlisted, and the others adduced a variety of reasons and excuses for not answering the call of King and country. Some were unfit, others – they numbered but 35 – were too young, and 139 were too old . Business obligations, financial conditions, and so on accounted for the remainder. The great fact, however, was that of the 10,375 who took Lord Derby's cards, 9,341 failed to make any response at all. These thousands evidently have no sense of the citizen's duty, or having that sense, are content to leave its fulfilment to others.

More creditable is the answer of the footballers themselves, for about half of the members each team have agreed to serve. It is a capital response, yet constituting, with the indifference of the spectators at Goodison Park, a full justification all that has been urged against the continuance of professional football, for the game not only holds back the players who are manifestly willing to join the colours, but it provides diversion for multitudes who do not give the war and its demands on our manhood a serious thought.

Lord Derby prefers to offer no comment on the census, but to leave the public generally to make its own deductions from the result. Lord Derby finally thanks the directors of the clubs for their assistance. To them, he is sure, the return is as disappointing as it is to himself. Disappointing is a mild term to apply under such circumstances. It will not express the feeling of those who deplored the sight of hundreds of thousands of capable young men passing their Saturday afternoons in watching the gyrations of trained athletes disporting themselves in commercial football, when the country is entering upon the crisis of a desperate struggle for existence.

Newcastle Journal, 6 January 1915
Under no little criticism, the First Division fixtures continued as normal, with no suspension to the programme. There was just as vociferous response from those who believed that the weekly game for the working man was a much needed morale booster, where many of those who were attending were in the forces, undergoing training and on leave, or engaged in essential war work. While recruitment was also affecting only those in the 18-39 age group. Neverless, this would be the last championship until the end of the war. Fixtures then continued for the duration, but in a heavily adapted format, so as to give priority to the war effort and recruitment, while still making provision for professionals to play whenever possible, even if this was restricted to playing for a temporary club near army training facilities or returning home to play while on leave.
Everton FC would actually win the final championship before its suspension in 1915, but Lance Johnston's remaining games that season were confined to regular appearances in the reserve team. Although he was able to continue playing following his recovery, it was clear he was unable to physically achieve the fitness and sharpness he showed in those promising performances at the time of his injury. His final game of the season (and it is thought his club career) was for Everton Reserves against Manchester City Reserves on 17 April 1915.
Lance then volunteered for the army, but again the injury to his leg would thwart him once more, as this report in the Liverpool Echo of 4 January 1917 revealed,
Still only twenty-five when the Great War ended, Johnston had settled on Merseyside and took a job on the docks, progressing to the role of foreman. Another Blyth News article, from 8 June 1931, reported on an injury suffered at work to a well-known local boxer, 'Tiger' Smith, real name W. Johnston, the younger brother of Lance, who was employed at the Crofton Mill pit in Blyth. By coincidence, the article stated that only recently Lance Johnston had escaped being crushed by a pair of moving vehicles while at work on the Mersey docks; '…it was only by quickly extricating himself from his perilous position that he was saved from very serious injury.' Perhaps the nimble toes which had served him so well on the football field still contained a little stardust.
Lance's interrupted career was a classic tale of what might have been. A glittering career and the nickname Sir Lancelot could have been forthcoming from an adoring Everton faithful. As it was, injury and wartime colluded, and the Everton record books contain only the smallest of footnotes, marking a playing career of eight first team appearances, two goals, two wins, two draws, four defeats.
Lancelot Johnston died on 24 June 1974. In the 1929 Voters Roll, he and wife Elsie, who were married in 1927, were living at 10 Ireton Street, off County Road, a stone's throw from Goodison Park. By the time of the 1939 England and Wales Register, the couple were resident at 63 Coronation Drive in Crosby, where they remained until their passing, Elsie predeceasing Lance by four years.
Additional World War One research by Mike Royden
​