Everton have never worn an Adidas team kit…or have they?
When that great 1980s side containing Steven, Southall, Sharp and Sheedy was swatting away all-comers, it did so sporting the rooster emblem of Le Coq Sportif. Not appreciated by many is that the Gallic marque, which burned brightly but briefly on these shores, was a branch of the German sporting behemoth. 
Le Coq can trace its ancestry back to the Champagne region, where, in 1882, Émile Camuset started manufacturing sports journeys in his workshop. The iconic triangular symbol, containing the crowing cockerel, was adopted in early 1950s with company rising to prominence through its supply of the iconic Maillot Jaune to the Tour de France (a modernised version of the logo was launched in 1968). At various points, the company has attired the French national rugby, football and Olympic team kits.
Over in 1920s Bavaria, brothers Adolph (Adi) and Rudolf (Rudi) Dassler had gone into partnership, manufacturing sports footwear as Gebrüder Dassler Schuhfabrik. Famously they equipped Jessie Owens with his running spikes at the 1936 Munich Olympics. In 1947 a schism in the siblings' relationship saw Rudi found Ruda (quickly renamed Puma) whilst Adi created Adidas. Over the years the two firms competed to get their wares on the feet of leading athletes from many sporting disciplines. Markings on the shoes, in the form of the Adidas triple-stripes or the Puma Formstrip, helped raise brand awareness and loyalty. Although Adidas became the larger concern, Puma enjoyed a coup when it had Pelé shod in their "Kings" at the 1970 Mexico World Cup.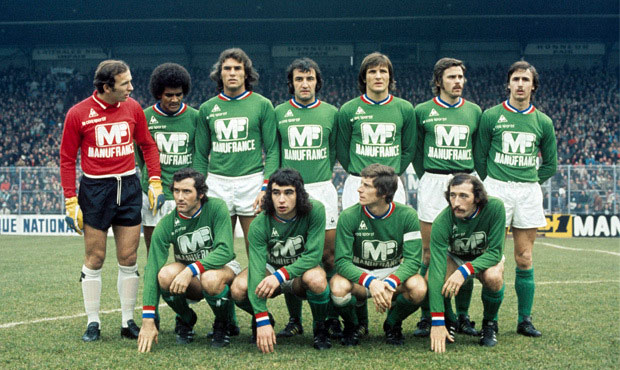 St Etienne wore Le Coq Sportif between 1978 and 1980
Into the 1970s, Adi Dassler preferred to focus on sports equipment and athletic attire rather than expand aggressively into team sports clothing and leisurewear markets. This frustrated his ambitious son, Horst, who was keen to diversify the Adidas product offering. Meeting resistance from family elders, he would find himself exiled to a subsidiary called Adidas France. Here he would often end up competing against the core German business.
In the mid-1960s a licensing deal had been agreed whereby Le Coq Sportif manufactured and distributed Adidas-branded attire in France. Adidas would come to regret this arrangement and a legal battle ensued for the French rights to the famous three stripes. The dispute almost bankrupted Le Coq; resulting in Adidas purchasing 49% of stricken company. In a deal brokered by the French government, the Camuset family sold the remaining balance of Le Coq shares to the charismatic businessman, André Guelfi. What was not appreciated by Adidas HQ was that was that Horst Dassler was in cahoots with Guelfi–effectively gaining control of Le Coq. Under his leadership a revived Le Coq reinforced its links to the Tour de France whilst Arthur Ashe won the 1975 Wimbledon title wearing the firm's emblem. Le Coq also kitted out a number of French football teams. It would go on to supply the 1982 and 1986 World Cup winning-teams
In 1978, Horst called on his friend, Robbie Brightwell to lead a new venture in the UK. Brightwell and his future wife, Ann Packer, had been British athletics' glamour couple at the 1964 Tokyo Olympics (two of their sons would become professional footballers). It was at the Olympics that a bond developed between the Englishman and the German. Robbie promoted Adidas spikes to fellow athletes then, having embarked on a career as a sports lecturer, he was enticed by Horst in 1972 to oversee the newly created Adidas UK operation, based in Poynton.
At this point the British football kit supply industry was been dominated by the Cheshire rivals, Bukta and Umbro. Leicester-based Admiral transformed the marketplace in the mid-1970s with aggressive promotion of its garish and heavily-branded kits. Adidas, meanwhile, was constrained by an agreement with Umbro whereby the Wilmslow-based company focused on kit supply and acted as UK distributor for Adidas football boots. Ironically, Nottingham Forest and Ipswich Town, the clubs Adidas was permitted to supply by Umbro, enjoyed notable successes.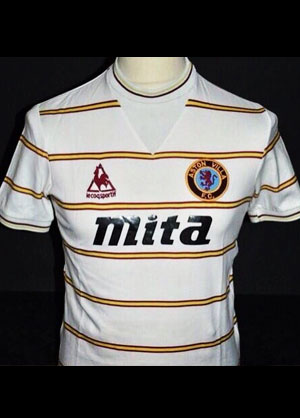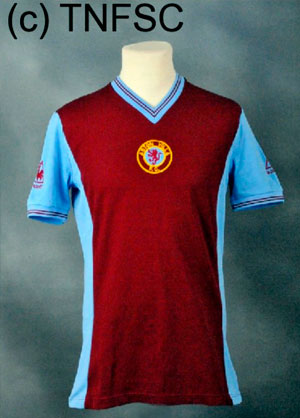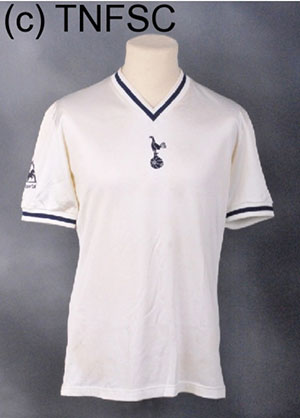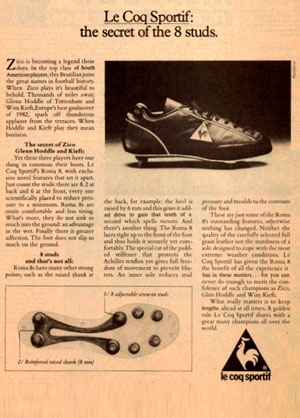 The formation of a UK division of Le Coq Sportif in 1978 offered Horst the freedom to operate in the UK, free of Umbro's shackles. Although sharing its name with the French parent company, Le Coq Sportif (UK) was run as a largely autonomous entity. Headquartered in Holmes Chapel, Robbie Brightwell, devised a strategy to maximise the company's reach in spite of a tight budget. He recalls: "When we set up Le Coq Sportif we wanted to take a top team from each one of the ITV areas–I first organised the Derby County deal with Tommy Docherty and the club secretary. Then there was Tottenham in the London area, Aston Villa in the Midlands and Everton up in the North West. Everton were being managed by a most capable manager in Howard Kendall–a great guy–and they were on the rise and we had strong feelings that they would stay there for some time. I identified Spurs through their manager – like Everton it was a club that was on the rise with a wonderful collection of players and a board that really supported the manager."
The Le Coq stable would be completed by Portsmouth, Chelsea, Sunderland and, bizarrely, Barnet. Through good judgement and a slice of good fortune, many of Le Coq's contracted teams enjoyed trophy-laden periods. Aston Villa lifted the European Cup, Spurs won the UEFA Cup and Everton won the League Championship, FA Cup and European Cup Winners' Cup. What set Le Coq apart was Robbie's vision that the brand set out to be more than just a traditional sports kit supplier:
"We went ahead with clubs on the basis that they would give us generous licence to design strips as we thought would best suit the club (until that moment club strips had been very, very traditional). We did this in two ways: with the fabric used–which was completely different from what had been traditionally used–and the design of the strip itself. With Spurs I actually redesigned the cockerel logo on the shirt. As we were a brand we were positioned not only in sportswear but also leisurewear and fashion. The fashion component on the strips, tracksuits and rain-suits etc proved very successful.
"It was a very exciting time as the brand grew from zilch in the UK–where it had been primarily known as a cycling brand from the Tour de France. We manufactured many millions of kits in Macclesfield (Umbro also did some for us on a sub-contract basis). It was revolutionary–Le Coq Sportif changed sport in many ways. If you look at tennis for example, it had been all white. If you wore strips that were contrary to the laws/rules laid down by the governing bodies you were banned and not allowed to compete. But our tennis attire was designed in France by a top fashion house. We brought in the fashion and leisure components into sport and, happily, they are still there. It was a time of great personal satisfaction and great credit to the team who were there."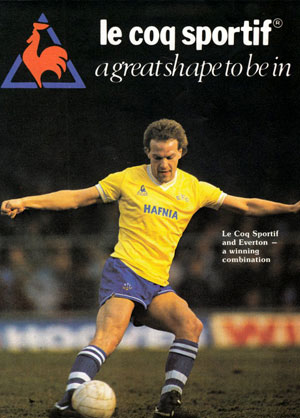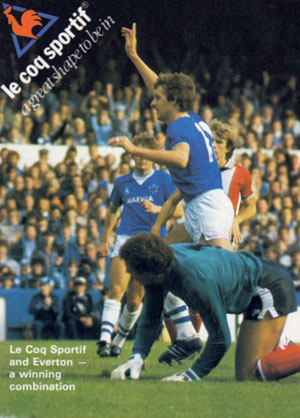 The first foray in the UK football market, with Derby County, was a modestly traditional affair. The subsequent range, kick-started with the Spurs kit in 1980, featured snug-fitting shirts and shorts, club logos in the centre of shirts and the Le Coq rooster emblem on the shirt sleeves–all the better for exposure in press photographs and TV coverage. The next wave of designs from 1982 onwards would also boast innovative shadow stripes.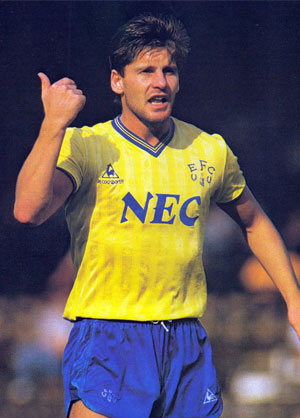 Everton, being a conservative club, had eschewed Admiral and remained loyal to Umbro in the 1970s (supplied via Jack Sharp Sports). However in 1983 it took the plunge with the newcomer. The sleek home shirt adopted featured the same filled-in v-neck as modelled by Chelsea and Aston Villa. It had a lighter shade of blue than had been customary and was finished off with a subtle shadow stripe pattern. The white shorts were so tight that players sometimes complained that they restricted their movement (in the 1984 FA Cup Semi-Final Kevin Ratcliffe complained of discomfort so much that at half-time that he swapped shorts with Peter Reid). The hooped socks, meanwhile, harked back to the 1940s.
The away kit was a daring silver-grey concoction with blue trim, based on the same design template as the home kit. The silver kit seemed not to find favour with the players and a yellow and blue change kit (which was not commercially available) was often worn instead. Le Coq in France also went into footwear manufacturing and many leading British players, including Graeme Sharp, Glenn Hoddle and Peter Reid wore their boots.
The second and final Everton Le Coq home kit design (1985-86) was a controversial one. The "Lineker" shirt became infamous for its large white bib. This proved unpopular with the traditionalists and marred what could have been a classic kit (the yellow and blue away kit was a more traditional affair). The season ended in disappointment as hopes of a league and cup double crumbled at the final hurdles.
When, a year later, Everton won the league for a second time under Howard Kendall it was back wearing the double-diamond logo of Umbro. Robbie Brightwell had walked away from Le Coq to run a country sports equipment supplier. In one interview he alluded to his frustrations over being unable to tap into the emerging female sportswear market: "I thought, 'Why haven't people done this before, when 50% of the human population is running round and people aren't making things for them?' My aim was to make it a female brand, I wanted to do with it Le Coq Sportif but didn't have the opportunity due to the politics going on at Adidas. But another brand from came along and did that–and that was Reebok."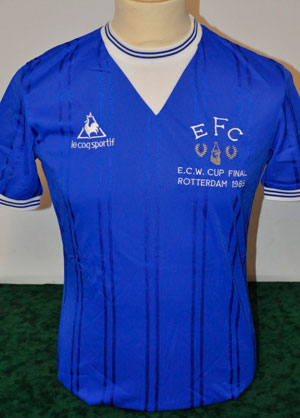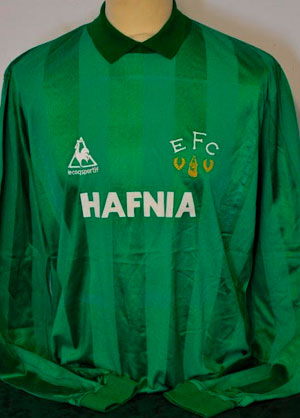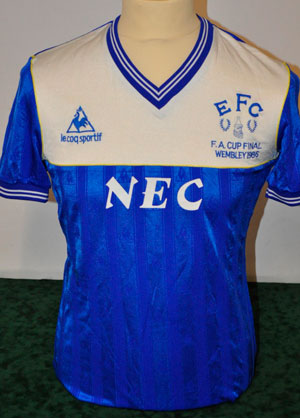 In 1986, without Brightwell at the helm, Le Coq disappeared from the UK football market as quickly as it had arrived. Mother company, Adidas, tied up deals with Liverpool and Arsenal (to add to the one it already had with Manchester United). Horst Dassler passed away in 1987 and Le Coq went through several changes of ownership over the years.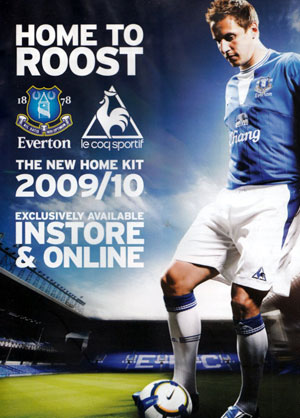 Le Coq re-emerged on the UK football scene in the mid-1990s — mainly kitting out second-tier teams. When Everton returned to the rooster roster in 2009 it was supplied under license from Le Coq Sportif by Focus International (a Lancashire-based firm with links to the Pentland/JD Sports empire). The first offering was a poorly executed nod to the 1983-85 home kit; the two subsequent home kits in the three-year deal were more accomplished. Then the Le Coq motif departed the UK and European football scene, once more.
In 2010 the company opened a research centre in its "birth town" of Romilly-Sue-Seine and, five years later, returned to the football fray by supplying Fiorentina and Saint-Étienne. Saint-Étienne's home shirt recalled their 1970s glory years whilst Fiorentina wore a similarly classy outfit. There have been no rumours of Le Coq crossing the channel again–will we ever see the Toffees back in this iconic brand?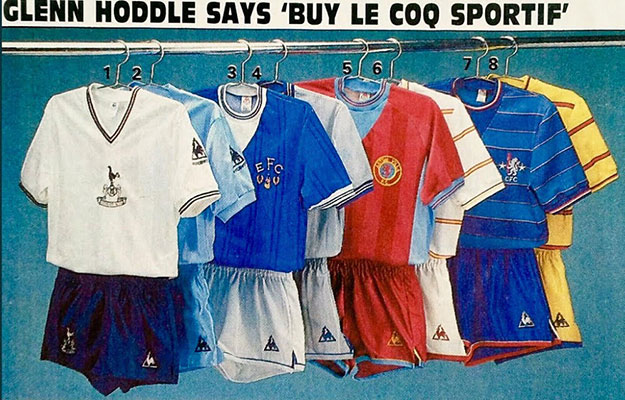 Acknowledgements
My sincere thanks to Robbie Brightwell for his recollections and to Simon Shakeshaft (National Football Shirt Collection curator) for use of images from the Collection.
Other images are taken from Everton match day programmes
Further reading:
Pitch Invasion: Adidas, Puma and the Making of Modern Sport – by Barbara Smit
www.lecoqsportif.com