St Luke's Church – Matchdays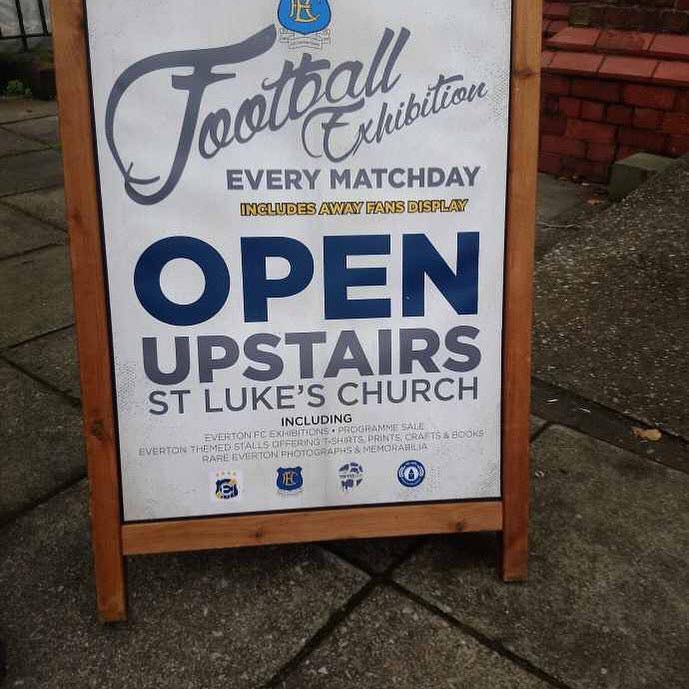 We are usually open to visitors from two-and-a-half hours before kick-off to thirty minutes before.
You can follow us online and on social media via (click links at the very top and bottom of the page).
The Church of St Luke The Evangelist – better known as St Luke's – is famously nestled between Gwladys Street and the Main Stand. Whilst volunteers dispense pre-match cuppas to the Blues' faithful on the ground floor, upstairs, a dedicated band proclaim the gospel of St Domingo. For it is here, that after its foundation in 2008, Everton FC Heritage Society (EFCHS) started to welcome home and away supporters before every home game.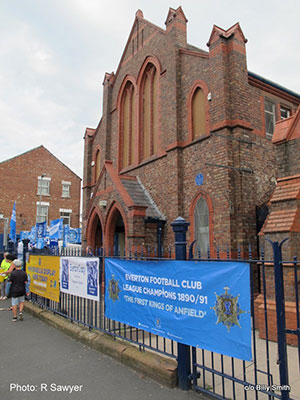 The banners outside welcome you in, and as you ascend the stairs, you're immersed in a sea of images depicting events in Everton's history.  Many hours of preparation go into the matchday experience, and all the displays are produced by the dedicated Society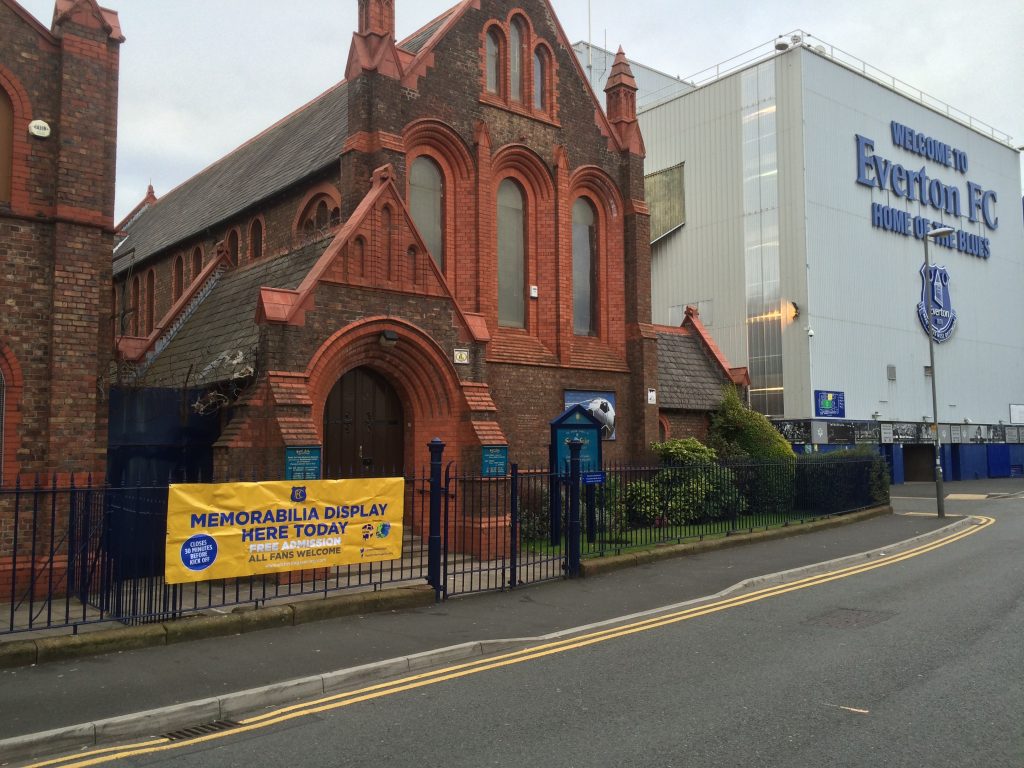 members.   There is often a theme to the displays exhibited, where we frequently celebrate links with the opposition of the day.
Visits by former players are becoming an increasingly regular occurrence. Former left-winger Ronny Goodlass is a frequent visitor promoting his Health Through Sport charity, while other visitors have included John Bailey, Peter Reid, Pat Van Den Hauwe, Mike Lyons, Derek Temple, George Telfer, Derek Mountfield and many more.  Club ambassadors Graeme Sharp, Graeme Stuart and Ian Snodin have also made regular appearances, and we are extremely grateful of their support of the Society at various events.
Steve Blease, match programme specialist, mans the extensive range of vintage matchday programmes, ready with advice, and who can usually find that elusive item you have been hunting, while Paul Kelly is alongside, selling among other items, the matchday programme and team sheets.
Richie Gillham has a huge stock of books, posters, shirts and other items of memorabilia available, while Bren Connolly often has some of his artefacts on display, as well as items for sale – many of them player-autographed. Crawford Miles, the Society's sound and vision guru, lays on a presentation of goal footage from previous encounters with the day's opposition, while Thomas Regan's ToffeeArt stall is always a big draw with his unique range of artwork, t-shirts, personalised gifts, coasters and much more. Reg Fletcher has a stall selling caps, t-shirts and home made signs, and we are always grateful for the help of Daryl, Heather, Gillian and Barry selling matchday programmes and assisting wherever possible.
Brendan Connolly's stand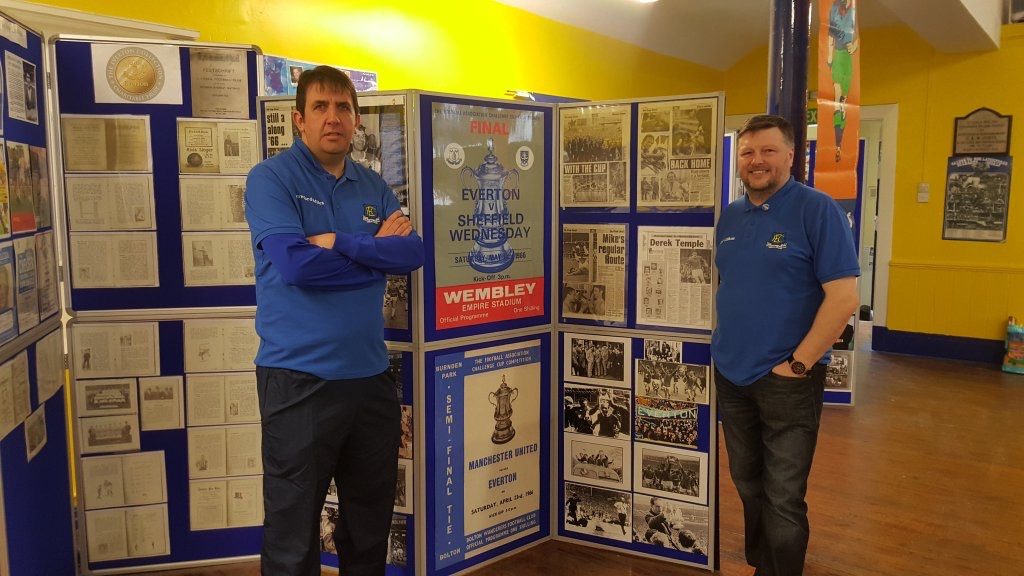 EFCHS members Crawford Miles and Richie Gillham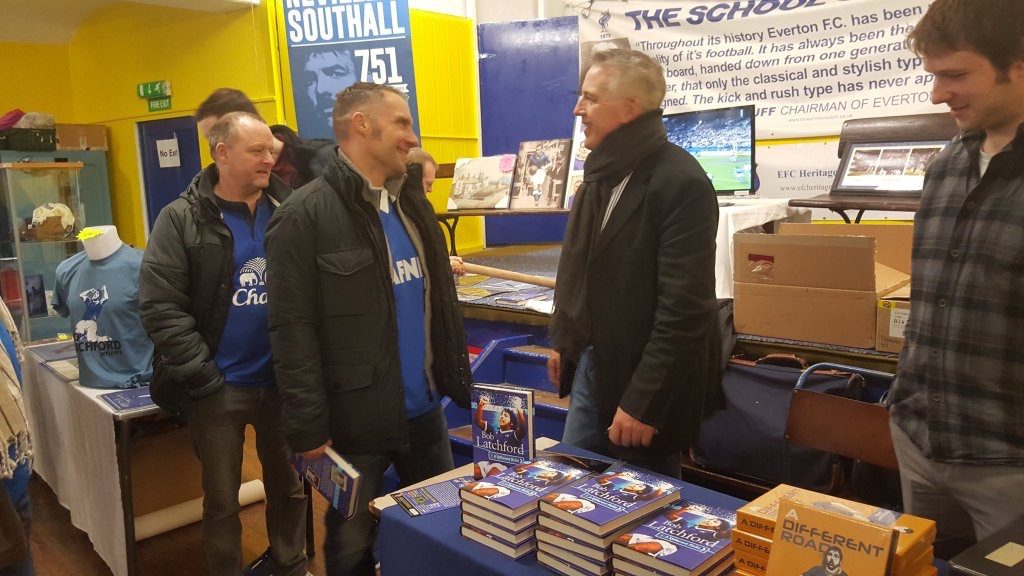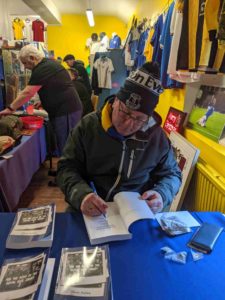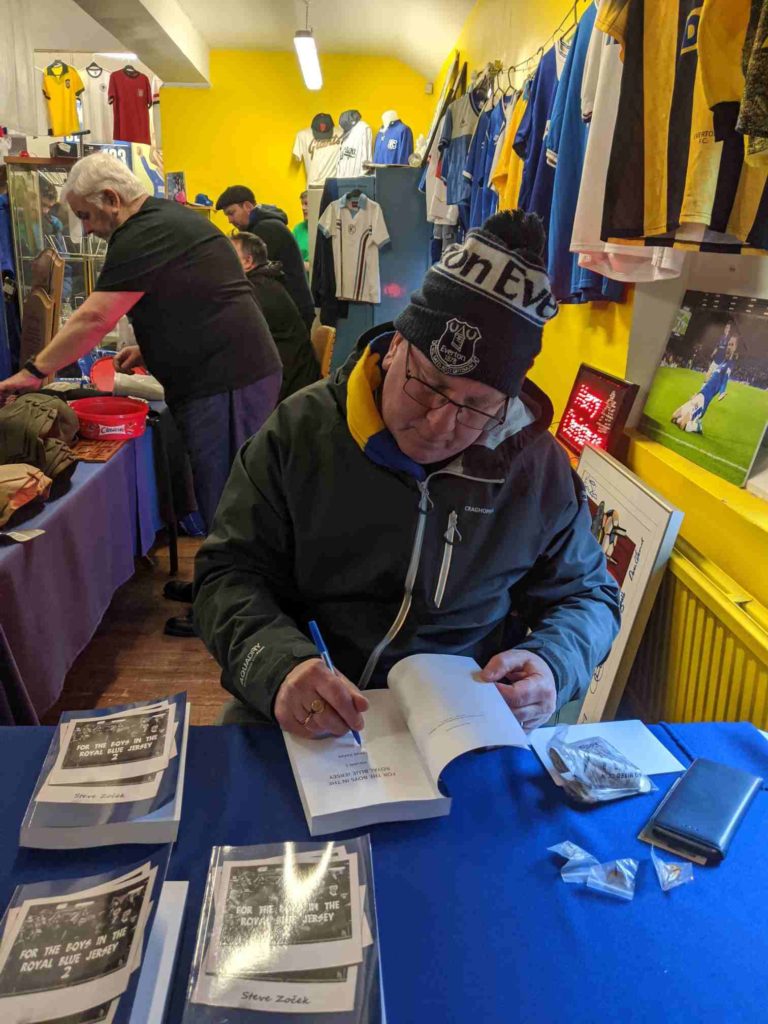 Authors and former players are always keen to hold a book launch or book signing event before home games, and the Society has hosted several in the past. Bob Latchford, Dave Thomas and Ronnie Goodlass have all made appearances, while Society members have also produced a plethora of books, and often can be found in St Lukes to personally sign a copy.
Rob Sawyer has recently produced books on Roy Vernon, Tommy 'T.G. Jones' and Harry Catterick, while Steve Zocek (pictured right) is usually present with copies of his books. James Corbett, Gavin Buckland, Ken Rogers, and Simon Hart are other members who have launched their excellent publications at St Luke's.
We were also honoured to help launch EFCHS founder David France's tome, Everton Crazy.
The Society fosters close links with historians at other football clubs and they kindly share with us images of players who have appeared for both clubs. It is always a pleasure to welcome supporters from other clubs as well as Toffees visiting from far afield.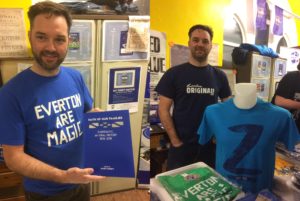 ToffeeArt
The imagery of Everton would be a lot less interesting without the work of ToffeeArt's Tom Regan. His output consists of book design, leaflets (including the Remembrance booklet), posters, banners, and a host of Everton styled artefacts and gifts, Tom's creativity knows no bounds. Visit his website for much more, or meet him in person at his stall, upstairs at St Luke's on Matchdays.
  Kit Aid
We have a collection point for KitAid, who have benefitted from the generous support of fans donating surplus items of kit, which are despatched to Africa. (Click image for EFCHS page)
  Ruleteros Society
The Ruleteros Society is also represented at St Luke's.
Their aim is to to celebrate and encourage the development of links between supporters of Everton Football Club and the Everton club in Chile.(Click image for their website).
Huge collection of Everton programmes sold on behalf of Everton FC Heritage Society before all home games upstairs at St Luke's Church.
Contact us: info@est1878.co.uk
Video & Film Archivist
Film archivist Crawford Miles has amassed an amazing collection of Everton related moving images, from short clips of goals to full gaames, many of which are extremely rare. His film edits are regularly to be seen in St Lukes on matchdays, and he is often asked to provide montages for Everton related functions, such as the Gwladys Street's Hall of Fame night 2017, and the Harry Catterick 100th Birthday Anniversary evening. Another valuable member of the society!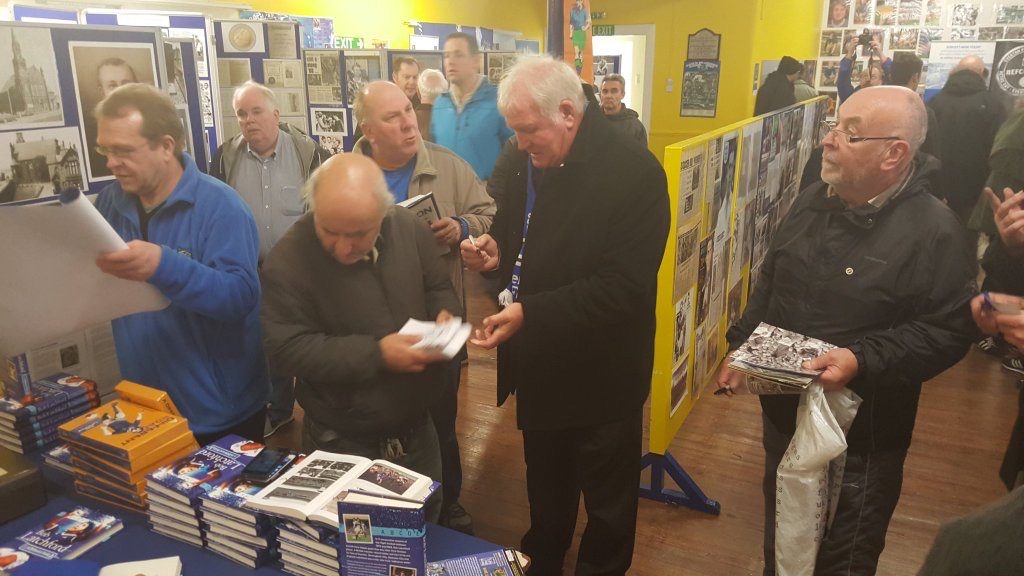 EFCHS member Steve Zocek (centre, blue t-shirt) chatting to Everton legend Mike Lyons.
Clockwise from top left: Everton FC Heritage Society's Matchday Hub; Reading about Bally; ToffeeTV's Ped McPartland meets the Ruleteros Society; Ronny Goodlass with Alan Ball display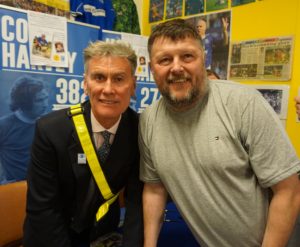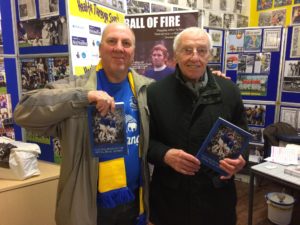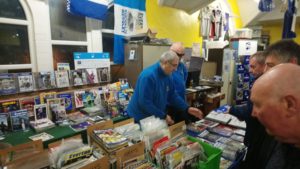 Click to enlarge – photos by Rob Sawyer
Photos by Mark Johnson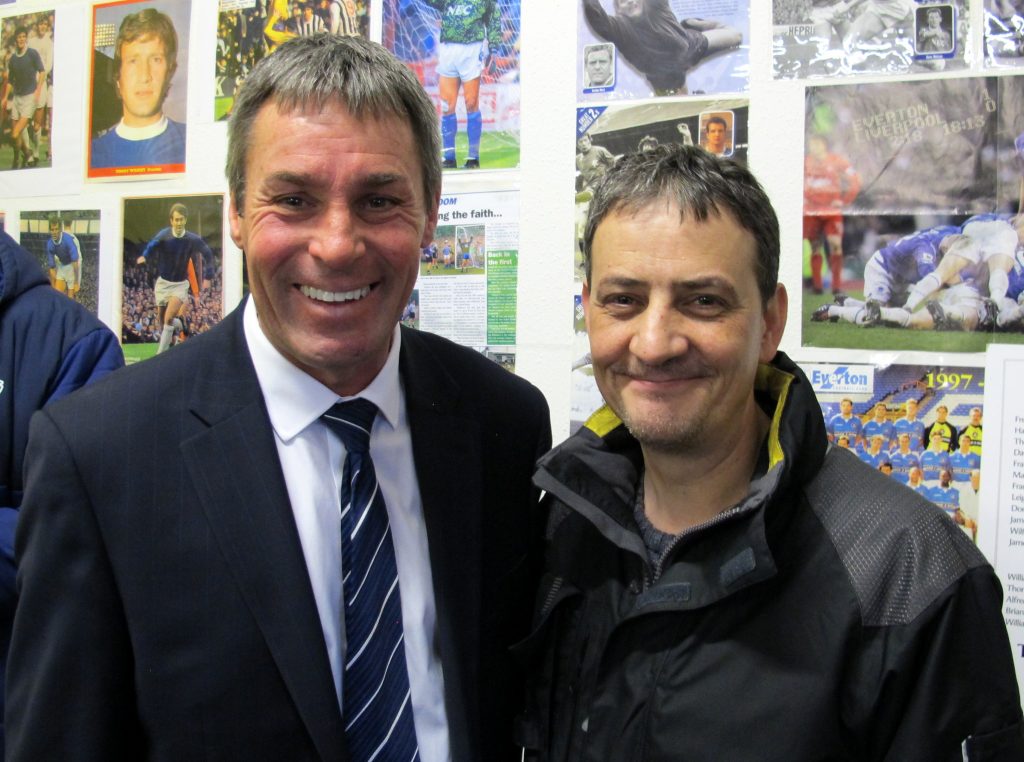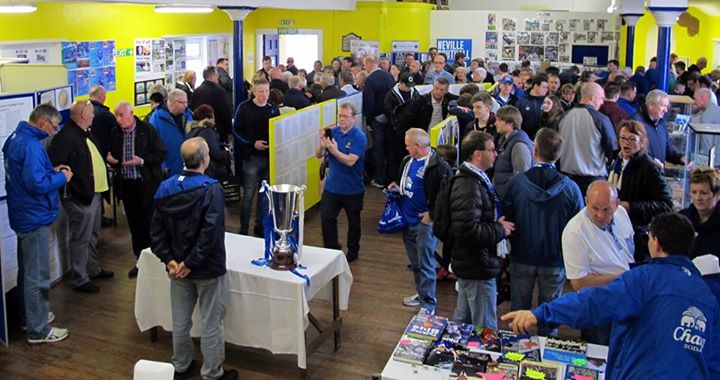 Photo credits: Rob Eagleton and Rob Sawyer.