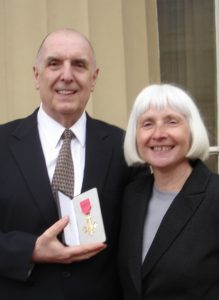 The EFC Heritage Society is a voluntary group researching and chronicling the rich history of Everton Football Club.
The Society was founded by Dr David France OBE in 2008, to promote and preserve the rich heritage of our great football club.
The Early Days
After our founding in 2008, I think we struggled in those early days to be clear on the direction, as David was by then living in the USA. Meetings were held at the Crosby Lakeside Adventure Centre and were not particularly well attended, with often only five or six members present. I must admit, the journey of an hour each way from home after a tough day at work, was not an attractive proposition in the winter, but we eventually agreed our aims and started to make progress under the chairmanship of Paul Wharton.
I'd like to pay tribute to Paul, and George Orr, who were instrumental in setting up our residency at St Luke's, and I often recall George's comment in those formative days – 'We're just supporters with BluTac and passion'. Another early member was Tony Heslop, who was also very influential in The Ruleteros Society. Tony was a lovely, humble man, who sadly passed away in 2015, taken much too early at the age of fifty-seven.
Brendan Connolly, (Chairman, Everton FC Heritage Society)
Aims of the Everton FC Heritage Society
To be the first point of reference for all enquiries from the club, football historians and the general public, about Everton's history.
To actively promote knowledge of the club's history through talks, exhibitions, special anniversary events and other appropriate methods.
To promote The Everton Collection and provide support for the Everton Collection Trust through suitable methods, such as the distribution of publicity material, collaboration with research, checking historical accuracy of information, and advice with exhibitions.
Meetings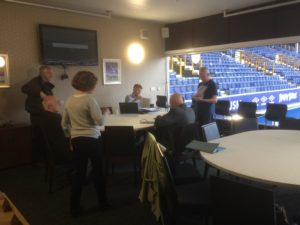 Our monthly meetings have taken place in a number of locations centred at Goodison, such as the Captain's Table and even the Sky TV box. However, we are fortunate now to meet in the inner sanctum – the Everton FC Director's Boardroom in the Royal Liver Building. Something we never get tired of!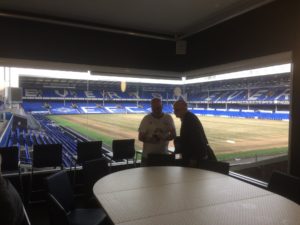 Furthermore, some of the corridors are adorned with memorabilia provided by Brendan Connolly (the Chairman of the Society) from his amazing collection. You can also meet Brendan on matchdays in St Luke's where he has his stall with fascinating displays and collectors items for sale.
Royal Liver Building
List of Members
Click on names for further information
FOUNDER and LIFE PRESIDENT
OFFICERS
Ken Rogers – Chairman, journalist and historian
Richard Gillham -Secretary, Media Officer
Paul Kelly – Treasurer, Matchdays at St Lukes
Peter Lupson, Vice-chairperson, Historian, author
MEMBERS
Ste Blease – Programme specialist
Joseph Brennan – Associate member – St Luke's matchday volunteer
Gavin Buckland – Journalist, author and statistician
Bradley Cates – Statistician, Website owner EFC Statto
Mikey Cleave – Researcher, specialist in Football stadium history
Brendan Connolly – Chairman 2015-2022, experienced collector of Everton memorabilia.
James Corbett – Journalist, author, publisher (owner deCoubertin Books), novelist
Reg Fletcher – Associate member – St Luke's matchday volunteer
Chris Goodwin – Website owner England Football Online
Kjell Hanssen – Historian, Website owner Play Up, Liverpool
Simon Hart – Journalist, historian, author
Francis Hickey – Historian, web articles editor
Steve Johnson – Author, historian, statistician – Website owner – Everton Results
Alison Jones – Historian, Everton Ladies
Lyndon Lloyd – Web author, Original site webmaster, Website owner of Toffeeweb
Paul McParlan – Author, Historian, Senior Leader at These Football Times
Crawford Miles – Video and film archivist
Tony Onslow – Author and historian
George Orr – Author, historian and life member
David Prentice, Journalist and author, Everton F.C Communications Officer
Thomas Regan – Graphic designer, owner of ToffeeArt
Dr John Rowlands – Author and historian
Mike Royden – Author, historian, Website owner, and EFCHS webmaster
Rob Sawyer – Author, historian, web articles editor, EFCHS Twitter account manager.
John Shearon – Ruleteros Chairman
Tony Wainwright BEM – Historian, WWI/WWII specialist, Webmaster Liverpool Pals website
Jamie Yates – Historian, researcher
Steve Zocek – Author, researcher
History consultants (and former members)
Peter Jones – Historian, WWI/WWII specialist
Billy Smith – Author, researcher and historian, BlueCorrespondent Website owner
Paul Wharton – Founder member and former chairman