Rob Sawyer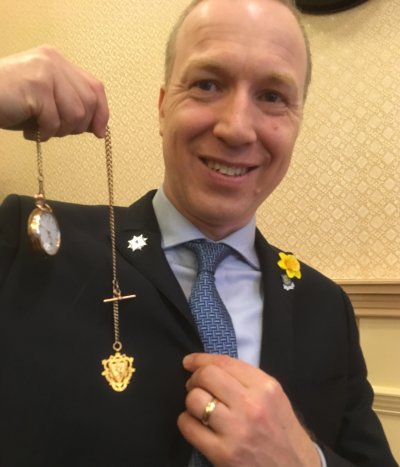 Rob Sawyer with Charlie Parry's championship medal won with Everton in 1890/91
How long have you supported Everton?
50 years. A regular at Goodison Park since the 1983/84 season (glory hunter!).
Who or what was responsible for being an Evertonian?
My father ensured that I became an Evertonian (my mother's side of the family were Blackburn Rovers supporters). Dad took us to many matches as teenagers and he was very proud of his grandfather, W.J. Sawyer, who had served as the Hon. Sec. and a director of Everton.
First Everton game attended:
As a young boy my parents would take me to watch Southport or, sometimes, Stockport County. My first Goodison match was probably against Bolton at Goodison in 1979 – although I recall very little of it (I think we were in the Goodison Road stand). I have better recollections of a 2-2 draw at Stoke in December 1980 and a cup defeat of Arsenal a few weeks later.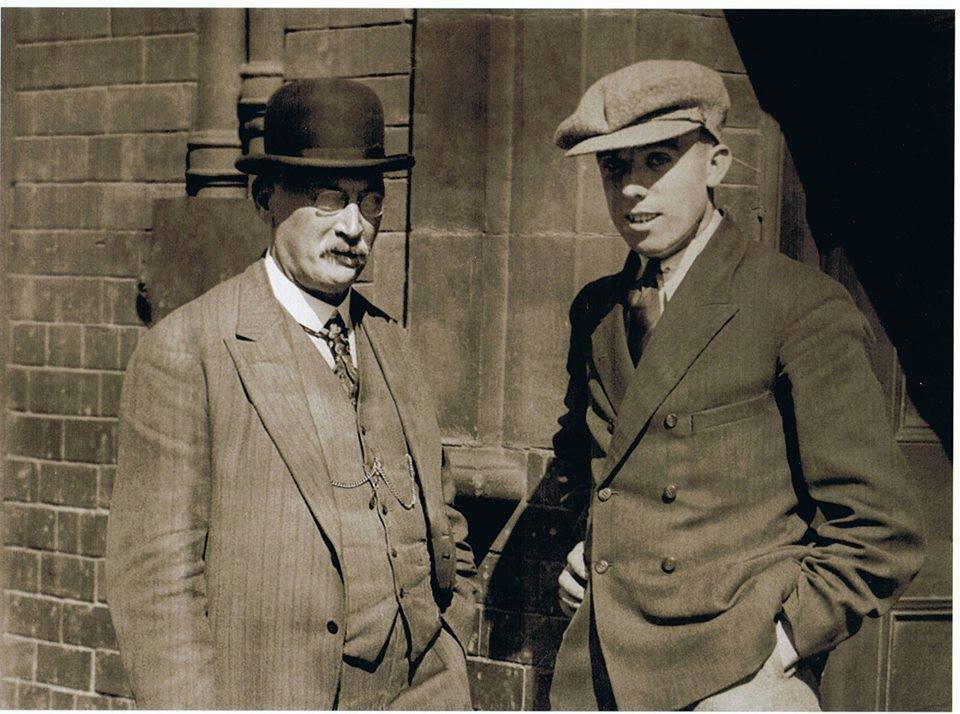 Most memorable matches attended: 
At Goodison Park, it has to be the Bayern Munich game – plus when we secured the League title in 1985 (v. QPR). The 5-0 defeat of Manchester United in 1984 was very sweet as I was brought up in Manchester United and City territory. More recently the late, late comeback against Spurs (2012) gave me a real buzz. The 1984 FA Cup final was a great occasion – seeing the club win silverware after a drought.
Where do you generally sit at Goodison?
Upper Bullens (season ticket holder). As a teenager it was at the Street End, generally.
What aspect of being an Evertonian do you like most?
A sense of belonging. A connection to family members who are no longer with us. Pride in the club's heritage and the way that being a Blue can lead to great friendships.
In what year did you join EFCHS?
Circa 2013 at the suggestion of the then-Chairman Paul Wharton.
What is your particular area of interest or expertise in Everton's history/heritage?
I enjoy researching and writing articles and books. My favourite decades to cover are the 1930s to 1960s. I also am fascinated by some of our great characters of the 1890s and early 1900s like John 'Jack' Bell, Jack Taylor, Jack Sharp, Jack Southworth etc. (lots of Jacks!).
What is your main activity/involvement with the Society?
I help to deal with historical queries submitted to the Society. I also do admin duties on the EFCHS Twitter account and co-ordinate with the club re. EFCHS articles for the matchday programme (our members contribute an item to each home match programme).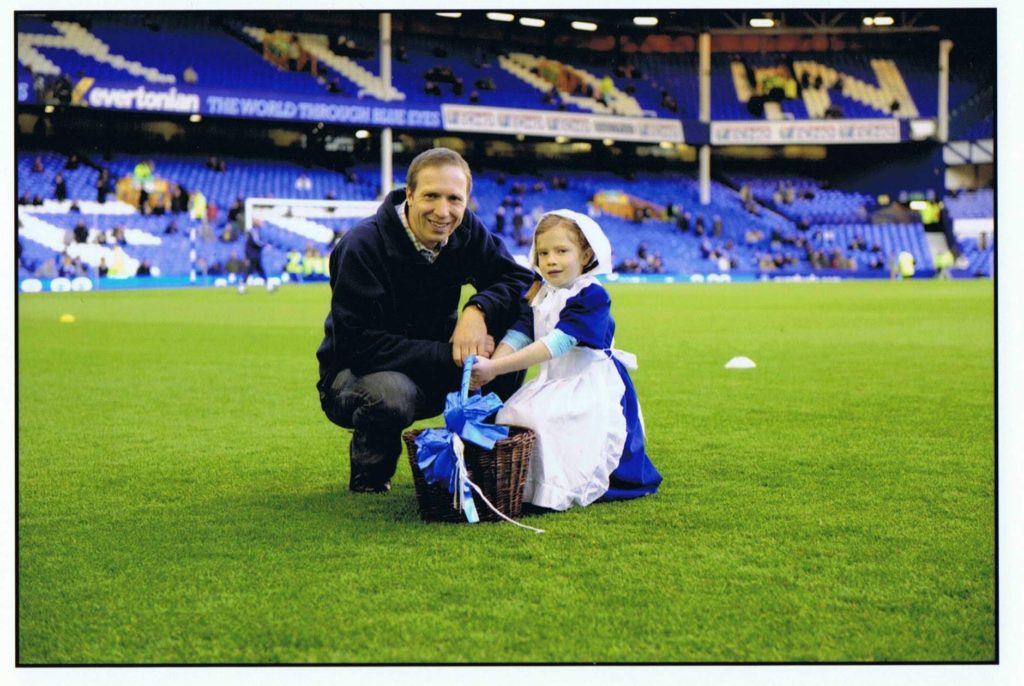 In your opinion, what is the best thing about the Society?
The Society is a pioneer in this field I feel proud and lucky to be a member. Being a member has deepened my knowledge of the Toffees through contact with some real subject-matter experts – they have been invaluable to me when writing. I have made some great new friendships through the group..
Your favourite Everton-related book?
David France's two books on the unparallelled collection that he put together are fascinating and fantastically-well presented. I always enjoyed memorising information contained in Everton: Player by Player by Ivan Ponting. More recent books by James Corbett (Faith of our Families) and Gavin Buckland (Money Can't Buy us Love) will prove to be essential Everton reference books for years to come.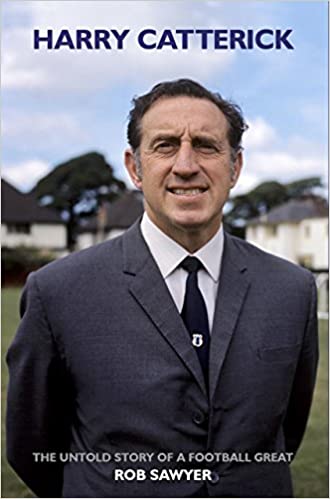 If you could travel in time, what match, before your lifetime of attending matches, would you choose to attend?
The 'Dixie's 60' match against Arsenal in 1928, naturally. But it would be great to take in a match from the 1938/39 season, also, plus the defeat of Fulham in 1963 to wrap up the title.
The best player you have seen in Everton's colours?
Goalkeeper: Neville Southall. Outfield player: that is difficult to answer but I greatly admired Kevin Sheedy and Trevor Steven in their day. Peter Beardsley was a tremendous natural talent that we sold too soon.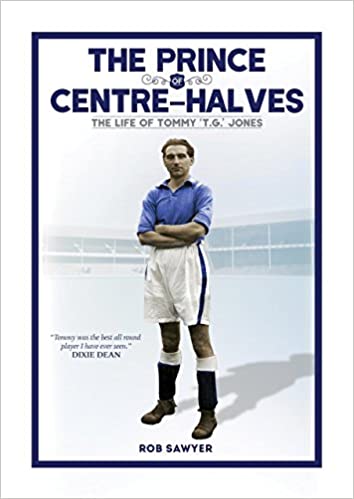 The player you wish that you could have seen, from the past?
It has to be Dixie Dean in his pomp. But if I could be greedy, I'd also love to go back to the 1890s to see Bell and Southworth and the late 1930s to see T.G. Jones and Tommy Lawton. Finally, seeing Alex Young and Roy Vernon operating in tandem.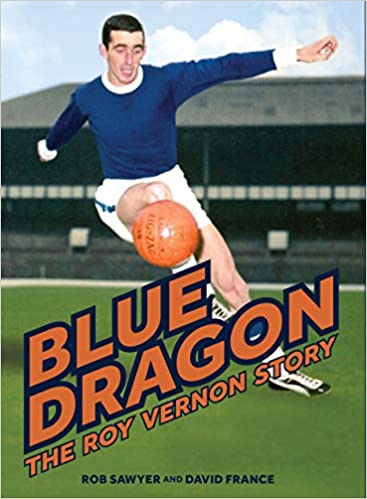 Anything else to add?
The Everton FC Heritage Society is a wonderful asset for Everton and Merseyside football. The misconception held by some is that we are too wed to the past. We'd all love Everton to get back to the top of the game – playing and winning in the 'School of Science' traditions. The past, which we research and recount, sets the benchmarks to aim for.