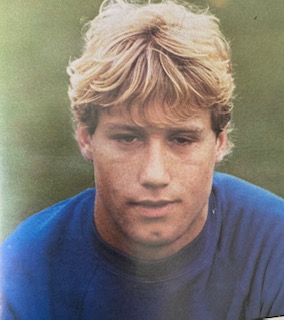 In the matchday programme during the 1983/84 season, there was a Q & A featuring the players. I came across the one with Mark Higgins, who was asked to recommend a player for the future. 'Steve Bateman' was his reply. Steve was the captain of the Everton FA Youth Cup side that lost the final to Norwich City in the 1982/83 season, 6-5 on aggregate.
Whatever happened to Steve? As always, I dug deep to satisfy my fascination, intrigued to find out what happened to hhim after Everton. Enjoy.
Steve originated from down south at Berkhamsted. At the age of 14, he was playing for the district county side. Watford and Luton Town were showing an interest in Steve, but he was offered a trial at West Bromwich Albion after being spotted by an Albion scout whilst playing for his local Sunday side. At West Brom, his association with professional clubs began. He was playing South East Counties football at the weekend for a while, then travelling to the Midlands for a week during the school holidays. He did his work experience with West Brom and was delighted to be offered an apprenticeship.
He went on a youth tour to Germany, and whilst out there, the first team manager Ron Atkinson left the Hawthorns to take over at Old Trafford. When arriving from Germany at Heathrow airport, Roy Horrobin, the Youth Development Officer at West Brom, told the travelling group of players that he wasn't sure what was going to happen, due to the departure of Ron Atkinson. A fortnight later, Steve, who was still living at home, was told that the club were only going to take on the boys that were already based in Birmingham. However, Steve was given the encouraging message that his situation would be monitored, and the club would be in touch.
Steve was left devastated by the dreaded news that he wasn't to be retained, and went back down south, finding a job in the civil engineering department with British Rail in Watford, and playing his first team football with his local non-league outfit Hemel Hempstead at the age of sixteen. Predominantly, he was a centre half, but broke into the non-league scene as a left back.
The club secretary was a chap called Bill McRae, who originated from Liverpool, and had a brother who was scouting in the north west. The scout had been alerted to the promising Bateman, which led to Ray Minshull making the journey south to watch Steve in a mid-week fixture. Steve wasn't aware of Ray's presence, and sadly had picked up an injury the previous weekend, which left him on the side lines. Ray's journey was a wasted one, but Steve was invited to go up to Liverpool to play in a youth tournament for Everton, which was taking place over the Easter period.
Steve took a week from work to savour the taste of something that was too good to turn down. The tournament was a great success, with Steve receiving the outstanding player of the tournament award, a trophy which he still proudly has today as a fond reminder. On the back of that, Steve was offered an apprenticeship with Everton, making up for the heartbreak at the Baggies eight months earlier. Steve had no hesitation in accepting Everton's offer. As he was approaching his 17th birthday, Everton had act quickly to get his signature, because they would have been obliged to offer him a pro deal at eighteen. This would give him just over a year to prove that he would be worthy of a professional contract.
A year passed, and Steve was due to be offered a pro deal along with three other hopefuls. He was called into Howard Kendall's office to be asked his thoughts on how he had done. He told Howard that he felt he had done alright, but still felt he had a lot to learn and was willing to assert himself to make sure he had a future. Steve was that delighted with the outcome that he didn't take in the financial detail of the offer Howard had put to him. Whilst leaving the manager's office, Steve gave the thumbs up to Ian Bishop, who was the next in line to see the boss.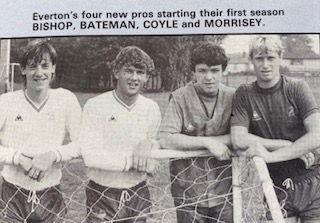 Bish asked Steve what he'd been offered, but Steve was so excited that he hadn't heard Kendall's words, which lead him back in to the office, to hear the offer of a 12-month contract for a second time, which was a standard procedure. Steve's duties included looking after the boots of Kevin Sheedy, whose magical feet were gearing Everton to success. There was some logic to Steve's duties, as he was half a size bigger than Kevin, and would break his boots in by wearing them a couple of times to stretch them, making the boots a perfect size and sparing Kevin from receiving the awful blisters he could be prone to. His main role was inflating the footballs, and making sure that every ball that went out onto the training field, came back. Three sides of Bellfield were surrounded by back gardens and many a ball would land in a garden, with Steve having to make a mental note of the house, to later knock and ask for the ball. A claim to fame was retrieving a ball from the back garden of the legendary Bill Shankly.
In his final season at Everton, Steve was a regular in the reserves and described it as the beginning of the end. He would be rubbing shoulders with Neville Southall who had dropped down a level after the demolition in November 1982 by Liverpool, which led to multiple changes in the team. At this point, Everton reserves had won each of their first ten games without conceding a goal. Gary Stevens, Trevor Steven, Peter Reid, Kevin Richardson, Derek Mountfield had all featured for the reserves, before going on to join the first team, and of course, never looking back. Steve thought his first team chances looked promising due to the departures of centre half Mike Walsh, midfielder Trevor Ross, and Mick Ferguson the centre forward, all failing to survive under Kendall. Derek Mountfield's promotion to the first eleven though, was the writing on the wall for Steve.
Colin Harvey was also promoted to assist Kendall in his first team duties, which lead to Steve losing some focus. Steve says that Colin's coaching was never matched under Graham Smith, a different character to his predecessor. Steve was the only southerner in the side that reached the FA Youth Cup final in 1982/83, and was handed the captaincy due to his two main strengths. He was vocal and organised on the field, had a good relationship with all of his team mates, and came across as well thought of. Steve still bemoans the loss of the final to Norwich, who won the first leg with the odd goal in five. Everton won the second leg by the same score, despite dominating the game, bruising the cross bar two or three times. With the aggregate scores level, Everton won the toss for the play-off venue four days later. Everton failed to capitalise on the home advantage and lost to a Paul Clayton goal.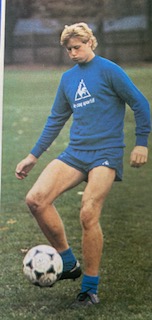 His time at Everton was drawing to a close, as Steve's belief that his efforts would be rewarded with a further year contract, which unfortunately didn't materialise. His release came as a big disappointment, but Bobby Roberts, the manager of Fourth Division Wrexham, was prepared to give Steve a lifeline after watching him play for Everton reserves at Old Trafford against Manchester United. Jim Arnold suffered a thigh strain and Steve relived Jim of his goal keeping duties in the second half. Bobby Roberts must have been impressed with the first half performance of young Bateman, but Steve decided to return home rather than pledging his future to the north Wales club.
Steve joined Football League side Cambridge United for pre-season training, but declined to make anything permanent, preferring to try his luck in non-league football. Trials were set up with Barnet and Wycombe Wanderers, before a phone call from Harrow Borough, who had won the Isthmian league, offered him a chance to play against his home town team ​Berkhamsted in a pre-season friendly. He must have made a good impression in that game, signing for Harrow Borough the following night, three days before the start of the new season. Harrow Borough had won the league the previous season , but failed to get promoted because the ground did not meet the criteria required for the next level. From the summer of 1984 to October 1989, Steve appeared 330 times for The Boro.
Steve then joined Chesham United, signing for a four-figure sum. Chesham were very ambitious, wanting to move up the divisions, with the Chairman aiming to reach the Football League. Steve once again demonstrated his loyalty, with Chesham over 330 appearances. Chesham won the Isthmian Premier League in 1992/93 as Steve wore the captain's arm band. Sadly, Chesham were confronted with the same issues as Steve's former club Harrow Borough, with the ground not reaching the specified requirements to gain promotion.
Steve stayed for one more season with Chesham before signing for Slough Town, managed by ex-Arsenal player Brian McDermott, who was starting his career in football management. Slough had the misfortune of being relegated from the Conference the season before and were looking to bounce straight back. Slough finished runners up behind champions Enfield, gaining promotion back to the Conference. Steve and his wife Barbara, had two young boys, Sam and Ben, which made Steve realise that he didn't want to travel north of Watford junction every other week to play football, igniting another move to Hendon.
He spent two seasons with the Greens, enjoying a little bit of FA Cup success, knocking out Leyton Orient in the first-round proper at Brisbane Road, with a Junior Lewis winner in November 1997. The following season, Hendon drew Sam Allardyce's Notts County from the Second Division at home in the FA Cup, with the game ending goalless. A header from Bateman rattled the post with two minutes of the match remaining before Hendon lost 3-0 in the replay. Steve had then reached the age of thirty-four and was playing around sixty-five games a season, which was starting to take its toll on his body. He'd been lucky regarding injuries, rarely missing a game. He was also very well disciplined avoiding the referees yellow and red cards.
His playing days ended when an opportunity to manage his home town club Berkhamsted came his way in January 2000. In season 2000/01, Berkhamsted reached the final of the FA Vase under his leadership, the very first one not to be played at Wembley, as the old Wembley was making way for the new stadium. The final was played at Villa Park and Berkhamsted were defeated 2-1 by Taunton. That season, the Comrades, as they're known, endured an horrendous backlog of fixtures due to the weather. Following a good run in the league, they were looking good for promotion, but had to play seventeen games in the month of April. They had some weeks where they were playing Monday, Tuesday, Wednesday, Friday, Saturday and Sunday with a very similar pattern the next few weeks and were expected to field a team.
Chesham, the team that he'd proudly captained in previous years, again came calling and Steve was appointed manager in June 2003, a position he held until 2006, before returning to the Hemel hot seat, gaining promotion in his first year to the Isthmian Premier League. In 2008, another one of Steve's old clubs Slough appointed him as manager and he remained in the position for three years.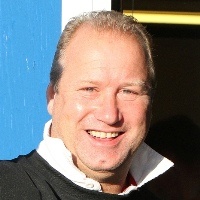 Another challenge arose in 2013/14 with Aylesbury FC, where Steve spent two and a half years before stepping down, as he felt he could take the club no further. In January 2017 he returned for a second spell with Berkhamsted, where it all started for him as manager back in 2000, stating that he had some unfinished business to attend to. Steve got promotion to Step Four of the football pyramid. In 2020, Berkhamsted were sitting at the top of the league when Covid hit and the season was suspended. ​Hemel came calling again, with Steve taking the manager's job with Lee Bircham as his number two.
Twenty-one years later, and to the present day, he holds the position of assistant manager at Hemel Hempstead, after exchanging roles with Lee. Steve likes to think he is having a more calming influence on Lee, whose brother Marc played for QPR. Steve has never forgotten where it all started for him, affectionally looking out for the results whenever the Toffees play.
What's that saying……. 'Once a Blue?'