At the time William Marr Orr made his only Football League appearance for Everton, he had just moved to live in a new row of terraced houses that had been constructed by the Walton Local Board. George Goodison, their Civil Engineer, had decided to name the thoroughfare Gwladys Street.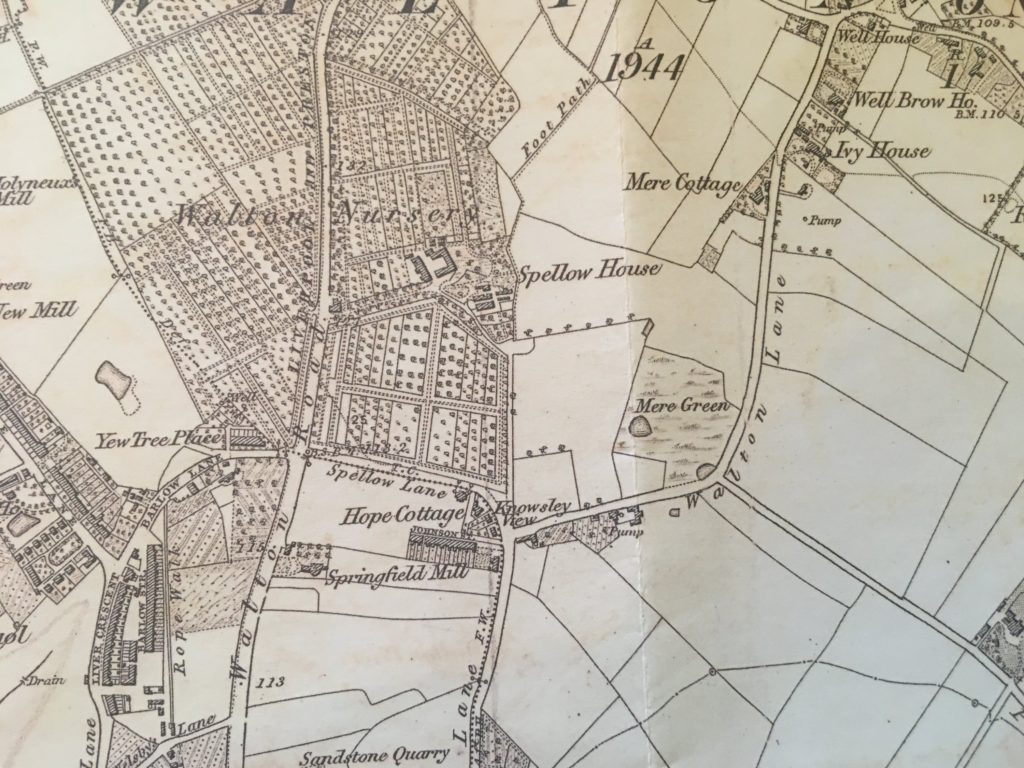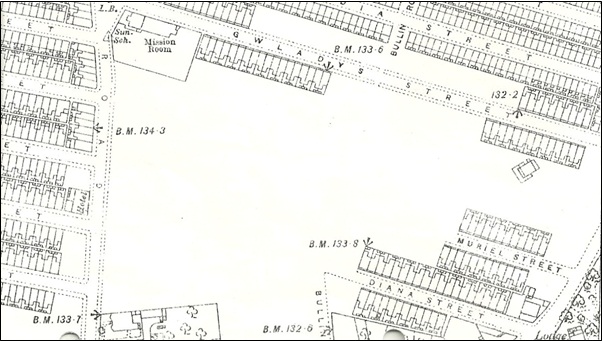 The parents of William, John and Jean, had married in the Ayrshire town of Kilbirnie, where their first child Jessie was born.  John then worked on the railway as a fireman, but had been promoted to the rank of engine driver when they took up residence at 80 Aughton Street in Liverpool. Here their third child, William, was born in December 1869.
The 1881 census found the family had moved to 46 Walton Road but John, the 'head of the household', had passed away at the time of their move to 10 Gwladys Street somewhere around 1888. William, now working as a clerk in the Corn Exchange, began his career with Stanley Football Club whose home enclosure stood within a stone's throw of his home. Formed in 1882 by the Argyllshire-born McCallum brothers, the Stanley club was a magnet for exiled Scotsmen who had decided to make their home in Liverpool.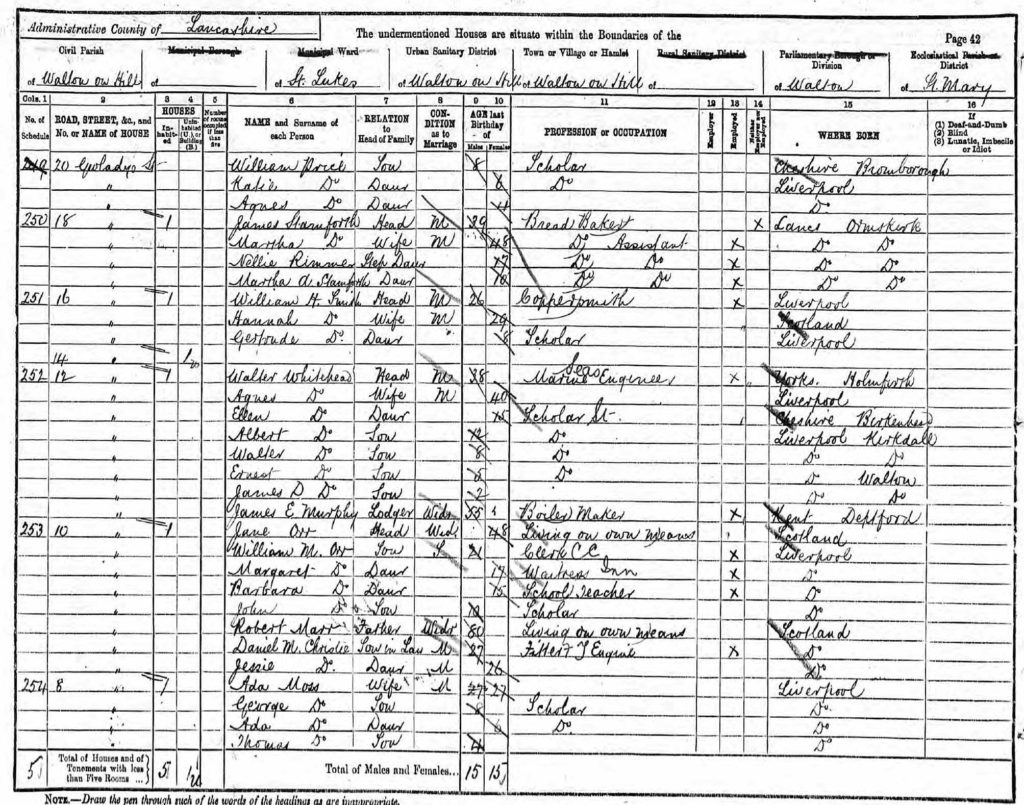 Willie Orr first came to notice 8 September 1889 when he turned out for Stanley in a pre-season game against Everton at Anfield. The home side, reinforced by recent signings from Scotland, won the game 8-0. Nevertheless, Willie caught the eye of the Anfield Executive who offered him a one-year contract and he first appeared in the Everton second XI as they beat Tranmere Rovers, 2-1, at Borough Road. On 5 October, he replaced the injured Fred Geary at the centre of the Everton forward line in the away game against Derby County.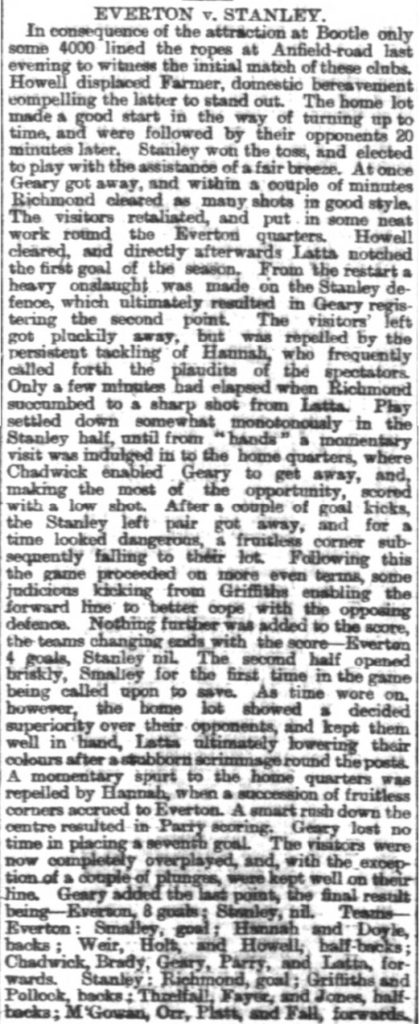 The Midland club played their matches at the home of Derbyshire Cricket Club that lay within the confines of the local racecourse. The location could be quickly adapted to accommodate the association game and the 1886 FA Cup Final replay – the first to be played outside of London – had taken place here.
Marking Willie Orr was Archie Goodall, with whom he had played during the time they spent together with Stanley, and he was accompanied by his elder brother, John, who led the Derby County forward line. The home side, watched by a crowd of around 3,000 people, started the game strongly and had built up a 2-0 lead when play reached the hour mark. William Orr then became the first Liverpool-born player to score on his Football League debut when he pulled a goal back for Everton before Edgar Chadwick equalised to make the final score 2-2. Despite this goal, he returned to the second XI where he played until his contract expired. Next season Willie Orr signed for the newly-formed Liverpool Caledonians.
The club had been formed by Airdrie-born Robert Kirkland who owned a bakery on Hardman Street in Liverpool. The wealthy Scotsman purchased a large house and grounds – called Woodcroft – on Smithdown Road and supervised the building of a football ground that was described as 'all enclosed and a grandstand has been erected capable of seating 700 people. The pitch has been thoroughly drained, and everything is in "apple pie" order.' (Liverpool Mercury.) The location, which was called Woodcroft Park, became the social centre for the Scottish community of Liverpool.
Willie Orr was in the Caledonian side when the new ground opened – 28 September 1891 – with a game against the Everton Combination XI and around 4,000 people watched the visitors win the game 1-0. Later in the season George Farmer and Charlie Parry joined Caledonians from Everton and helped them to lift the Liverpool Junior Cup by beating Southport Central in the final. Next season however, Liverpool Caledonians struggled for support and – following an FA Cup defeat by Northwich Victoria – went out of existence. Willie Orr ended his football career back at Stanley and became a playing member of Clubmoor Cricket Club.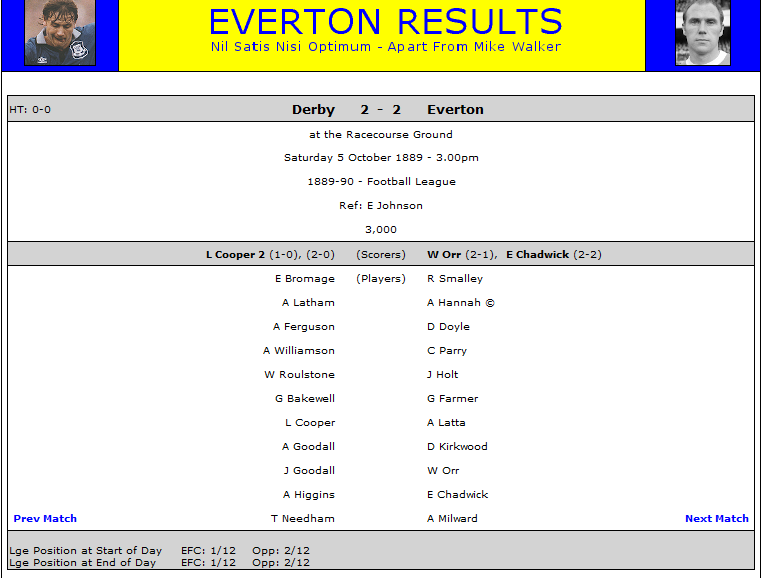 DERBY COUNTY 2 EVERTON 2 (Game 29)

This League fixture was played at Derby, on Saturday before 5,000 spectators. In the early part of the game rain fell heavily, which caused the ball to be greasy, and the ground soft. Through Geary suffering from a wound, in the leg, Orr was requisitioned as centre forward. This change sorely handicapped the visitors, as they went with a full determination to repeat their previous success. Hannah lost the spin, and Orr started against the wind. Away the visitors darted through Chadwick getting possession, and soon they experienced hard lines, as it was a bit of luck on the part of A.Williamson in clearing a beautiful shot from the Blackburn lad. The brothers Goodall asserted themselves and got within range, but were cleverly robbed by Parry. Some misjudgment on the part of Everton's centre enabled the homesters to have another try for goal, but found Hannah at his best. J. Goodall again got hold, and sent in a clinking shot to Smalley, who cleared admirably. The visitors after this got well away, and for a considerable time bemmed the County, they having to grant two successive corners, before danger was allayed. A grand bit of work on the part of Higgins, who took the ball right through, nearly ended in Derby scoring. Everton backs and halves were applauded for always successfully stalling off the determined attacks of the home rank, but the disorganization of the visitors' forwards caused their good work to go for nought. Bakewell rushed down, and neatly crossed over to Cooper, the latter parting by calling on Smalley with a fine shy, but the Evertonians was equal to the task. The County, Hill advancing made various invasions, and A.Goodall sent a shot wide of the post. From the goal kick Latta and Kirkwood were conspicuous in their neat passing up the right, which brought forth a hearty round of applause from the spectators, but nothing tangible was the outcome. Higgins and J. Goodall kept themselves busy and hovered round the visitors' quarters, but Doyle, Hannah and Farmer were impregnable thereby enabling their forwards to cause Bromage to handle twice in quick succession, Latta shot all but raising the hopes of those who accompanied Everton to the County ground. Striving hard to put on an initial point, Chadwick and Milward fed by Holt, caused Williamson to avert danger by kicking to the corner, which was soon repeated, but somehow luck did not seen to favour the Evertonians. Even play now brought the interval with a clean sheet, neither side having scored. On changing over, Goodall kicked off, and after being once repelled, Cooper was soon prominent by finding an opening with a very speedy shot, giving Smalley little chance to save. With this against them, Everton played hard, and the game became exciting for a few minutes, but Bakewell prettily passing up Cooper shot and scored a good second goal for Derby, to the great delight of their supporters, who cheered vociferously. From midfield Chadwick was seen to advantage, and after Hannah had called on his forwards to play steady. Latta broke away in excellent style, causing great anxiety to the Derbyities, but only a fruitless corner resulted. Still persisting. Everton with their grand lasting capabilities took up the reins and completely wearing down the homesters, Parry and Holt kept their forwards well fed, and at length, from good work by the latter, Orr scored for the Anfielders. The visitors, thus encouraged, showed the onlookers an exposition of the dribbling code, the performances of the respective wings shinning out prominently and Chadwick with one of his old-fashioned and well-known screws, equalised, greatly to the discomfort of the Derby followers, who seemed to imagine that their pets would win with ease. With about ten minutes to go Everton pushed play in a dashing manner, and, ought to have notched another point, Chadwick experiencing hard lines the ball ''hitting" the post and rebounding into play. The visitors still continued to have the upper hand, but the whistle sound too soon for further scoring, the game, which was a pleasant and interesting one, thus ending in a draw of two goals each. Teams; Derby County: – Bromage goal Latham, and Ferguson, backs, Williamson (A), Goodall (A), and Roulstone half-backs, Bakewell, Higgins, Goodall (J), Needham, and Cooper, forwards. Everton: – Smalley, goal, Hannah (Captain), and Doyle backs, Parry, Holt and Farmer, half-backs, Latta, Kirkwood, Orr, Chadwick, and Milward, forwards. Umpires, Messr W Chatterton, and E.Berry, Referee Mr. Johnstone (Stoke).

The Liverpool Mercury, October 7 1889 (transcribed by Blue Corresponent)
Formed in 1877 they first played on Townsend Lane before the land became scheduled for building. They then leased a piece of land, at the rear of the Clubmoor cinema, that could be accessed from an entrance on Maiden Lane. (The Everton footballers would play an annual cricket match here until the location was given over to housing.)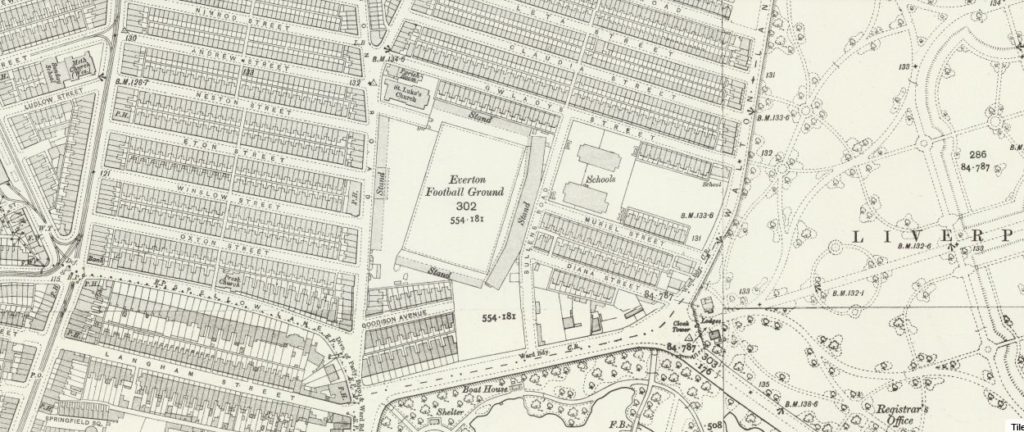 The 1901 census found Willie Orr still living in Gwladys Street which was now dominated by an Everton Football Ground which was constantly undergoing improvements to increase its capacity. Around the turn of the century he was joined at the Clubmoor Club by a young Harry Makepeace who had recently arrived in Liverpool from his previous home in Darlington. He was living at Woodville Terrace when he signed for Everton, 10 September 1901, having previously played for Bootle Amateurs. In 1906 Makepeace was selected to play county cricket for Lancashire and later represented England at both sports.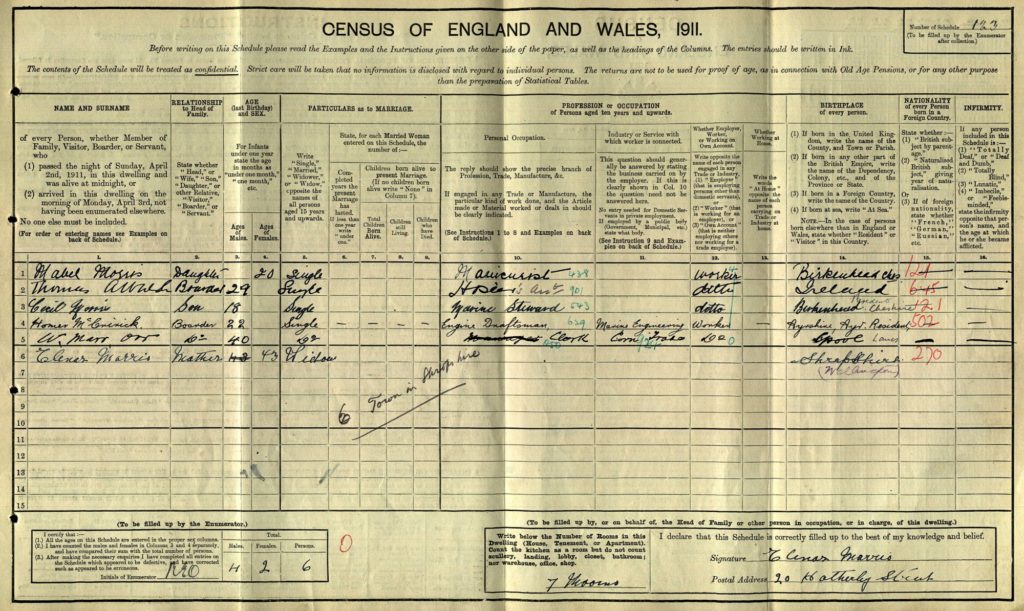 According to the 1911 census above, Willie Orr, still unmarried, was lodging at Hatherley Street in Toxteth and continued to work in the Corn Exchange. He appeared to have developed an interest in the oval ball game, for records reveal that in 1936 he became the President of Sefton Rugby Union Football Club whose home was near West Derby Village. He was living at 140 Princess Road when he was admitted to Sefton General Hospital and died there 12 July 1946, leaving all worldly goods to his widowed sister, Barbara Stevenson of Glasgow. William Marr Orr, then 76 years old, was buried in the Non-Conformist section of Anfield Cemetery.
Edited by Francis Hickey
Illustrations/Documents by Mike Royden