Only Once a Blue.
Part 2: Egerton Stewart-Brown
When Everton Football Club signed Dominic Calvert-Lewin from Sheffield United, he became their first player to be officially registered with a double-barrelled surname since Benjamin Howard-Baker in 1920. There is, however, another man who played for Everton before official records began who also had a hyphenated surname. He actually made a guest appearance during Everton's days at Anfield.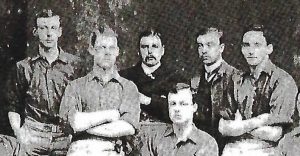 Egerton Stewart-Brown, far left, with Liverpool Ramblers. On the far-right is J Bruce Ismay, the future Chairman of the White Star Shipping Line
Egerton Stewart-Brown was born 31 January 1862, in the township of Toxteth. His father was an American-born merchant named Stewart Henry Brown, while his mother, Emily Birkett, was born in Liverpool. Records reveal the couple married at St Anne's church in Aigburth, where the groom's place of residence was entered as Long Beach, New York. Initially, they settled on Park Road, before moving to 27 Devonshire Road, where their first child, Egerton, was born.
At the time of the 1871 census,  the family now included six children and was living at 72 Fulwood Park in Aigburth, where six servants were employed. Later, they moved to 'Quarry Bank' in Wavertree, which was Egerton's family home while he attended Harrow School, the renowned public school in Middlesex, and Trinity College, Cambridge, where he was awarded a BA in 1884 and an MA in 1888.
His sporting prowess first came to public notice when his name was mentioned in a publication called The Sporting Life, reporting on a football match played under association rules at Allerton Tower in Liverpool in January 1881. The sides consisted of the local former pupils of Harrow School against an Eton College side. The match ended in a draw.
Egerton Stewart–Brown was a founder member of Liverpool Ramblers Football Club in February 1882, and played for them in free time between his studies. On 2 December 1882, he was in the Ramblers side which took on Bolton Wanderers in a Second Round FA Cup tie at their former home on Pikes Lane, with Ramblers losing the match 3-0. The performance of Stewart–Brown, however, caught the eye of a local journalist who described his contribution as being 'invaluable, his white jersey easily distinguishable in the thickest of the scrimmage, his foot repeatedly sending the leather out of danger.'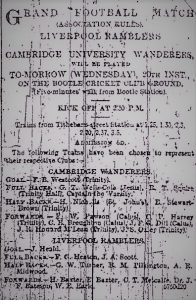 Three weeks later, Stewart–Brown played against his Liverpool clubmates when a Cambridge University side arrived in the town on a Christmas tour. In their light blue shirts and known as the Wanderers, the tourists beat Liverpool Ramblers 3-1 on Bootle Cricket Ground. He also represented the Liverpool & District FA on several occasions and took part in the final of its inaugural knockout in April 1883, when the Ramblers were beaten 3-1 by Bootle on the Liverpool College ground. Stewart–Brown continued to appear in the ranks of Liverpool Ramblers until he had completed his studies at Cambridge University. But it was shortly before moving back home that he made his only appearance for Everton.
On 14 March 1885, the Everton club secretary had arranged the visit to Anfield of Blackburn Rovers, the FA Cup holders at the time. Fate intervened, however, as the game clashed with the England v Wales international at Blackburn that same afternoon, and four players from the Blackburn side had been selected to take part.
Egerton Stewart–Brown, who stood six feet tall, had been asked to represent Everton in order to counteract the threat posed by the famous Fergus Suter. However, despite being spotted in Liverpool, the Scot failed to take to the field, leaving his side to play the game with only ten men. Nevertheless Blackburn Rovers ran out 2-1 winners.
The following Saturday, the Old Harrovian, Stewart-Brown, was back in the orange and navy of Liverpool Ramblers as they took on Everton at Anfield. Around 800 people were in attendance as the former public school players completely surprised the home side, winning convincingly by four goals to one. It was the first defeat inflicted on the Everton first eleven at Anfield.
Meanwhile, the Cambridge graduate had taken up a position in the Liverpool banking firm of Brown & Shipley which had been established by his grandfather, William Brown. Born in Ireland, he had amassed a great fortune while living in America and, on arriving in Liverpool, financed the new public library on the street which was renamed in his honour.
Egerton Stewart-Brown was still appearing in the colours of Liverpool Ramblers when he married Nessie Muspratt, the daughter of Edmund, the well-known alkaline manufacturer, at Sefton Parish Church on 2 September 1887.  Soon after he retired from playing football, he became the manager of the London Assurance Company in 1889, and was living with the Muspratt family on Crosby Road South at the time of the 1891 census.
In 1893 he was called to the bar and became a barrister at law on the Northern Circuit. By 1911, Egerton and Nessie were still in the Muspratt household which was now established in Seaforth Hall, north Liverpool. The couple later moved to a large suburban house known as The Lawn, on Ullet Road, and were residing there when they left Liverpool on 26 July 1914 to visit the spa town of Homburg, near Frankfurt in Germany, in order to 'take the waters' and improve their health. Considering the worsening political situation in Europe, this was a foolish decision to say the least.
Just a week later on 4 August 1914,  Great Britain declared war on Germany, and border restrictions were immediately imposed. Back in Liverpool, concern grew for the welfare of Egerton and Nessie, and their loved ones were relieved when the following article appeared in a local newspaper.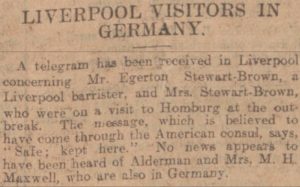 Liverpool Echo 15 August 1914
It was later confirmed that the couple had indeed taken refuge with the American Consulate in the town of Frankfurt-on-Main, along with Mr John AF Aspinall and his wife, who were also in the same predicament. Also born in Liverpool, he was the general manager of the Lancashire & Yorkshire Railway Company, and lived in a large residence overlooking Sefton Park. The couples tried to make their way home by taking the train to Cologne, where they boarded a steam ship bound for Rotterdam. All went well until they reached the border town of Wesel, where the English party, which now included two more ladies, were ordered off the vessel and brought before the local military commander. He politely told them that the ladies could continue with their journey, but the two gentlemen, despite being over forty-five years of age, would have to be remanded in custody.
Aspinall and Stewart-Brown were held in a prison cell until 24 August 1914 when, along with thirty-five other prisoners, they were marched to the railway station under an armed escort, and placed on board a goods van. Their destination was the military prison camp known as Munster-lager near to the town of Hanover. During the journey they were not allowed to leave the train for any purpose, and were not given any food until they reached Bremen around midnight. They reached Munster-lager the following day.
They were finally freed on 21 September 1914, under terms not made public, and they arrived back in Liverpool on 29 September. However, before their departure, both men quickly scribbled down the names and address of many other men who were held at the camp and shortly afterwards the following news item appeared in the Liverpool Weekly Post,
Mr Stewart-Brown brought back from Germany the names and address of a large number of other men who are interned at Munster-lager and a notification was sent by him to each of those persons that their relative was alive and well and being held as a prisoner of war. Cordial thanks were sent to Mr Stewart-Brown (and Mr Aspinall) from the Army Council for their public-spirited and considerate action.
Egerton Stewart-Brown spent the rest of his days living on Ullet Road where he continued to practise law at his office at 8 Cook Street in Liverpool. The family also had a second holiday home in North Wales. He was also the brother of  Ronald Stewart-Brown, the well-known British genealogist and historian (1872-1940).  He was at his home in Liverpool when he passed away on 11 August 1938, and was buried at Lleiniog on the Isle of Anglesey.
Tony Onslow
A short note on Nessie (née Muspratt) Stewart-Brown
Egerton Stewart-Brown's wife Nessie became nationally famous and more well-known than her husband. She was a political activist throughout her life and was a committed Suffragist and Liberal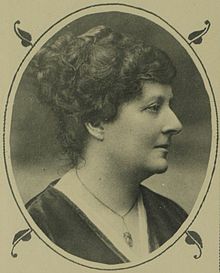 Party politician. She was co-founder of Liverpool Women's Suffrage Society, and led Women's Liberal Federation branches in Liverpool.   She was the first woman to speak on a municipal platform when her husband stood for Liverpool City Council in 1892. In the same year she was elected to the national executive committee of the Women's Liberal Federation, a body on which she served for many years.   In 1919, standing as a Liberal candidate, she became only the second woman to be elected to Liverpool City Council, and in 1924 she became one of the first women appointed a J.P., serving on the Liverpool bench.
Her name and picture (and those of fifty-eight other women's suffrage supporters) are on the plinth of the statue of Millicent Fawcett in Parliament Square, London, unveiled in April 2018. [Alongside her is the photo of another Liverpool suffragist, Dr Agnes Maude Royden, a cousin of the author of this note and editor of this website.]
Mike Royden