Corporal Harry Fitzroy Norris
12028, 11th Battal ion, The King's (Liverpool) Regiment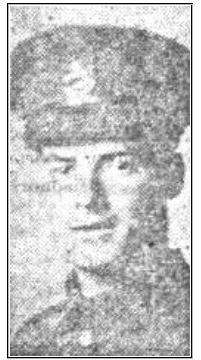 Harry Norris, whose father Fitzroy was a major figure in early Lancashire football as a referee and later manager and director of Bolton Wanderers, was on Everton's books around 1906, but failed to make the first team and was loaned for a spell at Tranmere Rovers.
By 1915, he had joined the 11th (Pioneer) battalion of The King's (Liverpool) Regiment, troops which not only fought, but specialised in construction and engineering, essential in trench warfare. He landed in France on 19 May 1915 on
his way to the Ypres Salient in Belgium. On 26 August 1915 the battalion war diary states – 'Half the Battalion continued making dugouts while the remainder were digging and repairing trenches. Casualties 1 killed, 2 wounded.' Harry Norris was probably one of the two wounded men and Commonwealth War Graves Commission records suggest he died of wounds the following day, 27 August, although his headstone says the 26th. Aged thirty, he was buried in Ypres Reservoir cemetery.