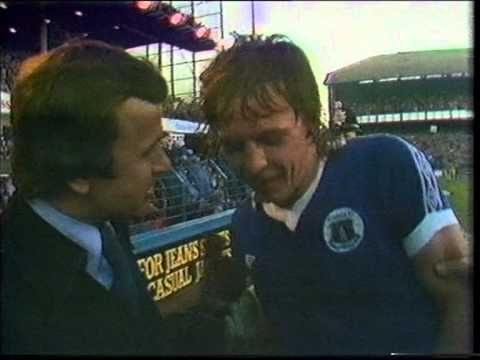 October 28th 1978 is a date etched in many an Evertonians mind. John Motson commentating that day for the evening football show 'Match of the Day' cries out, "The ball falls to Andy King, oh yes he's got it, Andy King has scored"
When the final whistle sounded at 4.45 Richard Duckenfield a BBC reporter waits on the pitch side to grab a few words with the hero of the afternoon. Before the conversation could commence, a Police Superintendent rudely pushes Duckenfield and King away from the pitch with an order "Get off the pitch"
42 years on I caught up with Richard to find out about the moment which has been shown many a time on the hilarious "It'll be Alright on the Night", which shows clips of funny and embarrassing television moments.
Richard takes up the story;
I was working for 'Grandstand', the BBC Saturday afternoon sports programme and covered the North West teams. They used to get us to go to various games and I reported on both Manchester and Liverpool clubs, Bolton Wanderers and other local clubs. We were allocated 90 seconds for a match report. If there was an outside broadcast team there, we might want an interview after the game with a player or the manager. That was the case on that day because it was a Derby game.
The obvious person to speak to that afternoon was Andy King because he scored the goal that gave Everton victory, something that they had been denied for seven years. I was situated on the side of the pitch near the players tunnel, so I caught hold of Andy as he was coming off which meant at that moment, we were standing on the pitch, just over the touchline.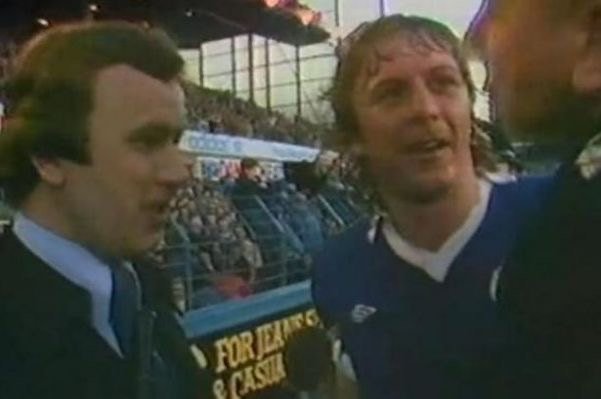 I started to ask a question when a Police Inspector, who later became quite famous for the incident swept me off the pitch. He had received instructions that there was to be nobody on the pitch at the end of the game. That was the rule and he interpreted it literally – no players, no reporters, nobody. That wasn't really the intention. It was meant for fans or anybody hanging around, but I only got a few words out before being removed.
The incident wasn't actually transmitted at the time, but after we were swept off the pitch, we stepped onto the cinder track where the interview was completed. The successful take was then transmitted.
The footage of me and Andy being swept off the pitch was then distributed to one of the "blooper" programmes and has been shown many times.
I asked Richard if he ever received an apology from the Police Inspector;
"No, I suppose it wasn't really required. He was doing what he thought was the correct thing. I believe he got a bit of ribbing about it from his colleagues and became a bit of celebrity", Richard said laughing.
Not long afterwards, I was at Villa Park for the FA Cup semi-final when Everton played West Ham doing the same thing. I was there to interview the key players at the end of the game. So, I went down to the end of the tunnel where the camera was, and there was a Police Chief Superintendent standing there. Remembering what had happened at Goodison Park, I introduced myself to him, telling him where I was from and the purpose of me being there. I told him that I would be looking to do an interview after the game and asked was it alright with him. He told me it was fine as far he was concerned and told me to do what I had to do. As he said that, I noticed on this little wall, there was a half full bottle of Bell's whisky standing on the wall. He told me to confiscate it and asked did I want some. "There's a difference in hospitality", I said.
There were two of us based in Manchester, who were broadcasters for Grandstand doing the 90 second match reports. A much more illustrious and famous individual than me, was David Davies who later worked with the Football Association.
I remember another time at Goodison on Grand National day. Everton had played in the morning to avoid clashing with the big day at Aintree later that afternoon. They didn't have any outside broadcast at Goodison Park, and wanted me to get up to Aintree to do the outside broadcast from there.
On the final whistle at Goodison, I had a taxi waiting. I got into this taxi and about half a mile from Aintree we became stuck in traffic. I thought the best thing I could do was to get out and run as fast as I could. I got to Aintree and made my way to one of the enclosures where everything was set up. I sat down with an instruction to broadcast 30 seconds later, but I was totally out of breath and could barely speak.