A new film made by Everton FC Heritage Society
'Everton Village and the Birth of Everton Football Club'  
Presented by Rob Sawyer in conversation with Ken Rogers
An EFCHS original film
Filmed and edited by Lewis Royden
Produced and directed by Mike Royden
Thomas Keates – Celebration of his Life, and Grave Rededication – news report
Thomas Keates – Celebration of his Life, and Grave Rededication – news report
Following on from our film about the life of Thomas Keates, a celebration of his life and rededication of his grave took place at Anfield Cemetery on Saturday 9 September 2023.
Filmed and edited by Lewis Royden
Everton FC official podcast – featuring The Everton Heritage Society
| | |
| --- | --- |
| | Two of our Heritage Society members, Brendan Connolly and Sarah Deboe, were invited to join Darren Griffiths of Everton FC for a half hour podcast, that explains in detail precisely what the society does. Hosted on the official club website. |
Everton FC Heritage Society Annual General Meeting 2023
The AGM was held on Tuesday 15 August 2023, where after several years' dedicated service and expert guidance, our Vice-Chairman, Peter Lupson, confirmed his intention to step down. Brendan Connolly had generously stood in for Peter, while he was unable to attend due to personal family reasons.
Mike Royden was unanimously elected and was warmly welcomed as our new vice-chairperson.
Our First Society Made Film!
Thomas Keates – Director and First Historian of Everton Football Club
A film made by Everton FC Heritage Society on the life of Thomas Keates – an early director of the club, but also the first historian of Everton FC.
Written and present by Jamie Yates / Filmed and edited by Lewis Royden / Produced and directed by Mike Royden
Everton FC Heritage Society Fan Survey
Everton FC Heritage Society is conducting a short online survey of Evertonians to better understand their interactions with the Society, and gauge what innovations they may wish to see. The survey also seeks views on what heritage-themed presence supporters may wish to see at or near to the new stadium.
Click here to complete the survey
---
The Derby Day Experience
The Derby Day Experience –
a film by Paul McParlan (Everton FC Heritage Society) for ViaPlay Poland about Derby Day and the current state of Everton Football Club
Everton FC Heritage Society receive the Health Through Sport Ball of Fire Award
On Friday 25 November 2022, at the Hilton Hotel in Liverpool City Centre, the Everton FC Heritage Society were awarded the Ball of Fire Award by Ronny Goodlass and Health Through Sport. Full report here.
It's with a heavy heart that we have to report the passing of our dear friend and long time member of EFCHS, Dr John Rowlands, at his Formby home on 19 November 2022 aged eighty-three. John was a true gentleman and a scholar and Rob Sawyer has composed a few words in memorium.
---
Jamie Yates – Everton in the Community: Goodison Sleepout
| | |
| --- | --- |
| | Congratulations to EFCHS member Jamie Yates, who once again participated in the Goodison Sleepout in aid the homeless. Jamie's overall total raised through his several sleepouts now stands at well over £2,000. Well done to Jamie and all those who took part, and of course to all those who made a contribution to this worthy cause. |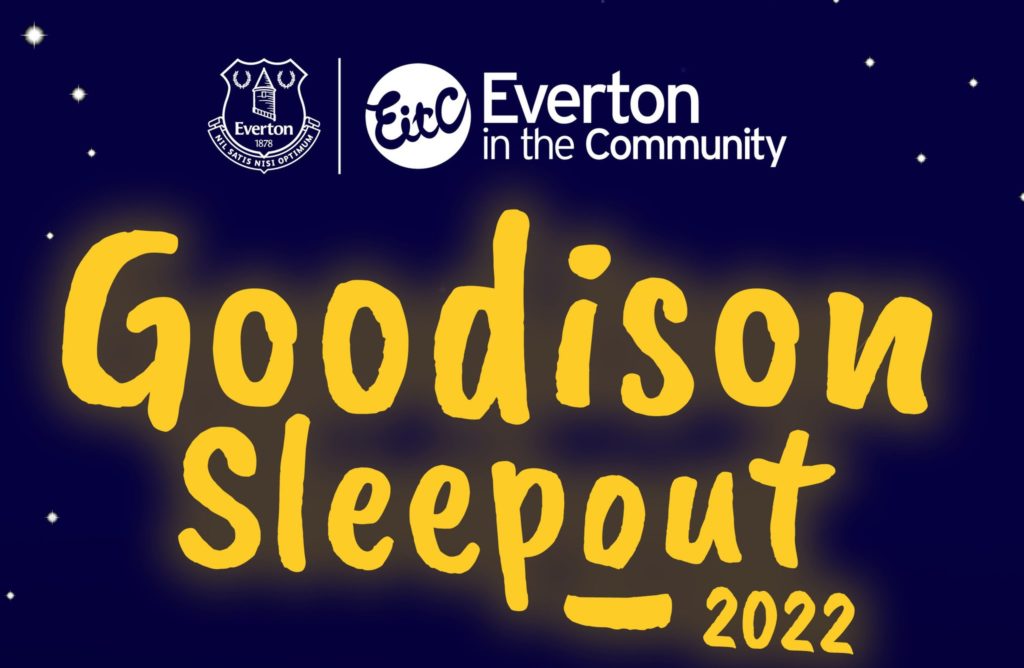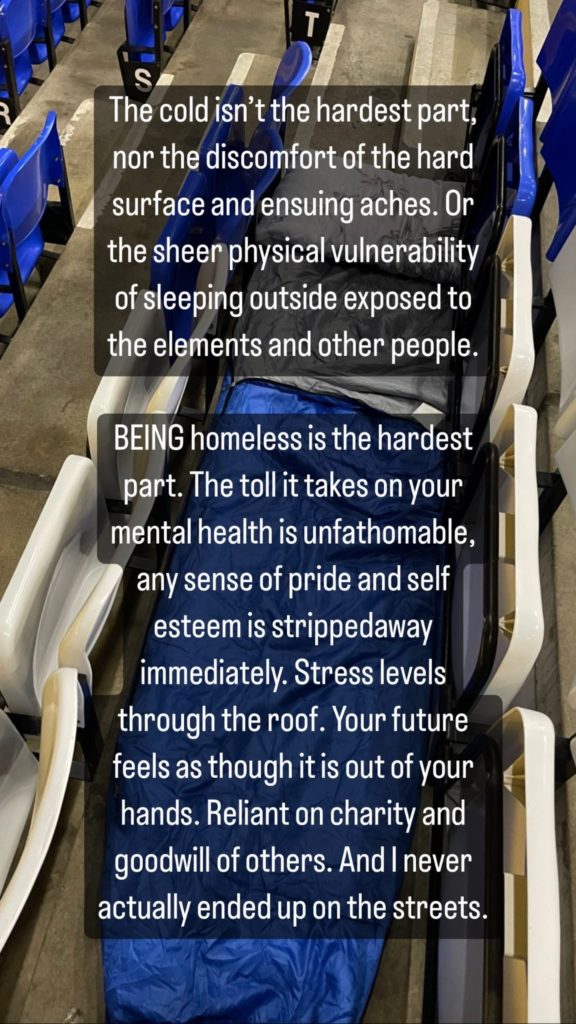 ---
Publications
Huge congratulations to EFCHS members Steve Zocek, Paul McParlan, Gavin Buckland, David France, Rob Sawyer and Everton FC Broadcast and Liaison Manager Darren Griffiths, who we work closely with, on the recent publication of their excellent Everton works. Well done to all on your achievements. Click images to order!
We are also looking forward to Steve Zocek's long anticipated Goodison Memories volume is published on 11 April 2022. Keep up with book offers and signings on Twitter and Facebook.

Goodison Park is one of British sport's most fabled venues: the home of Everton FC since 1892 and one of the last traditional football amphitheatres. It has witnessed highs and lows and been graced by the likes of Dixie Dean, Tommy Lawton, Alan Ball, Bob Latchford, Gary Lineker, Pele and Eusebio. As the Toffees prepare to move to the waterfront, Goodison Memories celebrates that legendary stadium with vivid recollections not from Evertonians, but from opposition players, managers, officials and sports journalists. The result is a collection of candid interviews that capture the essence of Goodison Park. Listen to their tales of the Everton players they remember with fondness, priceless anecdotes and memories of the atmosphere and features of the stadium. Have you ever wondered what it was like for the broadcasters to sit on the TV gantry, the press to work from the press box? What was it like for match officials to take charge of the game and handle the characters on the Goodison turf? Goodison Memories holds all the answers.
The Forgotten Champions vividly recounts Everton's remarkable 1986/87 title win, a feat that tested Howard Kendall's managerial skills to the limit. Lifelong Everton fan and experienced football writer Paul McParlan draws on personal recollections, extensive research and interviews with key team members – Alan Harper, Paul Power and captain Kevin Ratcliffe – to recreate that dramatic season. The book recalls the decisive and emphatic match-winning sequences over Christmas 1986 and Easter 1987 when Everton exhibited some of the most exhilarating football ever produced by an English team. Against all odds, an injury-ravaged Everton side deprived of so many key players for large chunks of the campaign were crowned league champions for the ninth time. It was a magnificent achievement. To date, it is the club's last title. With his unrivalled knowledge of 1986/87, Paul brings that incredible season to life in all its glory in this fascinating, page-turning account.
As well as being a member of Everton FC Heritage Society, Paul Mc Parlan is a member of the Football Writers' Association and a Senior Writer for These Football Times. He has written features for The Athletic, the Liverpool Echo and When Saturday Comes magazine and has appeared on TalkSport and Radio City. Paul is a regular guest on the popular Blue Room podcast show and is a regular contributor to the Black Watch fanzine. He has been an Everton supporter since the 1960s.
In May 1985 Everton were the best team in Europe, having romped to the First Division title and lifted the European Cup Winners' Cup in thrilling style.
That twin triumph was the culmination of a long and occasionally treacherous journey that started with the departure of Harry Catterick twelve years earlier. Set in the wider cultural and economic context of the time, Boys from the Blue Stuff tells the story of that passage.
Chronicling the efforts of Billy Bingham and Gordon Lee to return the club to the summit of English football and out of the shadow cast across Stanley Park by their dominant neighbours, Boys from the Blue Stuff concludes with how Howard Kendall overcame the dark days of 1983 to produce the most successful Everton team in history.
Expertly researched and brilliantly written, Boys from the Blue Stuff is the definitive account of an era in which Everton touched the extremes of triumph and despair, leaving an indelible mark on the club's illustrious history.
EFCHS member Gavin Buckland is official statistician to Everton FC and has written a number of books about the club, including Strange But Blue and Money Can't Buy Us Love. He has checked the questions for BBC TV's A Question of Sport for more than 20 years, and has set questions for several football-related TV quiz series.
Expertly researched and beautifully illustrated, Toffee Soccer highlights Everton Football Club's significant contribution to North American soccer and vice versa. The book summarises every tour game and profiles every player and includes hundreds of previously unseen photographs and illustrations, as well as original interviews with everyone from Wayne Rooney to the late Alan Ball. Toffee Soccer is a must read for all soccer fans, irrespective of accent.
Toffee Soccer's co-authors have between them contributed more than 30 Everton books, encompassing some four million words, to the royal blue canon.
David France: From the USA and Canada, David has travelled over two million miles to introduce his trailblazing initiatives and support the club. In addition to writing a small library of Everton books, he created the Hall of Fame, registered the Former Players' Foundation, formed the Heritage Society and combed the globe to compile the world's finest football archives, now known as The Everton Collection. In 2012, he was awarded an OBE for his services to football in the United Kingdom and Europe.


Rob Sawyer:

A fourth generation Evertonian, Rob's great-grandfather, William J Sawyer, was a director between 1920-1930 who was active in the signing of Dixie Dean and the club's secretary in 1918/19. Rob is a columnist for ToffeeWeb and a member of the Everton FC Heritage Society. His other Everton books are the biographies of Harry Catterick, Roy Vernon and TG Jones, the latter of which was shortlisted in the British Sports Book of the Year awards in 2018.
Darren Griffiths: A key member of Everton's media department for more than 20 years, in his current role of Broadcast and Liaison Manager Darren is involved in editing the matchday programme and scripting, voicing and producing club videos and podcasts. He has hosted hundreds of Everton events, and provided interviews with players and managers as well as match commentaries. Darren has co-authored a dozen editions of The Official Everton FC Annual and the autobiography of Graeme Sharp.
Congratulations to EFCHS member, and Liverpool Echo's Head of Sport, David Prentice on the publication of his recent book 'A Grand Old Team to Report – 45 Years Following Everton Football Club.' A wonderful read for any Blue. More here
Also, congratulations to EFCHS member James Corbett, whose first novel The Outsider was nominated on the long list for the Portico Prize in September 2021.
All publications by EFCHS members can be found here
Everton FC Heritage Society Annual General Meeting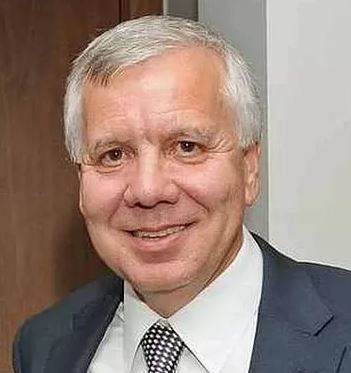 Thanks to Everton FC, the Society was able to resume monthly meetings at the Royal Liver Building in early 2022.
The AGM was held on Tuesday 8 March 2022, where after several years' dedicated service and expert guidance, our chairman Brendan Connolly confirmed his intention to step down. Ken Rogers was unanimously elected and was warmly welcomed as our new chairperson.
Brendan made the following statement;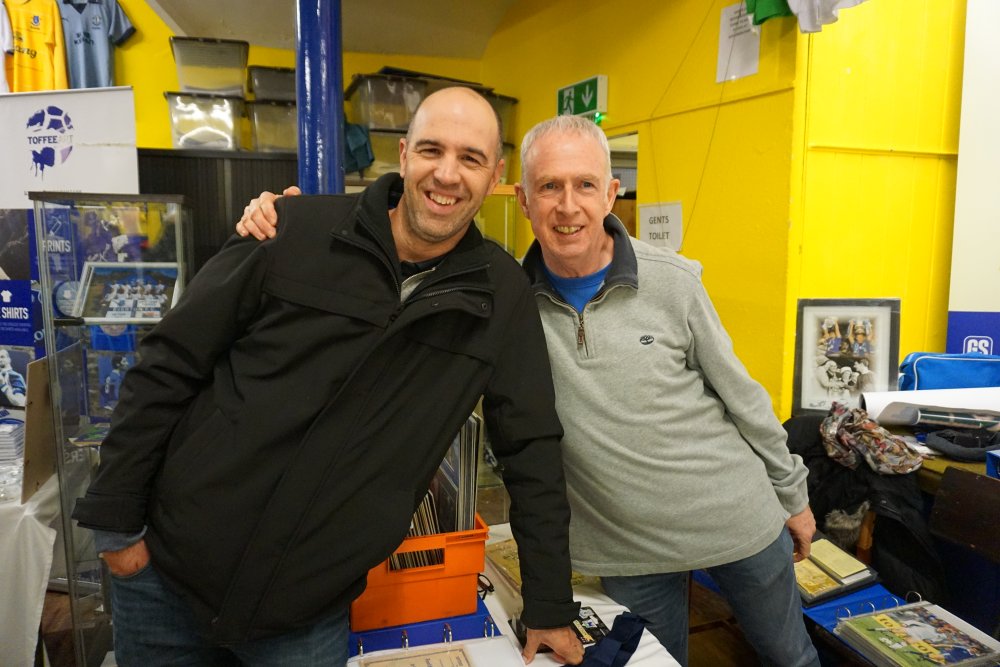 Many thanks for the numerous messages received congratulating Brendan on his successful term in office. We are pleased to report that Brendan is continuing as a full member of the Society and you can continue to meet him at his stall in St Luke's on Matchdays.
Everton Stakeholder Steering Group
For latest news and reports click here
Our friends at 'Bygone Liverpool' have been busy trying to discover the location of the lost football ground of Liverpool Caledonian AFC from 1891 to 1892. After a search by historians that began in 2014, they have finally solved the mystery. They have produced a fascinating and detailed article, using a great deal of research, with a few links to Everton and the Society. A valuable contribution to our understanding of the early history of football in the city. Well worth a read!
Our New Website on Twitter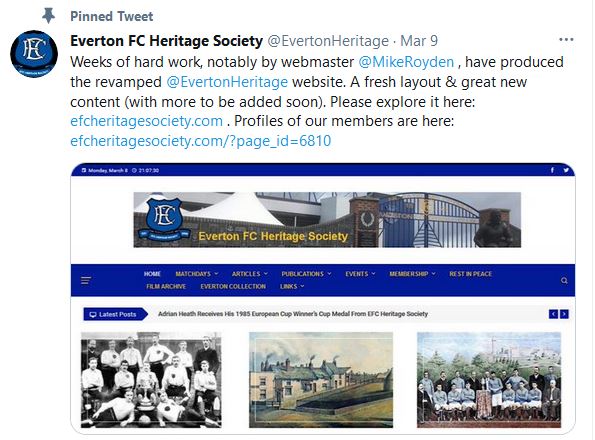 Easily the best Everton feed on Twitter (with no hint of bias whatsover), Rob Sawyer keeps us regularly entertained and well informed about fascinating and intriguing aspects of Everton FC history.
Covid
Although our last monthly meeting was in February 2020, we have still tried to keep the Society functioning as best we can.
Website
Well this is the obvious development as you are here, but it does show where Society work has continued at a pace in certain fields.
Meetings
Our monthly meetings in the Everton FC Head Office in the Royal Liver Building are suspended at the moment. We have had a few meetings on Zoom, but we have regular contact with all members through group email, while sub-groups also continue to have regular contact.
St Luke's Church (home matchdays)
After the suspension of our matchday exhibitions due to the Covid restrictions, our service fully resumed at the Norwich game. Hopefully this will continue through the 2021/22 season. Follow us on Twitter and Facebook as well as visiting the website for future updates.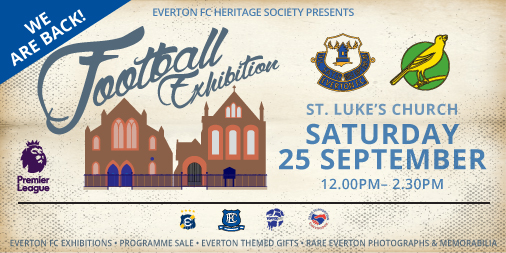 Research
If there has been one benefit of lockdown, it has enabled a number of members to focus on research projects, and the results are starting to bear fruit, with several new articles being published on the site, and more in the pipeline. See 'Latest' on the front page.
We have continued to produce regular articles for every Everton matchday programme within which we have our own Everton Heritage page. Programmes are available online from the official club website.
We are busy working to complete our listings with free downloads, but progress so far can be found here.
Masters research scholarships
Everton Football Club and Liverpool Hope University have appointed two researchers in a MRes in the History of Everton Football Club and a MRes in the History of Everton in the Community. This is an opportunity to shine a light on previously unexplored chapters in the social history of Everton and its award-winning charity Everton in the Community – and to have their findings published in a new book.  Everton FC Heritage Society played a key role in the inauguration of the award. More details here.