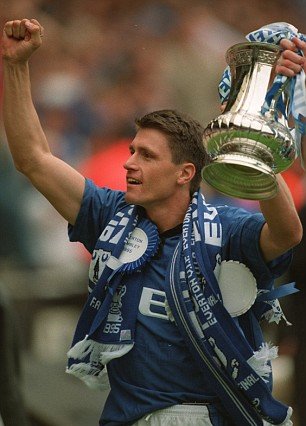 The next item in this series takes us to the USA to the Rideout residence. Paul Rideout, of course, will be remembered for his headed goal at Wembley in 1995 which brought the FA Cup to Merseyside. Sadly, no silverware has followed since that May afternoon, so his goal remains strong in the memory of Evertonians.
Paul, it will be remembered, hit the ground running in the early days of his career when he started at Swindon Town and made his début at the tender age of sixteen, becoming the youngest player to feature for the Robins. Paul penned a deal with Aston Villa after Swindon failed to reach promotion. Liverpool tried to tempt Paul with a move to Anfield, but he decided on a move to the Midlands where he enjoyed a two-year stay at Villa Park. Then he made an attractive move to the Apulia region of southern Italy to play for Bari.
After three years in Italy, Paul came back home to the UK where he had periods at Southampton, a loan move back to Swindon Town, Notts County and Glasgow Rangers before signing for Everton the day before the newly-created Premier League commenced. He made his debut at home to Sheffield Wednesday in August 1992.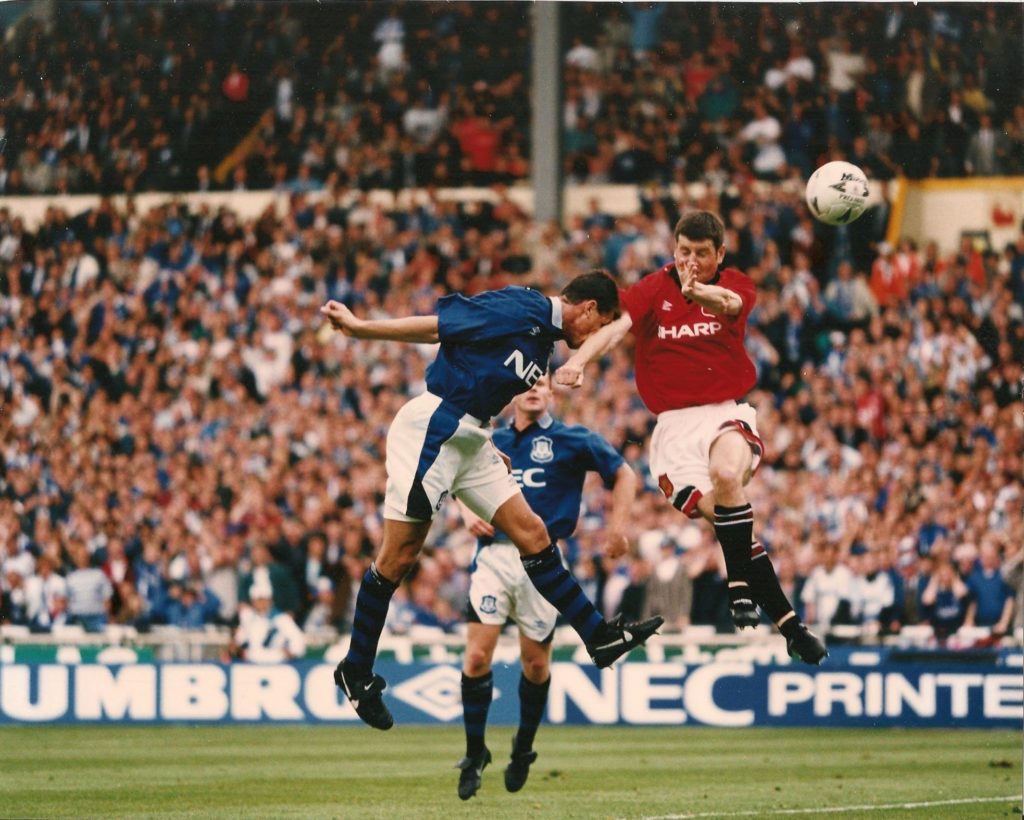 Paul would be the first to admit that it wasn't all rosy in his first couple of seasons at Goodison Park under manager Howard Kendall and, later, Mike Walker. But with the appointment of Joe Royle in November 1994, things started to blossom. The high point of his career at Everton was certainly the FA Cup success. Paul's 1996-97 season didn't go as well as the sixth-place finish in 1995-96, and a move to the USA beckoned with Kansas City Wizards becoming his next port of call.
A move to China followed with Ching Quing Huandao where he was voted best overseas player, before a short spell with Shenzhen Jianlbao. His finale back in the UK was at Tranmere Rovers, where he teamed up again with his former Everton captain Dave Watson at Prenton Park.
Paul went on to coach in the States where he still resides to this day. He is currently in Phoenix, Arizona, where he is coaching the Real Salt Lake Academy.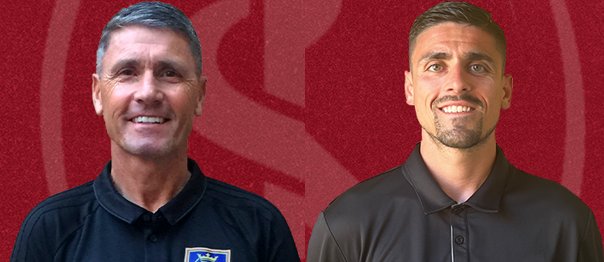 Following in his dad's footsteps was Jordan, one of three sons. I 'hooked up'– as they say in the USA – with Jordan to find out about his career in football;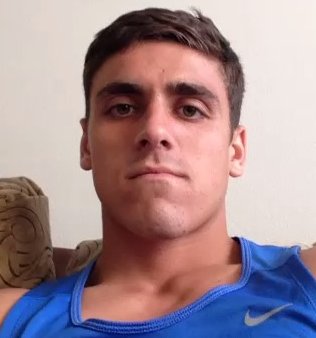 'My Dad had such a massive influence on everything I did, as soon as I could walk and kick a football.' Jordan continued, 'My dad lived and breathed it, whether it was taking care of your body, watching games, going in early for treatment, training – it just never stopped. I was raised surrounded in that environment with the full support of my mum who wanted success for him too. Our life revolved around Dad's life. From a very young age, that's exactly what I wanted to do. My Dad was always my hero alongside Wayne Rooney and David Beckham.'
'When I reached the age of fifteen, that was when I started to think about a professional career in 'soccer', but Dad was extremely tough on me. He was my coach at Sporting Kansas City where he started the youth academy. I started to mature as a man and as a player and I started to come into my own.'
'My Dad really disciplined me from the age of sixteen to twenty, as he knew I had the potential to make it at the next level, which I liked because it's made me the person who I am today as now I'm a coach. My grandfather was like that with my Dad, too. People in America would see that as tough parenting, maybe?'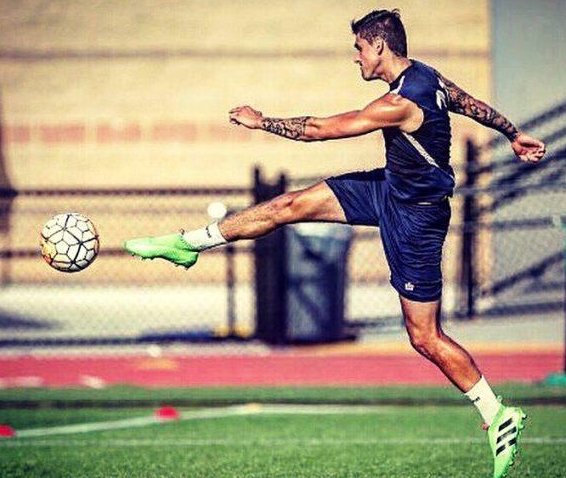 'That's how I was raised through the eyes of my Dad – it was football, football, football. We used to sit on the couch watching game, after game, after game, and he would teach me about every match that we watched together. Dad would talk me through the moves that players would do and break down everything to simplify it. Everything I learned from my days in college in soccer, is what he learned as a Premier League player.'
So, did I want to follow in my Dad's footstep's? He was my hero. Yes, but I knew it was going to be one of the hardest things for me to do. I have experience and knowledge, information from my Dad who could teach me those things. I used to watch my dad obsessively on the VHS video tapes of the season of Everton 1995-96, 1996-97.'
'I got involved with a local club in Kansas called AC FC who no longer exist. They were very successful at the time. At sixteen years old, my Dad started the Kansas City Sporting Academy and ran the under-18 team. I was involved with the under-16 team. This was the first time that the academy league started up which consisted of sixty-four teams in the country that would compete against each other. We would travel across the whole of the country to play our games, playing the likes of Houston Dynamos, FC Dallas. That was when I started to come into my own after experiencing a growth spurt.'
'I scored eighteen goals in my first season, which made me the top scorer in the region, which gave me confidence to make me believe that I could be really good. I'm a natural finisher just like my dad, but lacked pace.'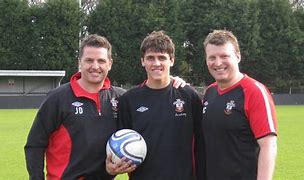 'The second year with Kansas, my Dad became my coach, which coincided with my last year of high school. That was when my Dad really became tough on me as a coach. I had no preferential treatment because of who my Dad was. I was playing in the pro league for Sporting Kansas City in the NCAA (The highest level of college soccer in America) playing with the first team, training with the reserves. I scored a goal for the reserves, thus becoming the first academy player to score at that level. I wanted to play so much for Sporting KC instead of going to college. The club had signed a big striker which limited my opportunities.'
'I went over to the UK to train with the under-23s at my Dad's former club Southampton, where Jason Dodd, a friend of my Dad, was the coach. I spent three weeks with the Saints, not necessarily hoping to get a contract, but I needed to find out if I was equipped to play at the Premier League level in England.'
'My stay was pleasurable, but I realised I was a step behind that level. My thought process was probably a second behind, and my physicality level wasn't as good as it should have been. Those features were the make or break of whether I would make it. During my stay there I was training with Alex Oxlade-Chamberlain, James Ward-Prowse and Callum Chambers.'
'I then returned to America with a huge decision about my next step; do I go to college, or do I get a pro contract? Sporting KC kept me in their system as a home-grown player and I continued to train with them.'
'I stayed there for three years, and did well before getting a hernia in my fourth year, so I missed the whole year of playing. Recovering from my injury in 2015, I asked Phoenix Rising – a club owned by Didier Drogba in Arizona where my parents lived – if they would allow me to train with them before going to the UK, as I was going for a trial at Swindon Town in England. Having seen me train, I was offered a contract with Phoenix Rising. Again, I was faced with a dilemma; do I want to go to England and spend money with no guarantee that there would be something at the end of it, or, do I go with a pro contact at Phoenix Rising?'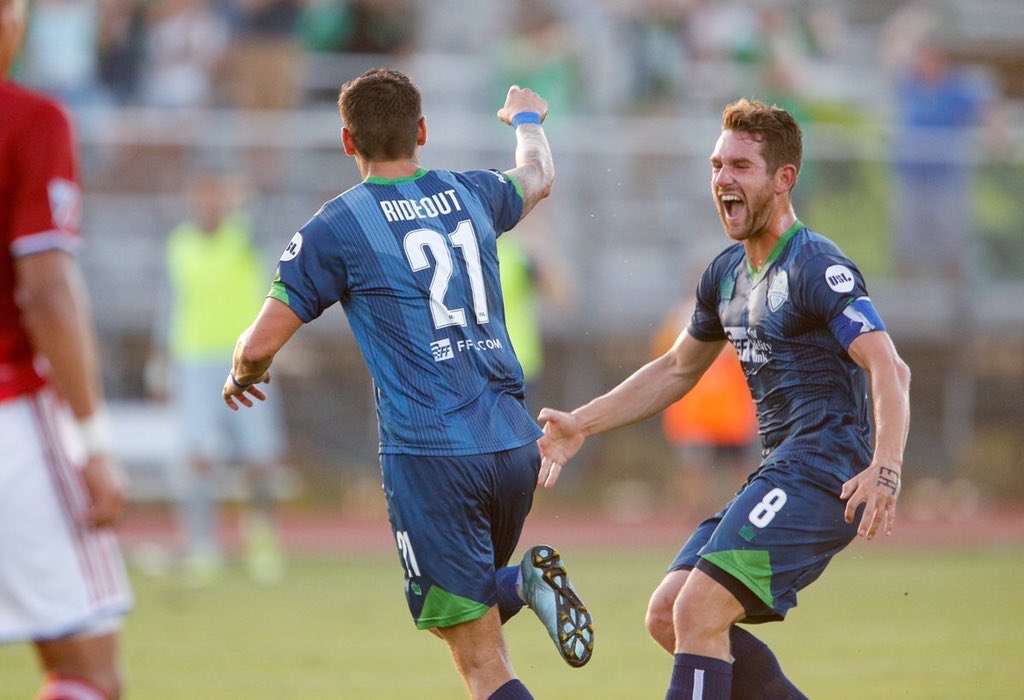 'I would be in a situation where living in the same city as my Dad, he could watch my every game. So, I signed my first contract with Phoenix Rising in 2015/16.'
'My first year was a very good learning experience playing with a close friend, Scott Morrison, who had played in the UK with Ross County and Aberdeen.'
'My second season as a pro, I was signed by Oklahoma City, before joining Saint Louis in my third year, when I damaged my ankle ligaments. I was faced with the decision of surgery or resuming my fitness level a year or so later.'
Jordan then spent time as the men's and women's head coach at North West Kansas Technical College, and assistant coach at Chaminade University of Honolulu, before making another switch to join Barton Community College as head coach. In his second season, Rideout guided Barton to the 2020-21 NJCAA Division I Men's Championships.
His success brought a move to Real Salt Lake Academy (RSL AZ) where his father was already on the coaching staff. Their technical director commented,
"Paul has been with the club since 2018,and his reputation and record speak for themselves as a coach. He was also a wonderful player who played nearly 600 games at the very top levels in the world. There is a long line of players in Arizona and nationwide who speak with reverence in describing what Paul has done for them. There is tremendous value that former top players bring to the education of the next generation of players, and we are extremely happy to have him as a coach for our MLS Next teams.
Speaking about Jordan he said,
"Jordan is a perfect fit for our MLS Next U17 and U19 teams.  When we began searching for this spot, we wanted someone who had experience as a head coach at the collegiate level, and who had played and coached both in college and professionally so he could relate to the players, and help them through this important stage of their journey. Jordan fits the bill at every level. He has energy and passion and we are glad to have him working with our oldest boys in MLS Next."

Brent Erwin (Technical/Executive Director at RSL).

(source: RSL AZ MLS NEXT Names Paul Rideout and Jordan Rideout As 2022-23 Head Coaches )