by Steve Zocek
David Grant (born 1947)
David Grant played football for Liverpool Schoolboys, representing the juniors, before going up to the next level. During that period, Dave also represented Lancashire Schoolboys, with the proudest moment of all, being selected for England Schoolboys against Ireland at the Filbert Street ground, the home of Leicester City.  Whilst representing county and country, scouts from football clubs searched for a new talent.  And low and behold, there was a tug of war between Wolverhampton Wanderers and Everton, both hoping to persuade this talented youngster to sign forms. But to the chagrin of the Wolves management, it was a foregone conclusion, what with him being a local lad and his father being an ex-Everton player.
Dave joined the Goodison outfit as an apprentice at the age of fifteen, later signing professional forms at the age of eighteen while playing for the reserves in the Central League. Everton youth team, of which Dave was also part of, reached the final of the competition in 1965. After receiving a bye in the first round, Everton were drawn against title holders Manchester United in the next round, and impressed with a 5-0 romp against the Red Devils.
The victory took them to the Lancashire town of Blackburn and a tie against the Rovers. The side with the famous blue and white halved shirts had previously won the FA Youth Cup in 1958/59 beating West Ham United. But Everton made sure there was no repeat for the Lancastrians, and breezed into the next round with a 3-0 win.
The Toffees were rewarded with a home draw in the Fourth Round against the clarets of Burnley. A four-goal rout springboarded them into the next round with home advantage once more, in which Stoke City gave a good account of themselves, but a goal in the twenty-fourth minute was enough to see the Blues through into a two-legged semi-final with Sunderland.
On Wednesday 7 April 1965, Goodison Park hosted the first leg of the FA Youth Cup semi-final against Sunderland. The Blues kept another clean sheet, hitting the Wearsiders with four goals, making the return at Roker Park almost a formality, where they another goal to make it five without reply on aggregate.
Their opponents in the final were Arsenal, and Everton's youngsters travelled to Highbury, in north London where they were beaten by a goal to nil. On the night of the second leg at Goodison, David Grant, a natural left-half , was given the opportunity to make his debut in the competition, having been a substitute in every round, replacing Dennis Yaager, who had bowed out due to injury.
The incessant rain, which had started around 6pm, made the surface difficult. Yet the thirty thousand rain-soaked supporters inside the stadium that night were determined to cheer the youngsters on whatever the conditions. They stayed in the downpour to see the youngsters over the line, and were rewarded with a Blues victory. An emphatic 3-1 result with goals from Tony McLoughlin, Aiden Maher, and a victory sealing penalty by John Hurst, saw Everton become the FA Youth Cup winners with a 3-2 aggregate score.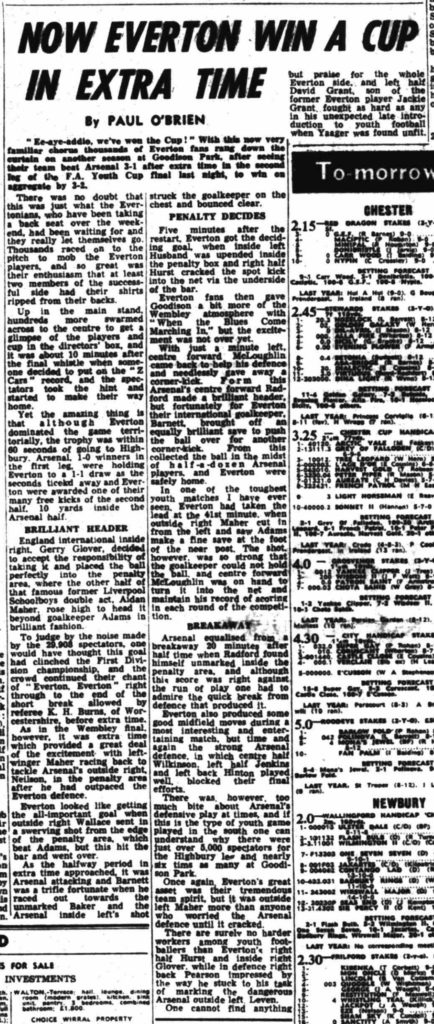 'One cannot find anything but praise for the whole Everton side, and left-half David Grant, son of the former Everton player Jackie Grant, fought as hard as any, in his unexpected late introduction to youth football when Yaager was found unfit.' Liverpool Echo, 4 May 1965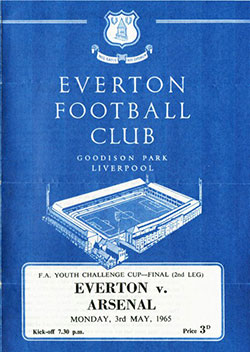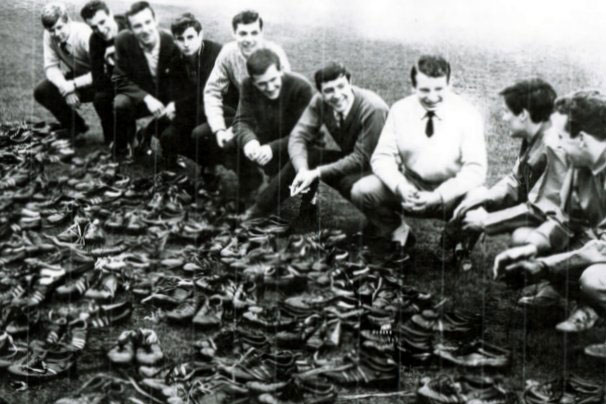 In 2015, Rob Sawyer of EFCHS wrote in his ToffeeWeb article on the Youth Cup winners of 1965,
Everton Football Club kindly invited the 1964/65 Youth Cup squad to the final match of the 2014/15 season. On the 24 May the whole squad, with the exception of the late Tony McLoughlin, Geoff Barnett (working in the USA) and John Hurst (on holiday) assembled at St Luke's as guests of Everton FC Heritage Society. Dennis Yaager had even travelled from his home in Australia, with wife Mary, for the occasion. Many had not seen each other in decades but team captain Eric Curwen remarked: "It was good to meet up again after 50 years and, although we may not have recognised each other, once we got chatting the years rolled away!"

Rob Sawyer with David France, 'The Class of '65: Everton's First FA Youth Cup Winning Team 50 Years On,' ToffeeWeb, 25 March 2015

David signed professional forms after the success of the youth cup, but later, he joined Wrexham for twelve months. David then had a spell at South Liverpool, where he played in the side that played Bangor City.  Alec Lucas, a friend of David, had recommended him to the Bangor City player-manager, Mick McGrath, to sign him for the Welsh side. McGrath took up the option and Grant signed forms with the Farrar Road side where he stayed for a couple of seasons.
David decided enough was enough, he'd married at the age of eighteen, had a family (two daughters) and went to work at Fords for a year, before a career move to the GPO as a telephone engineer.  Prior to retirement, he was as distribution manager for Lin Foods (wines and spirits), which also included working on the security side of the company .   
Jackie Grant (1924-1999)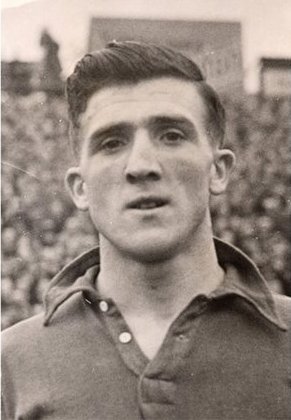 Jackie Grant, was born on 8 September 1924 in High Spen (Gateshead), County Durham. He played for his local school's team before joining Wolverhampton Wanderers for a month's trial. He then worked for a bus company making the bodies before Everton came knocking, where he eventually signed amateur forms in August 1939. He signed professional terms in November 1942, enjoying a spell which lasted fourteen years. Jackie Grant was a tough little terrier of a man, who was strong in the tackle. despite being one of the smallest wing-halves in the game.
After the suspension of the Football League during wartime (when Grant guested for Blackburn Rovers), he made his First Division debut for Everton on 5 October 1946 at home against Wolverhampton Wanderers. Wolves had the famous Stan Cullis and Billy Wright in their ranks, with the latter opening the scoring as early as thirty seconds, which steadied them on to a 2-0 win.
Grant continued to make another four appearances that season, finding the net in the last home game, opening the scoring in a 4-1 walloping of Leeds United.
The following season (1947/48), Jackie started to become a familiar face amongst the team where he went on to play 23 games (18 league, 5 FA cup). In the FA Cup run, Grant scored a last gasp goal at Goodison in the 4th Round – a replay after a 1-1 draw at Molineux seven days previous. That afternoon, Goodison recorded their highest home attendance of the season with 72,569 spectators. Everton won the game 3-2. after extra time.
The 1948/49 season was one of disappointment for Jackie Grant, playing only a total of eight games in all competitions, one of which was the last game in charge for manager Theo Kelly away at Blackpool. 
Under new manager Cliff Britton, the 1949/50 season saw him play 28 times, his highest number of appearances since joining. Everton. On 25 March 1950, he played in the FA Cup semi-final against Liverpool at Maine Road, Manchester. Everton's Tommy Eglington wasted a great chance in the dying minutes blasting a glorious opportunity over the bar.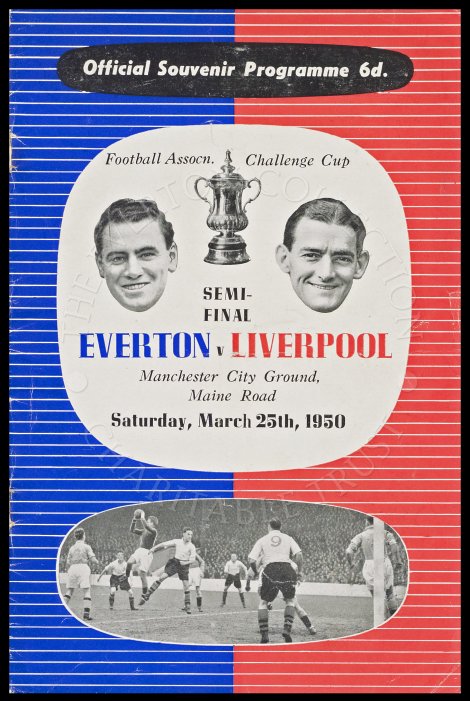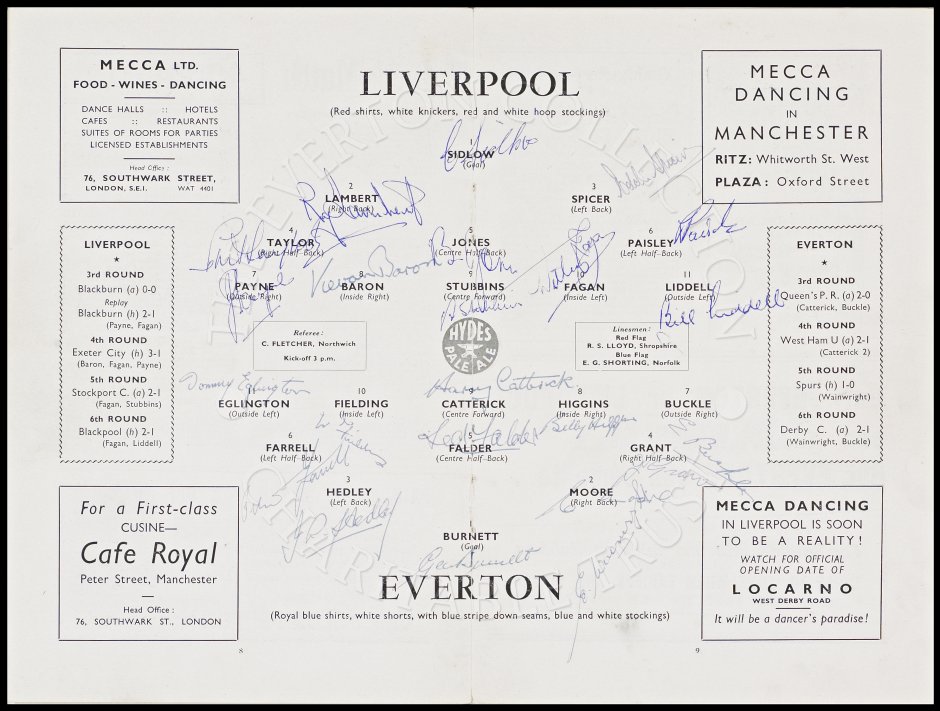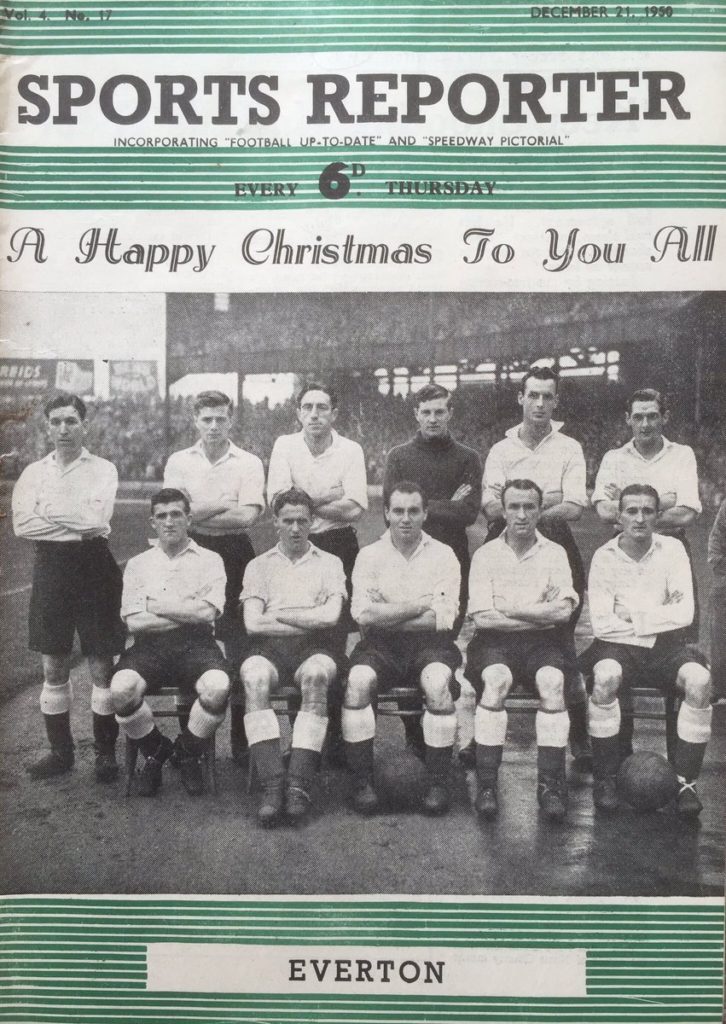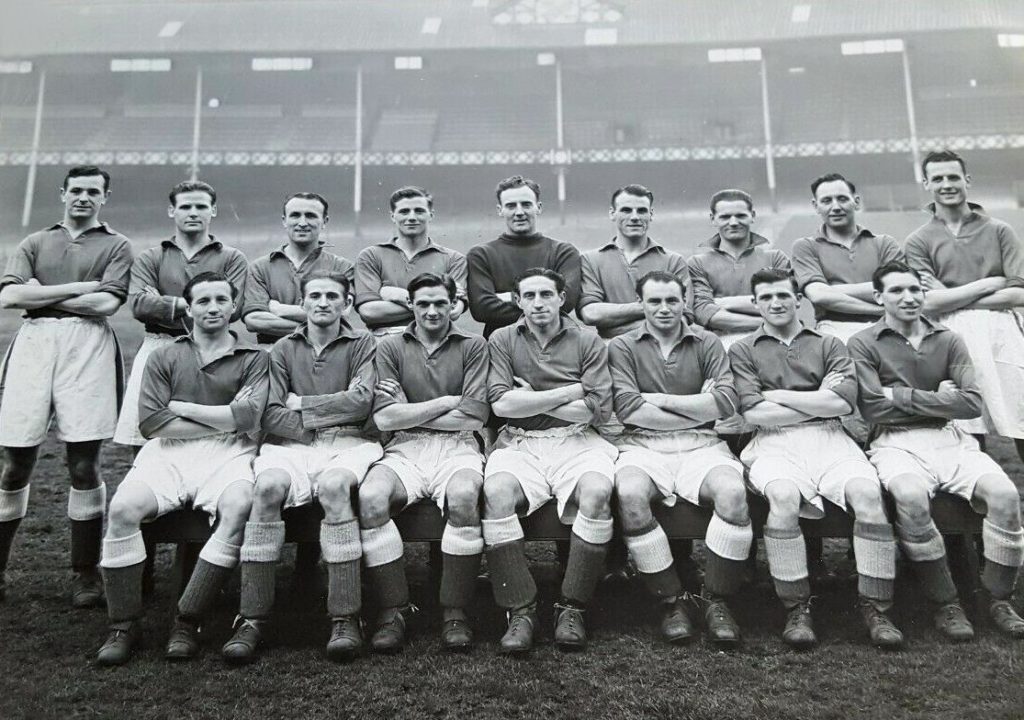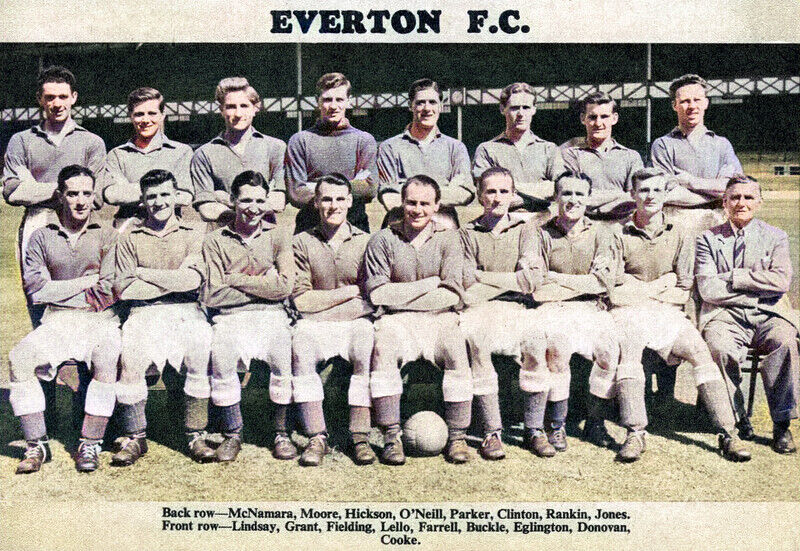 In 1950/51, Everton were to experience their worst season since 1929/30, when they finished bottom of the First Division with thirty-two points and were relegated along with Sheffield Wednesday.
They returned to the top flight as runners up to Leicester City in 1953/54, with Jackie Grant restricted to only three appearances. He had now become an integral part of Everton's Central League side after failing to hold down a League place. 
On 6 November 1954, Grant played his only game that season, which was also his last. It was an ignominious end to his Everton career, experiencing a five-goal hiding at Fratton Park against Portsmouth, scoring an own goal to add to his misery.
Jackie found pastures new at Rochdale, where he teamed up with his ex-team mate, Harry Catterick who became team manager in May 1956. His stay with the Lancashire side lasted two and a half years, making over 100 appearances. In October 1958, he turned out for Rochdale Reserves against Southport 'A' at Meols Park, and three months later went to Haig Avenue as Wally Fielding's first signing. He was unlucky with cartilage trouble in 1959-60, and had a long spell on the injured list. His last game was on 2 May 1960 against Doncaster Rovers. In November 1960, he was one of five players placed on offer by the club, and although he failed to make a League appearance, he played in twenty-eight out of thirty-four games for the reserve side, which won promotion from the Second Division of the Lancashire Combination. Jackie then had a spell as player-coach at Prescot Cables during 1962/63. He later scouted for Blackburn Rovers.
After finally hanging up his boots, he joined Blakes where he was a panel beater, then took the opportunity to join Fords, staying there until his retirement at the age of sixty.   
Jackie resided at 24 Goodison Avenue with his family (where the gates of the Park End are now located). After retiring, Jackie never missed a game at Goodison Park unless he was working. If he was on shift on a Saturday, he would make sure he would go into Ford's early to make sure he could make the game where he was handed his complimentary ticket.   
Jackie Grant passed away in Fazakerley Hospital  on 16 August 1999 at the age of seventy-four.
Picture research and text edit by Mike Royden
Acknowledgements
Mike Braham (Southport historian)
Rob Sawyer (Everton FC Heritage Society)
Rob Sawyer with David France, 'The Class of '65: Everton's First FA Youth Cup Winning Team 50 Years On,' ToffeeWeb, 25 March 2015