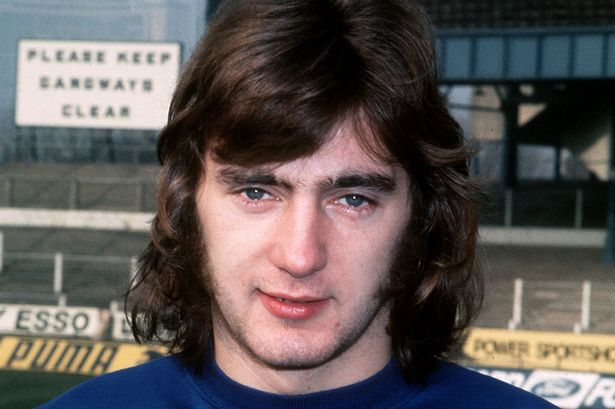 Anything Everton related always fascinates me.

This second article of the Son of my Father series article is another famous footballer whose son at spells/trials at Everton.
The second addition of this article is Allen Hudson. and those I guess that some of you now are familiar with the name, it's the son of Alan Hudson former Chelsea.

This is Allen's story;
I was at Fulham as a youngster. In the 4th year at school and I played for West London in the English school's trophy in 1987 for my county. We played the Wirral in the quarter finals or semi- finals, and. I played really well up there and we won 4-0, as we drew at our place 0-0. After the game, a scout came over, and asked me If I would like to go to Everton. It threw a spanner in the works for me really as I was due to sign for Fulham which was ideal as my mum lived in Chelsea.

When I got the offer to join Everton, I went up there and gave it a go. Everton had a problem at the time as they had used all of their allocated YTS spaces up for the following season. I hadn't even left school officially as I had another year and a bit to do. I was never going to stay at school and sit my exams anyway. I had already played for Fulham reserves at the age of 14 and a half, so my sights were set on a future in football.

I played in a trial game against Blackpool, going back home after, then got a call to come back up north, I went up to Bellefield, and was treated absolutely marvellous on my first day, and to be honest with you they sold the club to me. It was also the first day that Tony Cottee had signed for Everton too.

I stayed in digs with a couple who were mad Liverpool supporters I would walk into the house and they would have pictures of Ian Rush and Kenny Dalglish all over the place. Next morning, I had to go into Bellefield. I remember going into training one day, it was the first week I was there wearing an Olympic 84 tracksuit on which was red and white. I was told by the groundsman to go home and change as he wouldn't let me in. I thought he was joking but was deadly serious.

I had a lot of big clubs interested through my dad, Arsenal, Chelsea, also had an opportunity to go to America, but this was the first experience at a big club. I had a good year and a bit down at Everton. The only other players at Bellefield that day apart from Tony were the injured players getting treatment. Mick Lyons and Terry Darracott the coaches were there as well, just the four of us. We worked for about 6 hours together.

We played at Bellefield one Saturday against Manchester United where I had an absolute shocker of a game. It was coming towards the end of the season and Colin Harvey couldn't take me as I said as there were no spaces for available. David Unsworth was the only member of the squad who actually went on to make it.

I knew Peter Reid at Everton as he was pally with my dad. My dad hadn't been long retired, so a lot of the senior pros knew of me. Even when I left, I had to do a 2-year apprenticeship as I hadn't done that at Everton. I went then to Stoke City when Alan Ball was in charge.

These days, I joined an academy as head coach of London Rangers who are an official partner of Glasgow Rangers.
It was never easy for me as wherever I went I was labelled my dad, and because my dad had a bit of a troubled past if you like,
I was judged a lot of the time, and I think I was expected to be like him which was a shame. My dad had been in cup winner's squad's and world cup squads at the age of 18., and being bandied about as the best young talent ever at that time. How could I compete with that?